Arcas' Bones (1/12)- Unexpected Visitors
The little pink lizard poked its head through the craft's window and looked at Dr. Linnaeus with a curious demeanor, or so it seemed to him. He stopped writing and regarded the creature inquisitively. Truth be told, he didn't care much for lizards because he found reptilian intelligence quite alien. Unlike the behavior of mammals- say dogs or humans- reptiles were erratic. Herpetologists would surely disagree with him, but for a researcher who thrived on the systematic analysis of behavior, Dr. Linnaeus did not particularly care for the critters' unpredictable disposition.
The little lizard perched itself on the window sill and continued its examination, tilting its head back and forth. For a moment, the professor got the distinct impression that the animal was scrutinizing him with a keen sense of awareness. It was just his imagination, of course. But what if…
Through the window, he could see the archipelago across the water. A fine mist was rising near the shore. It shimmered purple and emerald. Dense forests sloped upwards at an angle. With Callisto clinging to its translucent skies, Arcas was a sight to behold.
Imagine the stir and commotion that the news caused in the scientific community when it was announced that Arcas would be reopened after more than a thousand years of enclosure. Here was the chance to learn about the evolution of ecosystems that had remained untouched by humanity for centuries. Biologists, geneticists, botanists, pharmacologist, and researchers from a large variety of scientific disciplines would get the opportunity to visit this unique world. It was exciting times to be in the life sciences.
By vocation, Dr. Linnaeus himself did not come from the "hard" sciences. He was an anthropologist- the research field that concerned itself with the study of human behavior and cultural processes. So imagine his surprise one evening, about a month ago, when he received a visit from some members of the High Orbital Science council, which oversaw the Arcas mission.
"We need you to come with us, Dr. Linnaeus," said a large man who had identified himself as General Groff. "Please pack your things. We leave this evening."
A woman in civilian clothes stepped forward, giving the general a sideway glance. "What the General means to say is that we need your assistance with the Arcas mission, professor."
"But you must have the wrong guy," he said in surprise. "I'm an anthropologist, not a biologist or a physicist."
The woman introduced herself as Dr. Rosalind Williams, head of the genetic sciences division in the HOS council. "You're familiar with the mission, I take it," she said and projected a 3D model of the biosphere onto the space between them. "Arcas has been an isolated world for over ten centuries. We decided to reopen it because we detected several malfunctions in its weather system. Its oxygen supply is leaking out into space and its navigation systems are failing. In about a year's time, the colony will not be able to sustain life any longer, and then it will crash into Callisto."
"An unfortunate and vexing problem to be sure, but what does that got to do with me? My discipline?"
"As you know," the woman continued. "When Arcas was abandoned after the Callisto incident, it was assumed that no humans had remained inside. All its inhabitants had been evacuated. Apparently, that was not the case."
The professor puffed on his vaporizer and bellowed out a cinnamon-scented cloud. "By Jupiter, you mean to tell me that there are people living in there who haven't been outside in over ten centuries?"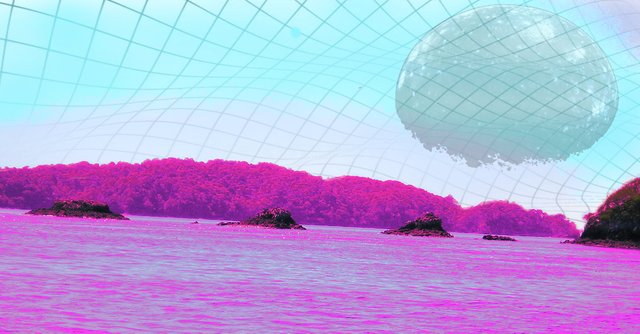 A visibly irritated General Groff cut into the conversation. "That's exactly what she's saying. So, as you can see we have a problem in our hands. A problem that you will help us solve. It is priority Alpha. Meaning, you don't have a choice, and we don't have much time for idle chatter. So gather your things, and we'll meet you in the shuttle."
Dr. Linnaeus had tried arguing with them: he had classes to teach, grants to write, reports to draft. Responsibilities. He was honored to be given the chance, no question about it, but he couldn't very well just pack up in a rush and head out to Jupiter that same evening. It would take months to prepare.
Sneering, the General turned around and left.
"It will all be taken care of, Dr. Linnaeus," said Rosalind. "As for the mission details, we'll provide you with further information on the way. You'll have many tools and resources at your disposal. Thank you for your cooperation, professor. I'll wait in the shuttle."
Then without waiting for a reply, she simply turned and walked away.
So that was that. He was soon bound for Jupiter, on one the oddest research field trips of his life.
Back in the boat, the little pink lizard scurried along the window sill. Stopped. Scrutinized him again and then disappeared behind the wall. Perhaps this specimen has evolved in different ways, he theorized. Ten centuries might be enough time to alter its behavioral repertoire. What about its intelligence?
A knock on the door brought him out of his theoretical reverie. He put the quill back in its holder and closed his log book.
"Yes?" he said opening the door.
"Olá professor," said a grinning young lady, stepping through the doorway with an extended hand. "I'm Esmeralda Oliveira. Your research assistant. It's so exciting to meet you! I'm a big fan of your work!"