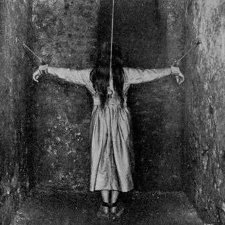 All children, even happy ones, are alone. Sid figured that out when he saw what his father had done. Before that, however, there was the box. He and his brother Will were sitting on the back of the garage roof, where they could peer through shedding branches and down the hill carpeted with red and gold leaves. At the bottom stood the old age home, which was a more interesting spectacle for two kids than you might at first imagine.
Stillwater attracted a certain clientele. Though the jumble of low red buildings looked livable enough, it seemed like none of residents chose to be there. Often they came screaming as their families unloaded them out of cars and left them behind. From time to time one of them would call a taxi in the middle of the night, only to return in the back of a cop car like some kid with a DUI. Once Sid emerged on a school morning to find a man wearing nothing more than his socks wandering the patch of busted up pavement between the house and the garage. It was a wonder how he made it up the hill and over the fence.
This time someone was removing a citizen of Stillwater. A long car drove up with a giant black dog hanging out the window. The driver was a man in his forties wearing a starched white tee shirt and a pair of pressed jeans with a brass celtic cross on the belt buckle. His dark hair was slicked back tight enough to make the skin on his face seem taught.
"It's Grady Booth." said Will.
There was a strange sound in the air. A low rumble, like the sound of massive wheels turning beneath the earth, had followed Sid his entire life. It was quieter when it grumbled at him in his sleep and greeted him with a louder hum whenever he stepped outside, but always just low enough that sometimes he could convince himself it wasn't there. But then it wavered when his brother spoke and he knew it was real.
"Who?" asked Sid.
"I'd say Grady Owen Booth, but that would be a jinx." Will was leaning against the pitched roof with an acoustic guitar across his chest. He strummed an ominous chord and grinned. "You know only serial killers go by three names."
"How do you know any of his names?"
Will shrugged. "He's one of Dad's friends."
Grady returned from Stillwater with a woman in a wheelchair. He helped her into the passenger seat, in front of the black dog. Sid saw something now that Grady's back was turned. It was a semi-automatic pistol stuck into the leather belt.
He closed the door and stopped there for a moment. Grady turned and looked up through a pair of large sunglasses. The boys froze. He came up the hill, kicking leaves with the steel toes on his boots. Grady stopped halfway up. Fixed them with a glare. He pushed his sunglasses back against his nose with the middle finger of one hand. The sun flashed off them as he did so. He regarded them with his pencil thin lips pressed into a perfectly straight line across his face.
"Okay, let's go." said Will, scrambling with his guitar.
The boys slid off the end of the roof and jumped onto the trees. This was a maneuver they'd performed many times, but this time their flustered descent made their limbs fly about and Sid put his shoe through the back window on the garage.
"You alright man?" his older brother said.
"Yeah." Sid got up from the ground. "Hey Will, what's with the box in the back of the garage?"
They looked through the broken window and saw a wooden box. It was rough hewn and about the size of a coffin, though it had no lid and was empty. There were, however, metal loops screwed inside and a length of chain.
"Boys?" their father called. "Are you back there?"
"Do you think he heard the window break?" said Sid.
"I'll let you find out." Will said as he dashed off.
Sid muttered something under his breath and trudged around to the front, where the family car was parked on the broken blacktop. Will was already inside and Dad's legs were sticking out the bottom of the car. The man came out with motor oil on his hands. He sat cross legged on the ground for a moment and scanned his son as though trying to complete a crossword.
"Kid, do you ever talk about me in school, to teachers?" He stood up and wiped his hands on a rag. "I know I'm hard on you, but have I ever hit you or your brother?"
"No, sir."
"Do you say things then?"
"No, sir. I don't know what you're talking about."
There was a long pause and then, "Go wash up for supper." As Sid nodded and turned back to the house, his father said, "I know you're lying." The car door opened. "But we'll deal with that later. I've got other things to do."
Sid guessed that was a threat of some kind. It wasn't something to worry about right then. The rest of the evening passed in its normal way. After dinner he sequestered himself in his room and played text adventures on the Amiga until he felt tired enough to sleep. He woke up twice, and neither time was very pleasant.
Around midnight the car came in. There was some commotion outside. Sid walked through the darkened house and followed the noises to the back porch. He stood outside and shivered. There was the hum, as present as ever. A light was on in the garage. Sid went back inside and stopped short. A shadow sat at the kitchen table.
He flicked the light on. There was Grady Owen Booth, this time with ice blue eyes rather than sunglasses. The gun lay on the table in front of him.
"Do you hear that?" he said. "What do you suppose that is?"
Sid shook his head.
Grady leaned in. "What else could it be but the sound of the universe itself? It's hungry."
"Are you going to hurt me?"
"No." said Dad. He was at the door. Beyond him, Sid could see that the light in the garage was out. "Go back to bed. It's fine."
Sid didn't expect to sleep after that, but he did. Somehow that brief experience had been exhausting. A couple hours later, though, he awoke again. He wasn't in his bed. He found himself standing in the garage. His father was there, looking into the opened wooden box.
The box held a human form. The skin of its face resembled melted wax and it was mottled with blue and green splotches like a giant bruise. It growled as it jerked left and right in the box, its hands and feet chained within by the loops Sid had seen earlier. When the thing opened its mouth, it stuck out its tongue - only it wasn't a tongue. It was a writhing mass of maggots formed into a single organ that curved through the air as if searching for something. Sid recognized the clothes it was wearing. Though they were tattered, they were unmistakable for the clothing of the Stillwater resident Grady had ushered into his car half a day earlier.
"You don't want to look into its eyes." said Dad. He'd wrapped a cloth across the eyes. "The deep will see you."
Sid stepped back. "The deep?"
"This person is dead, Sid. It's body is just a tool." He placed a lid over the box and started nailing it shut. He paused for a moment to point out the opened garage door, up into the sky. "That's the deep."
That sound, the hum and the warp and the grumble that had been with him his entire life no matter where he traveled, was still there. What had Grady said? It was hungry.
Dad continued with the nails and shouted over the hammer's thump. "If this thing can hear you, the deep can hear you. If it can see you, the deep can see you. At least it doesn't know what you look like, but I suspect it will keep trying." He finished the last nail and came over to Sid, who had started walking backwards toward the house. "Don't tell Mr. Booth that I told you."
"What does he have to do with this? What do you have to do..."
"Grady works for the deep and I work for him, but there's a difference between us." He pushed his palm across his brow to wipe the sweat he'd worked up. "Grady feeds it and I dispose of the remains. I do what I have to do to protect us. I'm not claiming to be a good man, but you could do worse than me." Dad came closer, his eyes narrowing and the hammer swinging back and forth at his side. "That man won't think twice about making you a part of this business, but this isn't for you. It's not what I want."
"What do you want me to do?" said Sid.
"Promise me."
Sid opened his mouth and shook his head, as if this could make the words he needed fall out. He didn't say anything. His father came up close enough to cast a shadow on him and lifted the hammer to gesture as he talked. Sid had backed up enough now that he was standing just outside the garage.
"Promise." said Dad. "Promise you won't let that man talk you into anything."
"Yeah. Yeah, okay. I promise."
"Good." As he said this, he grabbed the handle on the bottom of the opened the garage door and yanked on it, pulling the door shut and leaving Sid alone in the cold dark.