Is More Sex Indicative of an Average Intelligence?
Curtain Open
In my previous post, I examined some of the influence pubertal hormones can have on us. Anyone who is still what I call a "hormone denier" is free to experiment by ingesting hormones and see for him/herself.
No? I didn't think so.
Since self-experimentation is out of the question (hey, it's not my fault you're a 🐈), we're left with what the literature tells us.
In this post I'll give some more examples of how pubertal hormones affect us and sex-cast us (it's like typecasting, but for sex). Like last time, I pick some of the examples that stand out more, or offer the most in terms of understanding what's really going on under the hood.
Speaking of a hood...
People Who Have More Sex Are More Likely to Have an Average Intelligence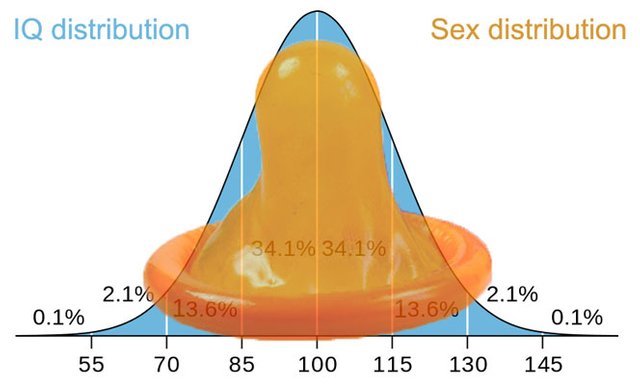 Average is where the sex is at.
Source: Dmcq & maxpixel w/ Public Domain license, modified.
If you want to have sex earlier than most, it helps to be insecure (girls), low in weight (girls), a smoker or drinker (girls & boys), to have a poor relationship to your parents (boys), and a low household income (boys). At least, those are the factors that are scientifically significantly associated with early sexual activity.[1]
If you want to have more sex, the National Longitudinal Study of Adolescent to Adult Health has some handy advice, since it reveals that:
adolescents at the upper and lower ends of the intelligence distribution were less likely to have sex.[1]
It appears Idiocracy was not exactly right: it's not the stupidest that prevail, but the most average. So if you happen to be a young sexless bright person, like Sheldon of the Big Bang Theory was supposed to be, take comfort in the fact that somewhere out there, you have a dim dark matter twin suffering just as much.
Sensing Though the Hormones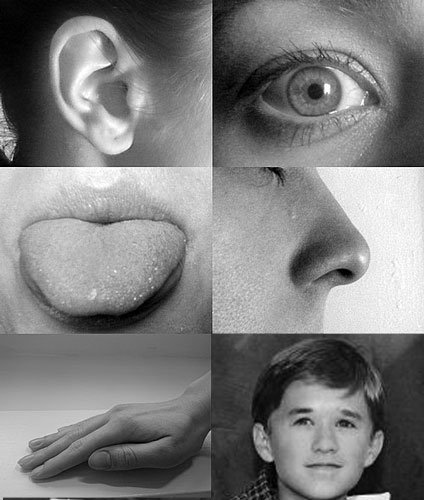 Can hormones affect the way you look at the world? They can do more than that: one way in which hormones may affect moods and behaviors, is by influencing our sensory experiences: "taste, vision, touch, audition, smell, and temperature sensitivity"[1]
Hormones can also influence more central systems:
Changes in basal metabolic rate, blood pressure and blood vessel excitability, sympathetic/parasympathetic tone, heart rate, or water and sodium retention may contribute to sensory changes or to changes in overall physical well-being, both of which can have behavioral manifestations.[1]
What kind of behavioral manifestations, you ask?
higher autonomic activity could be associated with [...] feelings of more energy [...]. Slowing of, or sudden changes in, metabolic activity could produce feelings of lethargy or even depression.[1]
And if the hormones that affect all these things are different in men and women, you can imagine how different women and men might be made by them.
Same is true for age. Just to give you a sense of scale:
Testosterone concentrations can increase as much as 20 times their initial concentrations between the ages of 10 and 17 years [...], with the greatest increases occurring between 12 and 14 years[1]
Yeah, that's a lot. But does having more of a sex-typical hormone make you more typical of your sex?
Does More Testosterone Make You More Masculine?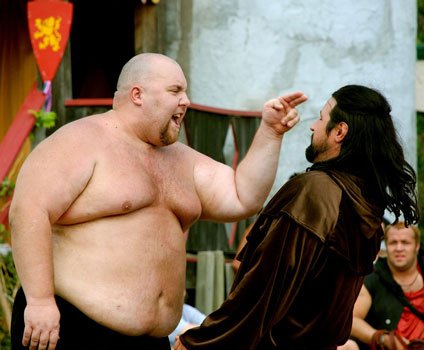 Either the guy has a G spot on his forehead, or they're fighting.
Just because testosterone is associated with males, doesn't mean that higher testosterone = more male, just as having two penises does not make you more male, but rather disfigured.
There is a level at which testosterone yields the most benefits, and that's the ideal level to be at. For example, there was a study[2] that measured males' testosterone, gave them cognitive ability tests, and then separated them into high and low testosterone males. The low testosterone males outperformed the high testosterone males on most tests, specifically those on which males typically outperform women, like mental rotation of shapes and mathematics. So, in a sense, it was the low testosterone males who were more masculine, because they exhibited the most sex-typical and stereotypical male results!
Another study[3] showed that males performed mental shape rotation tasks better in spring, when testosterone levels are lower, than in the fall. Conversely, women performed better during that phase of their cycle when estrogen is low[3] and androgens are high[4].
Such studies suggest that there is some optimum level of testosterone for spatial ability, and that this level is above the level of the average female but below the level of the average male.[3]
Hey, this might explain why people who excel in the arts and the sciences often look kinda androgynous!
And if you think I'm just using the word androgynous to be funny, you're wrong:
androgynous males and females tended to excel at spatial tasks in comparison with those who were more sex stereotypic in appearance.[4]
And it might, more controversially, explain how a specific woman can be better at X (say, math) than the average male, even though the average male is better at X than the average female. The reason might be because the ideal level of X is above the average female, but below the average male, so that the average male might be better at X because on average their distance is closer to the ideal level, but a specific woman can still get closer to it than the average male. To appreciate this explanation (for which I gladly take credit), consider that if the ideal level was above that of the female and the male, the only way for a female to reach it would be to be a male first, at least in the relevant respect (hormones, say, or brain structure).

Did you know that the color used to stereotypically represent the under-represented sex is not represented by any wavelength, or color wheel, or rainbow color? See here & here.
Source: The author's poor photoshop skills.
Storm and Stress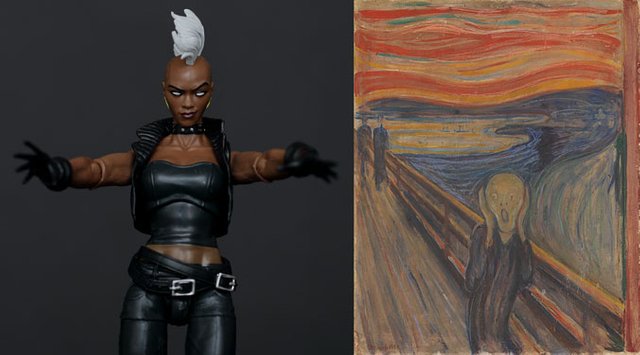 Being super stressed is his superpower.
Not all our stereotypes about adolescents are true. For example, we might associate puberty with a bigger Adam's apple in boys and bigger breasts in girls, but did you know that obese boys can exhibit both?
Similarly, you might think of adolescence as a time of emotional upheaval, full of teenage angst, rage, conflict, rebellion, and Nirvana music. You'd be in famous company, seeing as the famous psychologist G. Stanley Hall (who is often credited with discovering adolescence) used (and popularized) the term Sturm und Drang (see this section's title) to characterize this period in a growing human's life.
But more modern research challenges this stereotype. A paper entitled Debunking the Myths of Adolescence: Findings from Recent Research summarizes the newer literature as follows:
research findings suggest adolescence should not be characterized as a time of severe emotional upheaval and turmoil[5]
You see, psychologists often form their opinion about humans based on the selected sample of humans they see in their practices as patients. Early descriptions of adolescents were based "on the clinical experiences of psychiatrists and psychoanalysts working with emotionally disturbed youth".[5]
Once nonclinical samples were sampled, however, it was found that:
a significant percentage of adolescents (80%) do not experience adolescent turmoil, relate well to their families and peers, and are comfortable with their social and cultural values[5]
Presumably, the other 20% become researchers of adolescence, ever trying to understand the life period that scarred them.
But seriously, around 1 in 5 adolescents (almost the same ratio as for children and adults) could be having "mental health problems and need help"[5]. But with the stereotype of the adolescent as presented above, parents chuck teens' moodiness up to Sturm und Drang, often ignoring warning signs, which is why it's important to dispel the stereotype.
And, in keeping with the sex-differences angle of this series, I would be remiss not to mention that, depending on the study, girls were found to be 25 to 50% more likely to seek help compared to boys, and boys were more likely to express their issues by "acting out" (substance abuse is given as an example of what the authors mean by "acting out"), whereas girls do it by complaining about their health.[5]
When Does Sexual Attraction Begin?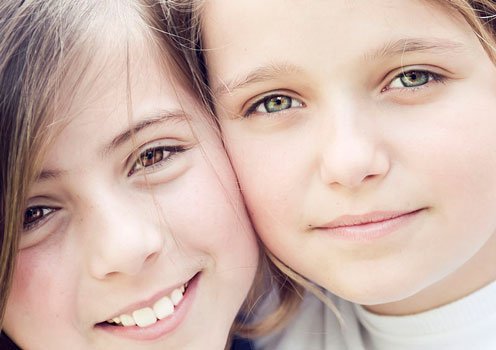 They're 10, which means they only look innocent.
Around the age of 10. That is, around the age of adrenarche. Most early researchers put the beginning of sexual attraction at the same time as gonadarche — I suppose because it didn't make sense to feel sexual attraction if you haven't yet gained the ability to procreate. That would mean that boys felt their first sexual attraction at age 14 and girls at age 12. I guess these researchers failed to consult their childhood memories.
Even though the early researchers were wrong about the age, could they still be right about boys feeling their first sexual attraction later than girls? Are boys slow in this growth department, as they are in so many others?
Are Girls More Pubertally Advanced Than Boys?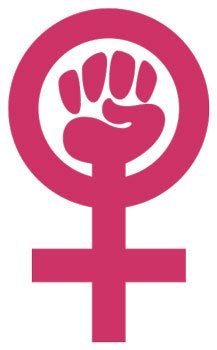 Source: AnonMoos, toa267 w/ Public Domain license.
Highschool biology teaches us, correctly, that girls are often precocious compared to boys. Here's a typical example that might be offered:
While the average girl enters the pubertal period for height growth at about 10 years of age, the average boy does so about 2 1⁄2 years later.[6]
But while girls are often said to be more advanced, in several metrics, compared to boys of the same age, it seems that when it comes to sex, nobody wants to be late to the party:
girls and boys experience their first sexual attraction [...] at the same age.[7]
Are Black Girls More Pubertally Advanced Than White Girls?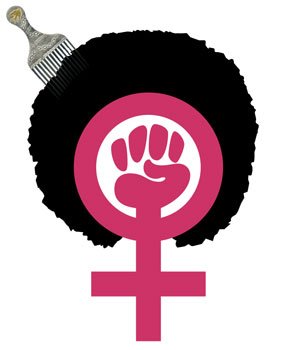 A large 1997 study conducted on 17077 girls (by 225 clinicians from 65 practices) found that:
At every age for each characteristic, African-American girls were more advanced than white girls.[5]
Snap!
There is no explanation currently for the timing discrepancies (up to 1.5 years' difference in entering puberty and 8.5 months in beginning menses) and the differences in the appearance of the secondary sexual characteristics. It's especially difficult if you adopt the stance that races don't exist.
Is the Onset of Sexual Attraction Culturally Determined?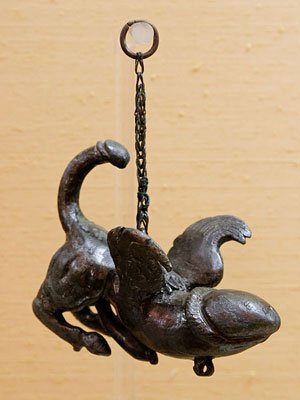 When it comes to sexual orientation, are humans a tabula rasa or a tintinnabulum?
There are people who say that sexual attraction is socially determined.
Let's just right away dispose of the "strong version" of that position — i.e. that sexual attraction is 100% culturally determined — by mentioning the fact that if that was the case, then, in our heterosexu-archal culture, all boys would be attracted only to girls, and all girls would be attracted only to boys. That's clearly not what happens, and we know that a priori, so I'll spare you the references.
But the "weaker version" might claim that our sexual attractions are at least partly socially determined. How do we test that?
Here's a way: since heterosexuality is socially sanctioned, whereas homosexuality is not, it would follow that homosexuals would develop sexual feelings toward same-sex individuals later in life compared to heterosexuals, since the culture would be suppressing their only-partly-innate feelings.
So what did the studies that looked at the issue find? Specifically, at what age does the onset of sexual attraction occur for male and female homosexuals? You've guessed it:
all [...] studies pinpointed 10 to 10.5 as the mean age of first sexual attraction.[7]
For those of you with goldfish memory, that's the same age as for heterosexuals (see section 'When Does Sexual Attraction Begin?') It appears that the no-one-wants-to-be-late-to-the-sex-party principle holds not just for gender, but also for sexual orientation.
The Etoro example from my last post also points away from the idea that socialization plays a large part in the gender role that we assume: one would expect that drinking semen from age 7 to 17 would make the Etoro irreducibly gay. It doesn't. The Etoro take on wives despite their first experiences having been with men, and their natural inclinations dominate.
Curtain Close: How Do You Know When You've Hit Puberty?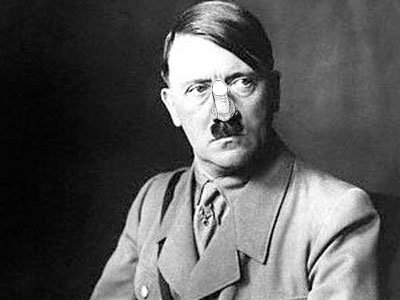 Pubes naturally grow on dicks.
All the above, as well as the content of the previous post, all of that, both bad and good, need puberty to happen. Since I left out the boring bits of puberty and went straight for the tintinnabulating parts, I left out, among other things, how to know whether you've hit puberty. As an epilogue, I'd like to deglare that omission a bit.
So here's a mnemonic device for ya: puberty, pubes. You enter puberty when your crotch starts growing pubes. Don't believe me?
The adolescent stage begins with puberty, marked by some visible sign of sexual maturation, such as pubic hair growth (indeed the term is derived from the Latin pubescere, to grow hairy).[8]
Till next time, stay hairy.
---
REFERENCES
---
Earlier Sex Differences episodes:
15: Cuming of Age: The Boys That Drink Semen to Become Men
14: Sex Drive: Toward the Old World
13: Sex and the Sexes: Talking Past Each Other
11: Sex Drive: Fantasy Sex Is Where To Find Id
10: Sex Drive: Do Women Have More of Id?
9: The 70-year Cognitive Puzzle That Still Divides The Sexes
8: Do Transsexual Persons Have An Opposite-Sex Brain?
7: Do Parents Stereotype Their Children's Gender?
6: Sex Differences: Do females and males have different brains? Addendum
5: Sex Differences: Do females and males have different brains? Pt 3
4: Sex Differences: Do females and males have different brains? Pt 2
3: Sex Differences: Do females and males have different brains?
2: Sex Differences: Check out the gonads on that one!
1: Sex Differences: Does the Chromosome Maketh the Man?
---
steemSTEM is the go-to place for science on Steemit. Check it out at @steemstem or browse the #steemSTEM tag or chat live on discord and definitely visit www.steemstem.io
---

---