Sex Differences: Check out the gonads on that one!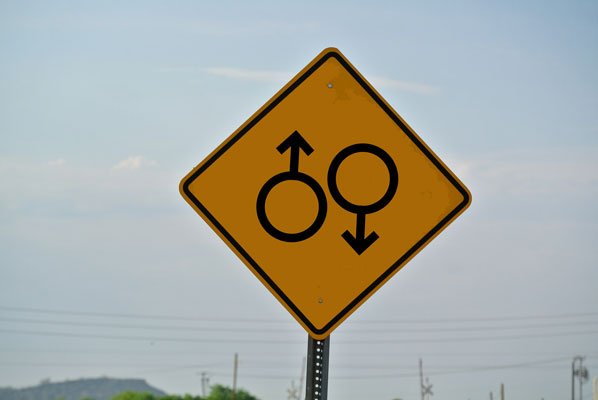 Where is sex?
If you ask that question to a person in the street, they'll likely point you to a titty bar. Or, if you happen to live in a college town, to a frat party.
But if you ask a sex differences researcher, you're in for a long and convoluted reply. What makes one a male and another a female can, indeed, get quite involved and messy.
Much like sex itself.
Last time, we saw that chromosomes largely (but not absolutely) determine whether you're a male or a female. In this post, we'll be looking for sex in the gonads and in the hormones, see if we can find it there with any greater degree of certainty.
So if you remember from last post, by and large, XX makes you a female, and XY makes you a male. More precisely, Y makes you a male.
But is it the whole Y? Is that all the Y does—determining whether you'll come out a male or a female?
SRY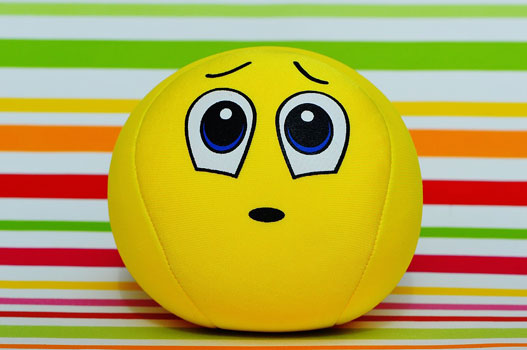 I'm not being apologetic: SRY is not "sorry" abbreviated. It's short for sex-determining region of the Y chromosome. SRY is a gene, and it's part of a gene complex (condominium, in human terms) called TDF (testes determining factor).
31 years of hunting for testes — sorry, I mean the testis-determining factor — led to narrowing the chromosome region from 30-40 million bases to less than 250 bases encoding a conserved SRY.[1] Conserved means Natural Selection conserved it widely across species. How widely? So widely that it shows strong homology (=similarity) to a fission yeast gene that encodes an Mc protein the yeast requires for mating.[1] Yes, yeast. Apparently, once Natural Selection discovered mating, she was big on conserving it.
Who wouldn't be? As one book reviewer puts it, "Sex has certainly been one of the great inventions of all times."[2] The reviewer goes on to say something about how sexual reproduction is "a means of reshuffling the genetic pool", but I think you and I both know what she's really talking about. ;)
So it's not the whole Y that mainly determines whether you'll come out a guy or a girl, but a portion of it, called the SRY. Why is that important? Because the SRY sometimes goes where it shouldn't.
It's just the tip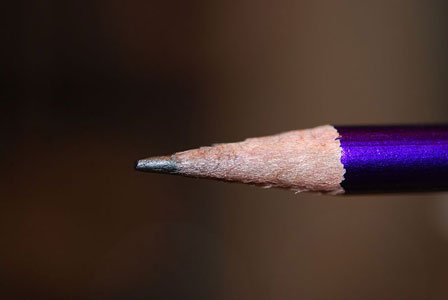 Males have been using this excuse long before they became mammals. It's quite possible it's encoded in their very Y. Don't believe me?
In XX male syndrome, the tip [my bold and italics] of the Y chromosome that includes SRY is translocated to the X chromosome. As a result, an embryo with XX chromosomes with a translocated SRY gene will develop the physical characteristics of a male.[3]
There. The tip of the Y chromosome is where the SRY is at, so translocating just the tip of the Y is a pretty big deal. (Remember that, underage girls.)
A brief explanation of translocation. It's a form of nonhomologous recombination (nonhomologous = taking place between different chromosomes). Basically, a piece of chromosome gets exchanged for a piece of another chromosome. So, in this case, the SRY moves from the Y to an X chromosome, and the XX chromosomal female develops into a male.
Does that mean maleness is to be found in the SRY gene?
It would, if XX males were only the result of SRY translocations. Unfortunately, things aren't quite that simple in Sex-Differences-Land. There are XX males in whom no SRY can be detected. Don't believe me?
In individuals with XX male syndrome who do not have an SRY gene detectable in their cells, the cause of the condition is not known.[3]
There.
And, since the condition has no known cause, I have to leave it at that.
Note, the SRY is largely responsible for one's maleness, but having it doesn't mean you get it all. XX males — even though they have testes — are infertile. The reason is because they don't have the other parts of the Y chromosome that are required for making sperm. Among other phenotypal differences, they may be shorter than the average male, may weigh less, may have less body hair, and lower libido. The reason, again, being that they lack certain Y genes responsible for height/weight/body hair/libido/etc.[3][6]
But it may also happen partly for another reason. There's a thing called X inactivation, that happens in normal females but not males. But it may happen in XX males, which may lead in inactivation of parts of the X chromosome the male needs to fully masculinize.[6]
Again, I just wanna say, in case you want to go looking for the Holy Grail of masculinity in the "no sperm" clause, that XX males are not always with no sperm at all, but may have very low sperm count, and with such little motility, that it makes them effectively infertile.[7]
Anything can happen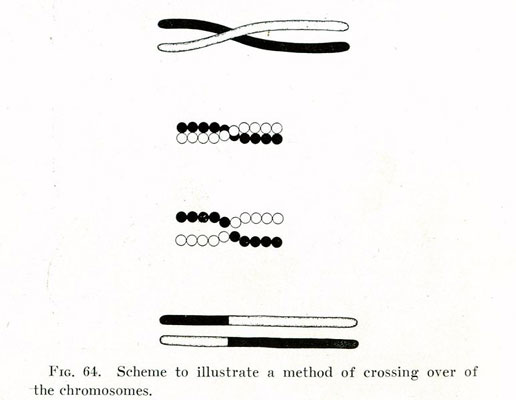 See all them (figurative) beads? The crossover could happen anywhere. And there can be two crossovers. Or three. Once you understand the human at the level of the DNA, you understand that any recombination can occur.
Source: Ragesoss. From Thomas Hunt Morgan's 1916 A Critique of the Theory of Evolution, page 132.
I hope you are getting the picture here, because you may forget the details — heck, you will forget the details — but the important thing to get here is how and why all this weirdness happens: it happens because, if you have a human that is at the DNA level a series of letters, then you can play with that series whichever way you like. If the series can be separated, it will be separated. Everything that can go wrong, will go wrong, as per Murphy's Law. If it's possible to forget surgical instruments inside a patient after an operation and then stitch him up, someone somewhere will wake up from a surgery weighing a little bit more.
The nature of DNA — its divisibility — necessitates that mistakes will happen. All combinations will take place. That's the important thing to take away from this, not to remember the details.
So maleness and femaleness is not an all or nothing, you can literally get 80% of the genes responsible for being male, and hence be recognized by all and yourself as male, but then discover you're infertile, and upon further examination find out that the reason is because you haven't gotten all the parts necessary for procreation. Just as Kinsey discovered that sexuality is not binary, but continuous, similarly sex itself is not an either-or. It mostly is, but there's many people who don't fall into any of the two black-and-white camps, but rather in the grey middle.
This is just the imperfect nature of our biology. And it's imperfect because without imperfection there would be no evolution. So don't go damning it just yet!
Gonads and Hormones

DNA Javascript code saying: If the TDF trigger is present and functioning, then develop testes (the male fetal gonad), otherwise develop ovaries (female gonad).
I promised you gonads and hormones and I've been harping on about SRYs and chromosomes since, like, the very beginning!
The reason is because it's the SRY that gives the signal to the body to make hormones which then develop the gonads in a male or female direction. Actually, there is no female direction. The female is the default. The female is what happens if there is no positive instruction to make a male. How do we know this? Well, among other ways, there's the experiments of one Alfred Jost, who "established that the castrated mammalian embryo develops as a female."[8] Who doesn't love castration in the name of science?
The gonads exist beforehand, in an undifferentiated state. During the first 2 months of gestation your gonads are, let's say, Buddhist. And by that I mean indifferent (undifferentiated). After 2 months of monkish retreat (in Thailand they usually only do it for a month), they then take sides, differentiating into either ovaries or testes.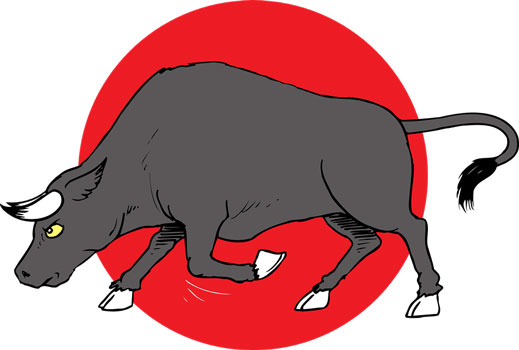 And then testes and ovaries make hormones — from Greek ορμώ (or-MAW), which means to rush (cf. "adrenaline rush") or to charge, hence the charging bull! The ovaries primarily make estrogen, and the testes primarily make testosterone. (If you are asking yourself if there's a testoster-two, you are probably not pronouncing the word right.)
The hormones in turn create what we've come to know as male and female. The testes' hormones:
elicit the development of the male secondary sex characteristics, collectively known as the male phenotype. If an ovary develops or if no gonad is present, anatomical development is female in character.[8]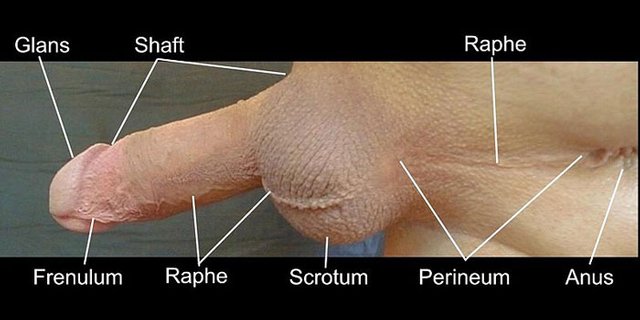 Source: Own work.
Kidding. But you can DM me and if you ask nicely, who knows...
What I find quite interesting is those parts of the process of sexual differentiation that I still can see the remnants of to this day. Male breasts are the go-to example, but I prefer how the so-called genital folds (in the indifferent stage) become the vaginal lips in the case of females, while in the case of males they fuse to form the scrotum (ball-sack, in French) into which the testicles will descend and be housed. This is why (if you're male) you can see your scrotum separated quite neatly into two halves by a suture-like contour that extends down to your anus. It's actually called scrotal raphe, raphe (ruh-FEE) being the Greek word for seam line or suture. Think of your scrotum as vagina lips sewn together after surgical tools have been forgotten inside.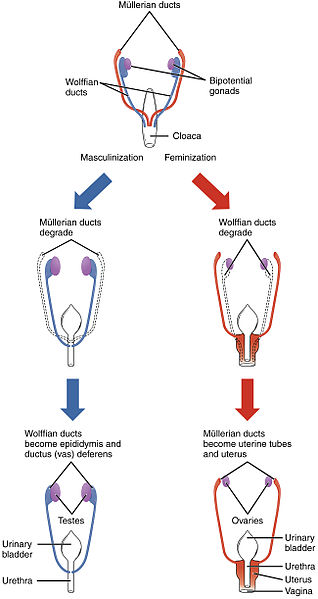 In case you're less of a visual-tactile and more of an "inner world" type of person, worry not: quite a lot goes on beneath the genital hood as well. The primordial duct system (let's call it), has two parts: the Wolffian and the Mullerian.
In the male the Wolffian ducts persist, and the Mullerian ducts regress. In the female the Mullerian duct system persists, and the Wolffian ducts degenerate.[8]
Who decided to name the male ducts after wolves and the female ones after mules, is anyone's guess, but it probably has something to do with the (nominatively lucky or unlucky) researchers who discovered them.
Two other words that pop up in the schema above are the vas deferens. It's basically the tube that takes sperm from the testes and empties it into the urethra. Let's call this economy of design, though this urinating from where we orgasm is not to everyone's liking. Robin Williams called it "coming and going". Among the other things he said in the skit was: "You talk about Intelligent Design? Look at the human body: it's a waste processing plant near a recreational area — how intelligent is that?"
Though my personal favorite leftover is the raphe, I don't want to leave breast aficionados complaining. So here's a paragraph for you. Breasts develop later compared to genitals. Prior to puberty they are identical in males and females[8]; they are just nipples, like pinkish-brown corks on an African desert. Then they hit puberty, and suddenly the female corks rise on a sea of swelling flesh. Most mammals get multiple mammary glands, but human females only get one pair of breasts. (Robin Williams says it's because males have two hands.) They may not obsess over their quantity, but many obsess over their size, which IMO is all in their heads: most men don't care anywhere near as much as women do.
Some things that can go wrong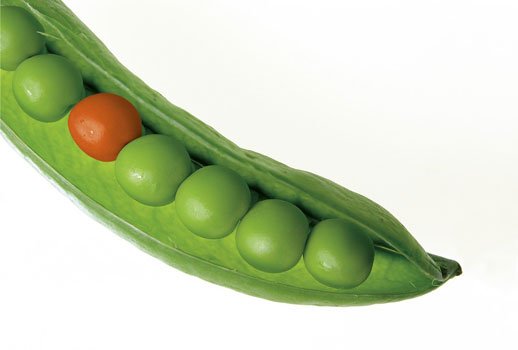 There's no shortage of things that can go wrong with the gonads and the hormones, so I'll just mention some of them.
Firstly, if masculinization depends (mostly) on testosterone, synthesizing less of it will lead to problems. Why does the body synthesize less of it? Well, biology aficionados will know something about how cholesterol is turned into testosterone by certain enzymes. If there's a mutation in some of these enzymes, less testosterone will be synthesized in the embryo. How much less will determine the degree of subsequent abnormality:
Some affected males develop as phenotypic women with complete failure of virilization of the Wolffian ducts, urogenital sinus, and external genitalia. At the other extreme affected men appear normal except for incomplete development of the penis in which the urethral orifice does not reach the end of the glans penis, creating a condition known as hypospadias.[8]
Yes, hypospadias. It's a condition in which some males have an unfair advantage in male speed-pissing contests — hashtag hypospadias privilege — because their urethra terminates not at the tip of the penis, but somewhere along the shaft, thus shortening the distance pee has to travel before it exits.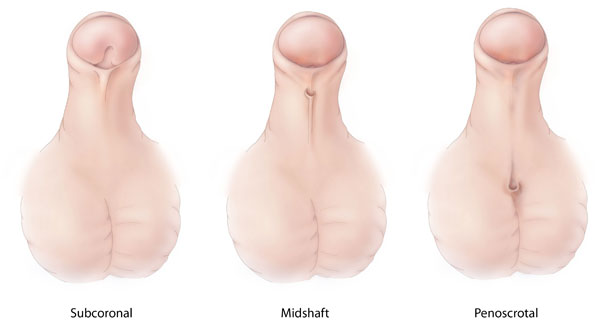 So one thing that can go wrong, is somewhere along the production line. But things can also go wrong on the receiving end. Everything could work perfectly, but if your androgen (=male hormones) receptors are malfunctioning, it's all for naught. Clinically, the signs are telltale:
A woman with normal breast development and normal external genitalia seeks medical advice because of a primary failure to menstruate. Axillary, facial, and pubic hair are absent or scanty. The vagina is short and blind-ending and may be absent or rudimentary. All internal genitalia are absent except for testes, which are located in the abdomen, along the course of the inguinal canal, or in the labia majora. The karyotype is 46,XY; thus, the outwardly normal girl is actually a genetic male.[8]
Other causes of abnormalities might be environmental. Remember: females have the same androgen receptors as males. The reason they don't develop as males is because they lack the SRY that will give the signal to create testes which will in turn create male hormones which will give the body the male phenotype. But it's still possible for the female to receive those hormones from external sources.
Such androgen exposure can come from androgen ingestion by the mother, from maternal tumors, or from overproduction within the fetus.[8]
Lest I be accused of bias, let me note the reason why there's much less mutations associated with estrogen (the primary female hormone). It's hypothesized that estrogen might be "essential for implantation and survival of the embryo"[8], so if there's some severe malfunctioning in the estrogen synthesis or receptors, the embryo will completely fail to be implanted. (Androgen, in contrast, does not appear to be essential for the survival of the embryo.[8])
SRY in the real world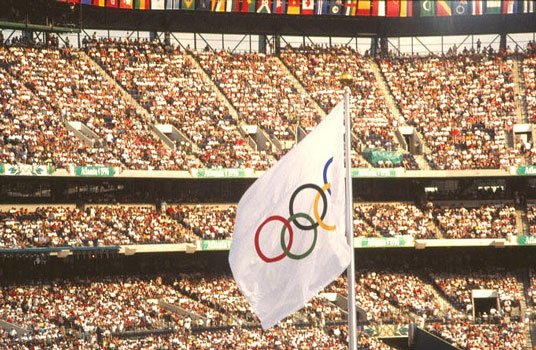 1996 Summer Olympics
Lest it be thought that these ambiguities are mere fodder for the academicians to busy their ruminating minds with, let's consider how, again, this affected the world of sports.
After the discovery of the SRY and the TDF, people finally thought they had a way to screen for maleness and femaleness. Can you guess how that went?
In the 1996 Summer Olympics, 8 female participants were found to have the SRY gene.
They were thus males and were disqualified.
No, wait, that's not what happened.
[A]fter further investigation of their genetic conditions, all these athletes were verified as female and allowed to compete.[11]
How, pray you, were they verified as female, if they had the SRY gene?
Maybe they scored as females on the other 7 of John Money's criteria?
Curtain Close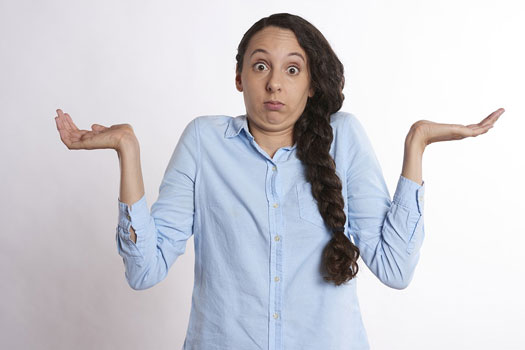 Last time I wrote about the intrepid genital inspector John Money, and the first of his sex-determining criteria: sex chromosomes. In this post I examined two more of his criteria: the gonads and the hormones. So we're 3 out of 8. Hopefully, I will have left you as confused as I did last time, which is probably how those 8 female athletes above partly felt like when they were told they were genetically male.
Join me next time when we examine more of what it is that makes us, of fails to make us, a male or a female.
REFERENCES
1. Gordon J. W., Ruddle F. H. Mammalian gonadal determination and gametogenesis. Science 20 Mar 1981: Vol. 211, Issue 4488, pp. 1265-1271. DOI: 10.1126/science.6259727 http://science.sciencemag.org/content/211/4488/1265
2. Soukup, S. W. (1971), Sex chromosomes and sex-linked genes. By S. Ohno. Springer-Verlag, Berlin, Heidelberg, New York. 192 pp. 1967. Teratology, 4: 111. doi:10.1002/tera.1420040116 http://onlinelibrary.wiley.com/doi/10.1002/tera.1420040116/abstract
3. "XX male syndrome." Gale Encyclopedia of Genetic Disorders. . Encyclopedia.com. (March 13, 2018). http://www.encyclopedia.com/science/encyclopedias-almanacs-transcripts-and-maps/xx-male-syndrome-0
4. Wikipedia contributors, "Chromosomal translocation," Wikipedia, The Free Encyclopedia, https://en.wikipedia.org/w/index.php?title=Chromosomal_translocation&oldid=821807251 (accessed March 14, 2018).
5. Wikipedia contributors, "Genetic recombination," Wikipedia, The Free Encyclopedia, https://en.wikipedia.org/w/index.php?title=Genetic_recombination&oldid=828217328 (accessed March 14, 2018).
6. Wikipedia contributors, "XX male syndrome," Wikipedia, The Free Encyclopedia, https://en.wikipedia.org/w/index.php?title=XX_male_syndrome&oldid=829830240 (accessed March 14, 2018).
7. Aksglaede, L., Jørgensen, N., Skakkebæk, N. E. and Juul, A. (2009), Low semen volume in 47 adolescents and adults with 47,XXY Klinefelter or 46,XX male syndrome. International Journal of Andrology, 32: 376–384. doi: 10.1111/j.1365-2605.2008.00921.x http://onlinelibrary.wiley.com/doi/10.1111/j.1365-2605.2008.00921.x/abstract
8. Wilson, Jean D.; George, Fredrick W.; Griffin, James E. The hormonal control of sexual development. Science 20 Mar 1981: Vol. 211, Issue 4488, pp. 1278-1284. DOI: 10.1126/science.7010602 http://science.sciencemag.org/content/211/4488/1278.long
9. Wikipedia contributors, "Alfred Jost," Wikipedia, The Free Encyclopedia, https://en.wikipedia.org/w/index.php?title=Alfred_Jost&oldid=816205197 (accessed March 18, 2018).
10. Wikipedia contributors, "Development of the gonads," Wikipedia, The Free Encyclopedia, https://en.wikipedia.org/w/index.php?title=Development_of_the_gonads&oldid=825175601 (accessed March 18, 2018).
11. Wikipedia contributors, "Testis-determining factor," Wikipedia, The Free Encyclopedia, https://en.wikipedia.org/w/index.php?title=Testis-determining_factor&oldid=800782577 (accessed March 20, 2018).
12. Mealey, L. (2000). Sex differences: Developmental and evolutionary strategies. Academic Press.
13. Wikipedia contributors, "John Money," Wikipedia, The Free Encyclopedia, https://en.wikipedia.org/w/index.php?title=John_Money&oldid=829379751 (accessed March 9, 2018).
---
Earlier Sex Differences episodes:
1: Sex Differences: Does the Chromosome Maketh the Man?
---
steemSTEM is the go-to place for science on Steemit. Check it out at @steemstem or browse the #steemSTEM tag or chat live on discord