Sex and the Sexes: Talking Past Each Other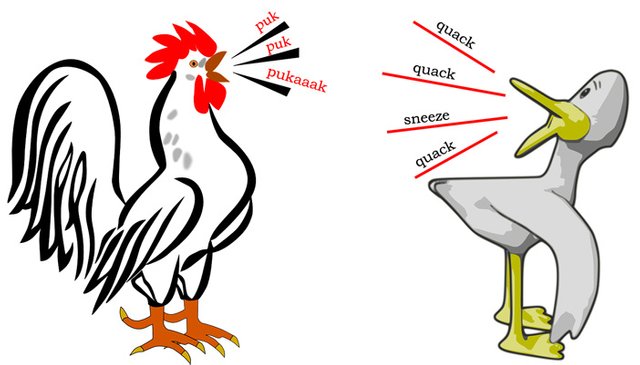 Curtain Open
If you've ever been one half of a romantic couple for any amount of time, or if you've ever argued with a member of the opposite sex, you might've had the feeling that you were talking past each other.
Turns out, that feeling can be somewhat corroborated by science — at least when the subject under discussion (or disagreement) is sex.
Like a long jumper, let's back up a bit before we go forward. It was long known in the sex differences literature that men hold more permissive attitudes toward sex than women[1]. How might this lead to conflict or failed communication?
Well, consider specifically the sex differences in attitudes toward casual sex. There was a large study that asked college students "What would be your motives for having sexual intercourse?"
First, here's typical answers from the females:
• My motives for sexual intercourse would all be due to the love and commitment I feel for my partner.
• To show my love for my partner and to feel loved and needed.
• Love, to feel loved, to express love to someone.[2]
And here's the males:
• Need it.
• To gratify myself.
• When I'm tired of masturbation.[2]
The author of the study notes:
Coming to a sexual encounter with such different attitudes and motivations, it is not surprising that there is male-female conflict. In extreme cases, date rape is the result.[2]
That escalated quickly.
But these are just self-reports, you might say. Not exactly the gold standard of science. "Rigorous" is probably not a word you'd use to describe it.
I opened this section, however, by claiming that science can somewhat confirm that males and females talk past one another when it comes to sex. How exactly science goes inside the head of males and females to witness (to the extent that that's at all possible) words and concepts having different meanings, is largely the topic of this post.
In the beginning was the Word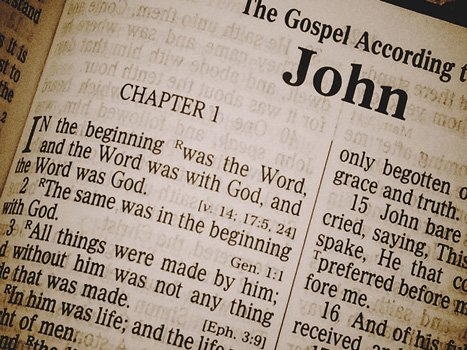 God's first act in Genesis was to speak, you see. And John is trying to establish that Jesus was that speech, present with God from the beginning, and identical with God. See here.
Much of human communication depends on language. I doubt this will be an aha moment for anyone, but that claim helps to understand why words being coded differently in male and female brains might lead to misunderstanding and sometimes conflict. It's not an accident that when God sought to sow conflict among peoples who were building the Tower of Babel in order to reach heaven, his first idea was to make them speak different languages.
Before I get to the first experiment, it will be handy to conjure up the image of some kind of traffic system. Could be actual roads or an internet network. More roads leading to a specific location make that location more central to the network. More links to a location make that location stronger (easier to order a pizza or call an ambulance).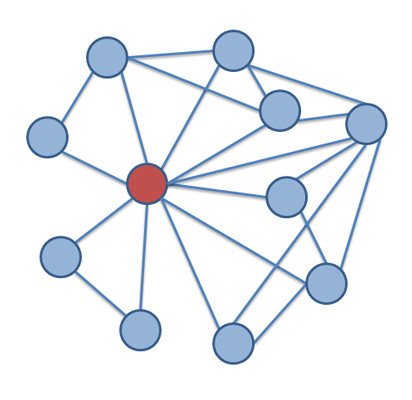 Red node is where you wanna be if you're sick or hungry.
Cognitive researchers study our mental networks by examining the links we have to certain words. It will be unsurprising, for example, that such research finds that heterosexual women and gay men have more links on words that name male genitalia, and heterosexual men and gay women have more links on words that name female genitals. Straight men also have more links between sexual slang words (and formal sexual words) and positive words.[1]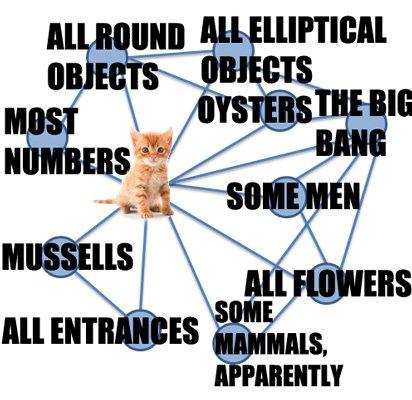 All roads lead to kittens, if you're a heterosexual male.
But what's the empirical methodology behind prising out which words have more links leading to them?
Well, there's several ways to do it, but one I won't really go into involves a computer algorithm who goes by the name of Pathfinder, and whose job is to generate semantic networks. The results?
[W]omen had a more complex organization of knowledge for relationship-oriented words, whereas men were found to have a more complex knowledge organization for explicitly sexual words. [...] The findings [...] were consistent with sexrole stereotypes and demonstrate that men and women differ in how they organize information about sexual and relationship stimuli. The data strongly suggest that men and women often differ in the meanings assigned for identical words, particularly when those words are relevant to sexuality.[1]
Identical words assigned different meanings?!
Now's a good moment to revisit Socrates' adage that "the beginning of wisdom is the definition of terms". It was probably a lesson he learned from arguing with his legendarily quarrelsome wife, Xanthippe, who is immortalized in ancient Greek literature as "the hardest to get along with of all the women there are."[4]
Socrates is said to have chosen Xanthippe on purpose, for after honing his argumentative skills with her, he expected to be able to take on and make short work of any debating rival. Here Xanthippe is pictured in one of her favorite acts: dousing Socrates. Can't argue with that.
MEmory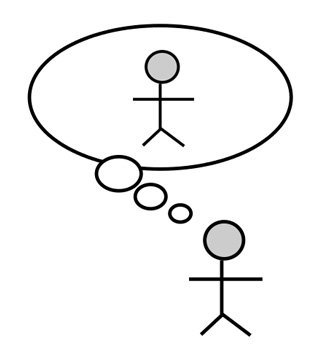 Me thinking of me.
Source: MithrandirMage w/ CC BY-SA 3.0 license, modified & avail. under the same license.
Pathfinder is a little bit hard to explain in detail but I had to at least mention it.
A type of experiment much easier to fathom involves having subjects read a text and then ask them to recall what they read.
You see, what we perceive and remember says a lot about who we are. Humans do not just passively let any information get coded in their brain. Snakes will receive more attention than rocks, and women will receive more attention if you're a male and horny. I like to call this MEmory because we tend to remember things that have to do with our personal interests and cognitive biases.
And so one experiment had subjects read stories that were ambiguous as to their sexual content. By manipulating the titles of the stories so as to push subjects toward one interpretation, the researchers could then compare recall.
Men recalled the story more accurately when it was presented with an erotic title than with a nonerotic or no title.[1]
Note that besides gender, they also measured sex guilt and sexual experience, none of which gave meaningful results, making gender more pertinent than guilt and sexual experience when it comes to assimilating information of a sexual nature!
And there are two other conditions that influence the way you process erotic information: they are called, rather circularly, erotophilia and erotophobia. Erotophiliacs are people Cupid likes to shoot with his arrow, and erotophobics are people who developed an immunity. (This may not be the exact scientific definition.)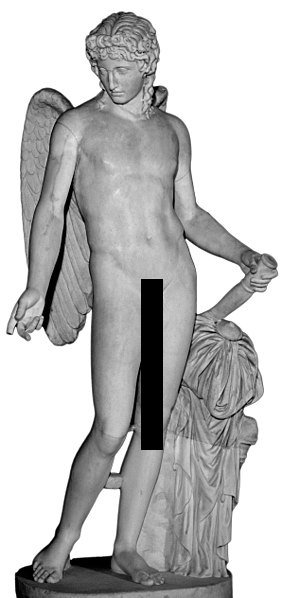 "Is that your quiver or are you just happy to see me?"
Source: Haiduc w/ Public Domain license.
But you know what influences the way you process erotic information more that these two? That's right: gender!
[E]rotophilia-erotophobia does not appear to be a dimension that exerts a significant influence on the way individuals process erotic information. Gender, on the other hand, appears to be a much more influential variable.[1]
Yes, that's how much gender influences our perception: more than phobias, guilt, and sexual experience!
But let's go back to memory. The last few years the public has been made much aware of how unreliable memories can be, via popular articles, legal cases, and so on. Memories, we all now know, are not photographs of what happened. The narrator is quite incapable of keeping his own motives out of the story. Our brains don't just respond to things: they select which things to respond to. And they add them when they're missing, like alien abduction stories.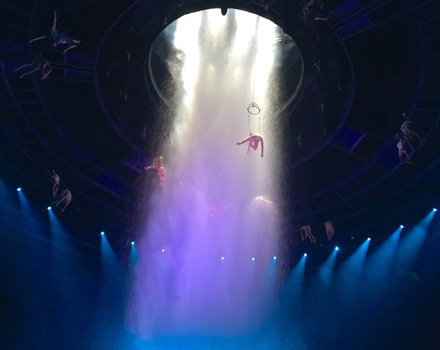 It's unclear whether they are being sucked in or hosed out.
In experiments investigating memory recall in males vs females, subjects were asked to recall the details from a story they read. Both males and females recalled sentences that did not occur in the stories: this is termed intrusion. But there was a difference in the nature of these intrusions:
[I]n comparison to women, men at both immediate and delayed recall exhibited more erotic intrusions and fewer romantic intrusions.[1]
That would explain why my partners sometimes claimed that I did or said or implied something romantic, when I'm pretty sure I did no such thing. And also why I think my partners did or said or implied something sexual, which they deny (I mean, this happens extremely rarely 🙄 )
Note: Some similar experiments have shown that men also have more romantic intrusions. So nevermind what exactly the details are or what they mean: the important thing is that sex differences are found.
Generally:
The results of these studies make it clear that the genders differ in their memory for sexual information.[1]
Biases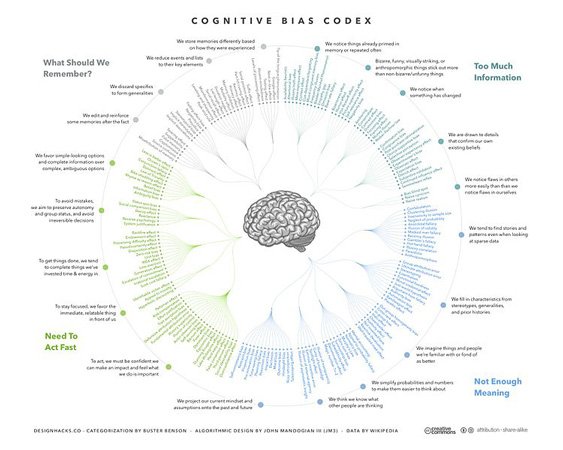 List of cognitive biases, or a Snellen chart? You decide.
Another experiment that's easy to wrap one's head around is the visual dot-probe task. You're basically flashed some information and then asked to indicate the position of a dot on a screen. Faster reaction times indicate greater vigilance to the preceding stimulus. These experiments have been used, for example, to investigate the biases of people with GAD (generalized anxiety disorder), who reacted significantly faster after being presented with threat words.
So what does the visual dot-probe task show when applied to sex?
Men were faster in making recognition decisions to erotic sentences, whereas women were faster in making recognition decisions to romantic sentences.[1]
It's to be expected, since a person attends to information relevant to his individual concerns!
This actually has a name: attentional capture. It's been shown for example that anxious people — much like this funny kitten — focus their attention on information relevant to their subjective fears (e.g. snakes but not cars).
And it's not just that we become more vigilant to things that concern us: we also attend to them for longer, thus enforcing our memory of them. And, if possible, we go back to them.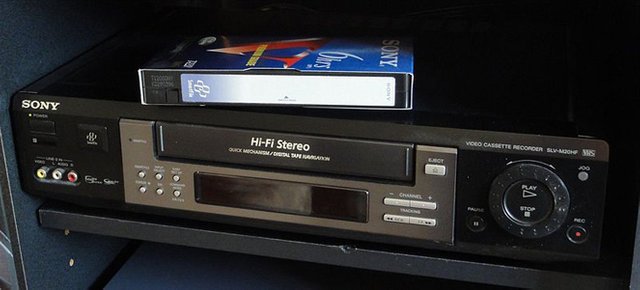 Our house had a double-decker that could take in a tape and copy it onto another one. I used to copy all my favorite movies that I rented from the local 'video club'. Could've made it into a business.
The average male probably remembers how, as a teen, he used to rewatch the more explicit scenes in a movie. Since that was a harder process — called rewinding — in the age of VCRs, older males probably remember it better. So it seems less than surprising that something similar happens when reading literature:
[E]rotic sentences were read longer than neutral or filler sentences by all subjects[1]
This happens even at the level of the individual word: In an even simpler type of experiment than all of the above — called a lexical decision task (LDT) — which involves showing subjects a string of letters and just asking them whether it's a word, subjects were presented with nonword strings, neutral words, sexual words, and romantic words.
Both men and women took longer to make lexical decisions when the target was explicitly sexual. This delay was accentuated in women[1][my italics]
Curtain Close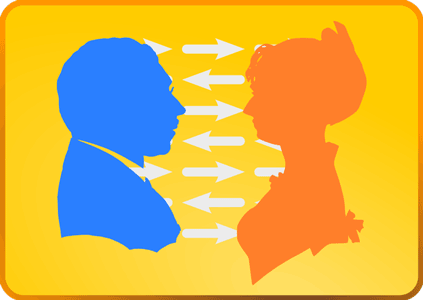 Communicating, or shooting daggers at each other? You decide.
From dating advice columns to comedy skits to magazine article titles like "What he REALLY means" and "How to speak Menglish" to mock-technology like "The manslater" ("a revolutionary device that translates woman language into simple man words" — vid worth watching if you haven't come across it before), whole markets and lots of payrolls depend on the stereotype that women and men speak different languages.
As it turns out, some of that stereotyping is probably true.
None of the research is clear on why words and sentences are coded differently in men and women, just that they are. But that's all that's needed to back this post's claim that the sexes often talk past one another:
Gender differences in the organization of memory for sexual information suggest that the meaning of sexual words differs between men and women. This has important implications for communication between the genders.[1]
You can certainly see how these sex differences might lead to lack or understanding and misunderstanding and outright failure of communication in the personal realm, not to talk about conflict (harassment?) in the professional realm.
And since language is basic, this has implications for everything that's built on it:
The occurrence of a gender difference at such a fundamental level of cognition argues for the pervasiveness of these differences at all levels of the system.[1]
Note that all the cognitive sexual experiments I could find were performed by one person + some collaborator — Geer et al, essentially — which is why I cited mostly from a single large review (basically Geer talking about himself &Co. in the third person). This guy is hodl-ing the whole field to himself. There's no reason to doubt the research, but I thought it worth mentioning. It's really a niche, but an interesting one.
And knowing about it might help you navigate some of the communication difficulties of the festive season! Mirthful holidays, everyone! 🌟
Honorary mention
The title "sex and the sexes" was come up with by @insight-out when we were talking to — hopefully not past — each other under one of her posts.
---
REFERENCES
---
Earlier Sex Differences episodes:
11: Sex Drive: Fantasy Sex Is Where To Find Id
10: Sex Drive: Do Women Have More of Id?
9: The 70-year Cognitive Puzzle That Still Divides The Sexes
8: Do Transsexual Persons Have An Opposite-Sex Brain?
7: Do Parents Stereotype Their Children's Gender?
6: Sex Differences: Do females and males have different brains? Addendum
5: Sex Differences: Do females and males have different brains? Pt 3
4: Sex Differences: Do females and males have different brains? Pt 2
3: Sex Differences: Do females and males have different brains?
2: Sex Differences: Check out the gonads on that one!
1: Sex Differences: Does the Chromosome Maketh the Man?
---
steemSTEM is the go-to place for science on Steemit. Check it out at @steemstem or browse the #steemSTEM tag or chat live on discord and definitely visit www.steemstem.io
---

---