Sex Drive: Toward the Old World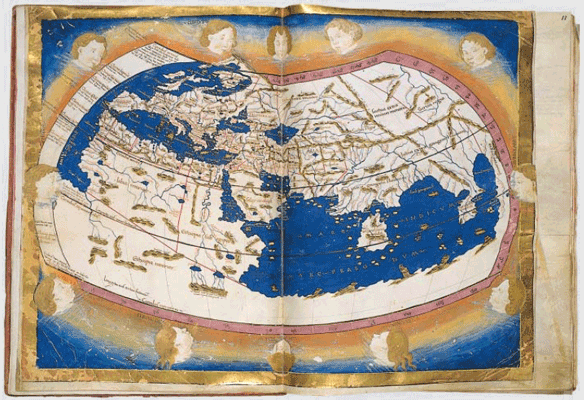 Wiki calls it a Ptolemy map of the "old world". @lordneroo calls it mind porn.
Curtain Open
Almost everything I said so far about sex drive does not leave the US shore. US culture's emphasis on sex and on having it, as well as the liberation of women and the ever-greater equality of the sexes that the US represents, is a good testing ground for the sociological theory, i.e. the idea that there are no biological sex differences in sex drive, only cultural differences. If the sociological theory is correct, then there should be little evidence of a difference in sex drive in US culture.
And yet, even in the US, there's sex differences that cannot be explained by the sociological theory. So I did not consider it important to delve deep into cross-cultural research (not that there's much of it to begin with), since that would only aggravate the biological sex differences.
I did however consult a large study that used data from 53 nations and from more than 200,000 participants. That data shows that sex differences in sex drive are universal. Part of this post will be to explore these a bit, and part of it will be to ask what the underlying causes might be, whereupon I'll briefly touch on evolution and hormones.
Beyond the Americas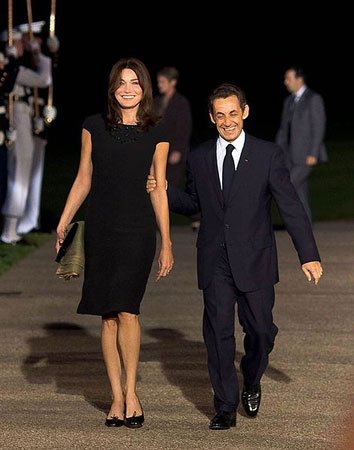 France's former president Nicolas Sarkozy trying to pull Carla Bruni down to his height level.
The cross-cultural study I mentioned is called Sex Differences in Sex Drive, Sociosexuality, and Height across 53 Nations. It's from 2009, and is the biggest of its kind to date, with over 200,000 participants.
You might be wondering what height has to do with anything. Reason it was included, is that we know height is biological. By studying the pattern of a sex difference that we know is biological, we can compare it to sex differences that are often said to be social — such as sex drive — and we can see if the pattern matches, as it should if both are biological.
The results?
For both sex drive and height, sex differences were extremely consistent across nations and they were not moderated by gender equality or associated with economic development.[1]
But I don't want you to go around thinking, much less saying, that sex drive is 100% biological. It's not. In fact, neither is height:
[F]or these two traits [sex drive and height], sex accounted for 85–88% of the variance in male and female trait means, gender equality accounted for one to three percent of the variance, and sex-by-culture interactions accounted for insignificant amounts of variance.[1]
In case you're wondering why it was only 85-88% for height, note that the economic prosperity of a nation affects the nutrition and health care quality of its citizens, and that in turn affects whether they can achieve full stature. Same goes for sex drive: society, culture, and other environmental variants affect it. That doesn't disqualify it from being mostly biological.
So even though it's wrong to say that the sex drive difference in the two sexes is 100% biological, it's probably correct to say that the sex drive difference in the two sexes is as biological as the height difference in the two sexes.
Is women's sex drive more variable than men's?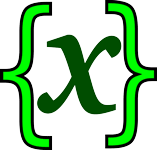 Another finding worth noting was that "[w]omen were consistently more variable than men in sex drive"[1].
That, as I mentioned before, is a point @agmoore made in her comment to my very first post of this sex drive subseries, and it's a generally acknowledged fact. What's new here is that this cross-cultural research might shed some light on why that is the case, and what it might mean.
You see, most research that finds women to be highly variable in sex drive compared to men, is done in developed countries. This cross-cultural research had the chance to investigate many more countries, and it finds that men are highly variable in "restricted" (i.e. highly sexually conservative) societies. Women, in these same restricted societies, have very low variability. The study's author explains:
Because of men's predisposition to unrestricted sociosexuality and women's predisposition to restricted sociosexuality, unrestricted societies are more congruent with men's predispositions, whereas restricted societies are more congruent with women's predispositions.[1]
(I'll define sociosexuality in the next section.)
Since a highly unrestricted society matches men's real desires, their variability decreases (if you give everyone what they want, and what they want is the same, there's little variability, and men end up with a uniformly higher sociosexuality than women). In the same highly unrestricted society, women are allowed to express their individual differences, so we have most women following their naturally lower sex drive, but some highly promiscuous women also following their innate drives, and so women's variability increases compared to men's.
In restricted societies, whose cultural pressures agree more with women's average innate dispositions, the variability decreases (the author doesn't say why exactly, but we can imagine the patriarchy punishing the few outliers, or women themselves might feel less culturally pressured to match and satisfy men's higher sex drive). In men, the variability is high, as the restriction opposes their natural inclinations.
Sociosexuality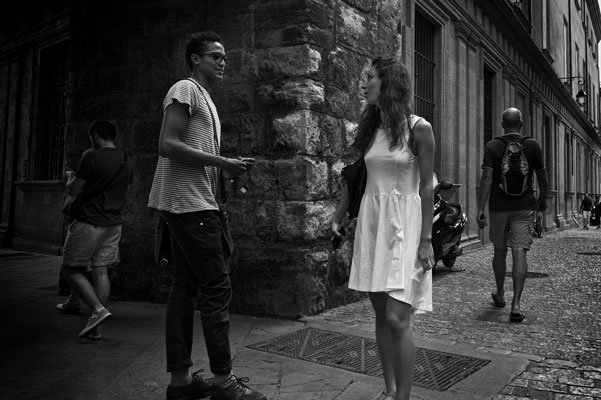 The third element of the large cross-cultural study was sociosexuality. Sociosexuality is, roughly, the extent to which a person is willing to have casual, uncommitted sexual relationships, the extend to which he generally is willing to act upon his desires in a social context. There were consistent sex differences across nations. This jibes with all the prior literature:
[I]n all countries and cultures studied to date, men score higher than women on sociosexuality[1]
An earlier study of 48 nations, for instance, said that "[t]hese results…place sex differences in sociosexuality…among the largest and culturally most robust ever documented in the domain of sex and human mating"[1].
Overall:
[I]t can be concluded from these results that sex differences in sociosexuality are a cultural universal, supporting the basic tenets of parental investment theory"[1]
But what is the parental investment theory, and how does the universally greater sociosexuality of men support it?
The evolutionary theory of sexuality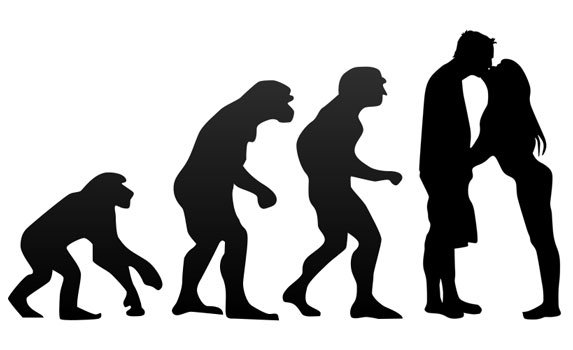 The reason apes became humans, IMO.
Source: Tkgd2007 w/ CC BY-SA 3.0 license & OpenClipart-Vectors w/ CC0 license, modified and avail. under the more restrictive licence.
What is the evolutionary theory of sexuality? The most plain and broad definition I could find (although it was not given as a definition), and one that I consider quite apt and free of ideological baggage, and frankly one which agrees with how I personally view the matter, is this:
[T]he fact that men and women differ sexually in ways that are generally true of mammals is not a coincidence[2]
That, one could say, loosely, is the evolutionary tenet.
The elaboration of this tenet goes roughly the same in all papers and books, is often called "the parental investment theory", and it goes something like this:
A woman, by engaging in sex, risks pregnancy, which carries a lot of cost, at the very least (barring complications) 9 months of pregnancy, and most likely years of rearing and caring.

A man, by engaging in sex, risks a few ml of his sperm and 2 minutes of his time (that's the average it takes a man to ejaculate, according to some).
Many scenarios and strategies are inferred from these differences, and many game theories proposed. Many are just-so stories, and many thinkers have their favorite.
As do I. Mine is a bit unusual: I think the most fundamental difference between men and women, that causes them to have different sexual strategies, is ... well, I like to express it pithily, like so:
Maternity is always 100%, paternity is never 100%.
We're talking, of course, about the average: it only takes one woman who cheats and presents the result as the cuckold's own to bring down the male average to below 100%. Men, on the other hand, could be 100% cheaters and a woman would still be 100% sure that the baby she gave birth to is her own.
If every time a man and a woman had sex both became pregnant and went off with their own half of a twin pair, the world we live in might look a lot different. As it is (or, rather, as it was), men never really know that a child is their own. This makes a lot of strategies possible for men. One is to never stick around, just pollinate as many flowers as possible.
Another is to stick around, but become jealous and controlling of a woman's sexuality to compensate for the added risk, perhaps by taking her away from her parents and bringing her to the paternal home, where the man's parents can keep an eye on her (her own parents cannot be trusted with this task), which even today happens in a lot of places. Or, attach a chaperone to her, which also happens to this day.
Really, what else could we expect when a man can never be certain? Women today might call a man's controlling nature insecurity. Well, close enough, but not quite: it's actually uncertainty!
If men had a way to tell, like with modern DNA tests, we might've evolved into a totally different gender, and we might now give a rat's ass about what a woman does with her sexuality, since we would always know if a child is our own, and jealous feelings and controlling behaviors would probably be less favored by evolution.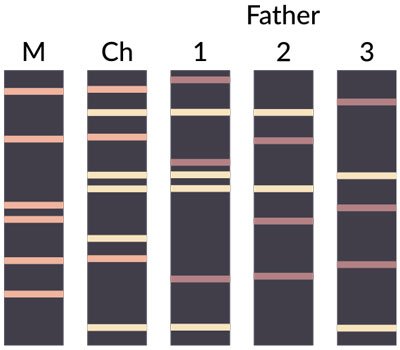 The reason men became jealous, IMO.
Of course, that's a simplified picture. But I like it because it's an unquestionable picture. Other theories can be very much questioned. For instance, the idea that men like to spread their seeds around conflicts with the fact that a weaker male, while spreading his seeds in a claimed-it-first field, risks being detected by a stronger male and killed. The male can also benefit from providing for his child and making sure it grows up to have children of its own; if the child is a male, he can even spread his genes (although at only a 50% efficacy) by proxy. So does a man become philanderous or not? Not clear.
But can a man be 100% certain (in the pre-scientific conditions where we evolved) that a child is his own? Clearly not. The picture is not at all muddied in this case. He can increase the chances that it will be his own child by guarding the mother, but a man needs to hunt and sleep. Nevertheless, controlling behaviors will increase the chances that this child will be his own. Which is why controlling behaviors are universal among human males:
There are no societies in which men are not sexually jealous.[4]
But favorite pet theories aside, all things considered, and all researchers considered, there is general consensus that it serves women much better to be more selective and more careful in choosing partners so as to increase the chances that they'll be around to help with the child, and it serves men better if they seed as many torrents as possible.
It follows that human males should be more easily arousable than females and by a wider range of stimuli. Women's arousal, on the other hand, should be liberated most fully under securely partnered conditions, with a committed, emotionally bonded mate.[2]
So, in short, the benefit from engaging in any sexual opportunity, and being constantly on the lookout for it, is positively large for men and negatively large for women. And this is what we see is true for mammals in general.
The authors of the last quote went beyond just saying it is so, by testing whether it is so.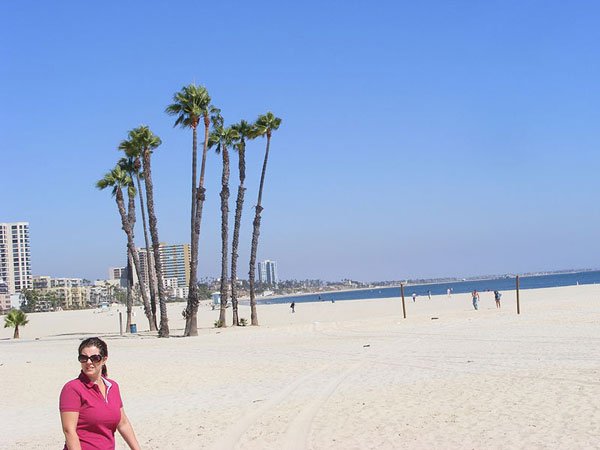 The sex researcher is an animal that hunts during the day, and collates data during the night. Here it was spotted prowling on Long Beach.
Of course, I've already cited a lot of research that says that males are aroused more frequently, more spontaneously, etc., in my other posts. The main difference here is that the authors of this paper also tested adolescents, not just college students as is usually the case. The methodology they chose in approaching some of the subjects was also noteworthy: they had pairs of male and female experimenters approach teens at Southern California beaches! They did this for 3 years and collated the results of the ~200 participants, as well as more than 700 participants procured in non-beach ways.
And yes, the results were the same as all the other studies we saw in earlier posts:
The modal teen boy is aroused several times daily; the modal girl, once or twice a week.[2]
But how does evolution make all this happen?
Hormones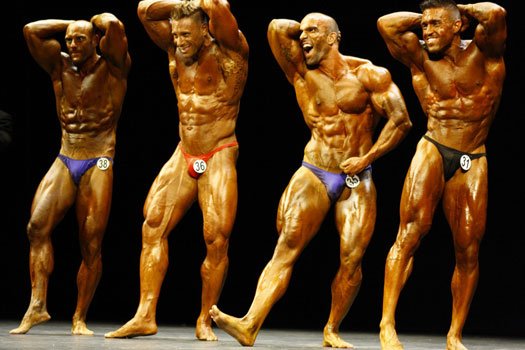 A moment of appreciation for the recreational users who make hormones much cheaper for the people who really need them.
Source: pxhere w/ CC0 Public Domain license.
The claim that hormones mostly explain the difference in sex drive between adolescents and prepubescents doesn't seem to be a very hot button issue. (It would be difficult otherwise to explain why the differences occur at roughly the same ages cross-culturally.) It's only when hormones are posited to explain sex differences that some cry foul.
In a study that was partaken by 102 boys in grades 8 to 10, the boys were given a questionnaire that probed "their pubertal development, sexual motivation, and details of their sexual behavior"[5]. This was then correlated with their serum testosterone that was sampled about 3.5 months later due to funding delays, with the exception of 8th graders for which these happened concurrently. I mention this tidbit because even though the testosterone correlated significantly with increased sexual motivation in all samples, it correlated even more for the 8th graders where no delay occurred.
Though the authors, in going over their results, say that "Free testosterone, therefore, appears to affect sexual motivation directly"[5], the paper itself offers strong evidence of correlation, not causation, and this leaves it open for the sociology theorist to claim that the testosterone has its sexual effects via the avenue of all the other effects testosterone has on pubertal development.
How?
Well, for example, the boy's secondary sexual characteristics (hair, height, etc.) might send a social signal to others that "I am a desirable sex partner", and others might then respond in ways that feed back into the boy and change his self-concept and his activities, which end up changing the study's questionnaire answers.
Though this might be partly true, it's unlikely to be the whole story. Firstly, if these signals ("I am a desirable sex partner") are sent to people of the same age, it's unclear why they would respond, since the only way for them to respond is if the same sociological explanation is applied to them, which will leave us going in circles.
Secondly, this objection was anticipated by the authors of the study, who did a bunch of statistical wizardry that's hard to fathom and harder to exposition, and who concluded that:
[N]one of the association between FTI [free testosterone index] and the measures of sexual behavior and motivation is via the indirect route through pubertal development. Nor does age have any additional explanatory effect on any of our measures once FTI is in the models.[5]
Though it's not an open-and-shut issue, one can still side with the authors of the paper when they conclude that "[f]ree testosterone was a strong predictor of sexual motivation and behavior"[5].
And a virtually identical study was carried out by more or less the same authors, this time on girls[7] (for why publish one paper when you can publish two for the same effort?) And the results were roughly identical, except in that intercourse itself was not correlated with androgens, and that masturbation frequency did seem to have a social element to it, which was hard to explain by the authors seeing as masturbation is an emphatically non-social activity.
Here's what the authors say:
In our study, differential involvement of girls in coitus is controlled by social processes, not by hormones. Differential involvement of boys in coitus is controlled primarily by hormones, not by social processes.[7]
Going back to the problem of the vicious circle I mentioned above (i.e. if sexuality is socially-influenced, who is the first instigator?), it would seem from these results that girls engage in sex due to social influences, and those social influences are brought about by boys, whose sexual desire is brought upon them by their hormones.
This jibes well with some parenthetical theorizing I did when examining the variability of the sex drive of men and women as revealed by the cross-cultural study, when I said that "In restricted societies [...] women [...] might feel less pressured to match and satisfy men's higher sex drive", because the culture gives them an excuse for being prudish, something not very well tolerated in unrestricted societies that mostly play to men's average desires.
In an unrelated tidbit that might nevertheless give support to the underlying idea, researchers found that women enjoy both fellatio and cunnilingus less than men, and this led to some theorizing along the above lines:
This difference caused the researchers to speculate that some women perform such acts more out of a sense of obligation than genuine desire[8]
So it could be that hormones > increase male libido > increase social pressure > increase female libido.
This doesn't mean there's absolutely no room for social influences in male libido. An explanation that allows for both social and biological elements could go something like this: It's known that, in male primates, dominance increases androgens (and vice versa). So it's possible that increase in dominance in adolescents increases androgens which increases libido.[7] In other words, social influences might increase the status of a male teen, which as a result increases hormones, which increases sex drive, which increases social pressure on girls to have sex with that male.
In general, since the androgens are simply correlated with behavior (as I mentioned), it's possible that either one influences the other, or that both are influenced by a third factor (like dominance status).
Conclusion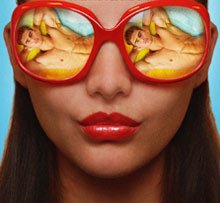 The doc revisited.
Source: Janwillembreure w/ CC BY-SA 4.0 license, cropped and avail. under the same license.
In my last 4 posts I expositioned many studies, many of them reviews, led by different investigators, examining different samples, using different methods to do it. Despite all these differences, the results were the same: all the authors concluded that there are significant differences in sex drive between women and men. Even WebMD agrees that men have a higher sex drive than women. As the newest and broadest review of the literature on this subject put it:
By all measures, men have a stronger sex drive than women. Men think about sex more often, experience more frequent sexual arousal, have more frequent and varied fantasies, desire sex more often, desire more partners, masturbate more, want sex sooner, are less able or willing to live without sexual gratification, initiate more and refuse less sex, expend more resources and make more sacrifices for sex, desire and enjoy a broader variety of sexual practices, have more favorable and permissive attitudes toward most sexual activities, have fewer complaints about low sex drive in themselves (but more about their partners), and rate their sex drives as stronger than women. There were no measures that showed women having stronger drives than men.[8]
In stark contrast to these results, the documentary Do Women Have A Higher Sex Drive? with which I started these series claimed the opposite, or at the very least claimed there might be no differences between the sex drives of men and women.
Armed with the knowledge you've gained in this series of posts, you can now watch and judge the scientific merit of the doc yourself. It was a rather cringeworthy affair, to be honest, with more than half the expert interviews looking scripted, at least to me (specifically, Marcia Chong's, Sandra Moti's, Dian Biemans', and Katarina Gaborova's interviews seem to me to be entirely scripted). On IMDb I gave it a four for effort (or was it for fornication, given the subject matter?)
To give some credit to the sociological theory, there are many measures that seem to be strongly associated with year of data collection. A study found that 11 of the 21 sexual attitude and behavior measures they tabulated were significantly correlated with year of data collection. The trend was toward smaller differences over time.
However, sexual permissiveness and attitudes toward casual intercourse, both of which showed substantial gender differences [...], were not significantly associated with year, suggesting that they have remained fairly constant over time.[7]
Culture may moderate sex differences, but it never eliminates them: "the most striking feature", says the author of the cross cultural study examining the 53 nations, "was the consistency of sex differences across nations [...] with men's means always higher than women's means"[1].
And with that I end this foray into sex drive. Next time I'll continue with the normal course of my sex differences series. I believe it's about John Money's last criterion of what makes boys boys and girls girls, but who even remembers at this point?
---
REFERENCES
Lippa, R. (2007). Sex Differences in Sex Drive, Sociosexuality, and Height across 53 Nations: Testing Evolutionary and Social Structural Theories. Archives of Sexual Behavior, [online] 38(5), pp.631-651. Available at: https://doi.org/10.1007/s10508-007-9242-8.

Knoth, R., Boyd, K. and Singer, B. (1988). Empirical tests of sexual selection theory: Predictions of sex differences in onset, intensity, and time course of sexual arousal. Journal of Sex Research, [online] 24(1), pp.73-89. Available at: http://dx.doi.org/10.1080/00224498809551399.

Wikipedia contributors. (2018, September 21). Sociosexual orientation. In Wikipedia, The Free Encyclopedia. Retrieved 13:57, November 23, 2018, from https://en.wikipedia.org/w/index.php?title=Sociosexual_orientation&oldid=860505811

Buss, D. M. (1994). The evolution of desire: Strategies of human mating. New York, NY, US: Basic Books.

Udry, J., Billy, J., Morris, N., Groff, T. and Raj, M. (1985). Serum androgenic hormones motivate sexual behavior in adolescent boys. Fertility and Sterility, [online] 43(1), pp.90-94. Available at: https://doi.org/10.1016/S0015-0282(16)48324-X.

Wikipedia contributors. (2018, November 17). Hormone therapy. In Wikipedia, The Free Encyclopedia. Retrieved 17:45, December 3, 2018, from https://en.wikipedia.org/w/index.php?title=Hormone_therapy&oldid=869194106

Udry, J., Talbert, L. and Morris, N. (1986). Biosocial Foundations for Adolescent Female Sexuality. Demography, [online] 23(2), pp.217-230. Available at: https://doi.org/10.2307/2061617.

Baumeister, R., Catanese, K. and Vohs, K. (2001). Is There a Gender Difference in Strength of Sex Drive? Theoretical Views, Conceptual Distinctions, and a Review of Relevant Evidence. Personality and Social Psychology Review, [online] 5(3), pp.242-273. Available at: https://doi.org/10.1207/S15327957PSPR0503_5.

Mealey, L. (2000). Sex Differences: Developmental and Evolutionary Strategies. 1st ed. Academic Press. Available online at: https://doi.org/10.1016/B978-0-12-487460-2.X5000-4
---
Earlier Sex Differences episodes:
13: Sex and the Sexes: Talking Past Each Other
11: Sex Drive: Fantasy Sex Is Where To Find Id
10: Sex Drive: Do Women Have More of Id?
9: The 70-year Cognitive Puzzle That Still Divides The Sexes
8: Do Transsexual Persons Have An Opposite-Sex Brain?
7: Do Parents Stereotype Their Children's Gender?
6: Sex Differences: Do females and males have different brains? Addendum
5: Sex Differences: Do females and males have different brains? Pt 3
4: Sex Differences: Do females and males have different brains? Pt 2
3: Sex Differences: Do females and males have different brains?
2: Sex Differences: Check out the gonads on that one!
1: Sex Differences: Does the Chromosome Maketh the Man?
---
steemSTEM is the go-to place for science on Steemit. Check it out at @steemstem or browse the #steemSTEM tag or chat live on discord and definitely visit www.steemstem.io
---

---