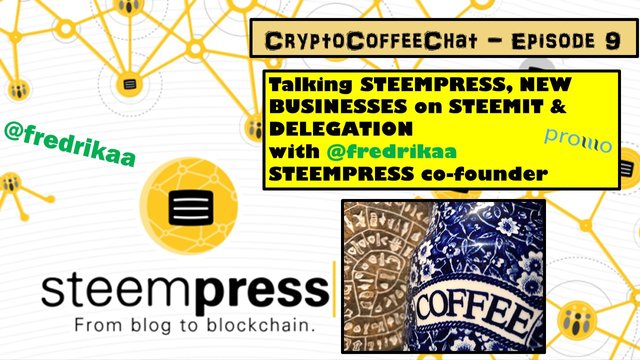 This is Number 9 in a series of blogs where I talk to a Crypto / Blockchain enthusiast over the internet, over a coffee, and this time it was an honour to have an evening chat with @fredrikaa who was calling me from Paris, France.
Fredrik (@fredrikaa) holds a masters degree in business and administration specialising in economic analysis from the University of Stavanger, his home town on Norway's south coast. At the moment, he is fulfilling a lifelong ambition of working at the European Space Agency where he is currently based at the headquarters in Paris. His current duties are to help foster innovation and knowledge transfer about space technologies in Europe.
@Fredrikaa has been on the platform for 13 months where he initially planned to write about his passion, ideas and insights related to space, technology and economics and has been an active member of the #Steemstem community. During the last seven months, however, his focus has primarily been on building and operating @steempress-io, a WordPress plugin he created together with fellow steemian Martin (@howo).
I met Fredrik at the London Crypto Currency Show back in April where he capitalised on the opportunity to present his Steempress Project with co-founder @howo to an audience which included cryptocurrency experts and over 50 Steemians.
One of the things I distinctly remember is a vlog post from @exyle on the day where he was buzzing from being at the event and how he was excited to come across, for the first time, the new project "Steempress". I guess this demonstrates that this was really the early launch and early adoption stage and that since April it has been really interesting to see the interest gather pace and culminate in a 1 million SP delegation to @steempress-io from @misterdelegation. There are now 2,000 posts per day and in excess of 1,415 users.
The Lightbulb Moment
Speaking with Fredrik it came apparent to me that he had a real passion from growing the value in the Steem Blockchain. It seems that the light bulb moment as to when he knew he would be involved in building a new decentralised application was around the time of seeing the successful launch of @utopian-io (by @elear) and the announcement from @ned around SMTs. It was these moments that gave him the knowledge that community orientated software contributions can be built, stored and rewarded on the Steem Blockchain. And so this led to Steempress…..
A Basic Intro: Steempress
Steempress is a plug-in that can be applied to any WordPress website to allow the authors to leverage the Steem Blockchain to gain access to new communities on Steemit and be rewarded, by the readers, for sharing their valuable content. Blogs can either be cross-posted instantly to the Steem blockchain, or the user can schedule their own delay for when the posts are also shared to Steem either for the sake of convenience or to help circumvent any issues with SEO for the website owner.
Please see the official blog post from Steempress which is here especially if you want to learn how you could be rewarded by Steempress as a quality user of the tool. And HERE is where you can find the WordPress plug in on the WordPress Website.
The promo-mentors team conducted an interview with @fredrikaa a few weeks ago (expertly interviewed by @evecab) which is captured here and this is a great source to acquire information first hand from one of the founders.
I don't want to cover all the same ground which has already been covered very well by @promo-mentors and by the Founders of Steempress themselves. So here is what I'd like to talk to about following my evening conversation with @Fredrikaa:
How did the Delegation come about?
Steempress Rewards
Promoting Steem & Bringing New Businesses & Entrepreneurs onto the platform
Steempress Roadmap
How did the Delegation come about?
Recently I have seen some very desperate and clueless begging style delegation requests, and you just think, "are you for real", why do people think that "anybody", let alone an investor, will whimsically delegate Steem Power.
The delegation from @misterdelegation was not whimsical and was borne out of deep knowledge of the credible investees @fredrikaa @howo and their project @steempress-io.
@fredrikaa, who was an attendee at Steemfest 2, had already become acquainted with some of the Steem Inc team and it was many months before the delegation that Steempress started to gain attention through Trending and highly rewarded launch blog posts. So as matter of public record, over several months, there is evidence of the success of Steempress and its potential was becoming increasingly apparent.
Here are just a couple of top tips from @fredrikaa on seeking investment for a DAPP or a Business on Steem:
Build something tangible and demonstrate its application
Demonstrate how you are bringing new people or investment into the blockchain
Demonstrate how you can improve the Steemit engagement or user retention
Prepare a professional pitch deck
Steempress Rewards
I thought it was worth a mention that, bloggers using the Steempress plug could earn a reward for their high-quality post through a neat system of upvoting designed by the founders. There are a number of possible methods of receiving a @steempress-io upvote, these are still being perfected, but here is an indication of the methods Fredrik and Martin have designed:
Curation Trail Method: this is where they upvote steempress blogs which have been upvoted already by high quality curation groups such as @Curie, @SteemSTEM, @OCD, @travelfeed, @up-quark, @bebeth, @TheWritersBlock, @steemitworldmap and @sndbox – all of which have a clean transparent record and that blacklist plagiarisers.
The beauty of using community-based curators is that we are drawing on the wisdom of the crowd to delegate rewards and not doing it purely based upon Steempress taste and preferences.
Welcome Upvotes: these are for new users to incentivise and encourage them to continue in using Steempress
Randomised Upvotes: these are for authors which have been white listed, based upon, Steempress criteria of quality, originality, purposefulness, and engagement with the audience.
I should also mention that Martin and Fredrik are keen to know of other great community projects and curation initiatives that aim to reward good content and incentivise positive engagement to add to their already high-quality trail. So, if you think you can add to their list of high quality curators please contact them perhaps through their vibrant discord community: here.
Promoting Steem & Bringing New Businesses onto the platform
We talked about promo-steem and the @Steem-Ambassador model and Fredrik was very complimentary of the approach deployed by @starkerz and @anarcotech to have community approved Ambassadors. The @Steem-Ambassador project rewards high quality posts about promoting the Steem Blockchain and bringing new people and investment into Steemit. Again, the method of rewarding content is decided in a decentralised fashion by over 55 curators and so the winner and losers are not decided by a small number of individuals or bots.
Just a little pointer from me @cryptocurator (as a community approved Steem Ambassador) and @Fredrikaa:
If you have a WordPress website and are using the steempress plug in, and if you use your website to promote Steemit or the Steem Blockchain to the external world; why not do a high-quality blog post about it. If you use the #promo- steem tag and the steempress plug in and you have a high-quality post you could likely earn rewards from both @Steempress-io and @Steem-Ambassador at the same time!
Both projects need to be thankful there are people out there with SteemPower that have the foresight to invest in projects that will add value to the blockchain. So we have to be thankful in the case of these two projects to @misterdelegation (delegation to Steempress) and to @starkerz, @roelandp and @lukestokes.mhth (delegation to Steem-Ambassador).
I talked to Fredrik about promoting Steem and the best quote I have is:
There are hundreds of thousands of applications that could be run on the Steem Blockchain because anywhere where engagement and contributions can be financially rewarded by Steem Power has potential to work. You can imagine a front end where people engage and contribute and as result of their quality interaction they get a reward from either the App or even better from the community. New investors or businesses have to be able to buy into the idea that they can invest Steem Power as a fuel to drive behaviour which then they as an investor can profit from. We have to be able to prove and demonstrate how we can make profitable businesses run on SteemPower.
And another angle we talked about was that just gaining new audiences has a value proposition in itself:
We can talk to businesses about how we can use blockchain technology to take your existing content to new audiences and we have a clever way of finding out what type of communities like to read/view your content; oh and by the way, at the same time you can earn a bit of cryptocurrency.
I suppose we have to recognise that despite good evidence for "interest" and "curation rewards" the volatility in the crypto- currency market will be a turn off for some investors.
Steempress Roadmap
I was very interested to hear about the tech roadmap. Fredrik did talk about the three stages of the roadmap, with the first stage now 100% complete with the fully functioning cross posting service from WordPress to Steemit.
Second stage is going well, perhaps 75% done; this stage being about the infrastructure to allow community connection to create more engagement via a new search page. The stage includes improved content discovery and setting all the right parameters to their vote distribution.
The third stage is very exciting and will be partly dependant upon HF 20; this stage allows more integration back and forth between Steemit and the WordPress website and the fact that the founders would like to have Steemit sign up as an option for all Steempress plug in websites and I can see that this is a very exciting possibility to open up many new doors to bringing in new users.
I am hugely grateful to Fredrik for sparing his time, during a busy schedule of a newly launched business, and my final thoughts are a thank you to both founders for bringing something entirely exciting to the blockchain, everyone could benefit from their success as we all want to bring more people and investors into the blockchain.
You might like to join the steempress discord community: here.
SteempressOn!
@Cryptocurator
Here is the back catalogue of CryptoCoffeeChats:
Episode 8b | @FutureThinker | here | Promo-mentor & Steem Ambassador
Episode 8a | @FutureThinker | here | Discord Champion & Steem Ambassador
Episode 7 | @mcfarhat | here | Steem-Ambassador & Utopian Contributor
Episode 6 | @bitrocker2020 | here | The King of #TeamMalaysia
Episode 5 | @Danieldoughty | here | The Prince of Borneo
Episode 4 | @Pennsif | here | The only Dolphin in Wales
Episode 3 | @Steemitph | here | Philippines based Red Dayou
Episode 2 | @samstickkz | here | Stach hero
Episode 1 | @anarcotech | here | Yorkshireman & Blockchain Philosopher
The archive collection covers #Promo-steem work in the Ether, Malaysia, Borneo, Wales, Philippines, Nigeria, France and the UK.