Thank you SteemMonsters for the delegation feature.
I have been waiting a long time to give out this prize.
I will delegate 1 SteemMonsters account for 7 days.
This was one of the team accounts for the Team Possible guild to help support new players.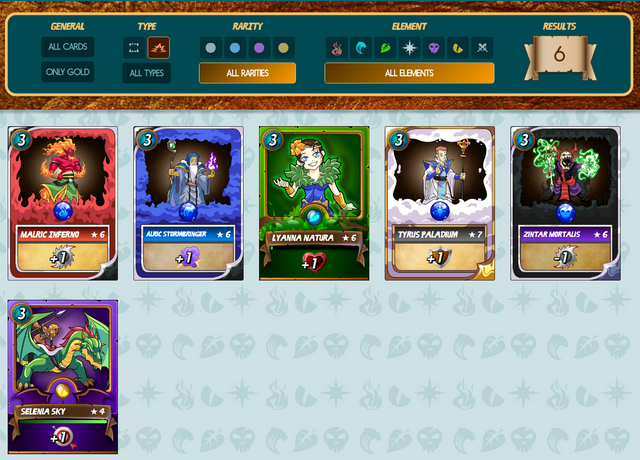 You keep 100% of the winnings during the delegation period, so take advantage and play a lot.
All cards will be at or near gold level (level 6) and available for rank or tournament play.
I will add a green team before delegation starts.
You can take a peak at the account here
Requirements to enter this contest:
1-This contest adhere's to ContestKing's philosophy of no upvote, no resteem, and no follow required to enter
2-You have never played SteemMonsters before, but you have owned your Steemit account for more than 30 days
2-Or you have never ranked higher than silver league
3-Or if you are at a gold level or higher, you can enter for someone who qualifies for condition 2 or 3
4-You will need to create a discord account and ping me (MelloFello#0801) when you win so I can reply with the posting key to the account on Friday - March 29, 2019. https://discordapp.com/
How to enter:
1-Reply with our Steemit username (i.e. @mellofello)
2-Write a brief description why you want to win
3-Deadline to submit your entry is the end of this post
How will I pick the winner?
1-If a comment really catches my attention, I may pick you outright.
2-Or I will place everyone's name into a hat and pick a winner
(I might create a short video of this random drawing)
Prize:
7-day delegation for 1 SteemMonster account with almost all gold level cards
You keep 100% of the winnings during the delegation period
I will ping you the posting key in Discord on March 29, 2019 12:00 AM and will change the posting key on April 4, 2019 11:59 PM Eastern Standard Time
Update:
I have decided to give all of the end-of-season reward cards to the winner of this contest. The account has earned 26 reward cards so far this season with 10 days remaining.
Best of luck to all who enters