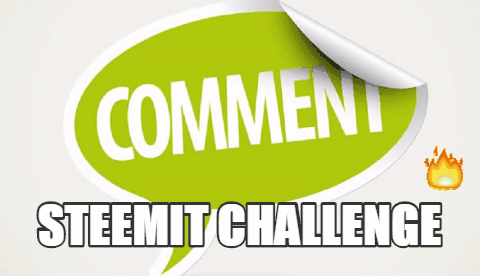 Transform your Comment into Cash
Round #37 is here and this one will be a bit of a Comment Challenge Special. @yasu24 has kicked off a Japanese version of this comment challenge and I have agreed to sponsor the winners weekly with a 200SP delegations. Please read on to find out more about this week's Comment Challenge Special.
For all the contestants, get ready to deliver some magnificent comments. Polish your keyboard and sharpen your mind, I wanna see those comments rolling in.
Please show us what you have got!
---
---
It is important to get followers, but you also want the correct type of followers. Followers that are truly interested in your blog and what you write, and not the "I-follow-you-if-you-follow-me" type. And to attract the right type of followers, you need to write godlike comments.
This challenge is all about writing those comments.
In each challenge a post from a fellow minnow will be featured.
The challenge is to write an amazing comment related to that post.
I will resteem the post.
I will give it a 100% upvote.
This will be part of my campaign to help other Minnows. The #minnowsupportproject helped me and I want to help others.
Join the challenge and practice your skills.
Please join the fun! 💓 💓
Please resteem to help promote this challenge!
Tell your friends to come and join.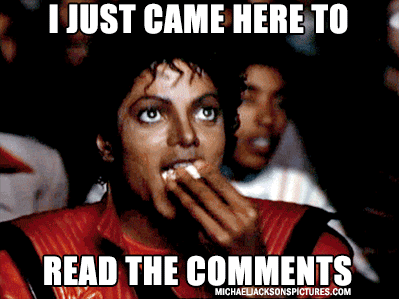 That will be me reading your entries...
Challenge Instructions
Write a comment linked to the content in the section below "Post To Review"
Write a comment that will intrigue the reader. The comment should be interesting and create an urge in the reader to click through to your blog.
The entry needs to be written as a comment to this post.
Prizes
The prize money for Challenge #37 will be 5 SBD + 2 x 1 week 200 SP delegation.
We will have the following prizes:
1st prize - 5 SBD + 200 SP 1 week delegation.
2nd prize - 200 SP 1 week delegation.
Rules and conditions
The comment should be relevant to the content below in: "Post To Review".
Please mind the length of your reply. I don't want to have strict limits, but remember that your task is to write a comment and not a chapter for a book. ;)
The entry needs to be written as a comment to this post.
Entries limited to one per person.
Entries need to be written in English.
I will reply to your comment confirming it is a valid entry.
The challenge ends Friday morning, 0600 UTC time.
The winner will be presented Friday evening, UTC time.
The 1st and 2nd Prize will be picked by the judges based purely on quality and their own judgement.
If the judges can not reach a consensus, they will each pick one candidate and flip a coin. @dorabot will be used for this in MSP's Discord server.
If the winner is not a Minnow, the prize will be split in 2 and the other half paid out to the best Minnow. After all, this is a competition to encourages Minnows, so hopefully that will be fair.
A Minnow is someone with less than 5K SP.
Post To Review
---
---
Here follows the post for you to review:
The post this week is from @yasu24 and his initiative to spread this challenge to the #japanese community. I was very excited to hear about it and decided to sponsor it weekly with 200SP.
As mentioned above, this is a special edition. As the featured post is written in Japanese, I don't expect you to understand and comment directly related to that post.
Instead, please make your comment more generic. Here are some questions for you to consider. What do you think about a Japanese version? Do you have any ideas on how to bring this to other communities? What are the things you like or dislike about this challenge and how would you improve it?
As always, the idea is to write a comment that attracts the attention of the author. Your goal is to get the author to want to click your name and check out your blog.
Please feel free to pass by the Japanese version but don't feel obliged to drop a comment. That is their contest post and I don't want to cause unnecessary spam. 😉
---
---
Please donate, please help a minnow
If you like this idea and would like it to grow. Please feel free to donate and I will add it to the Prize Pool. Mention #steemitcommentchallenge in your memo.
History of donations:
zeartul - 10 SBD
destinysaid - 5 SBD
dray91eu - 8 SBD
tech-trends - 10 STEEM
fishmon - 10 SBD
destinysaid - 5 SBD
fishmon - 5 SBD
nanosesame - 10 SBD
amariespeaks - 5 SBD
leeart - 1 SBD
jo5h - 4 SBD
hitmeasap - 5 SBD
sparrowbernard - 3 SBD
abh12345 - 7.5 SBD (+500 SP 1 week delegation)

Previous Comment Challenge Winner
Here follows the list of all the previous winners.
List from oldest to newest:
guyverckw, stephcurry, timeshiftarts, dray91eu,
digitalking, fatpandadesign, fishmon, kslo,
learnandteach01, cryptobychirag, japh, brandyb,
stellastella, amos-robinson, lucyc, bridgetnnenna,
adesojisouljay, teekingtv, donnest, vonromulobalsamo,
sola3097, steemangelc, michaeljerry0, jo5h,
davemccoy, kimberlylane, adazone, leighleigh,
@barski
@topstoriez
@johndoer123
@lynncoyle1
@stevenwood
@hermannsol
@barski
...will YOU be next on the list??
The contest ends Friday morning and the winners will be announced Friday evening (UTC time).
Thank you for reading!
Click HERE to learn more about the Minnow Support Project.
Click HERE to connect to our Discord chat server.
---

Please consider voting me as a Witness.