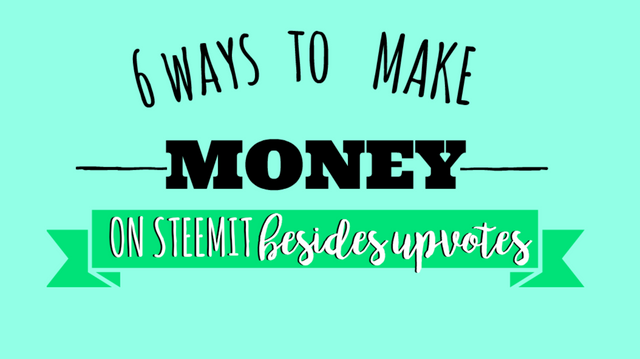 And no, you don't have to resort to selling nakey pictures of yourself for steem!! Get yo' mind out of the gutter.
I know sometimes people get down about the fact that they can't earn any more rewards after 7 days. I know that on other blogging platforms, if you create a really great post, it's considered "evergreen" content that will benefit you forever.
Just because you're posts stop earning rewards after 7 days doesn't mean they can't benefit you forever.
Here are some other things you can do to make $$ on steemit that take a little more effort but are rewarding!
Sell A Product
-@richardcrill is selling his magnesium oil on Amazon AND finding creative ways to accept steem!! That's what I call thinking outside of the box.
-@karensuestudios is selling an adult coloring book that she made on Amazon! Coloring is scientifically proven to help you calm the freak down when steem prices get low!!
-@stackin sells some pretty cool steemit mugs (or at least he used to)
-Obviously, people who created steem monsters and made it go viral! Genius!!!
If you've never created your own product before and want to, feel free to ask me some questions! I've created several of my own private label products and sold them on Amazon. I've been selling on there for almost 4 year. I'm kind of getting out of it for a little while. But I still have a lot of experience and knowledge to share (like telling you which mistakes I made that you shouldn't make lol).
If you don't have a product that you created,and you don't want to make one, use #steembay to sell something old that you have! @coruscate has a great video you should check out about how to sell items for almost as much as you bought them for!
The stuff she says in her video works. I know because I did a lot of those same things to sell my stuff before coming to Asia 9 months ago. I remember I bought a used Indian saree for a wedding for $70 and sold it for $100!
You can use @steemhunt to earn steem for FINDING cool products!
I'm actually trying something out to fund steemfest!! I'm creating conversation starter tshirts for people who are nervous to talk to people at steemfest, but obviously traveled a long distance for the very purpose of meeting people!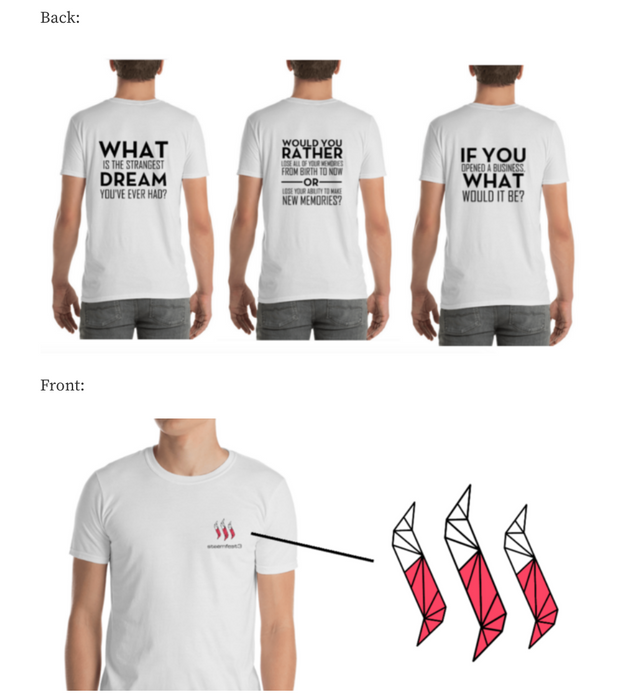 @sjennon also came up with a really cool creative way of selling space on her own tshirt to wear at steemfest!!!! So there are a lot of ways to do things. You can get creative with it.

Affiliate Marketing
-There are people who make $ by promoting something AWESOME that they LOVE. It's called affiliate marketing. I wouldn't suggest promoting something that you don't truly love or something you wouldn't use yourself.
That would make you just come off as a spammy desperate con artist, and nobody likes a spammy conman. It's never good for you or anyone else involved if you just promote and shovel around crap.
So for example, people like @goldmatters and @goldfashioned (and many more) talk about Mene all the time!
And I can see why!! I'm GLAD they talk about it all the time!
Once I learned more and more about this company from my fellow steemians, I was hooked! I love them and talk about them now, too! Can't help it. Don't you talk about things that you love? It's just natural. So hey, maybe you can paid a little also for doing it!
I tried to do it for the first time with my referral link recently and was able to get $100 in Mene credits. And if I can do it, you can do it too! I've never done "affiliate marketing" before.
I was able to buy a $130 pair of earrings, worth $104 in gold, for only $30!! With free, insured shipping!
Find out how you can earn free gold through Mene's referral program in my post here!

Sponsorships
A company can pay you to write a really dope post for them. Especially if it makes sense to post it on steemit. Maybe write something about a niche crypto-health related project, for example. Health people on steemit would love it!
It's possible to find companies willing to pay for this. You can even show them your best steemit posts as a portfolio piece! Here's a great tutorial from @princessmewmew on how to make a really nice compilation of all of your old posts!

Host An Event
I just realized the other day that @steemcafe hosts the steem creators conference! Yeah, I know. I'm a little slow sometimes.I think it's a not for profit event...
... but in theory, you could organize your own steemit event and keep at least a little bit of the money for yourself to repay you for your efforts.
This wouldn't be easy, though. Just saying it would be a HUGE undertaking. But I like to be delusional and think that anything is possible. And if you truly want steemit to be your full time income, maybe there is as creative way to make that happen without waiting for gigantor upvotes that may or may not come consistently.

Do A Task!
I'm sure you've heard of @steemgigs! It's possible to earn steem by designing a logo for someone, or doing any task that someone is hiring you to do under the #steemgigs!
Offer your services to people who are willing to pay steem for your skills!
You could even own a restaurant like @danielwong accepts steem/sbd as payment! If you're in Malaysia, you can go try it out and spend your steem there!

Enter Contests
If you don't feel like enough people see your posts to get decent upvotes, enter contests! It'll get you more exposure, but you can also seriously earn money! I think I've won about 45 Steem from entering different contests on the platform. Sure, it's all gone now because I've also hosted contests...but it's totally worth it and whenever I win something, I like to keep the giving going by spreading it around.
So contests are seriously worth entering because you really truly DO have a chance at winning. Especially if it's a contest based on a skill you have, like photography, video, writing or logo design.
So, can you think of some other ways to earn steem besides the ones I've mentioned here?