If You're Going To Steemfest... This Post Is For You!
Since I didn't wanna go to work on the street corner to earn my way to steemfest, I decided to do some other things instead.
I was noticing a lot of people saying that they were nervous to go to steemfest alone and try to start convos with other people.
I get it. I've always been the kind of person who loves to say hi to everybody, and so I've always liked trying to get the shy kids to open up. The shy kids can be crazy fun. You have to watch out for those ones lol.
So thinking about this, I had an idea to start selling conversation starter steemfest t-shirts!
The idea is basically to give you a shirt that says steemfest 3 on the front, so that you have a shirt to remember your trip by...
and then on the back, it would be questions that are a conversation starter.
So you can go up to anyone with this shirt on and answer the question. Instant icebreaker and an instant excuse to talk to someone!
Imagine the relationships you could make with people that you might not have otherwise met or talked to...just because you saw a shirt with a fun question on it?!
You could literally find a new best steemit friend because of a tshirt.
So, here's an example of the concept:
Back:
Front: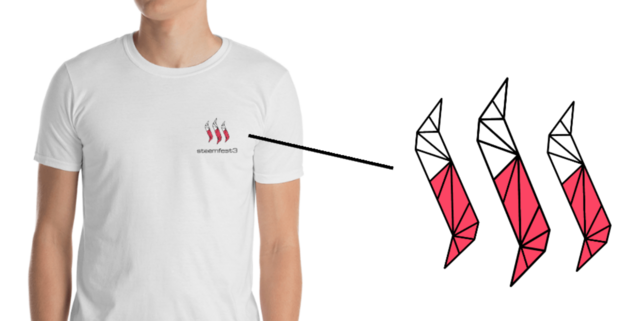 I was talking to @anomadsoul and he encouraged me to go for it, so I'm doing it! Gracias, amigo!
I would also like to do customized shirts with a scannable QR code that would link to your steemit profile when scanned, if you're interested. I've been seeing QR code shirts and hats and wearables in general lately.
Kinda crazy.
Anyway.
I'll be done with this within the next few days.
In the meantime, I WANT YOU!
Comment some fun questions you'd like to see on the shirt, and I just may make that shirt!!!
Here are a just a few questions I've thought of so far, to give you an example:
Would you rather travel back in time and change something from your past or travel to the future?
Would you rather go back to age 5 with everything you know now or know now everything your future self will learn?
What's the cheesiest pickup line you've ever heard? (I want to do a post on this, lol so many fun ones here)
So that's it!
What are some icebreaker questions YOU'D like to see on a shirt? I'd love to make it a reality!! Also, if you might be interested in a personalized shirt, lemme know!