Will You Be My 1,000th Follower?
I have joined Steemit on my birthday, which is on 28th May and 8 months later, I'm pleased and thankful to have reached 999 followers. If you become my 1,000th follower, please let me know in a comment!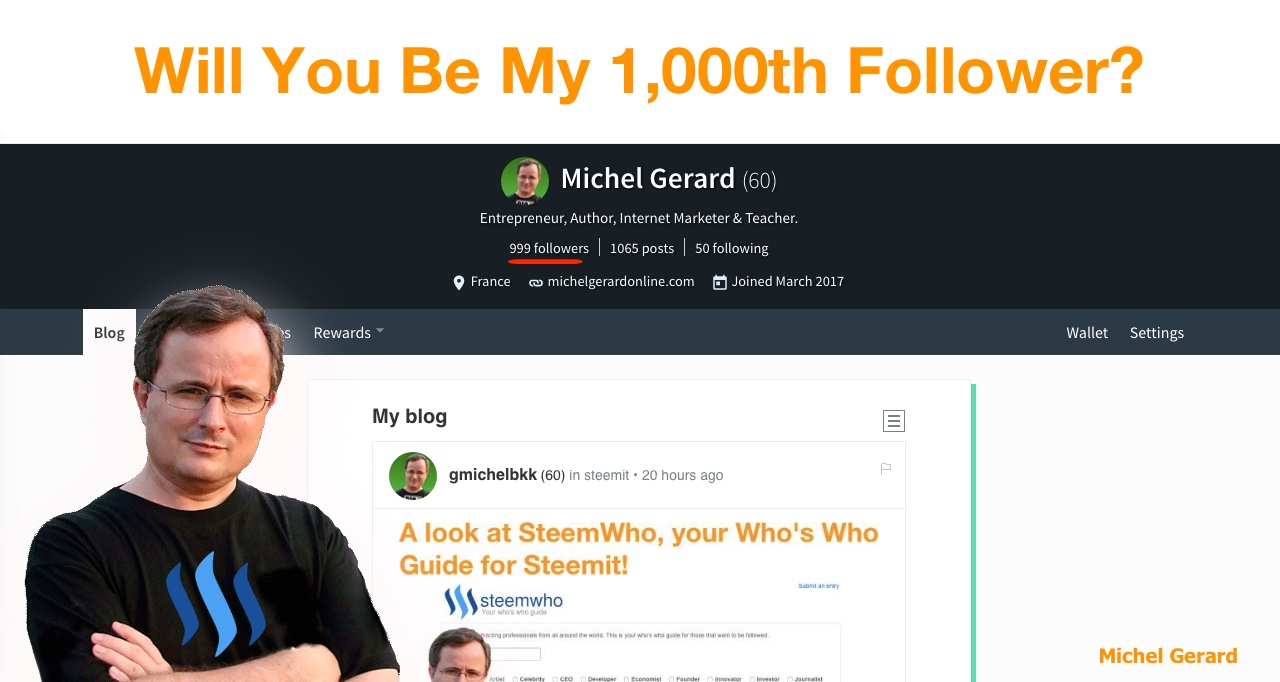 A big THANK YOU to all of you who are following me!
In this post I am going to review some of the highlights of my journey on Steemit during these 8 months.
Will You Be My 1,000th Follower?
I was invited and inspired by @jerrybanfield to join Steemit and I wrote my first introduction post on my birthday. On that day, my daughter and I played with colorful wigs and I wore one for the post.
If you missed my introduction post here it is: Joining Steemit on my Birthday!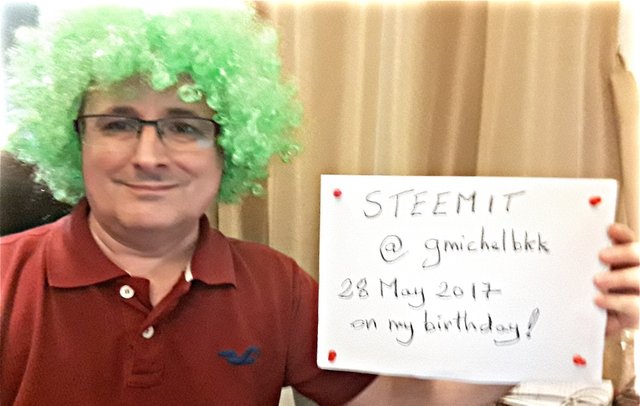 I made $19 on this first post and it was very encouraging.
Then the hard reality kicked in as my next two posts made $1.29 and $1.49.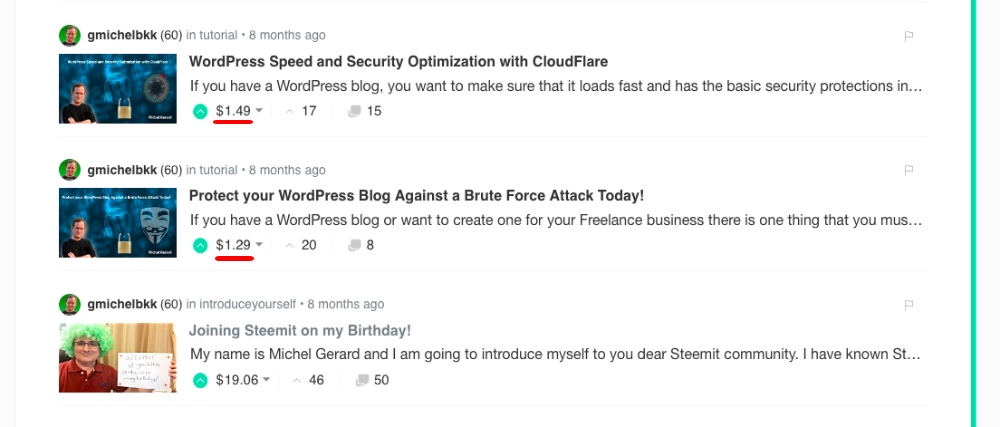 At that point, I started to think: "Is it really worth my time?"
I wrote a few more tutorials and then gave up for a month.
Then, @jerrybanfield encouraged me again with his vote that helped increase the rewards on my posts to $6+.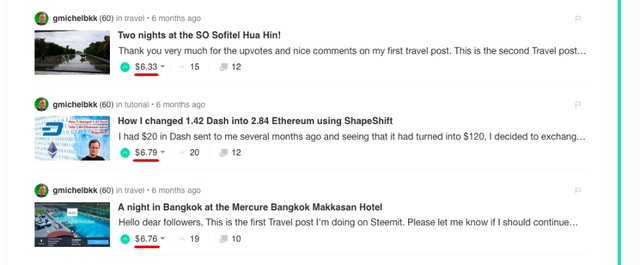 Then, I saw my rewards going to $7, $8 and $9.75, without reaching $10 and it was like teasing me.
On the fourth month I wrote a post that @jerrybanfield resteemed and his audience helped push the post to $46.92. That was the best I ever had on Steemit.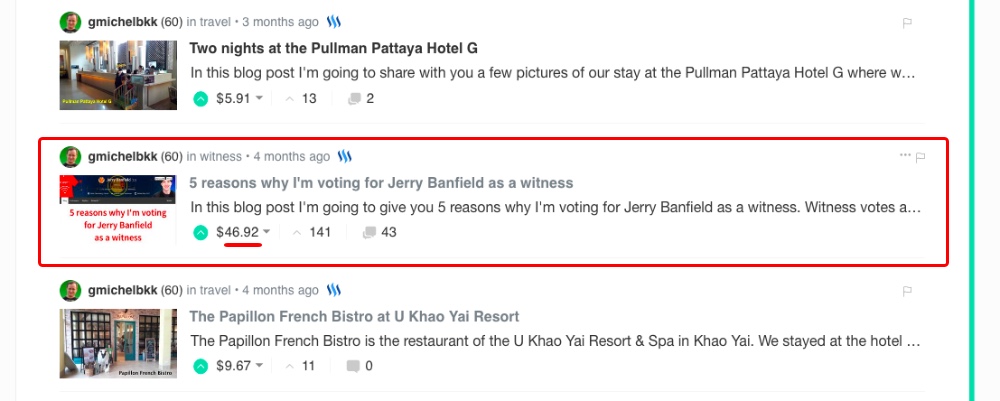 I continued to write posts that earned in the range of $6+ and 3 months ago another drop with posts in the $2+.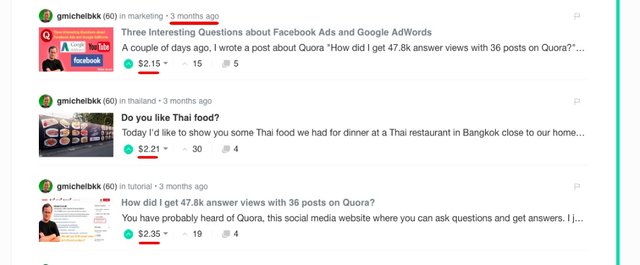 At that point, I was discouraged again!
I really thought I was going to just concentrate on something else. 
Instead of quitting I decided to continue writing daily no matter what and I started using upvote bots to keep my posts at $6+, which is more motivating than $2, even if you spend the difference!
Using the bots helped show my posts to more people and I started to get more followers, upvotes and comments. I then increased my budget for bots from 5 SBD to 10 SBD, and to 15 SBD where I am at now. 
I am satisfied with my earnings now going from $30 to $60 in rewards as I grow my Steem Power every day.
My best post so far earned $70.20.

It is still a roller coster with the price of STEEM and SBD going up and down like a yo-yo, but as I am holding all rewards, they will be more valuable in the future.
Now that I am at 1,000 followers and writing a post daily, the new challenge is the growing number of comments on my posts.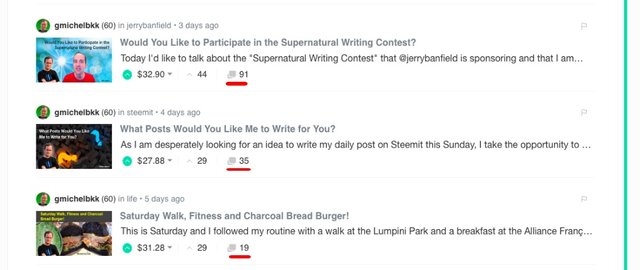 I reply to all comments and I upvote everyone who leave a comment on my posts. Meaningful comments get more rewards from me.
This is starting to take quite a lot of time and I hope I will be able to have the time to continue responding to comments.
Finally, these are my achievement on Steemitboard: http://steemitboard.com/board.html?user=gmichelbkk 
I have written 138 posts and 920 comments on Steemit.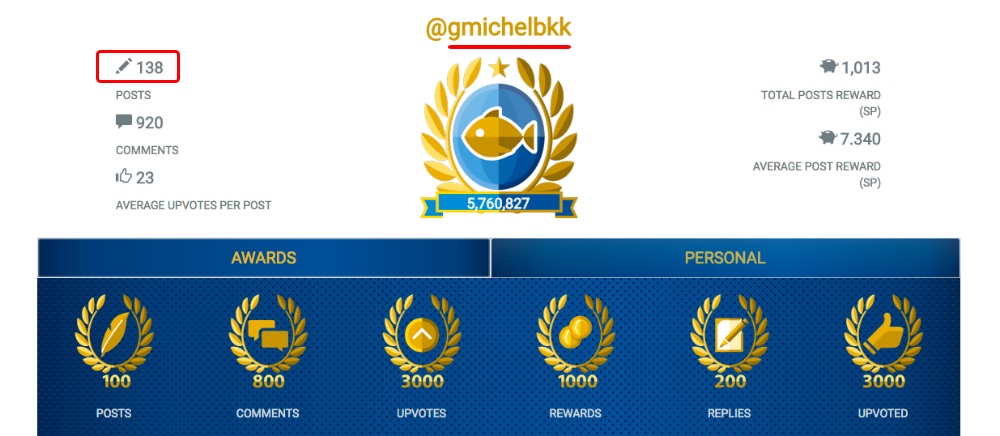 More awards to come!

I hope that this post is useful for you to see that Steemit is a roller coster and that sticking to it is a way to get some success with it.
Would you upvote this post and follow me for more because this will encourage me to continue writing more posts about Steemit? 
Would you please help @jerrybanfield become a top 20 witness because you can help funding projects to build Steem as explained here? Vote for jerrybanfield as a witness or set jerrybanfield as a proxy to handle all witness votes at https://steemit.com/~witnesses. Read the 5 reasons why I'm voting for Jerry Banfield as a witness and how to vote in my post.
Michel Gerard