Joining Steemit on my Birthday!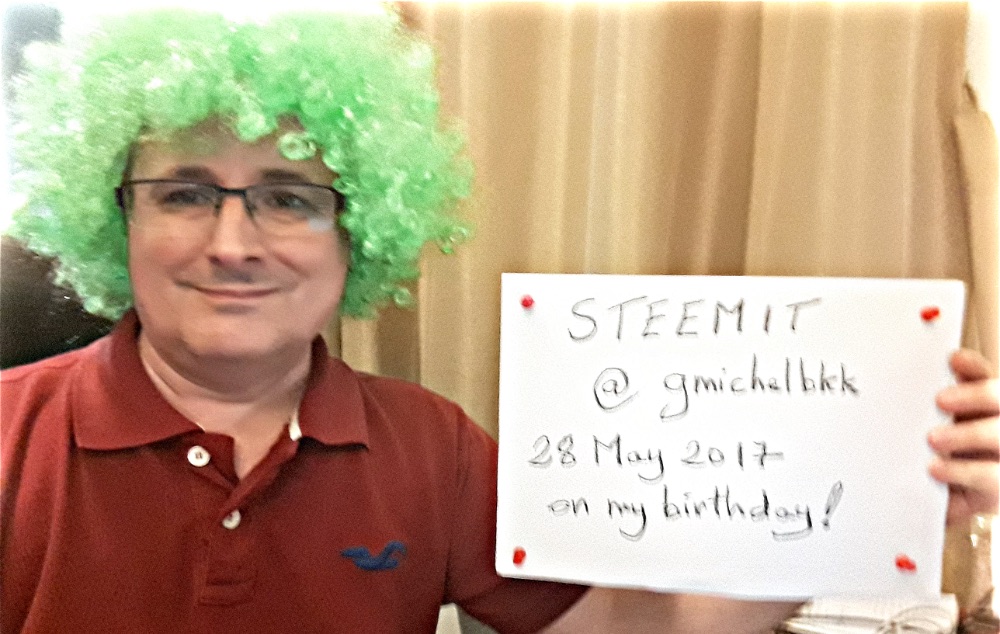 My name is Michel Gerard and I am going to introduce myself to you dear Steemit community.
I have known Steemit since last year, but just opened an account this March 2017 and did nothing with it until my friend Jerry Banfield @jerybanfield encouraged me to have another look. 
I don't know how far in the past I should go to tell my story, and don't want to bore you with my failures or brag on my successes, but I'm going to try the best I can.
Today is my birthday and for my first post on Steemit I decided to try another look inspired by my friend Michael Q Todd at @crowdifywepayyou
Let me know if I should keep this photo as my profile photo on Steemit and all my social media going forward!
My story from the time I was a teenager:

If you want to know who I am now skip to the "Who I am now" section.
When I was 16 years old I was passionate about movies and I knew I wanted to work in the film industry. At about the same age I also was a member of an amateur cine-club, where I saw a documentary about Thailand. I remember the film-maker telling his experience how some Thai production company was trying to recruit him when he was on holidays there and filming on the beach.
About twelve years later, I was in Thailand working on a long-feature film as Director of Photography/Lighting Director.
As a teenager I was determined about going into this career. I saw hundreds of movies and shot my first short film in Super 8mm with friends at 14. In two years, my friends and I shot about 10 short movies and I finally made my first 16mm when I was 16. I participated in other short movies in different positions afterwards, shooting in Super 16mm and 35mm, until I went to the army for 16 months as a musician when I was 20.
Yes, I was also very good at playing the trumpet, which I started learning at 7, and later the tuba, and I finished to serve in the French army as a sergeant with the choice to enroll and stay a professional musician or become a civilian again. The call for making movies was too strong and since that time I have never played the trumpet or tuba again.
I should mention that my mother died of lung cancer at age 50 when I was 18, even though she hadn't smoked in her entire life and had a very healthy diet. That was a very traumatic period in my life. My father is now 86 years old and I am 52 today.
I went to Paris shortly after with a friend, at around 22 or 23, to conquer the capital! I worked small jobs to pay the bills and half of the rent, it was a very difficult period of my life. After a year, and working on several short movies mainly for free and for gaining experience, I finally started to work in freelance for two TV stations as a cameraman for the news and also for a dubbing studio where I was a sound editor, using 35mm magnetic reels at the time. I worked on the French version of prestigious movies like The Chandler's List, Terminator and also lots of TV series and cartoons. It was a lot of fun. 
Nearly at the same time, I had the possibility to go back to school, after passing an exam where only 20 from 2,000 students were selected, learning evenings and on week-ends, at "Louis Lumiere" College in France, for a degree in cinematography option image, which I got 3 years later. 
I then, made a couple of trips to Thailand following my second passion, took private Thai lessons and attended INALCO classes in Paris to learn Thai for about a year. I then met my first Thai wife and we married in Paris where we lived for three years before going back to Thailand, even though we had the immigration papers to go to Canada.
We first lived in her village next to the Laos border in the jungle for 6 months. That was another challenging period for me trying to adapt to the country and lifestyle, and being around people who didn't speak Thai, but a local dialect. The classic joke among villagers was that I was speaking and writing Thai better than them! All I ate at the time was Jasmin rice, sticky rice, chicken, eggs, fish and noodle soup.
After several attempts going to Bangkok and finding work I finally made it in my first long-feature film as Director of Photography/Lighting Director and that was like a dream come true. Unfortunately, the salary was far from a dream come true, I got divorced 2 years later hopefully with no children, and I switched from movies to working on commercials, industrial films, documentaries and Thai TV series as Lighting Director mainly, for 6 years non-stop. 
I lived my passion during all this time and it was a lot of fun. Unfortunately it was survival mode and not really ideal for building a future, so I grabbed the opportunity to become a teacher in a Thai bilingual school for a much better salary and benefits. I learned the ropes, scared to death to appear in front of 35 students, got a Thai teaching license, and went into the education sector this way. It was the solution to have a better family life as I was starting a relationship with a second Thai woman who had a 8 years-old daughter named Pantika.
Pantika is my lovely step-daughter who I raised as my own daughter giving her a decent and western education. She earned a Bachelor Degree from Vatel France in Hotel management, went to a one year training program in the USA where she stayed. I am very proud of her. I created my first website using her name: www.pantika.com. Got separated with her mother after 10 years together.
I taught English, French, Drama and Computer Science in Thailand for 16 years, before finally retiring. During these years I also opened a company with my friend Alain Brulfert called Reperages Thailand Co. Ltd., which had different lines of business: tourism, soccer 7s tournaments, website development and hosting, film-making co-ordination, seminars and exhibitions. The main business of the company is nowadays soccer 7s tournaments: www.thai7s.com and www.thaisevens.com
In 2000, for the millennium, I broke my foot and published a book "Thailand in Torment," which was translations in French and English of Thai poems by a Thai author. Three thousand copies of the book were printed, maybe half were sold and I never earned a dime. 
About 8 years ago we opened a second company I managed called AsiaComExpo Co. Ltd., to produce plexiglass models for a French company, that failed miserably and was closed a year thereafter.
During the time I was a teacher I also started to learn about Internet Marketing and became an Affiliate Manager for a well-known affiliate management firm, AMWSO.net, and for 7 years. As you can see I have been always very active doing several things, working in different industries at the same time for several years, and I have difficulty today recalling the exact timeline of all I did. I have been doing Internet Marketing for 15 years part time and full time only a few years back. 
In 2014, I published 3 books on Amazon from which I earned very little. Started a fourth book and got discouraged.
On 13 May 2008 I married my lovely wife Naiyanan who was a Maths teacher in a government school at the time while I was a teacher myself in a private school. We have been 10 years together.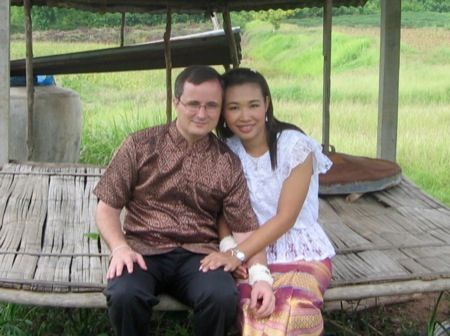 We have a 6 years old daughter named Christina who is a trilingual. She is somewhere on the lower end of the autism spectrum, which doesn't affect her much. She is in KG3 with excellent grades, 100% in the 4 subjects actually, with a gift for Maths and Music, and I should say for singing as well.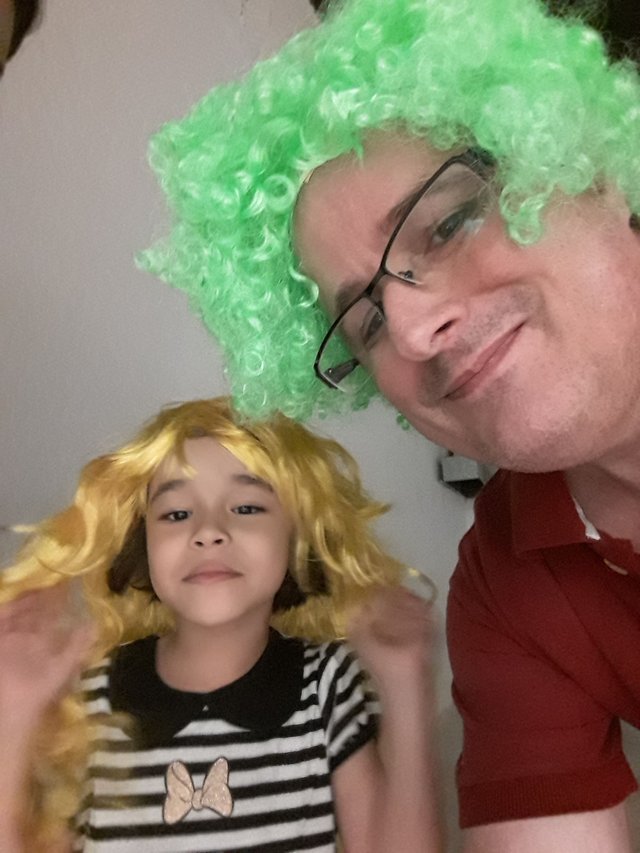 Who am I today?

Today I am passionate about Internet marketing, writing books and blog posts, and cryptocurrencies. My wife runs an eCommerce site selling children clothing and toys for the Thai market, with 3 employees. I work on my own projects and in freelance for clients. If you would like to see what I have been doing recently, please visit www.michelgerardonline.com.
During the last two years I have taken more than 50 online courses on Udemy to be on top of my game and I am still continuing taking classes on Skillshare. I love to learn new things everyday and what I am learning now is all about Bitcoin and cryptocurrencies. I became a co-instructor with Jerry Banfield a year ago and for six months to answer questions in his courses, which I loved doing. I also made 50+ game apps, after taking 2 Udemy courses, which have earned me very little.
During the past year I have been working mainly on AdWord and Facebook ads, Social Media management, co-writing and editing books mainly with Jerry Banfield, teaching classes on Skillshare, and trading cryptocurrencies.
My projects for this year and forward is to relaunch my IM Study Club and App Studio Club, both sites having not worked that well, and launch a new Facebook bot creating service site. Between family and daily routine, there is so little time left for them, and only one of me, but will do my best.
I love creating blog post tutorials on different topics and if you would like me to create some for Steemit, let me know in the comments. I am excited to be here with you.
These are my main social media links:


Connect on Twitter: http://twitter.com/gmichelbkk
Become my Friend on FaceBook: http://www.facebook.com/MichelGerardOnline
Like my Page on Facebook: http://www.facebook.com/MichelGerardNetwork
Connect on Linkedin: https://www.linkedin.com/in/michelgerardonline/
Follow me on RebelMouse: http://www.rebelmouse.com/MichelGerard/
Ask your question on Quora and follow me: https://www.quora.com/profile/Michel-Gerard
Take my classes on Skillshare: https://www.skillshare.com/r/michelgerard
Check out my profile on CrowdifyClub: https://crowdifyclub.com/gmichelbkk
Website: http://www.michelgerardonline.com

I hope you enjoyed this post.
If you did, would you upvote it to let me know that I should continue posting? You may also follow me if you want to read the tutorials I will be writing here for you.
Michel Gerard