How to Make a Steemit Posts Directory in WordPress!
Would you like to know how you can create a "Steemit Posts Directory" on one page of your WordPress blog to show categorized links of all your Steemit posts and promote them to your website visitors?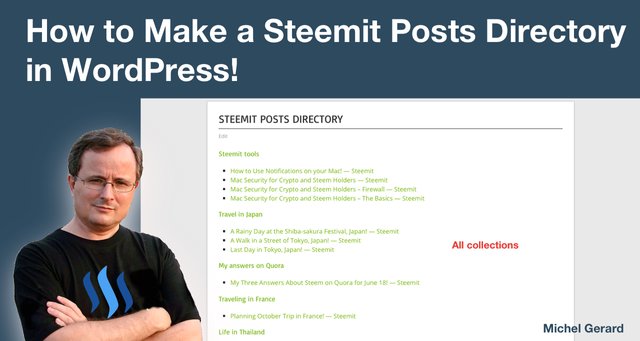 In my last post I showed you a way to easily categorize and share your Steemit posts with a free app called "Raindrop.io," which is located at https://raindrop.io
You might want to read this post if you don't know what Raindrop is: How to Categorize and Share your Steemit Posts!
In this post, I am going to show you how to use Raindrop RSS feeds to make a directory of all your Steemit post links in a WordPress blog.
How to Make a Steemit Posts Directory in WordPress!
First, we need to have a look at https://raindrop.io again to see how to get the RSS feed for each collection.
Let's have a look at the last collection, which is "Fundition projects."
As you can see, there is a lock for "Sharing" and we need to enable sharing first to use public RSS feeds.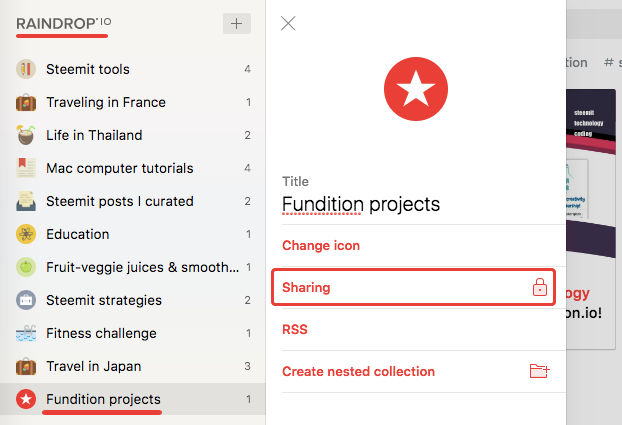 Click on "Sharing," then you will have to enable sharing "Via link" as you can see in the image below.
You can share this link so people can see your collection, but it's not a RSS feed.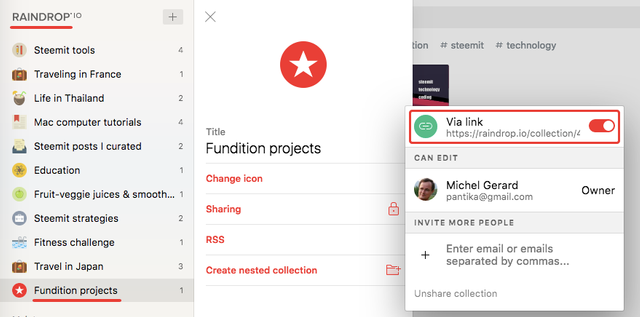 You see now that there is a little "link" icon instead of the "lock" icon.
Click on "RSS."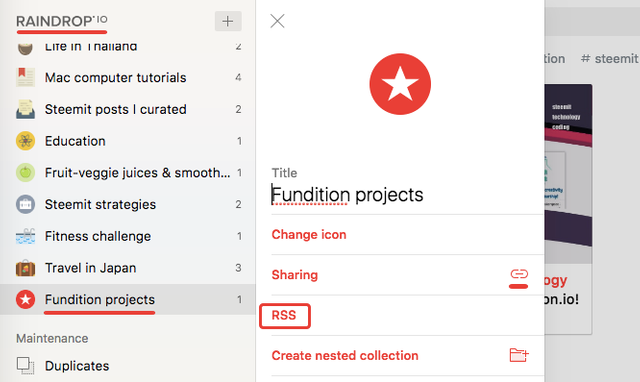 This will show two RSS feeds, one is public and one is private.
We need to use the "Public RSS feed" for what we want to do.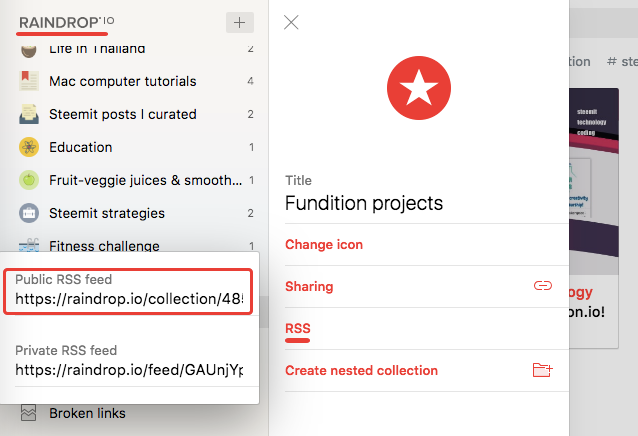 Show the RSS feed in a WordPress widget
Now we are in WordPress and I assume that you know how to use widgets.
Go to "Appearance" and "Widgets" in your WordPress dashboard.
Locate the WordPress RSS widget and put it where you want, a sidebar or a footer.
Copy the RSS feed link in the widget and give it a feed title.
Click "Save."

This is how it will show and I set it up for max 10 posts.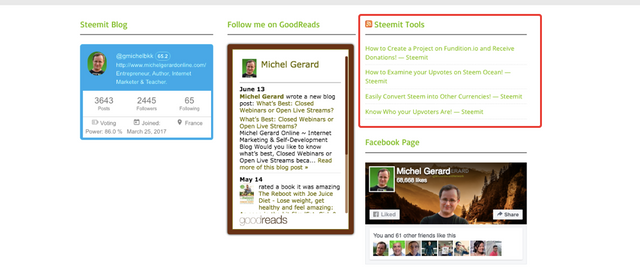 When you click the links, it doesn't go to "Raindrop.io," but your Steemit posts as expected.
Show the RSS feed in a WordPress page
I assume that you know how to search for plugins and install them.
I fund a simple free plugin that does exactly what I want it to do.
It's called "RSSImport" and you can search for it in the plugin section of your WordPress blog.
You can read about the plugin here: https://wordpress.org/plugins/rss-import/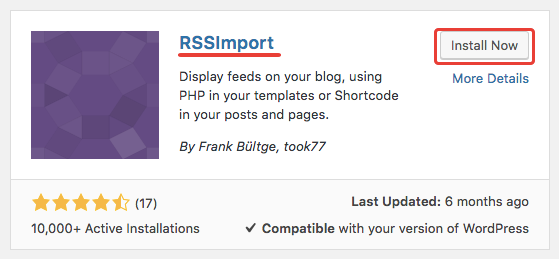 When you have found the plugin, click "Install Now" and then "Activate."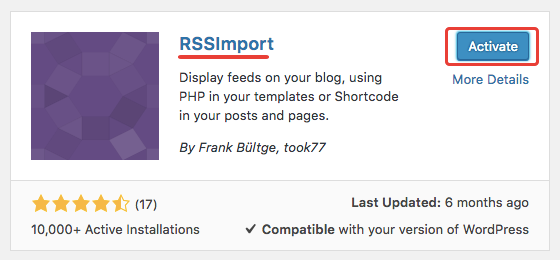 When it's installed, you just have to create a new page and use shortcodes to show the RSS feeds.
Below is an example of a shortcode that will show 2 posts in a collection and a short code that will display maximum 5 posts in a collection.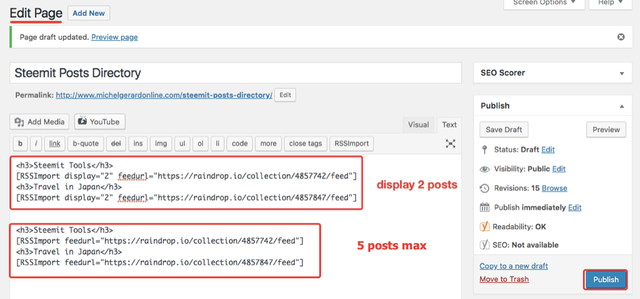 These are the shortcode to use:
[RSSImport display="2" feedurl="https://raindrop.io/collection/4858284/feed"]
[RSSImport feedurl="https://raindrop.io/collection/4858284/feed"]
It will show like this on the page.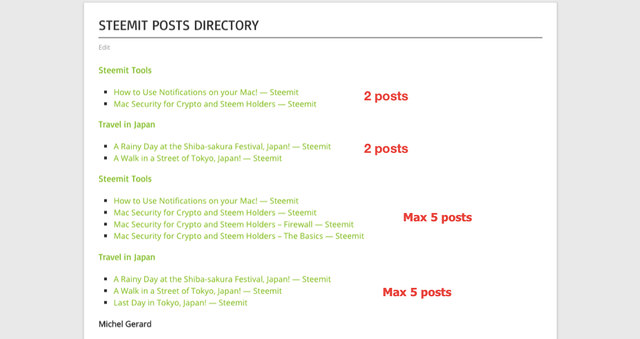 I initially thought that the second shortcode would display all posts, but that is not the case.
In order to have all the posts showing up, I had to use this shortcode.
[RSSImport display="100" feedurl="https://raindrop.io/collection/4858284/feed"]
Like this.

The maximum will still be 100 posts, but you can increase this value later.
This is the result on the page.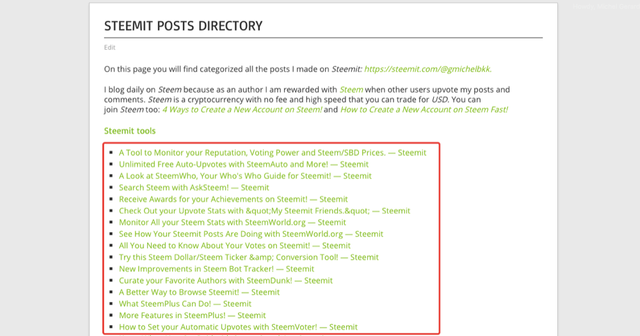 So, what I did next is enter the 21 RSS feeds I have in "Raindrop.io."
That's all the collections I have for the 261 posts I have written on Steemit.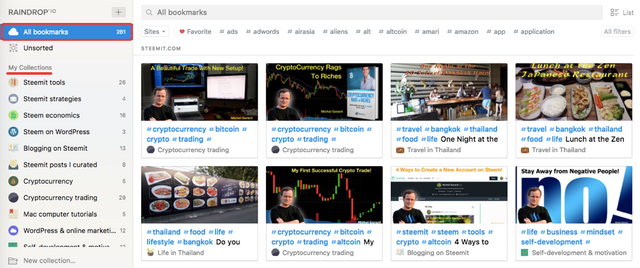 You can see the different collection categories that I have here:
In some collections I have only one post and up to 54 posts for others.
What's great is that now the RSS feeds are set up and when I add more posts to the "Steemit tools" collection or any other collection in "Raindrop.io," they will show on this page automatically, without me having to add them in WordPress.
At last, you can add a short intro like I did and make a menu for it, so people can access the page.

This is the link to my Steemit Posts Directory: http://www.michelgerardonline.com/steemit-posts-directory/
Unfortunately, it seems that the Raindrop RSS feed does not work for images and descriptions.
Having a long page with 261 text links is enough I believe.
I hope that this tutorial is useful for you.
Would you upvote this post and follow me for more because this will encourage me to write more posts about useful apps and integrations like this one?
I have categorized my posts on Steemit for easy access:
Steemit tools | Steemit strategies | Steem economics | Steem on WordPress | Blogging on Steemit | Steemit posts I curated | Cryptocurrency | Cryptocurrency trading | Mac computer tutorials | WordPress & online marketing | Self-development & motivation | Travel in Thailand | Travel in Japan | Travel in France | Life in Thailand | Fitness challenge | Fruit-veggie juices & smoothies | Education | My answers on Quora | Fundition tutorials & projects | Miscellaneous writing
You may prefer to go to my Steemit Posts Directory.
Would you please help @jerrybanfield become a top 10 Witness because he is in my opinion the witness who gives the most back to the community? Vote for jerrybanfield as a witness or set jerrybanfield as a proxy to handle all witness votes at https://steemit.com/~witnesses. Read the 5 reasons why I'm voting for Jerry Banfield as a witness and how to vote in my post. You may be interested to read: What is a Steem Witness, How to Vote and Why?
Michel Gerard