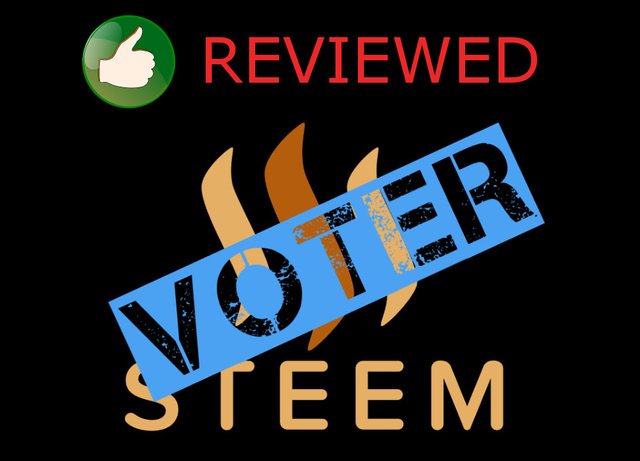 Yes, I'm going to go there. Let's address the elephant in the room straight up: I use a voting bot, and I'm proud of it.
What is a voting bot: any piece of computer software that votes automatically on posts without human intervention, following pre-programmed rules to decide what to vote on and when.
Steem Voter is an excellent free service created by @marcgodard specifically to put the power of a voting bot in the hands of ordinary Steemians who lack the technical expertise to code or set one up by themselves. Power to the people, oh yeah! Now anyone can enjoy curating like a pro, unlocking a fun dimension of Steemit that was previously only accessible to a select few.
Isn't it cheating to use a bot?
Not at all. Some people seem to have a negative impression of bots, and that puzzles me. It still takes quite a degree of skill and constant tweaking to use a bot effectively, so those who argue that bots take the human element out of voting don't have it quite right. It is true that bots don't read and appreciate your posts. But crap posts that don't deserve to be voted on anyway are certainly not going to attract bots in the first place. After all, bots can't vote on everything or their voting power would rapidly drain away; at some point, in some way, a human has to set filter criteria that determine what the bot votes on. Therein lies the art of the whole thing, and what makes it such fun.
Hmm, but if I knew a bot was always voting for me, couldn't I just spam low-quality posts and reap the rewards?
You could, for a while, but this would backfire after some time. Eventually, wise bot operators will always catch on and dump you from their voting lists, or you'll no longer satisfy whatever automatic rules are setup to judge post quality. And good luck repairing your reputation & standing in the community after pulling a stunt like that.
I like to check my Steem Voter settings once a week to make adjustments, dropping authors who aren't up to my quality standards and adding new ones who are.
How about your voting power? Do you have any left over for manual voting?
Of course. I carefully balance my settings so that my voting power stays between 80-90%. Part of the joy of Steemit is reading and manually curating great content. But my time is limited; I can only read & comment on maybe 3-4 substantial posts per day.
I know there's a lot of good stuff out there in my feed that I'm missing out on. And here is the great benefit of Steem Voter: by putting the bot to work for me, I can always vote on the people I follow, giving them more support than I otherwise could. It's a win-win situation. I get more curation rewards from spreading my votes around, and my favorite authors get rewarded more in turn for all their hard work.
Okay, I'm convinced. So how exactly does Steem Voter work?
I'm glad you asked! Steem Voter lives at https://steemvoter.com . The main page is pretty minimal and uncluttered, definitely a strength in my view. You will have to create an account (which is free) and then use it to log onto the site. The account creation process is about what you'd expect: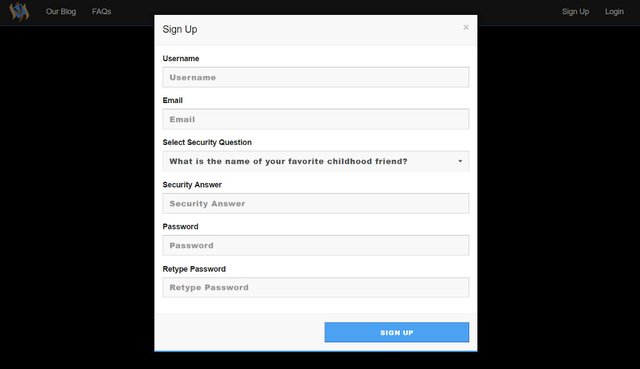 Note that the account you create here will only be used for Steem Voter, it's completely separate from your Steemit account! Here's what I see after I log on:


Yikes, my voting power is higher than I'd like. The authors I follow must not be too active this weekend.
Here you can add a series of Steemit accounts (I only have one) and configure voting rules for each one. In order to vote on your behalf, you need to provide your Steemit account's posting key. This allows Steem Voter to basically act as your surrogate. When the bot votes following my rules, for all intents & purposes it is as if I voted myself using my @cryptomancer account.
Important note: you DO NOT need to give your active or owner key! Only your posting key is required! This means that Steem Voter will only be able to vote for you. It can't run amok, buying & selling Steem or performing any other actions that only you should be able to.
Once you've added your Steemit account & posting key, it's time to click that big old "Rules" button. Here's what my voting rules look like: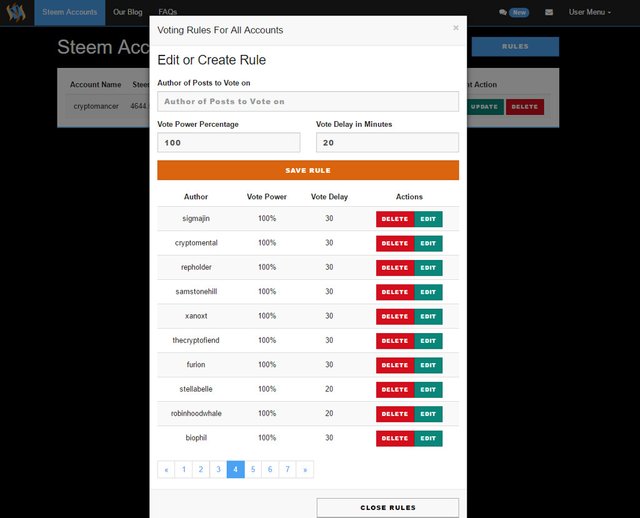 Herein lies the power of Steem Voter. The rules are elegantly simple. Anyone can understand how this works and set it up. But simplicity is deceptive. To make the most of the system, you'll want to experiment with changing timings, voting on different people, and observing what kind of effect it has on your curation rewards (which should go up quite a lot if you do it right).
The rules allow you to control 3 things:
Who to vote on - once you add a Steemit user to your voting list, the bot will vote on every single post that this person makes from that point forward. You should stop manually voting for anyone on your list, as that will cause the bot to fail and possibly flag your rules for deactivation.

How much voting power to use - as with manual votes, you can control what percentage of voting power to allocate for your bot votes. I always leave this at 100 - I'm still a minnow so see no point in diluting what small voting power I have. If I were a dolphin or a whale, this setting would be more important.

When to vote - this is the most important setting, which indicates how long to wait before the bot will vote on new posts. If I set this to 20 for a particular person, then the bot will always vote on that person's posts approximately 20 minutes after the post is published. By now most people are aware that if you vote at 0 minutes, your percentage of the curation rewards go to the author, whereas if you vote at 30 minutes all the curation rewards go to you. And anything in between splits the percentage on a sliding linear scale.
Suggestions for improvement
Sadly there is no way to update settings for many people at once. Instead you have to individually edit settings for each person on your list, press save, then go to the next person... bulk updates would save a lot of mouse clicks when you want to experiment with changing all your timings or voting power allocation.

I'd like to see a way of displaying your whole voting list at once in alphabetical order, instead of having to hit the next button to page through until you find the person you want to edit.

When you edit a setting for someone on your list and press save, you are taken all the way back to the first page of your list. For convenience the list should stay on the page you were just viewing.

Better input validation needs to be built into the user interface. It should not be possible to add a user to your list twice, or add a user who doesn't actually exist.
Have your curation rewards improved noticeably using Steem Voter?
Absolutely! Steem Voter has allowed me to become a much more effective curator over time. Here are some before & after pics of my curation stats: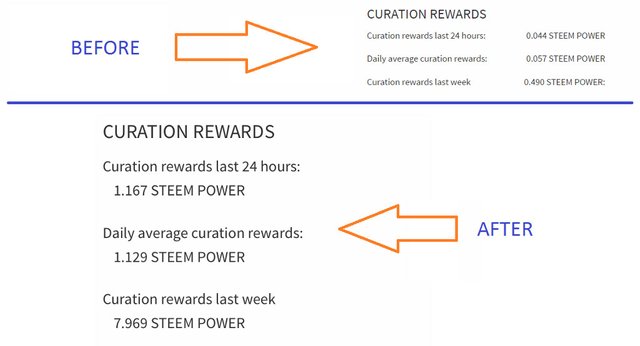 This graph, taken more than a month ago from Steem Whales, shows how dramatically my curation rewards improved once I started using Steem Voter and spent some time optimizing my voting rules: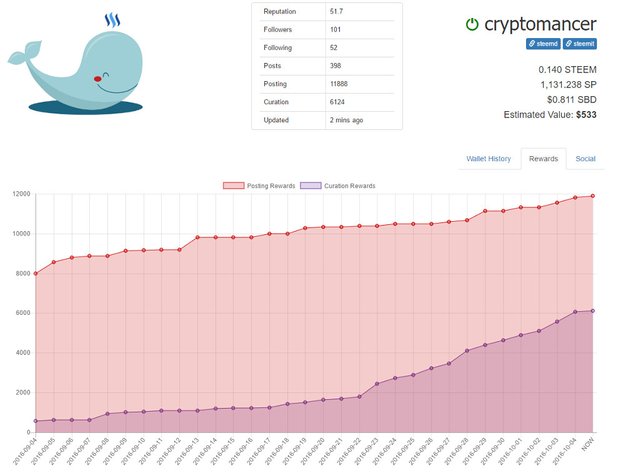 Today, I am ranked #529 among all accounts on Steemit for curation rewards. Pretty impressive considering I'm still just a small fish in the vast Steemit ocean. You can see that my curating is holding its own even against accounts that have much higher Steem Power than I do. And it's all thanks to Steem Voter:

How can I maximize my curation rewards?
Here are the techniques that work best for me. Some of these can probably be optimized further, and I'm sure others have different strategies with varying degrees of effectiveness. If you are a fellow Steem Voter user and feel like sharing, I'd love to hear from you in the comments below!
Tip #1 - don't add people who post too frequently to your Steem Voter list. This will drain your voting power too fast and limit the number of people you can have on your list. As a general rule, I don't add anyone who posts more than once per day.
Tip #2 - monitor your voting power closely (this goes hand-in-hand with the first tip). It's easy to go overboard adding too many people at once. Add a few people to your list at a time, see how it goes, then add more. I will start removing people if my average voting power dips below 80%.
Tip #3 - if you know a particular person on your list is really popular, make the voting time less for that person. The rationale being that lots of voting bots may already follow that person, so if you can beat the other bots to the vote, you might end up getting more curation rewards. Of course, the earlier you vote the more of your rewards go to the post author, so it's a trade off. As a rule of thumb, I use 30 minutes for ordinary mortals, 20 minutes for well known members of the community, and 15 minutes or less for those exceptional few that get huge payouts on every post.
Tip #4 - monitor your curation rewards per post over time. Someone with a reasonable amount of Steem Power (say 1000 to 5000 SP) should be getting anywhere from 0.02 - 0.1 SP per vote consistently, and sometimes a lot more. If you're only getting 0.001 or 0.002, then you are not utilizing your bot votes effectively. For those posts, either the author is super popular and you need to adjust your time setting, or else the author's posts are not getting much traction so you may want to consider dropping them from your Steem Voter list.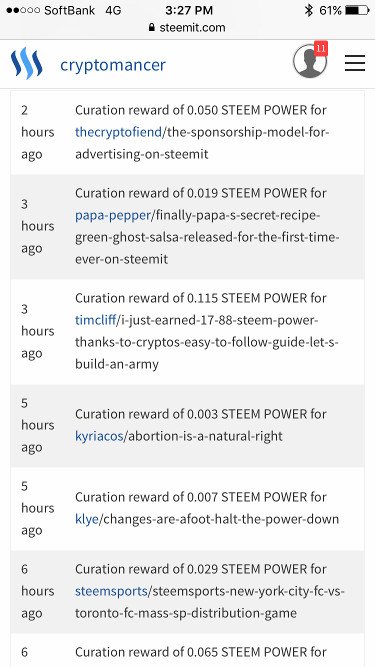 This screenshot is a perfect illustration of tip #4. The curation rewards from posts by @kyriacos and @klye are abnormally low, so I should look into making some adjustments to settings for those users.
Tip #5 - don't make it all about the money. You have plenty of votes per day, so in additional to making an effort to maximize curation, be sure to use your Steem Voter list to help out those who need it! I have several users on my list who I want to encourage to be active on Steemit, or who run projects I like to support, even though I don't get many curation rewards from them. Make an effort to support the community, and the community will support you!
The final verdict
There's really not much reason to dislike Steem Voter. It's super easy to use, a voting bot for the everyday average Steemian. If you configure your rules correctly, it's possible to punch above your weight and curate competitively even against those techies who spend dozens of hours making their own custom bots. The web site's user interface for managing voting rules needs some slight usability improvements, but that's a small quibble with this otherwise excellent service.
If you're not already using Steem Voter, then what are you waiting for? Sign up and give it a try today!
---
Links for more info
Steem Voter web site: https://steemvoter.com/
Latest post in the Steem Voter blog: https://steemit.com/steemvoter/@steemvoter/steemvoter-com-stats-november-11th
There is also a Steem Voter channel in Steemit Chat where you can go to discuss the service with other users: https://steemit.chat/channel/steemvoter.com
Steem Voter may soon be under new management. The creator of the site, @marcgodard , has put it up for sale as he lacks the necessary time to continue running it. In response @thecryptodrive started a public funding campaign to raise money for taking over ownership of the site. Here's his latest blog post on the subject: https://steemit.com/steemit/@thecryptodrive/steemvoter-rescue-steem-will-rise-again-today-we-stand-united-300-steem
@marcgodard and @thecryptodrive are the ones to contact for general queries about Steem Voter.
For more posts about cryptocurrency, finance, travels in Japan, and my journey to escape corporate slavery, please follow me: @cryptomancer
---
Image credits: The title image is the logo from https://steemvoter.com/ combined with a "thumbs up" graphic from Pixabay used under Creative Commons CC0 . The light bulb icon is also from Pixabay. All other images are screenshots taken from my desktop PC.