SteemGigs: A Core Aspect Of Our Model Is Steemit/Steem Growth!
"It is overwhelming", the support that @steemgigs is getting already (in terms of contributions) since it entered utopian. 
Even without having done many task-requests, i have been seeing loads of contributions etc and it is overwhelmingly touching. Every simple contribution is really giant for me because in reality, i am a broken fellow. When my mum died, my entire steemit journey had additional essence. "SteemGigs started to represent even more.
I wanted to touch lives more than ever. 
I wanted to stand something up that will ever exist and that we can all look at and draw incessant inspiration from. I wanted all these suffering to have more testimonial essence. 
The SteemGigs interface is simply a curriculum to compliment steem/steemit and grow it. It is beyond a freelancing marketplace; it will always be! 
I need to explain this, so that it is known how giant your contributions mean to me and to help you see the bigger picture as well as this will help you while you submit more contributions. 
The first @steemgigs task-request on Utopian was a logo request and the idea behind this logo has to encompass the word "human", brotherhood, humanity etc as much as highlights other things like businesses, talent, services, expertise etc and understanding this will help assist you as you contribute to @steemgigs. 
I have found some logo contributions already, that so are touching as i look at these creations and i can start to foresee where we are headed and the beauty we are enroute to create e.g See these: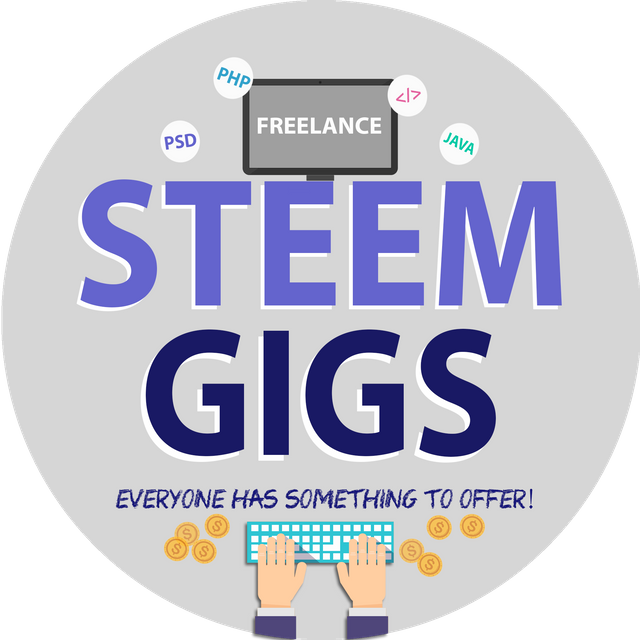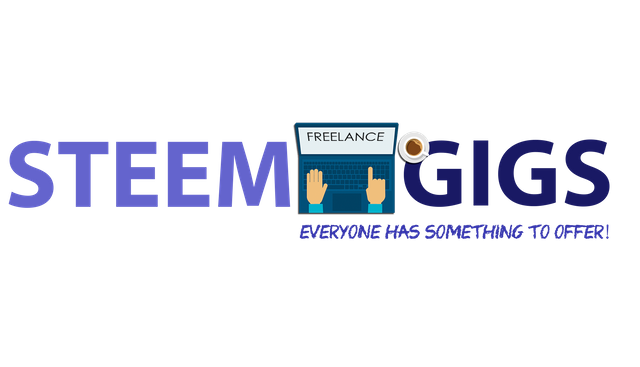 by @oscarcc89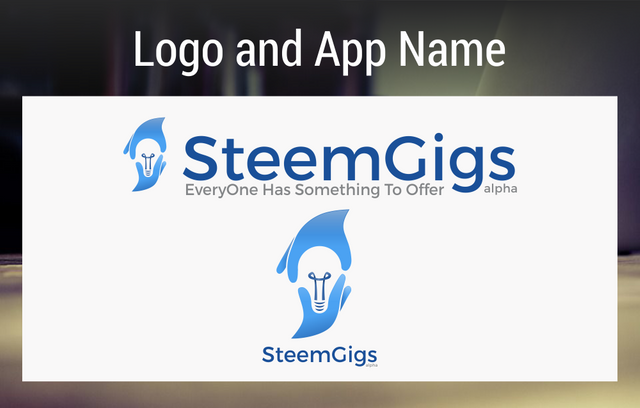 by @andeladenaro
I am thankful to all these contributors even though i have not been able to comment my gratitude yet. Sometimes, i do get speechless and i keep it that way because sometimes "speechlessness" represents utmost gratitude. 
Sometimes, a silent loving heartfelt prayer on behalf of these ones, is my most utmost expression of gratitude!
I have also seen bug-hunting taking place already and suggestion-type contributions and it is just as touching and overwhelmingly awesome. Though, SteemGigs isn't really ready for these types of contributions just yet, i will keep all these contributions and take note of them in the build-up of @steemgigs. 
Note: the last post about @steemgigs was more like a preview, not a launch! It is not ready for bug-hunting yet and is still simply on what you can call a staging server. Hahaha, i just didn't know that @utopian-io works so fast in terms of attracting contributions and that many are passionately loving of @steemgigs. 
The build-up of @steemgigs has been ever-on-going e.g the last untalented-adjustments contest had more than 1000 post entries and more than 6-thousand comments etc was part of our build-up! (Since it may not be clear that it is all these (steemgigs, untalented, @teardrops) are tied to each other; this is where unadulterated feedback comes from!  
Yes, by means of endeavors (contests, comments etc) like this, that appear unrelated to @steemgigs, is where i get unadulterated feedback from our beautiful steemit family and evolve the model for @steemgigs into spanlessness. 
#steemgigs was also allowed to run on steemit in presence of hassle, discomfort, inconvenience etc and this is where truly deeply-rooted lovers of @steemgigs are determined!
@steemgigs will be ever evolving! We aim to adjust the world; we can't change it!
Steemgigs is more a curriculum than a static freelance marketplace. Yes, a freelance marketplace isn't evergreen and this is exactly where we want to create an edge. 
E.G: each freelancer can't have that many gigs and once a gig is uploaded, on Fiverr for instance; what's left is to visit Fiverr once in a while, to see if you have any new orders and tend to these orders. 
In cases, where you aren't a popular seller, you may only re-visit Fiverr after months, to see if magic happened or visit it hurriedly, upon going through your unread email and finding that there was a Fiverr notification email that you skipped. Too, clients simply visit Fiverr, mostly if "a need" arises, to search a database of gigs. 
Now on Fiverr, freelancers can only have a maximum of 7 active gigs and inactive gigs are paused and become unsearchable. 
So, overtime freelancers no longer make much use of the site, except to post new gigs, re-activate inactive gigs, edit existing gigs, tend to orders etc and visitors/clients to Fiverr, simply visit the interface to search existing gigs, contact freelancers to avail of services etc. In rare cases, visitors do custom task-requests, which freelancers can apply to. 
SteemGigs is very different! Apart from the incessant need to flourish community, we aim at "steemit/steem growth" as well. 
To further steem growth, we want to incessantly serve the search engines with "SteemGigs posts" promoting steemit/steem also as a fun place where everyone can come to, to build their dreams, attain connections, build relationships etc We want to promote steemit/steem also as a place where steemians are vibrantly-lovingly-actively wanting to contribute towards the creation of legends.
We want to serve the search engines with thousands of #steemgigs posts daily; i.e thousands of new steemit posts daily.
Thus, apart from providing a database of the best steemian talents etc, we also want to create an ever-green incentive for steemians to love being on and using the SteemGigs interface. We want to keep the vibe of community going and provide tools that will enhance the entire steem experience.
One way, we are accomplishing this, is to also reward steemians for talking about their gigs, building relationships using these posts, adding other facets to the steemit reputation system (by means of SteemGig testimonials) beyond numerical scores etc. 
See a recent example of a SteemGigs Testimonial below, to grasp its impact on community, reputation system and steem growth:
We want people to keep coming back on @steemgigs and to find reasons to! So we have to create additional incentive for steemians to visit @steemgigs, beyond just posting GIGs or requesting services. 
Thus, in general, we aim at building an interface with tools, designed to continue "mining the human". 
Altogether, on SteemGigs, we want celebrate each human!
Look at one of the recent contributions to @steemgigs created by @tobias-g or look at his mock-ups below, to envision how much fun @steemgigs can grow into: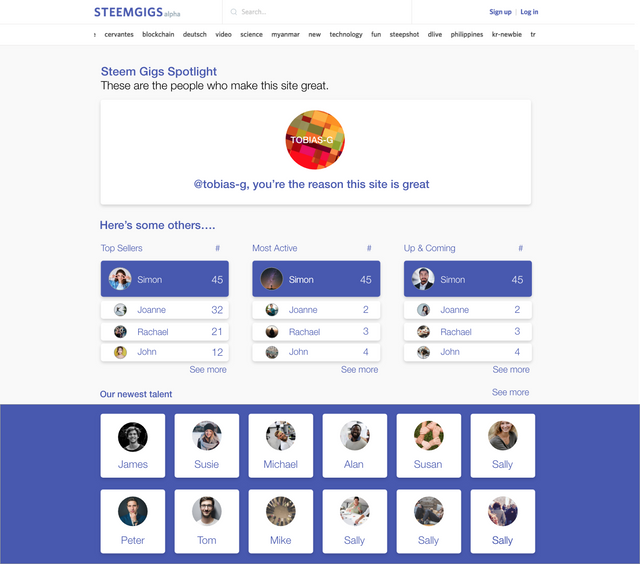 But hey, we will scour all levels of talent and potential talents on steemit and outside steemit, leaving no stone un-turned, hence, there will be room for "untalented" on @steemgigs. 
The "untalented" paradigm: We will attempt to reward any attempt at out-of-the-boxness, regardless of levels of talent, for in reality, everyone has talent but the true talent is in the "attempt" at out-of-the-boxness.
Plus, Mama Earth has had room for everyone, so why shouldn't we!
We want steemians to come visit @steemgigs "flaws allowed"/reservations relegated/in all freedom, to build their dreams, look for connections, look for relationships, strengthen community. 
We want each steemian and potential steemian to visit @steemgigs to exhaust the resources this beautiful community (of reputable great minds & steemians) poses as they become ever-able to ascertain its true depth in knowledge and "human".. 
We want everyone to come on there to draw new inspiration, to exert their creativity, to attempt out-of-the-boxness.
We want every new steemian to start their steemit journey on @steemgigs and we will create a tools to enable that. e.g Many steemians did really fine introposts by attempting the "Who Am I" untalented contest!
Our primary goal currently is to get it into alpha stage in the coming weeks and upon a great server, then open it up fully for testing. 
The Alpha version will already be able to post to steemit and as well as have an internal database that hosts SteemGigger profiles/posts and allows search and categorization to be made possible. 
So basically, @steemgigs when it is ready to go, will start out empty, without pulls from the steem blockchain. 
To accomplish search and categorization, we will make use of specialized editors that mandates the selection of categories and subcategories instead of allow users decide their own tags.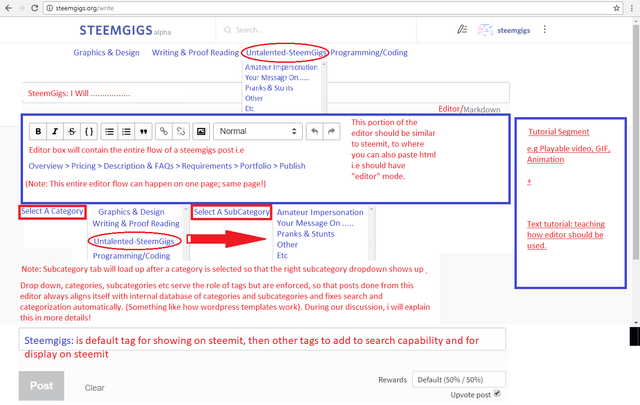 This specialized editors will also enhance search capabilities for steemit or steem-based apps in general.
We will have more than one specialized editors and one especially for the untalented family. We are not so worried about spam because if "everyone ascertains that they have something to offer, why spam!" We will divert the passion from people who chose to spam into testimonial good use and we already have testimonies to this!
See this testimony:
When @steemgigs is finally up for testing, bug hunting etc, it will already contain a glimpse into the general vision and bigger picture of where @steemgigs is headed. It will already be ready with SteemGiggers' profile-creation capabilities etc, that will further promote each one on their every Steemgigs-interface-created post. 
Some of the tabs may be graded out as "coming soon", then full blown evolution will happen on the go.
Down the road, we will look to host the world of non-steemians on SteemGigs, with mainstream sign-ups till they are seamlessly transitioned into the world of blockchain and steem.
Many successful SteemGigs have occurred here on #steemgigs and within the SteemGigs community, prior to our upcoming SteemGigs interface. We have done this even when it wasn't very convenient, thus, i trust that many who love @steemgigs, really love SteemGigs better or worse!
I do pacing alot so i am in no rush. Alot has gone on to build a model and a community that is known to me, tested in open ground via steemit posts and that in this special knowledge of its community that the true power of @steemgigs lies, more than in anything else. 
I have also done history on steemit and have also a special perception of steemit and humans and life, "no books" involved, so we will gradually create awesomeness. 
The aim is to reach billions and each human, build dreams for people, so @steemgigs is more than a freelance marketplace. 
I know the developing nations and the true state of the world as a whole, so what we are working on is something bigger than any freelance marketplace. 
We have less worries!
We want to have room for flaws and channel it aright! We want to have disputes and resolve it! We want to have issues and forgive and learn and evolve! We sift the not-so-good to find good in it! This is where we are headed!
These things is bigger than a freelancing marketplace.
@teardrops, surpassinggoogle.com and untalented, @steemgigs are all tied. The interfaces will ever evolve. 
"Interfaces" are tools. Where we are from, a tool is bonus, for things can still happen without a tool. 
We aren't aiming to build freelancers, we are at aiming at creating the awesomest version of human which is a gift to humanity every and each time. 
Everyone does have talent, "human" is the edge.
Resources to help you grasp the picture:
Your Boy Terry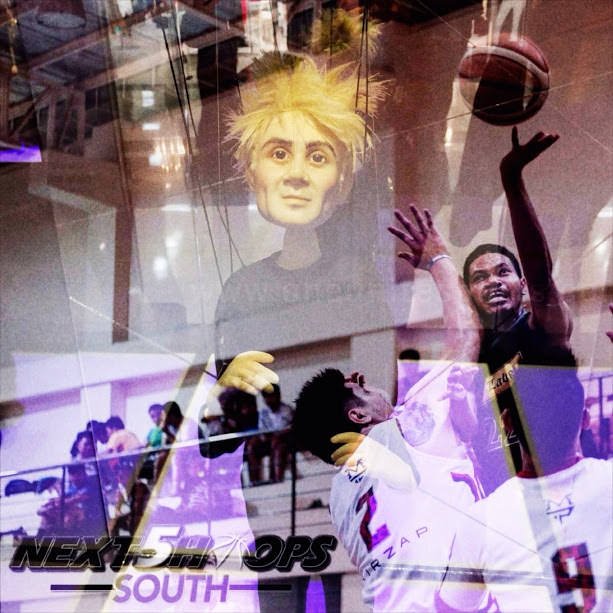 Please like @teardrops on Facebook and Twitter:
I do need strength
Dedicating My Entire Steem/Steemit Journey To My Mum
If you want to support an extra witness and you support mine "steemgigs", it will be really helpful. I run a full public RPC 256 GB node as well to balance the steem ecosystem on "wss://steemd.steemgigs.org"
To vote my witness, simply visit https://steemit.com/~witnesses and type in "steemgigs" into the first search box for witnesses or simply click Here to do it on one click!
If you want me to make witness voting decisions on your behalf, simply visit https://steemit.com/~witnesses and type in "surpassinggoogle" in the second box for proxy. 
Let's Go!!!
Offer a service under hashtag "steemgigs". Attempt out-of-the-boxness on hashtag (untalented).
Join the Steemgigs Community on discord: https://discord.gg/CGuPyyT
"Everyone has something to offer!" Why not?