STEEMFEST MINNOW: All expense paid trip to STEEMFEST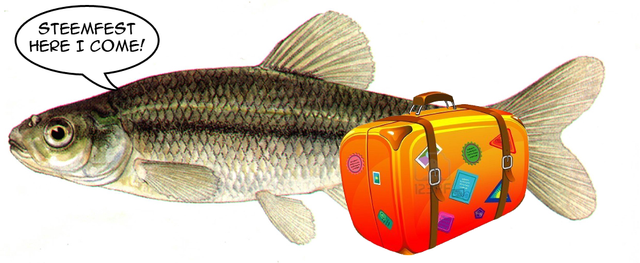 Want to Go to STEEMFEST? Are you a MINNOW? The Minnow Support Project can help you go!
Contest Rules
This is going to be done in 2 steps. First step is judged solely by me and is meant to narrow down to 10 finalists.
Second round includes many judges scoring from 1-10 and will be announced on Monday, June 26.
First round please write a post and then submit it as a comment in this post.
At least a 1 paragraph bio
Describe what you bring to STEEMFEST (not an object list, but what skills and talents you have that will improve it for everyone)
A budget
Judging
Initial plan is judge solo for the first round. I reserve the right to include others if I'm swamped here.
Judging is first based on who filled the requirements.
2nd Judging is based on who seems most likely to provide high quality representation of the minnow community.
3rd judging includes consideration of a thoughtful budget with favoritism towards those who cost less.
Votes and dollar value of the comment will be considered and weighed as part of the contest, but it won't determine who gets through. If you think you have a good application be sure to campaign for it.
Requirements
You must be a Minnow
You must have 500 or less followers as of Today.
You must have earned less than 5,000 SP from posting as of Today.
You must speak English and write your entry in English, but you can be from anywhere.
You must be a legal adult in your country of origin.
Prizes

All expense paid trip to STEEMFEST
100 SBD
50 SBD

Alternate ways to get there
@theprophet0 started a rolling admission contest where he covers plane fare.
@steemfestdreams has a rolling admission contest too where some needs are met.
After STEEMFEST MINNOW I'll be working with them on those.
Any additional funds raised will go towards the Minnow Support Project community account.
Round 2
A second post must be written by the finalists and submitted as a comment to the followup announcement. You must include
Mission statement
Set of goals
Effective plan
So, make sure you follow that account.
Please support this post and this project
Minnows are the life blood for this community. It's how we'll grow. Please help send a Minnow to STEEMFEST by upvoting and resteeming this post.
Join us in Discord
618 unique people have joined us in the Discord room in the last 5 days.
844 votes have been cast on posts
We have the number 5 most trending curation trail on Streemian- https://streemian.com/profile/curationtrail
We're trending over 100 people chillin' in the channel at any given time.
The community account @minnowsupport has 110,000 Steem Power at its disposal.
Please support the witnesses that help build this community
@aggroed
@ausbitbank
@teamsteem
@theprophet0
Image by @hakiros
STEEMFEST DETAILS
https://steemit.com/steemfest/@roelandp/steemfest-updates-hotel-s-booking-site-now-available
https://steemit.com/steemfest/@roelandp/save-the-date-steemfest-2017-creamy-and-delicious-1-2-3-4-5-november-lisbon