The State Of The DApps
This post is basically more or less my response in a debate engaging around cryptocurrency and user mindset in a closed India-specific cryptocurrency group with thousands of members. I felt I should share this here.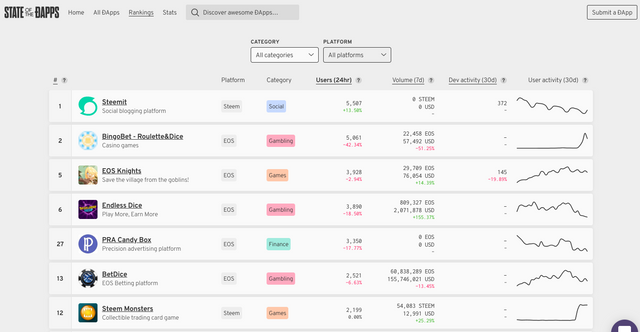 "The simple fact is nearly everyone is here hoping to strike rich in crypto and as quickly as possible and that's it...which is OK because we can't really support something when we're quite at a loss when engaging with it. Very few are here because they strongly believe the changes decentralised digital currencies have and will continue to bring to the financial systems of today.
Even fewer are associated closely with the regular development cycle of any blockchain tech based crypto project as a key stakeholder, core team member or actual product advisor if at all to understand the key issues that projects deal with on a daily basis. Token holders awaiting updates and commenting/trolling on the progress or lack thereof are dime a dozen.
After all it's not easy to sustain yourself in this space for months when you are in the red. Rest are busy chasing support/resistance levels and giving gyaan (mostly random unsolicited advice) 24/7 on price almost as if they are reading it's very 'certain future' from a book. They don't really care beyond their profits and that's quite alright too.
Truth is that everyone plays a role in this space to make it grow. It's a new space and we have a long way to go before we mature into investors and startups in this space will need to get real about managing their resources, bringing continuous investments outside of ICOs to drive innovation in a bear market such as this.
Most people who are fans of any project are barely transacting on-chain. They are busy trying to decipher charts to make profit wherever possible and only trading on exchanges. Very few can say they've made thousands of on-chain transactions and use the blockchain tech where they are holding hundreds of tokens everyday.
If you are looking for real use cases and user base you can take a look at this: https://www.stateofthedapps.com/rankings and maybe sort by users(24hrs) to give you an idea of the number people using dApps on any of the numerous blockchain tech out there. Results may surprise you!
But often people don't put their money where their mouth is. Hence, many projects will continue to remain underrated as hype continues to drive this sector over fundamentals or for that matter logic."
---
If you haven't figured out yet, I'm referring to Steem as an underrated project in this space and if you look at the State of the dApps website you will see Steemit ranking at the top. If you are here for the technology and reading this post today, you are already on one if not the most used dApp in crypto.
Kudos to @soyrosa for her tweet that helped as well as @therealwolf -Steemapps.com for helping getting Steem apps listed on https://www.stateofthedapps.com. CCN today covered it as well in a story worth checking here!
If Steem blockchain and STEEM token is to grow, then we need to keep it alive in conversations outside of this ecosystem. It's useless if we only ramble on Steemit or any Steem dApp about the use cases for Steem and fail to mention (draw direct or indirect references) it in any other everyday social media conversations.
---
If you like my work kindly resteem it to your friends. You may also continue reading my recent posts which might interest you:
---