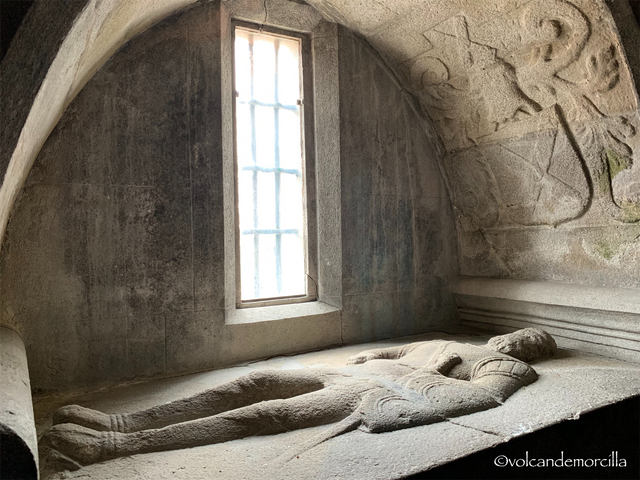 Esta triste losa de piedra nos recuerda que, en otro tiempo, hubo un caballero que defendió sus tierras de piratas y enemigos. Por su escudo y armadura, podemos deducir que probablemente fue marino.
Esta sepultura se encuentra en la Catedral de Viana do Castelo y data de 1404.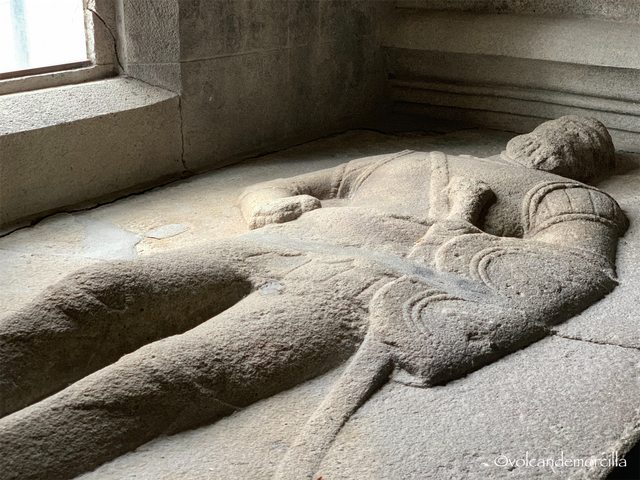 La luz exterior entrando en la capilla realza el relieve tanto de la lápida como del escudo blasonado y me produce una gran sensacional de soledad y olvido.
Me pregunto cuantas aventuras tendría este caballero a lo largo de su vida. Cuan valiente e hidalgo sería. Sin duda, alguien le quiso mucho pues fue enterrado con honores en la Catedral. La lápida se ha conservado bastante bien pero no lo suficiente para saber quién es él hidalgo caballero. El terrible peso del tiempo y el olvido, quizás, son más fuertes que el coraje y el amor.
The forgotten gentleman.
This sad stone slab reminds us that, once upon a time, there was a knight with his armor who defended his lands from pirates and enemies. He was probably a sailor by his shield.
It is located in the Cathedral of Viana do Castelo and seems to date from 1404.
The exterior light entering the chapel enhances the relief of both the tombstone and the emblazoned shield and produces a great sensation of loneliness and oblivion.
I wonder how many adventures he would have in his life. How brave and gentleman he would be. Undoubtedly, someone wanted him because they made his tombstone and it has been preserved enough.
But the terrible weight of time and oblivion, perhaps, are stronger than courage and love.

Proyecto "Momentos"
El proyecto "Momentos" es una idea propia para desarrollar en Steemit. Pretendo describir, con unas cuantas fotos y unas pocas frases, lo que sucede en un determinado momento puntual.
Del mismo modo que la fotografía congela el instante, mi reto es describir un fragmento de tiempo con una serie limitada de fotografías y unas pocas frases.
Habitualmente, los momentos se acompañan de sentimientos o emociones, e intentaré plasmarlos también en este reto.
Como si fuera un haiku japonés, me he propuesto describir, de una manera sencilla, el asombro y la emoción que me produce la contemplación de la naturaleza.
Esa es la idea y espero que os guste.

"Moments" Project
The project "Moments" is an idea that I had to develop in Steemit. I intend to describe, with a few photos and a few sentences, what happens at a specific moment.
In the same way that photography freezes the moment, my challenge is to describe a fragment of time with a limited series of photographs and a few sentences.
Habitually, the moments are accompanied by feelings or emotions, and I will try to capture them in this challenge as well.
As if it were a Japanese haiku, I have proposed to describe, in a simple way, the amazement and emotion that the contemplation of nature gives me.
That's the idea and I hope you like it.

Si deseas, puedes ver otros "Momentos", aquí os dejo los enlaces:
If you like, you can see other "Moments", here are the links:
13 Un iceberg llamado Turandot
14 La primavera ha llegado de repente
17 La victoria hará que valga la pena
21 El choque entre el fuego y el agua
23 Alargadas tardes de largas sombras

Cómo lo hago
Hice las fotografías con mi iPhone X. Disparé la foto en modo "retrato" con Luz de escenario "mono". Para la edición utilicé la aplicación Snapseed y para la firma digital usé la App Watermark.
Los dibujos los hice en el iPad con el programa Sketches.
For the photography I use my iPhone X. I shot the photo in "portrait" mode with "mono" stage light. For edition I use the Snapseed application and for the digital signature the Watermark app.
Everything I did on my mobile phone, I did not use the computer at all.
For the drawings, I use the Sketches program and paint them on the tablet.
Si quieres ver como lo hago, visualiza estos tres enlaces de publicaciones previas.
If you want to see how I do it, visualize these three links from previous publications.
El uso de los filtros de color

Las fotos son mías y originales. También, soy el autor del dibujo separador.
¡Espero tus comentarios!
The photos are originals and mine. Also, I am the author of the separator drawing.
I await your comments.
¡Buen Camino!