SIN2 Reimbursement support by Dimimp: Submit Your SIN2 Photo Here.
The Steemit In Nigeria 2 Event came to an end about a week ago, the Steemjet community appreciate the efforts of all Spaceforce members who represented the Steemjet community at SIN2
About two months ago, @dimimp the head of the Steemjet community announced a reimbursement plans for all attendees of the events with a prize pool of 6000 Steem in the post below https://steemit.com/steem/@dimimp/new-steem-anthem-and-new-newbie-prize-initiative-just-for-participating.
After the SIN2 events, participants have continued to ask members of Spaceforce1 on how to redeem their prize. Since the original post https://steemit.com/steem/@dimimp/new-steem-anthem-and-new-newbie-prize-initiative-just-for-participating is difficult to access because of the many comments already build on it. This post will help to get things organize and give everyone a chance to submit their photos.
How to claim the prize.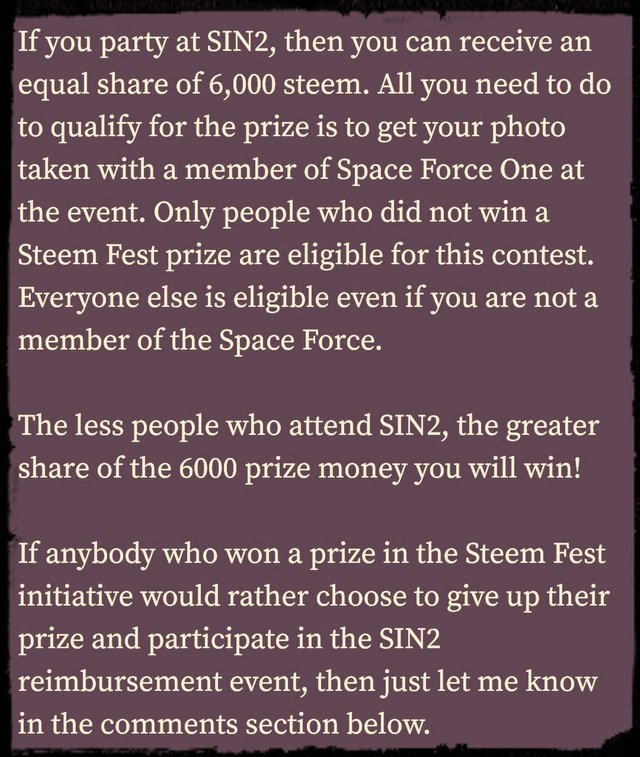 Submit a photo of yourself with any Sf1 members in the comments below.

This Contest is not only for members of the Steemjet community, it is open to every participants of SIN2.
those who receive the Steemjet to Steemfest prize are not eligible for this reimbursement.
Here is a list of the current Steemjet to SteemFest prize winners:
https://steemit.com/steem/@dimimp/hop-a-steemjet-to-steem-fest-prize-results
Names of all attendees who follow the rules will be compile together and forwarded to @dimimp for payment of their prize.
Here is a list of Space Force 1 Superstars
@kabolo
@lordjames
@deandaniel
@uche-nna
@mbj
@empato360
@philip6
@emmycapable
@gutzygwin
@ninoh22
@deeroy
@kving1
@druids
@michaelcj
@kristenantai01
@yungchief
@mrprecious
@etemi
@peepey
@fidelmboro
@shrazi
@lifeofdarlington
@jogreh
@samuel9135
@igwe-library
TL:DR
** if you attended Steemit In Nigeria 2 event at Abuja and you are not a recipient of the Steemjet to Steemfest prize, then submit your photo with an SF1 at the event as a comment below to get your part of the 6000 Steem even if you are not a member of the Steemjet Spaceforce.**
(Optional ) Resteem this post and share with known participants at SIN2
limit your photo submission to one or two photos only and no proposals or request on this blog post to allow everyone equal opportunity to access this post.