SevenFingers Creators WEEKLY CONTENT [ Bulletin #16 ]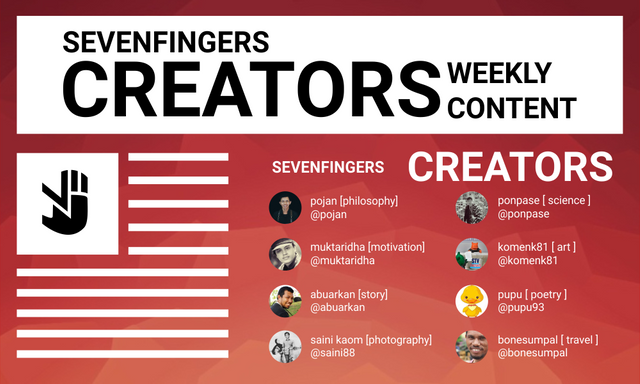 Hi everyone. Steemit is where we share and create informative and educative content for all readers. therefore, sevenfingers built a great team of great creators and we summarize their writing in Sevenfingers Creators Weekly. this is a bulletin of content already creatd by our creator and we make weekly reports for the 3 best post they have created.
SevenFingers Creators is a person who has become a model for sevenfingers community in guiding beginners in creating content as well as maintaining the quality of sevenfingers tags to be filled with content that is worth reading.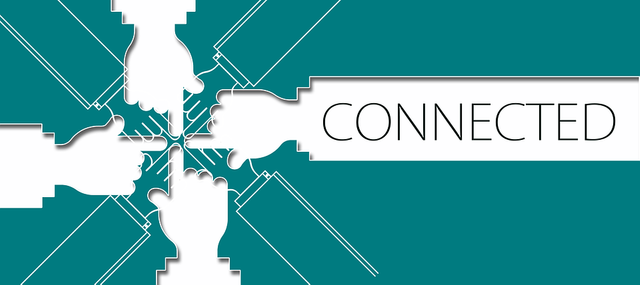 image source
Man, at the same time, is a loner and social being. As a loner, he will try to protect his existence, and the most important thing for him is to satisfy his personal desires, and develop his talents. As a social being, he will also strive to gain recognition and be loved by fellow humans, to share happiness, to make them feel comfortable in times of sadness, and to improve living standards. It's just that the existence of these things is very dependent, sometimes contradictory, depending on human personal character and a special combination determines the extent to which a person can achieve personal balance and can contribute to people's lives. It is very likely that these two forces, especially combined because they are attached to them. However, the personality that ultimately emerges is largely shaped by the influence of the environment in which humans experience themselves during the process of development, by the structure of the society in which they are raised, by the culture of the community, and by the rewards they get for their particular behavior.
---
Speaking of night ladies, that is very true when you say that no one has succeeded in bed unless they are prostitutes. Yes, only for the pleasure that is paid, even with cheap prices can sometimes be used to meet those needs. Because when the stem has found a prick, the liquid will find a way out, that's how hard it works for those who really no longer have a price. But this time I will tell you about the story of a girl who was paid from colonial times. True, Indonesia is one country that has felt suffering because it is haunted by devil hunters, they are enemies, even today they are still enemies for our fallen fighters.
---
What makes your movement stop at that place, maybe you experience sudden traffic jams. Indeed, sometimes the problem comes without a perfect invitation. It will be the same as you who travel through many cars, accidentally, accidents cause traffic up to 500 meters, of course that is not a hope that many people expect, but you still have to enjoy it together to be able to go further. But I really don't know why the barrier is now nesting beautifully in my life, it changes a lot of beautiful things that will ruin the conclusion, lazy to move, not at all wanting to think about what should be my job every night to think. Why is the momentum slowly decreasing on its own? Sometimes I also want to do what I like, even nothing can hinder my wishes, until I really get what is my priority at that time. But sometimes this problem prevails, obstacles come for a quiet time, I am really disappointed for that. Even hatred like lightning ruined my sleep during the day.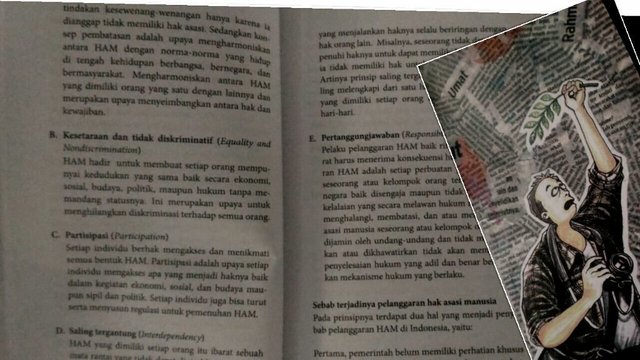 original photo
Looking at the title, "Journalist is not a typist", this book is interesting to learn. This is a guide covering the issue of diversity in Indonesia, taking the experience of some friends in Yogyakarta. This book was published by the Alliance of Independent Journalists (AJI) Yogyakarta and the National Alliance for Unity in Diversity (ANBTI). The book was written by Agnes Dwi Rusjiyati, Anang Zakaria, Shinta Maharani and several other journalist friends. Agnes is currently the Commissioner of the Regional Indonesian Broadcasting Commission (KPID) of Yogyakarta, while Anang is my colleague, former chairman of AJI Yogyakarta. The book was discussed when they both went to Banda Aceh, held on the second floor of the 3in1 coffee shop, Lampineung, Banda Aceh, after noon last Thursday. The participants were generally journalists and students as well as several activists from non-governmental organizations in Aceh.
---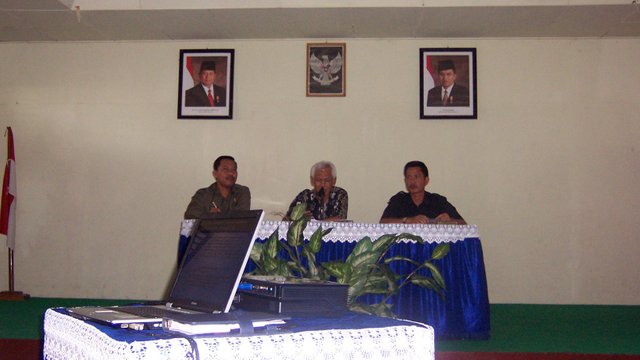 original photo
PIDIE, September 29, 2006. Remarkably the remarks of Pidie Regency councilors, when Waluyo, Deputy of Prevention of the Corruption Eradication Commission (KPK) just spent his material on the socialization of corruption prevention. Suddenly, loud applause at the DPRD's courtroom. In his material, Waluyo explained about understanding corruption in accordance with the law, corruption law offenses and how to prevent them. Also about the functions and authority of the DPRD in supervising the APBD and making qanun, so as not to create loopholes for the misuse of state finances. The goal is that DPRD members can take part in eradicating corruption in their respective regions. "The important thing is how we can do it together," he said on Friday, September 29, 2006.
---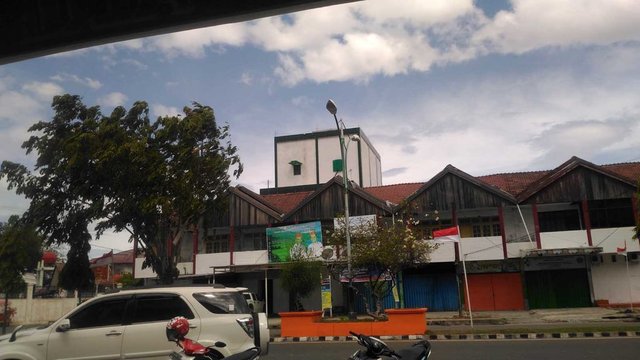 original photo
PIDIE, September 29, 2006. In the eyes of Mansur, a member of the Pidie DPRD, law enforcement in Indonesia, especially on the side of corruption, is the same as in the past despite a slight difference after the KPK was formed. The problem is that morality is rooted in a culture of corruption. According to him due to weak law enforcement in Indonesia, corruptors can arbitrarily sell morals. For example, after corruption, then uncovered and imprisoned for 4 years, the corruptor has earned money from corruption or from the results of doubling corruption money. "It's better to be jailed, the important thing is that money has been obtained," he said. Mansur also said, due to weak law enforcement many cases were escalated. An example of a case in District A, clearly the category of corruption is clear, but after being handed over to law enforcement, the case just disappeared.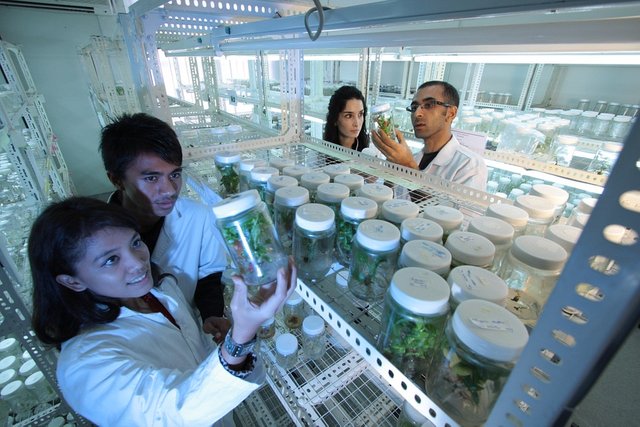 image by pixabay
The teacher has an important role in building student interest. So, the teacher must be able to build a strategy so that there is a student's attraction to the subject. That strategy can be an example of a system or scientific education. The concept of education explicitly is the arrangement of ways to attract students' interest in time. New methods to immediately implement and discard the notion that "science is difficult". However, teachers must have a way to build understanding that "science is very easy". As a teacher, we must be able to anologize all the things that are in theory in real life. So the most important thing is that teachers have the proper talent and potential in science education. Understanding science conceptually will certainly make it easier for us to achieve educational goals. In addition, the existence of an education system that must be immediately improved is an effort to improve the quality of science education in Indonesia.
---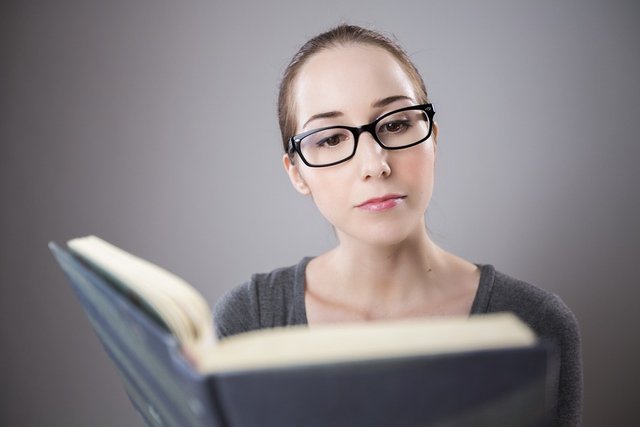 image by pixabay
There are many ways to build sympathy for students to have an interest in learning science. One method of learning that I highly recommends in this case is the "Group Learning" method. I am sure learning will be very enjoyable if done in groups. Learning in groups will allow students to exchange ideas. So they will solve the problem together to understand the difficulties. Thus, they will transfer their knowledge with each other. Because one group allows students who have a higher IQ to understand the lesson. In addition, this method will allow students to build reciprocal communication with each other and exchange information. You can build the concept of group learning more creatively according to yourself. However, before that I have suggestions that you might be able to sample to apply when studying groups.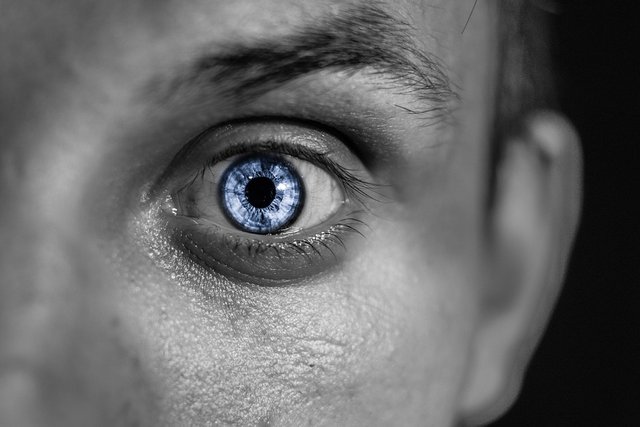 image by pixabay
The eyeball is part of the sense of sight possessed by humans. We will find extraordinary angles about eyeballs in a number of different combinations. The eyes we have used to see nature and have each other have dimensions that are very unique in Psychological reasoning. This is a disclosure given by the eye in describing a inner state and mood. Even if it's not delivered in this way, people will not know about the feelings we experience. There is something secret that has not been seen, capable of being revealed through these eyeballs. We need to understand the most important aspects that can interpret personality in us. When we make eye contact with other people there will be many interpretations that can guess your personality. For that we are advised to be able to make eye contact with other people about 50-80% of the number of conversations. Understanding this on a broad spectrum will certainly encourage us to improve atypical development and as learning material.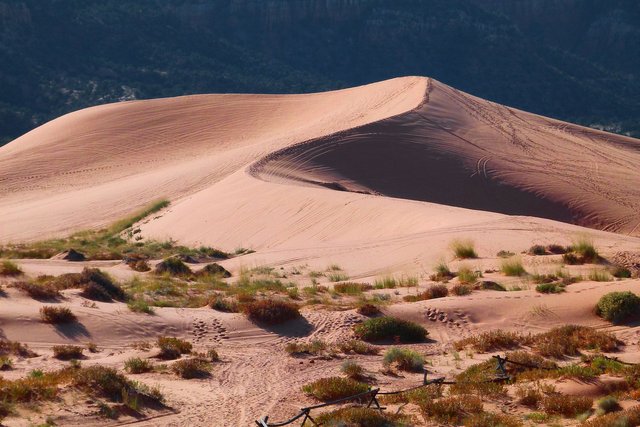 image from pixabay
This poem is a rhyme type telling about the story of the prophet Ibrahim As. In this chapter, the story begins when the 12-year-old prophet. His father, named Azar was a man who was very good at making statues. When he was asked to sell it on the market, he treated the poor statues. All this was done because he did not believe the statue. At one time he said about the true God to his father. However, his father became angry and rejected by Ibrahim's teachings. Even Ibrahim's prophet was entrusted from home for a long time. That's it, the fragment of the story of Abraham in this chapter, hopefully increasing our knowledge.
---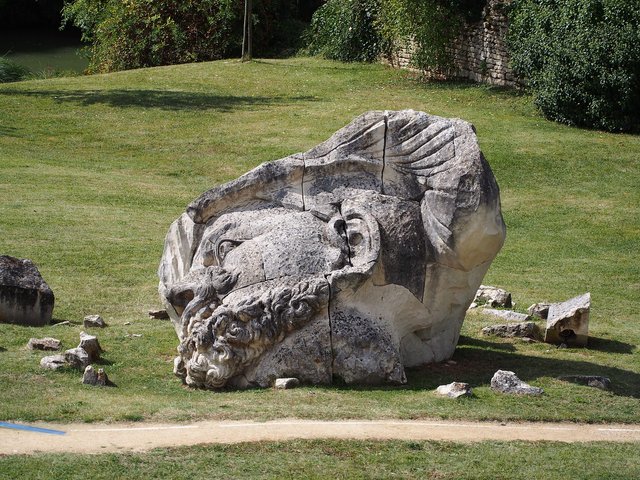 image from pixabay
This poem is a continuation of the story of Ibrahim's prophet in the previous section. This chapter tells the story of the destruction of idols by the prophet Ibrahim. At that time he was seventeen years old. The story begins when King is named Namrud and his people hold parties outside the region. This opportunity was used by the prophet Ibrahim to destroy idols. In this story there is a tactic that we can learn. During the process of destruction of the prophet Ibrahim left one of the biggest idols and hung on the neck of the great idol. This was done for the purpose when the king asked him questions, he would show that the great idols had done all this. In the debate the king lost and was ashamed. Finally, the prophet Ibrahim was imprisoned for some time.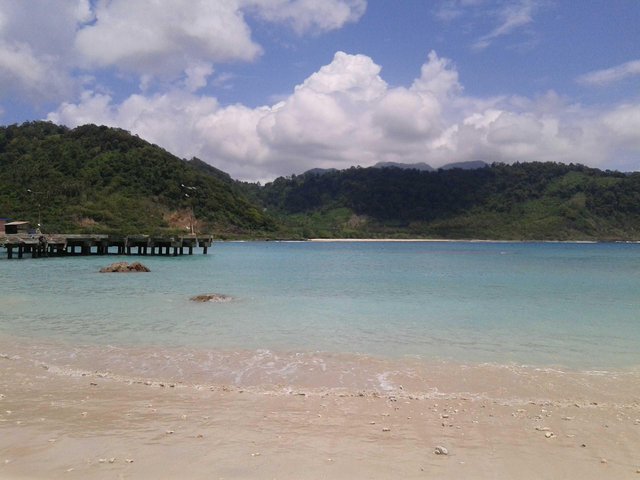 original photo
Pulo Aceh (Aceh Language) or Aceh Island is located in Aceh Besar District which borders Sabang Island and other small islands. Pulo Aceh is a sub-district in Aceh Besar District, Aceh Province, Indonesia. Pulo Aceh is a Region III Administration which is the most western in Indonesia. The island which has 17 villages is divided into 3 settlements, namely North, South and Padi Islands. As in the picture above, the ship we are going to ride is not too big. Ships that usually transport people through to Pulo Aceh only accommodate 200 people and 10 motorbikes. I previously thought that there was a big ship with a large capacity to pass, but I would enjoy it. Rijal and I took place on the roof, so I could glance left and right along the road. Exactly at 2:00 p.m., the boat that we were riding was ready to dock, but there were several obstacles when the ship we were riding was about to leave the port. Nearly an hour the boat we caught was caught, because of shallow water in the port. But thanks to the Captain's intelligence, the ship made it out of the danger zone and made it into the open sea. A tense start for me.
---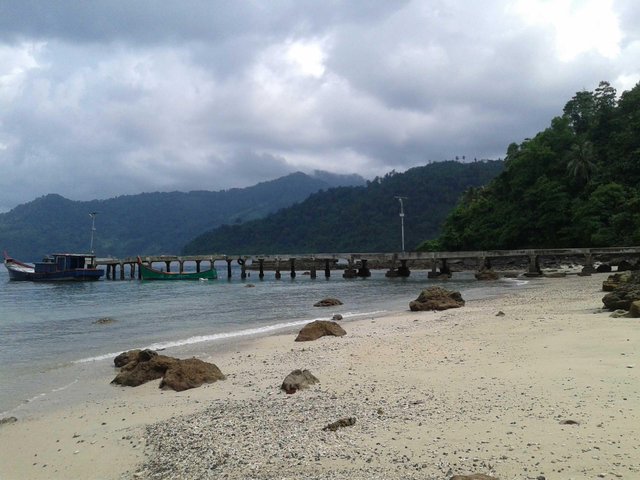 view post
Greetings to your friend steemit, hopefully always in a healthy and happy state. My greatest respect for those who have followed and given me support. You all are amazing. I continued to write from my trip to Pulo Aceh, of course with a different story from the others. Enjoy friends. Before that night I was invited by the children of Pulo (my name is for children in Aceh Pulo) to look for Octopus when the sea water was receding, coincidentally at the time of the Octopus season and expensive on the market. From 8 to 12 noon they rested, they woke up at half past one and came out with equipment ready to fight. After the team collected everything, we immediately headed to the beach. They are already familiar with this activity, it would be nice they already know when the waves and currents are low. Arriving at the beach, they immediately observed the condition of the sea water, they waited for the sea to completely recede. I learned a lot from them that night, unfortunately my cellphone camera was low and there was no documentation that night. The point is I learned a lot from them, one day I will return with better preparation.

Thank you for looking at the summary of content already created by sevenfingers creators. this bulletin has been written and noticed by all creators above. hopefully with this creators can try to keep making great content every day and become a model for other creators.
This proves if sevenfingers are serious and highly appreciative of content creators in providing information and will continue to be a great community to help newbies and help great creators achieve success.

Author: SevenFingers Creators
Chief Editor: @pojan | @ponpase
Courtesy : @arie.steem | @coretan | @podanrj | @team2dev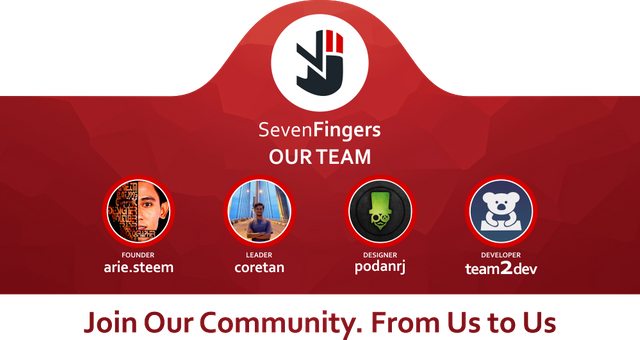 ---
Posted from my blog with SteemPress : https://blog.sevenfingers.io/2018/09/25/sevenfingers-creators-weekly-content-bulletin-16/
---