ISLAND TRIP Part 1 | Exploring the Beautiful Islands of Aceh - A neglected paradise.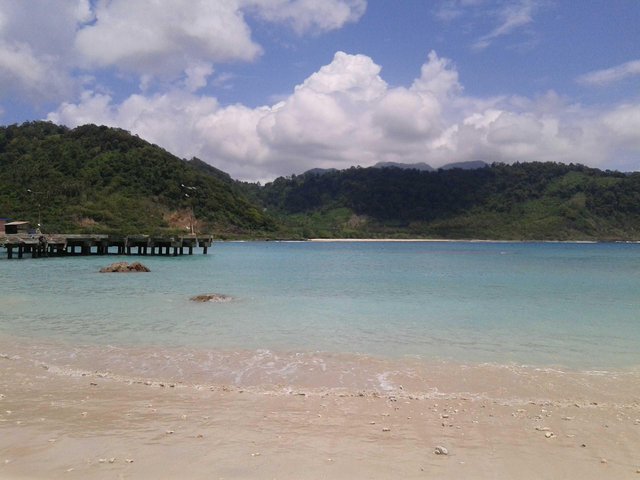 Best wishes to steemit's friends, hopefully always in good health. My best wishes to friends of steemit users throughout the world, you are amazing.
It has been a long time since I planned to go to Pulo Aceh (Aceh Island) for a vacation, but it always failed and failed. Apparently a trip that has been planned is rarely able to be realized properly, even the unplanned ones are always successful. Previously I only heard, read and saw portraits of Pulo Aceh. Want to visit and enjoy the beauty of nature there.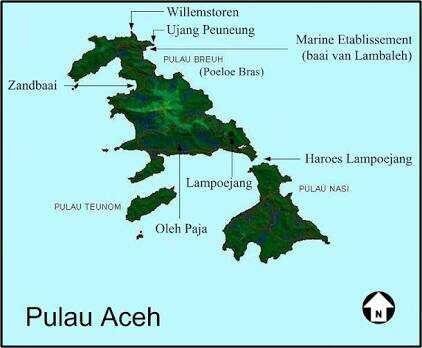 (Image source by Wikipedia)
Pulo Aceh (Aceh Language) or Aceh Island is located in Aceh Besar District which is adjacent to Sabang Island and with other small islands. Pulo Aceh is a sub-district in Aceh Besar District, Aceh Province, Indonesia. Pulo Aceh is a Level III Administrative Region located the most western in Indonesia. The island which has 17 villages is divided into 3 settlements, namely the North, South Settlements and Rice Island Settlements.
DAY 1 (Thursday, September 6 2018)
Rijal and I have agreed to visit Pulo Aceh, I want to enjoy a small vacation there. On Wednesday night I was picked up by Rijal to sleep and prepare at his house. We will go to Lampulo Port at noon, because the schedule is to cross to Pulo Aceh at 2pm. Arriving at Lampulo Port, we immediately took a motorcycle to the ship and immediately took a comfortable place to sit, considering the trip that would take 2 hours and a half.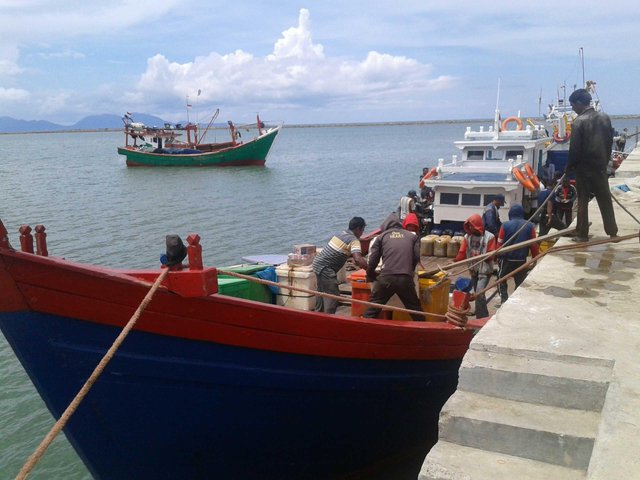 As in the picture above, the ship we are going to ride is not too big. The ship that normally transports people to pass to Pulo Aceh only accommodates 200 people and 10 motorbikes. I previously thought that there was a large ship with a large capacity to pass, but I would enjoy it. Rijal and I took place on the roof, so I could glance left and right along the way.
Exactly at 2 o'clock in the afternoon the boat that we were riding was ready to dock, but there were few obstacles when the ship that we were riding was about to leave the port. Almost an hour the boat we were traveling in was caught, because of the shallow water in the port. But thanks to the Captain's intelligence, the ship managed to get out of the danger zone and managed to dock into the open sea. A tense start for me.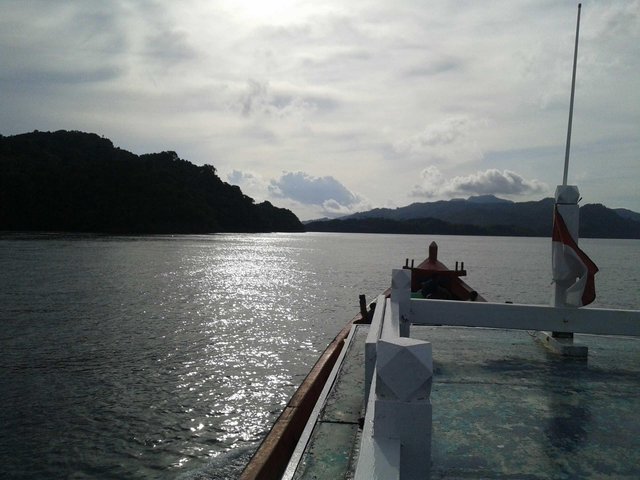 Luckily at that time the sea condition had improved, after a few days before experiencing a bad climate. There were only small ripples, the ship we were riding docked safely. Rijal and I had slept for a while on the ship, but I woke up and saw the islands clearly visible. The sign we almost arrived in Pulo Aceh.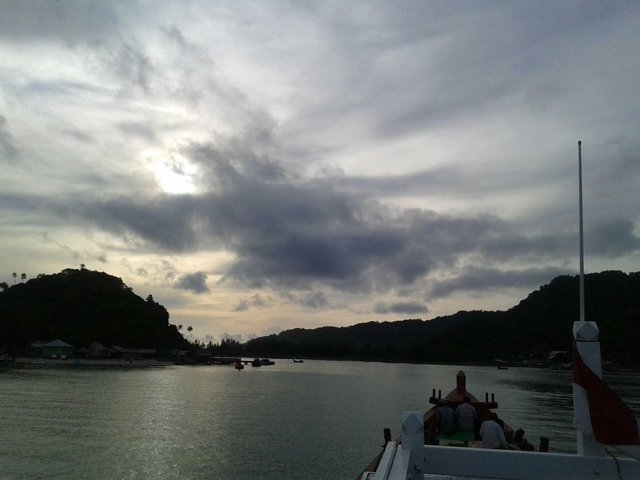 I have been on the ship for 2 hours, the sun has begun to sink. We have just entered the canal that will enter the territory of Aceh Island. It is not until half an hour later that we will arrive at the Gugop Pier.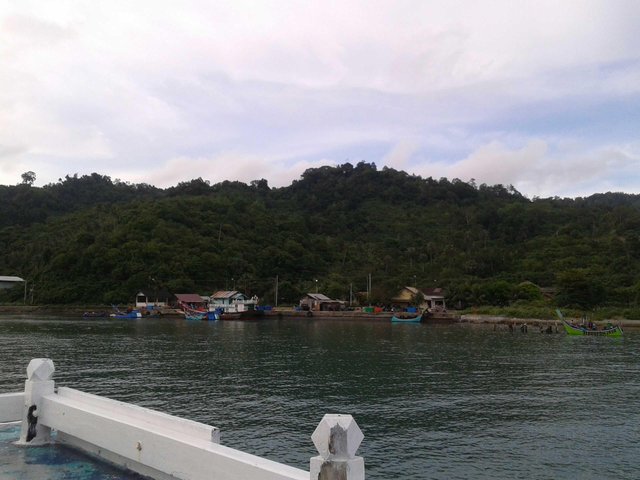 At 6 o'clock I arrived at the Gugop Pier, it was a bit late when we arrived due to obstacles when caught in Lampulo harbor. Rijal and I prepared to get off the ship and take a short break before continuing the trip, our plan would be to spend the night in Meulingge Village.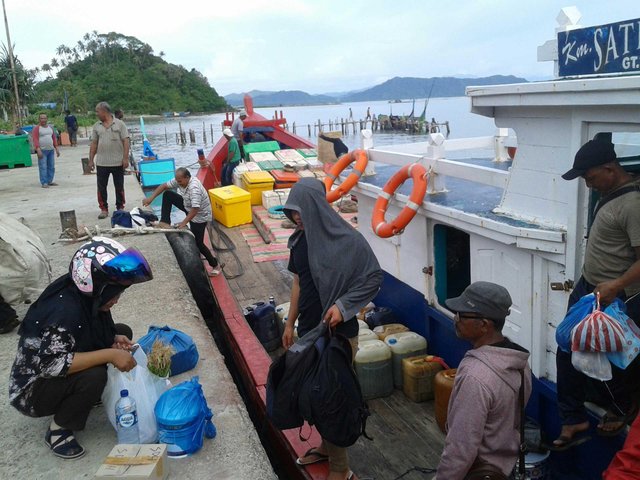 From the Pier, we will go to Meulingge Village, the time will be taken there is approximately 1 hour by motorcycle. There are 2 villages that we will pass through, namely Pinon and Alue Raya Villages. The trip to Meulingge Village was not so easy, the steep uphill road and the side of the cliff had to keep us cautious when driving.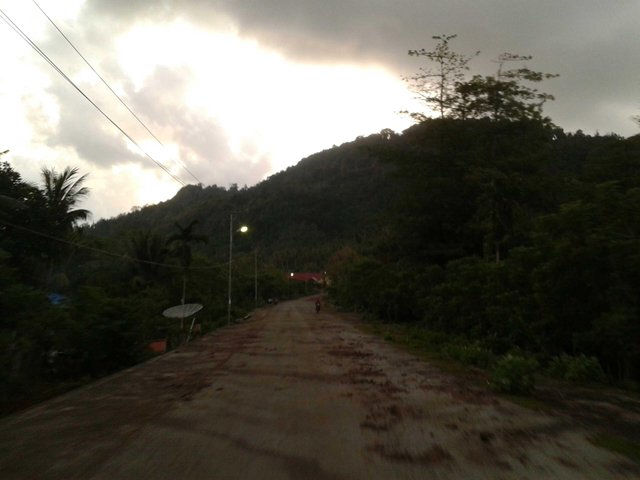 Along the way there, there will be many beautiful panoramas presented. I really enjoyed this trip, so did my friend Rijal. Finally at 18.30 we arrived at Meulingge Village, Rijal invited me to spend the night at his brother's house. Greetings were a little different from friends, after my Maghrib and Rijal ate with me at the court.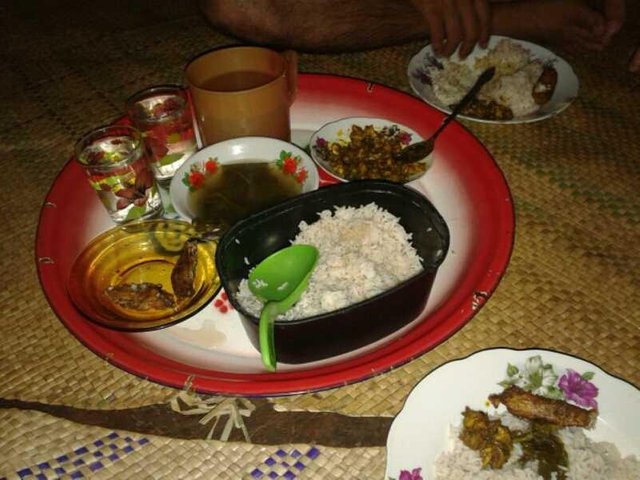 finished eating Me and Rijal left for a while to hang out at the Meulingge pier. There are usually lots of young islanders and children relaxed while fishing. It turns out that island life is really fun, they are not negligent with the internet world like children in the city. Naturally, they are like that, because there are no cellular networks in the Meulingge area.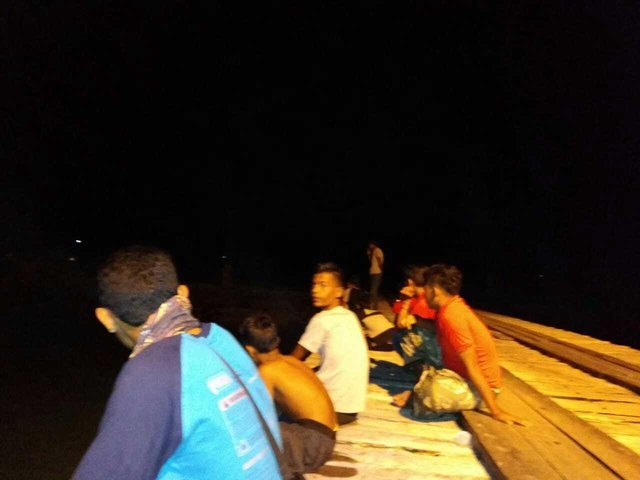 It doesn't feel like it's late, it's fun to chat with them. Rijal and I said goodbye to them to take a break, because our first day to explore.
1. Relax on Meulingge Beach.
DAY 2 (Friday, September 7-2018)
I woke up a little late today, because due to Friday. In Aceh, people do not move on Friday because their customary law is still thick with Islam. They will return to activity after Friday Prayers, some go to sea and some go to the garden. Rijal and I went to the Village Chief to give my respects while reporting because we were new guests. This will make it easier for us to go anywhere and be safe there.
After reporting to the Village Chief, Rijal and I went to visit a friend's place, because we were there as a place to give a blessing. At 2:00 a.m. we returned home to eat and took equipment such as hammocks and a little logistics to go relaxing on the beach. Melingge Beach is not far from where we live, only 500 meters walk we have arrived there.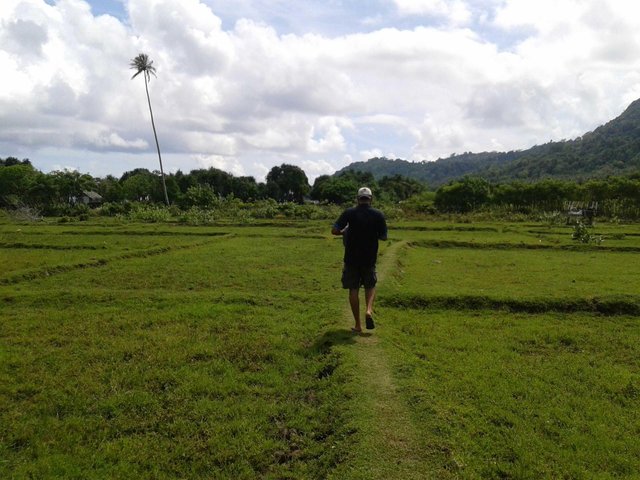 Arriving on the beach I and Rijal immediately installed a hammock on the pandanus tree which was on the beach. I was very excited when I saw the beautiful beaches, this would be the most comfortable place to relax.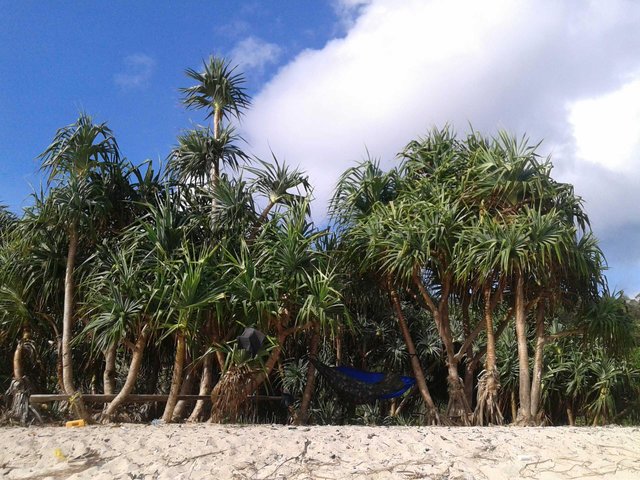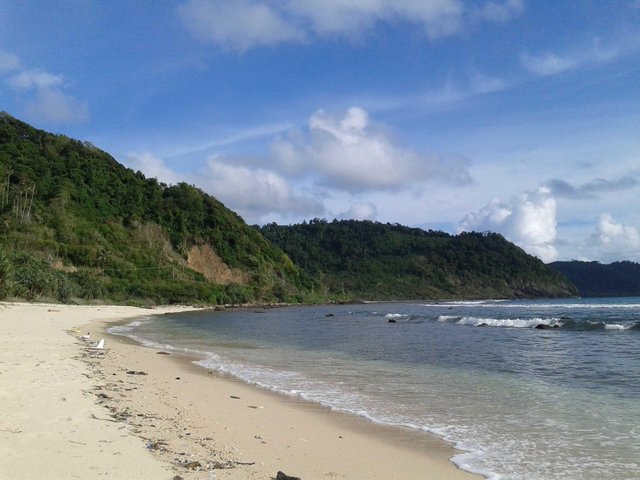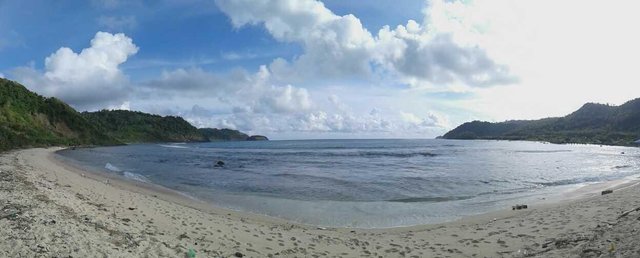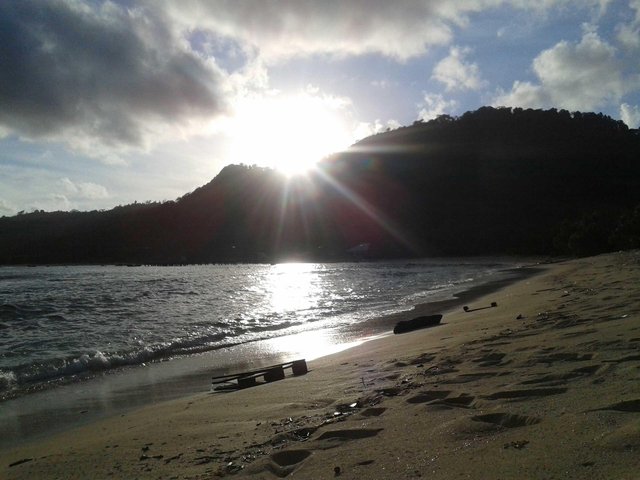 A gentle breeze and the sound of the waves crashing on the sand, Rijal and I were fast asleep. But I woke up again when I heard the sound of children bathing and going home to sea. I moved from the hammock to take some pictures, portraits of Pulo Aceh's children.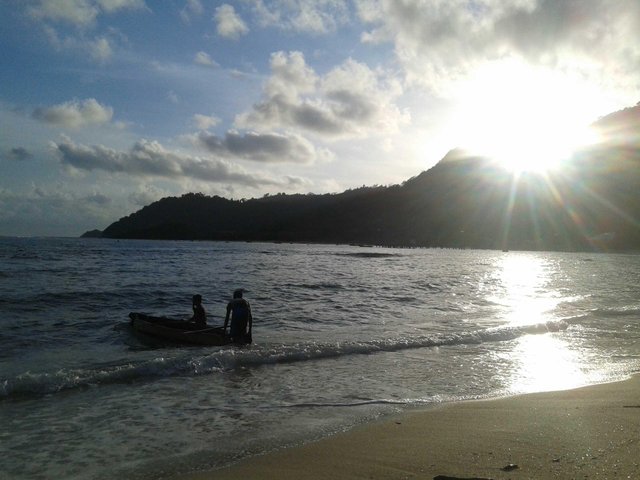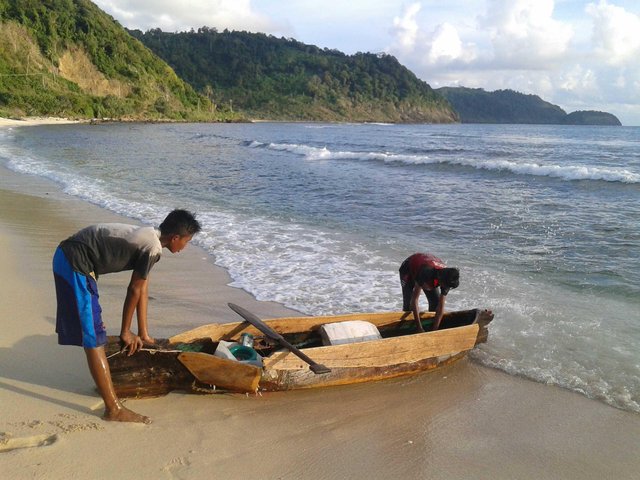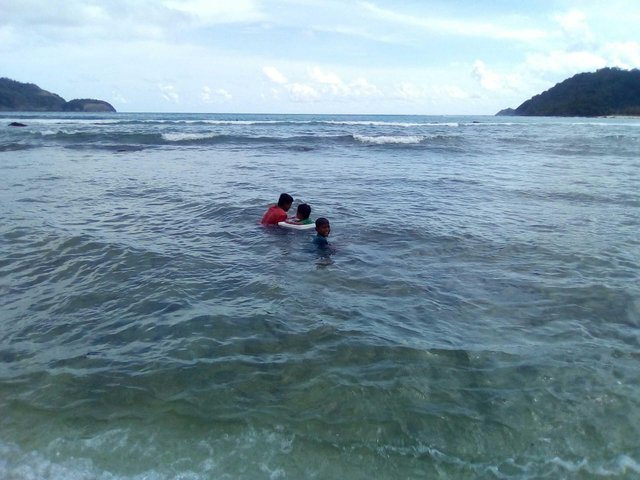 It didn't feel like it was late in the afternoon, Rijal and I would clean up to go home. We will continue our exploration tomorrow, we have to arrange time to be able to meet with the community in Meulingge Village.
To Be Continue...

Author & Photograph : @bonesumpal
Follow @sevenfingers and Join discord : https://discord.gg/H9dfBF
Follow @esteemapp and Join discord : https://discord.gg/6JmnKC
Follow @qurator and Join discord : https://discord.gg/Zj8fkz
Follow @curie and Join discord : https://discord.gg/ajurn5