Real Talk #3 - The Art of Asking for Help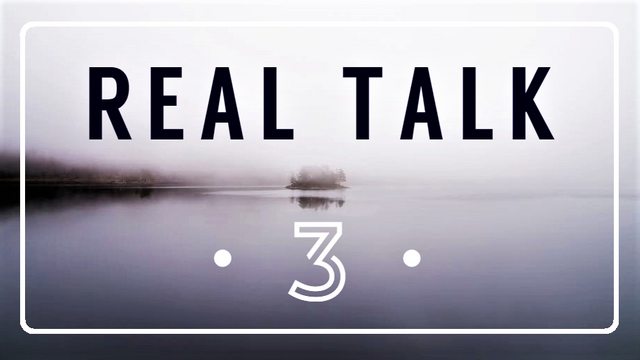 I don't know why but every time I'm about to write one of these, all these thoughts keep circling in my head that make me want to delete everything I wrote and start again. I keep thinking of all the ways I can express myself better and I get anxious if I'm not able to explain myself.
The burden of wanting to write exceptionally good in this series because I love it so much is what makes me hate it, if that makes sense. I know it's kind of a dumb reason to get anxious over it, but I don't have that many outlets and I don't wanna fuck up the ones which I do have.
But I also know there's no perfect way to start this so I'm just going to.
For almost all my teenage life, I've been the kinda guy who is always ready to listen to other people and their problems and who tries to empathize with them and help them as best as he can, even if sometimes the problem was me.
I've been that guy who would happily put off work to comfort someone and give them reassurance if they needed it. But even though this is a good quality (I hope), the reason behind it is a story that I don't like talking about that much.
Hating Myself
I remember when I was a kid, I used to be someone so completely different. It almost feels like it was some other person, to be honest. I don't really have any clear memories of my childhood, but I do remember how I felt during that time.
I remember being so loved and cared for and being the center of attention for everyone, and it felt so good to have so many people worry about my well-being. The stupid fights I had with my brother where we chased each other around the house is something I never thought I would miss as an adult.
And then things changed.
I don't wanna go into much detail because then it makes me feel horrible, but I have to let it out. As time went on and I started to enter my early teenage, I began to notice some things about me. Most of which, pointed towards the fact that I was different from everyone around me.
I was bullied pretty much everyday in my high school (that already had a bad reputation for having a violent crowd) which sometimes, honestly, made me want to end myself. I remember this incident when the bullies formed a circle around my bench as I was doodling on my bag and started harassing me. They snatched my marker, lifted the bench so I would fall, and push me back into the seat if I tried to get up and leave.
I wanted to call for help, but as I looked around, the whole class was laughing at me. I can't even begin to tell you how unbearably horrible I felt at that time. The bullies would even throw things at me from the back seat including a broken door handle which once hit me just below the eye.
I tried to complain to the teachers but no one ever listened which made me feel like no one cares and I'm the one to blame for all of my suffering somehow. For some fucked up reason, I thought I deserved being treated that way because I was different.
Asking For Help
This went on for several years and I never told my parents about it and kept suffering because I thought they wouldn't understand, just like my teachers. Not just in high school, but things like this seemed to happen almost everywhere I went including tuition classes where I was usually the one who was made fun off.
But somewhere around the end of 10th grade, I finally opened up to my mom. I told her everything. She changed my school, which I'm really grateful for, but things were just as fucked up in the new school as in the previous one. Although this time, I admit, I was the one who made things worse for myself.
But that's a story for another time.
Now, after finally being done with high school, I look back at these memories and I wish I had continued asking for help. I wish I didn't keep it to myself and told people about my problems. This realization is exactly what made me wanting to help people out.
I know what it feels like to be in a situation where you feel absolutely powerless and weak and are unable to call for help. I know how it makes you want to feel in control again and how it makes you do bad things and become rude just so you can feel strong for a moment. I've been there.
That's why I want to be there for people in their darkest times because I had no one in mine. I want to be that last hope for people that they can count on when everyone else has let them down and they feel like they have no one to go to.
Getting Better
The thing is, the more you talk about it, the better it gets.
If enough people get to know about your misery, they will come to help. That's how we humans are. I didn't expect help from people around me because I was in the wrong environment, but that doesn't mean I shouldn't have tried. Not asking for help is one of the greatest mistakes I've ever made in my life, and I don't want anyone else to make that mistake ever again.
I'm not saying you should never embrace pain, no. I know it's important to be hurt from time to time because pain teaches you the most valuable lessons of life. What I'm saying is, to never adapt to a bad situation and make yourself feel like this is your new 'normal', because once you adapt to it, you no longer look for solutions to make it better, and that leaves a scar on your personality.
Accept the pain, but never adapt to it.
For me, it was my fucked up teenage that changed a big part of my personality, but it can be something totally different for you. My way of dealing with it was a wrong one, and that's why I don't want anyone else to go through the kinda shit I went through.
But even after all of this, I think I'm getting better as a person because this whole mess has drilled a valuable lesson in my mind which I don't think I'll be able to forget. I've been trying to be more open about all of this and it just makes it so much easier to share this stuff with people who understand.
I'll be more than happy to listen if you guys have your own stories to share in the comments. Let's get to know each other. Peace!

Previous Talks: