Real Talk #1 - My Fear Of Failing As A Writer (and other stuff)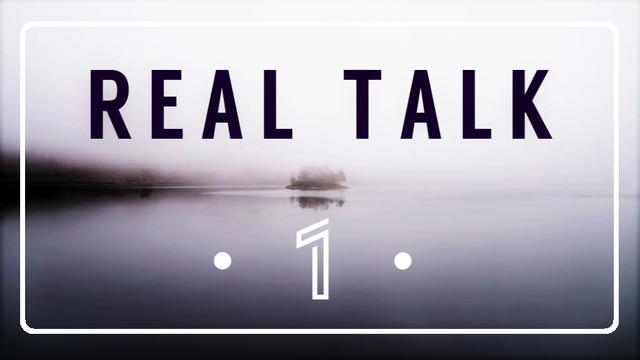 I don't know how to start with this other than to tell you guys that this is something that I've been wanting to talk about for a very long time. But before we go any further, I just wanna clear out that this is going to be a little personal, if it wasn't obvious enough already.
I have been on Steemit for more than eight months now and as much as I love being a part of this wonderful community and being able to make money by doing something that I love, I still do have my days when I get nervous that someday I might have to give this up for a stable job.
I know it might not sound like a big deal, but to me, it genuinely is because this is the first time that I am actually doing something I love for a potential career. If you have read some of my previous articles, you know that I've always had issues trying to decide what I really want to become in life.
That's why this is so important to me. I know for a fact that I won't be able to count on Steemit as my only source of income in the near future, as for us minnows, Steemit is more like a side hustle than a real life-sustaining job.
To be honest,
Even though I'm very happy and content with what I have accomplished till now in my blogging journey, thanks to all the supporters (especially @firepower), I still can't help but think about how this will not be enough in the coming years.
I am already a lot less consistent these days because of college, exams, learning how to be an adult, and all that kind of stuff, which leads to being less socially active on the platform which basically means that you won't be able to maintain your audience, let alone make new one.
And that, honestly, scares me a little bit. I keep overthinking that if no one is going to read my articles, what's the point of writing them in the first place. I mean, a writer without his readers is like a teacher without his students.
On top of all that, if I'm lucky enough to actually land a job in the next few months, I can't say for sure, but there are chances that I might give more time there than to Steemit. My priorities will change eventually, even if I might not want them to at this point.
The Real Problem
That's where my fear kicks in. What if I start losing interest in Steemit simply because I'll be making more money from a "real job"? I don't want money to become my bigger priority, but then again, I also want to be independent and have my freedom from an early age so I can work on myself as a person.
This.. what do I call it? Dilemma? Yeah, dilemma. This dilemma has kept me on the edge of my seat for God knows how long. The reason why I want my independence so bad is because I know I won't be able to develop into my own adult self until I'm free to make my own decisions and mistakes.
I know I have potential, but I'm not yet able to make full use out of it, and I won't be able to either unless I'm truly on my own. I'm the youngest in my family and that's why I never needed to perform any adult activities or take any major responsibilities, which led to me not knowing jack shit about how to operate in this corporate world.
I couldn't learn all these things because I simply never needed to. My parents and my elder brother were always there to do my chores for me, and though my past idiotic self loved not having to do anything, my present self thinks of my past self as a total dumbass.
So, what can I do?
Honestly, at this point, I have no idea. There's so many things happening and so many things that are about to happen and between all this mess, I haven't been able to come up with anything to help my case.
I don't know if I need to be patient and let things fall into place, or force my way into getting what I want. I can't choose. Both the options seem ugly to me. I've talked about this to some people and their responses are pretty much what you would expect - motivating, but impractical.
I'm still trying, though. I don't know what things will turn out to be in the near future, but I don't wanna fall in the guilt of not trying. I'm still looking for jobs, gathering the courage to open up to my parents about what I want in life, slowly learning how to be an adult, and all that stuff.
I know this is a very long post and majority of people stopped reading half way through, but if you made it till the end, I couldn't be more thankful. Honestly, you guys are one of the main reasons why I love writing. Thanks for sticking around. Peace!