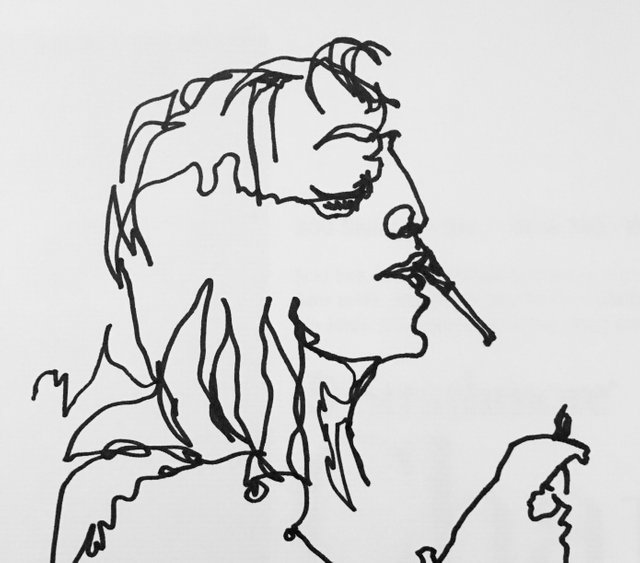 So I Want To Start Something New ..
Called 'Blind Contour Corner'. Since I like drawing these Blind Contour Drawings, why not share them on a more regular basis. At least we can all get a kick out of them.. and hey! who doesn't need a good smile or laugh once in a while. I know I sure can use one daily :-D So here we goooooo-----> I am going to post at least once or twice per week a new blind contour drawing of something or someone I come across while muddling along on my daily routines. I will post them either shaded or not depending on my mood or which I thinks satisfies my artistic spirit. I may even make up some sort of quaky story to go with it if I get creative enough.
Today's Blind Contour Drawing - 'Smoking Lady' ..
It was absolutely beautiful out the other day. Temps were in the 70's and the breeze was blowing like a summers day. I was sitting in my car outside of a Taco Bell and glanced at the car down the way from mine. Parked a bit crooked and containing a lady dressed in pale white. She had her eyes lightly shut with a cigarette resting precariously between her lips. It was unlit as she appeared to be deep in thought, almost like a prayer was being given. Her lips slightly moving as the words were trying to form and escape from them. In her hand she kept a tight hold of a piece of paper, folded over and over and worn to shreds. As I would glance back several times I wondered what she was thinking and telling herself. I pondered what was written or not written on the folded paper damp with sweat. She never did light that cigarette before opening her eyes, starting the car, and driving off into the day. Soon the 'Smoking Lady' was gone from sight.
Finished Blind Contour Drawing ..

Finished Blind Contour Drawing .. INVERTED (for fun!)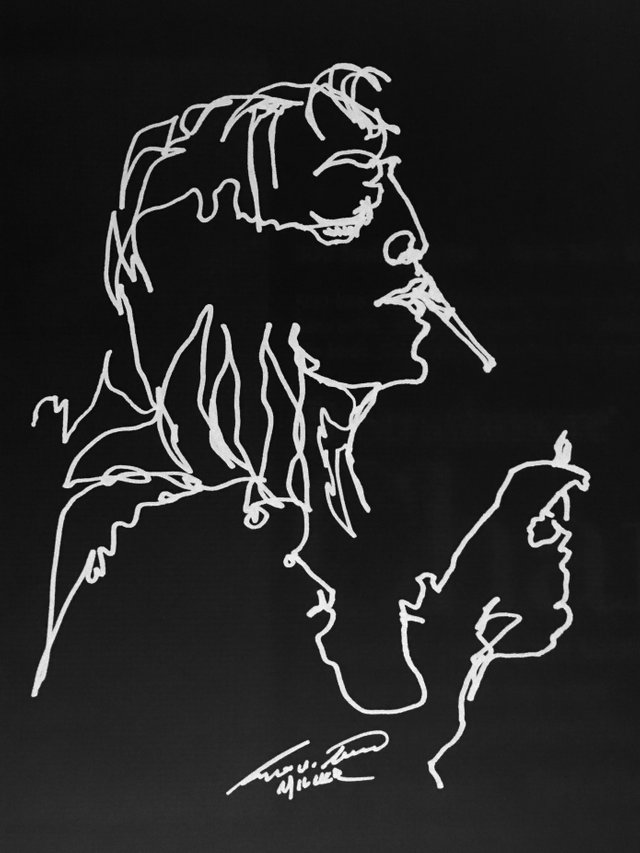 She Gave Me Just Enough Time ..
To sketch my vision of her deep in thought. I created this blind contour drawing in about 5 strange minutes. I say strange, because she did not know I was sketching her. I tried not to look like that creepy guy sneaking a look at this interesting human behavior before my eyes. For all I know, someone was watching me as well. What a surreal thought. hmmmm. Now I feel bad. Oh Well.. The sketch came out pretty cool. The tools were pretty simple, a single Sharpie and a piece of paper. I am going to leave this one un-shaded but may get the hankering to add some shade later on down the line. For now the creation is complete!
'Smoking Lady' - With Border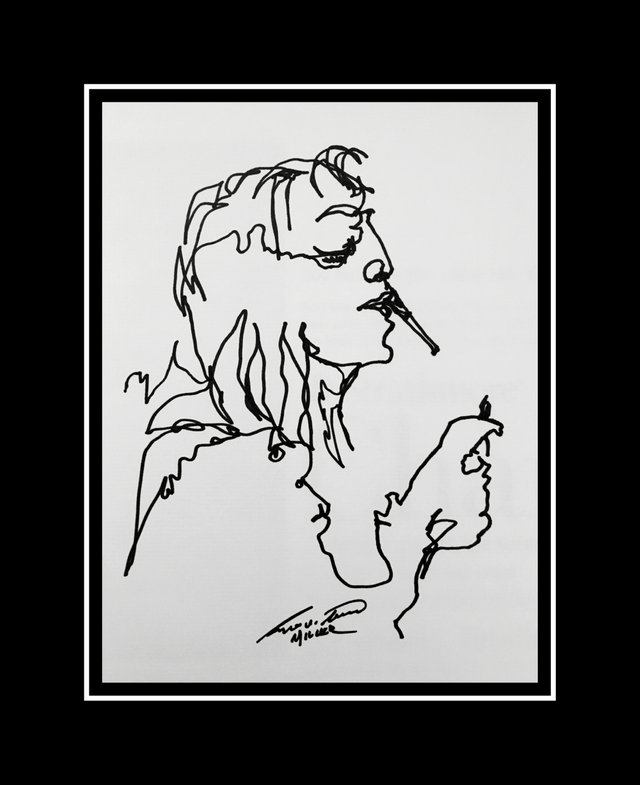 Have A Great Night Everyone!!
<~~~~~~~~~~~~~~~~~~~~~>
If Your Interested In Purchasing Any Of My Work:
They can be found for sale in
OR
My Etsy Store
If you don't see the piece in either shop, It may still be drying. Let me know and I can upload it as soon as possible to be available. Or you can always make me an offer (in SBD or STEEM) in the comments section of this post. If we agree on a price, I will then ship the painting to you. (shipping costs will be determined by your location).
Thank you for swinging by my blog and checking out the post. Have a great day!

All words, pictures and art pieces are the sole property of B D Miller Gallery, unless otherwise noted and credited, and are not to be reproduced or copied without the prior written consent of B D Miller Gallery.
---
About Me ~ The Artist
My art work incorporates a wide variety of subject matter, including landscape, seascape, cityscape, and still life images. My works are the product of a continuing process of exploration through which I seek to portray personal and visionary interpretations of my surroundings. My paintings are impressions of places and events from everyday life, an interpretation of my imagination, and personal responses to what I see and feel on a daily basis. More recently I have invested generous amounts of time into my landscape painting. I am surrounded by natural and man made beauty, which inherently presents itself in the tri-state area, and almost demands that I paint it.
Not everything is art. Art is not everything, but it comes close. Art is everywhere and all the time. Art makes you experience the beauty of the world, the people in it, and the places we call home. Art itself is so influential that it can tell stories, show feelings, and express passion or fury. Art exists in addition to language; expression of sensations and thoughts, revealing a way of thinking too subtle and delicate for words.
For me art requires love, honesty and perseverance. In return, it reveals some personal, non-analyzable, and creative untamed passion. For the public, art with its magnificent beauty, improves mood and health and builds better human beings and communities. It engages the intellect, softens the heart, strengthens the soul and frees the spirit.
.................................