I hope you've been enjoying year two!
If you have a favorite pun that was made here, leave a comment below that sends POCKET to that punster.
If you don't know what I'm talking about, just go to that link, and you'll see lots of jokes to laugh at, and then you can come back here and vote for your favorite!

This week's winner will win a #steembasicincome share, because @freedomshift sponsors an SBI award for our #ccc qualified contest posts. Check out what the Curation Circle Creed is all about by visiting this link:The Honor Code - the Creed (Conditions and Limits Inside)
I know, you don't know what POCKET is.
Well guess what! I can tell you.
POCKET
was created by @biophil to explore what is possible to run as a subchain, considering the no-fee nature of the Steem blockchain. He created the POCKET protocol, and sent out 1,000,000 POCKET to those who participated in the Genesis fund. Several people run confirmers....
You don't need to know all this, but if you're curious, you can visit his profile, and specifically this post...https://steemit.com/pocket/@biophil/pocket-protocol
What you actually need to know
If you have a favorite pun, please let them know and send them your approval by way of an upvote on their pun! They all get a 100% upvote from me, so your vote, no matter how small, will not be lost to the infamous dust rule.
If you have POCKET, you can send some by writing in a comment on this post pocketsend:0thisisthenumberofpocketyouwanttosend@totheusernamelistedhere,this part is where you tell the punster what you liked about their pun.
and if I don't have POCKET, but I want some?
I say as if I am you...
Well, I think there are a couple ways to get some.
@pocket-pi posts a weekly usage report. Here's an example of one. You can scroll down and see which users have the most, and then seek them out and offer services or $ in exchange for POCKET. https://steemit.com/pocket/@pocket-pi/weekly-pocket-usage-report-week-2018-05-21-to-2018-05-27
or
You can appeal to @biophil, and let him know that you want to use the POCKET to vote for a favorite punster here, and, if he's feeling generous, perhaps he'll give you some that a confirmer he runs has earned.
or
You can try to write the best pun in the world and then appeal to those who have POCKET to stop by this post and the pun post to send you some as a vote for best pun! Then you can use that POCKET to vote for YOUR favorite! ( If you've never punned before, it might seem like magic! You can do it, too! Learn how in My Free How-To Guide on Punning! )
Enjoy the puns!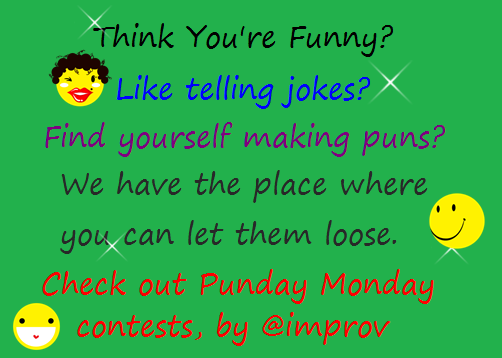 Thanks to @pixiehunter for making that image!
If/when you use my referral links, we both benefit!
Earn.com: small tasks for small rewards (but better than most)- http://earn.com/improv/referral/?a=qmk07e7tzua677hk
Coinbase: Cryptocurrency investment- https://www.coinbase.com/join/5929c0788331aa072d9e347e
Robinhood: investment platform buying/selling stocks- http://share.robinhood.com/brendaw92
Manna: Universal Basic Income- https://www.mannabase.com/?ref=3984bea863
Swift: A different attempt to create a Universal Basic Income: https://www.swiftdemand.com/?referred_by=lochleinn