Punday Monday Year One...day Awards Ceremony!
Again, your nominees:
@acolucky for When taking the bus, sometimes Rosa drives, and sometimes Rosa Parks. Nominated by @marcoriccardi
@doctorcrypto for Now that the baby has moved in with you guys, I guess that means he no longer gets womb service. Nominated by @acolucky
@paul.atreides for Instead of a GI joe, I asked my parents for a little brother to play with as a Christmas present. Alas, they told me the whole idea was INCONCEIVABLE. Nominated by @wonderwop
@fishyculture for The deaf woman walked into the tattoo shop and asked for their artist who worked with the hearing impaired. The receptionist gave her a blank stare. The disappointed woman turned to leave, saying "My friends told me I could come here and get my lips red!" Bada-bing - Ya' been punned. It is funny because the deaf woman wanted her lips read, but the tattoo artists could only offer red lips. Tragic, really…Nominated by @aislingcronin
and
@ddschteinn for Mr. Johnson took his cat Pickles to the beach in Fort Lauderdale for two weeks at Christmas last year. Pickles really enjoyed the ocean. Cavorting in the waves, chasing the shore birds, picking up dead fish and things, running full speed at the water's edge, and finally leaping and shaking sand all over the oily sun-bather's in their chaise lounges.
You can imagine how surprised Mrs. Johnson was when her husband and Pickles pulled up into the driveway back home a week earlier than originally planned. "You two aren't supposed to be home for another week. What on earth happened?"
To which Mr. Johnson replied, in a rather terse voice, "I never DID believe in Sandy Claws." Nominated by @mariannewest
Congratulations to our winner! You and your nominator both received 5 SBI shares!
(because it's the cool thing to do, here's a screenshot!)

The new year of Pundays has begun
https://steemit.com/contest/@improv/punday-monday-contest-prizes-for-all-year-2-week-54
Check it out, and get your first puns of the new year in! Also, check out the previous week's winners!
If you've never punned before, it might seem like magic! You can do it, too! Learn how in @improv's Free How-To Guide on Punning!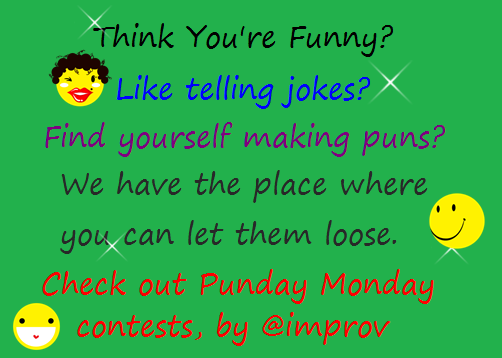 Thanks to @pixiehunter for making that image!

Feel free to share these images! And thanks to @f3nix for making this banner for us!