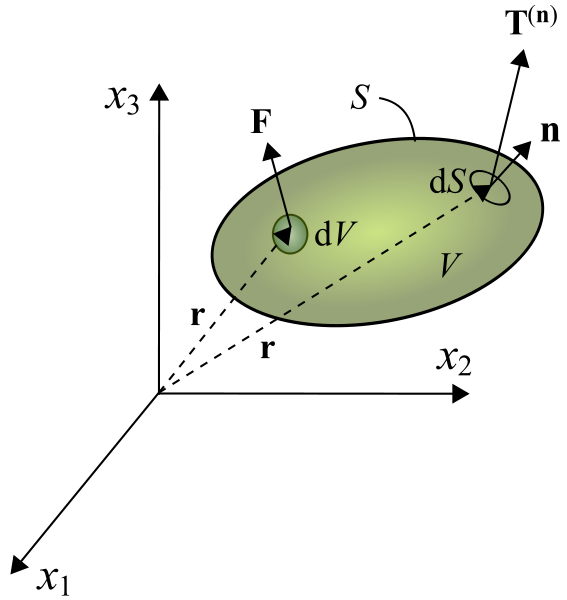 [Image 1]
Introduction
    Hey it's a me again @drifter1! Today we continue with Physics and more specifically the branch "Classical Mechanics" to get into a new "chapter" called Equilibrium and Elasticity. In this chapter we will get into more advanced equilibrium problems that include both translational and angular motion. To get more specific this article is basically an introduction to rigid bodies and how we define equilibrium for them. So, without further ado, let's dive straight into it!
---
Equilibrium Conditions of Rigid Bodies
    Up to this point in the series we mainly talked about point equilibrium, describing rigid bodies as a single point called the center of mass. After the introduction of angular motion and torque we can redefine equilibrium as
a state where a rigid object doesn't move and/or rotate
. This is actually the definition of static equilibrium. Another form of equilibrium is dynamic equilibrium, where an object is moving (or rotating) at constant velocity.
Two conditions
have to be met for a rigid body to be in
equilibrium
:
The net force in all directions must be zero
The net torque acting on the object must be zero
Mathematically, we can define those conditions as:

Net Force Condition
    Getting more in-depth, in order to achieve the first condition the forces acting along all axes of motion must sum to zero. Thus, In two-dimensional space (x and y axes) we can write:

    A great formula that can be used here is Newton's second law that connects force and acceleration:

Net Torque Condition
    To achieve the second condition, we first have to recall the quantities torque depends on. Thinking about the definition of torque for simple linear bodies, which is τ = Fl, we understand that torque depends on the force and lever arm.
    When the second condition is met, the body is spinning with constant angular velocity (or not rotating at all), having zero angular acceleration. An easy way to check for this condition is the reformulation of Newton's second law for angular motion, which is:

Of course torque can be written in respect to the various motion axes.
---
Center of Gravity
    First of all, don't confuse center of gravity with center of mass! They are the same point only when inside of uniform gravitational fields. The center of mass is an imaginary point in space where the distributed mass sums to zero. The center of gravity, on the other hand, is a point through which the weight of the rigid body acts and where applying a force directly opposing the force of gravity balances the object.
Let's proof why the COM and COG are the same in uniform gravitational fields...
COM = COG proof
    Let's suppose a number of point masses m
1
, m
2
, etc. inside of three-dimensional space, located at the points (x
1
, y
1
, z
1
), (x
2
, y
2
, z
2
) etc. The
coordinates of the center of mass
(x
cm
, y
cm
and z
cm
are given by: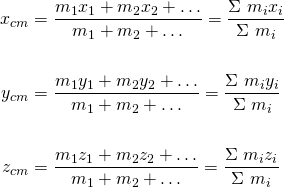 We can also write down the position in form of a
position vector
r
cm
:

The
torque of gravity
for any of these points can be defined as:

The
total torque
is therefore:

    Multiplying and dividing by the total mass M, and substituting various equations that have been found previously during the calculation, we end up with: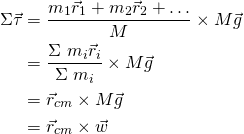 So the total torque is equal to the torque of gravity that acts on the center-of-mass (r
cm
). This basically tells us the the center-of-gravity is equal to the point of center-of-mass. During the calculation we supposed that g is the same for all the point masses. If it weren't then the center-of-gravity would of course end up being at a different position. This is something that occurs on planets, moons and bodies in general that have non-uniform mass distribution that also means non-uniform gravity.
---
Solving Equilibrium Problems
    To solve problems around Rigid Body Equilibrium we use free-body diagrams that describe an idealized model of the system. Such a diagram shows all the external forces (actions and reactions).
The steps for creating a free-body diagram can be summarized as:
Draw the outlined shape of the body.
Show all external forces (active loads, weight of the body, support reactions)
Label all forces with their magnitudes and directions (indicate dimension using subscripts like Fx, Fy etc.).
    After that we have to set up the equations for the equilibrium (sum of force and/or torque for each axis is zero) and solve the system.
You can find examples/exercises around such problems in Reference [
5
]
---
RESOURCES:
References
Images
Mathematical equations used in this article, where made using quicklatex.
---
Previous articles of the series
Rectlinear motion
Plane motion
Newton's laws and Applications
Work and Energy
Momentum and Impulse
Angular Motion
---
Final words | Next up
And this is actually it for today's post!
Next time we will continue with Force Couples...
See ya!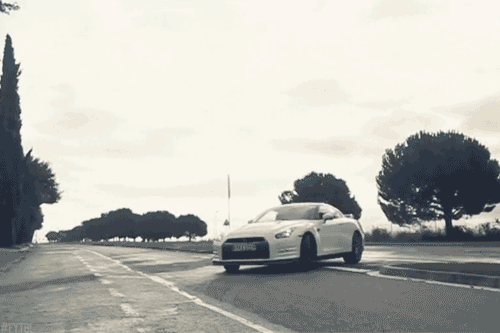 Keep on drifting!