August Before Sunrise
Before Sunrise
Beginning a morning walk a half an hour before sunrise is a perfect start for the day. I get to experience the silence before people begin their noisy routines, and I can enjoy the darkness and the lights that make everything look very different than it does after sunrise.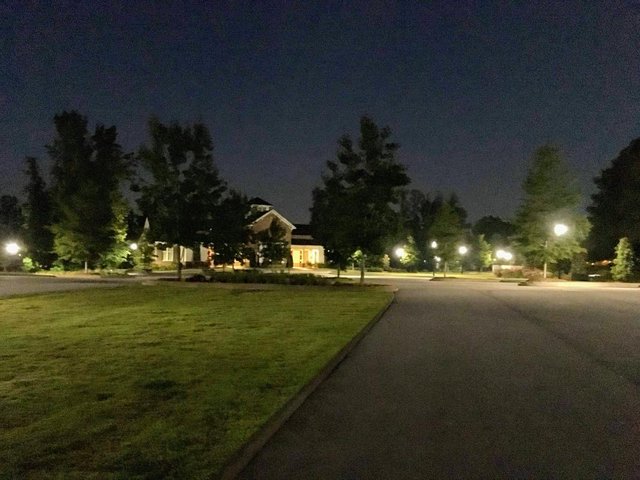 Cloudless mornings are especially nice since the stars make guideposts to mark directions and the seasons and I can practice remembering their names and re-trace the constellations. The moon is beginning to wax in the morning sky. The term "waxing moon" is not used much now, but it has such a nice, old-fashioned sound to it. We should use it more often.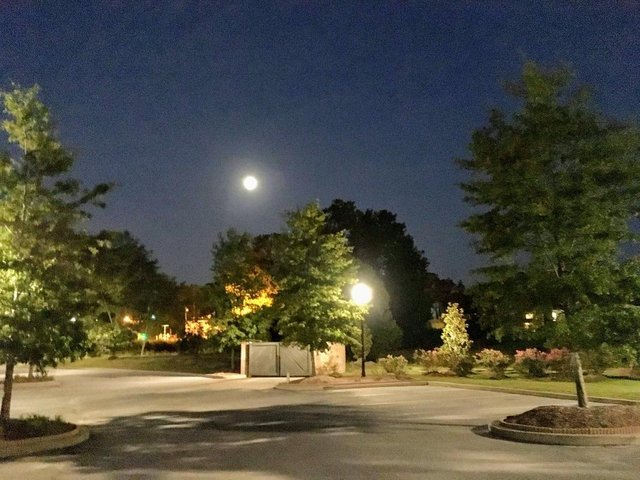 It is almost magic that light from the sun travels 93 million miles and a very tiny part of it hits the moon, and an tiny piece of that is reflected towards earth 240,000 miles away, and reaches us to brighten the landscape. Even without the park's lights, I can easily to see to walk.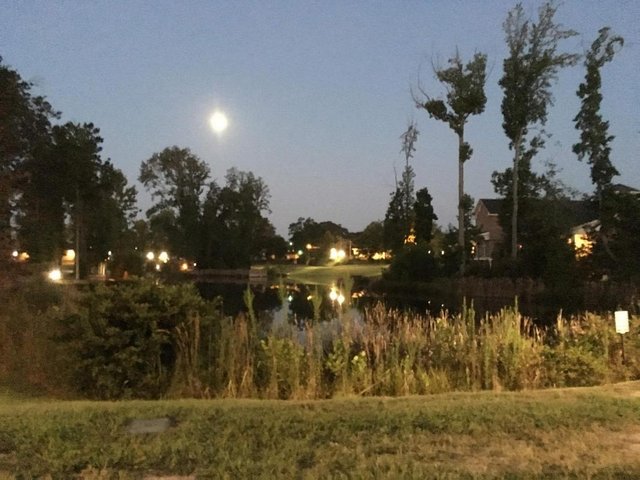 Crickets and frogs were singing and a light dew was forming on the leaves. Everything was aromatic and slightly moist and it smelled like dawn.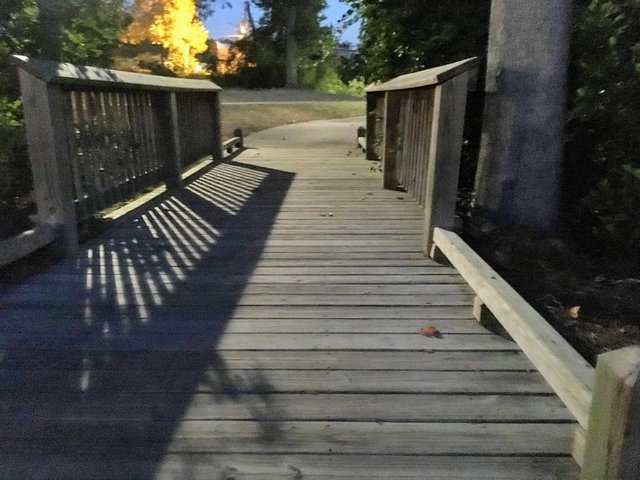 The park lights were enough to make walking easy and to cast shadows from the walking bridge's rails. A tree near the park was turned bright yellow by the color of the sodium light on a building hear the park. The low pressure sodium lights produce far less "sky glow" (a nice term for light pollution). It was like walking through a decorated world that would disappear in just a few minutes.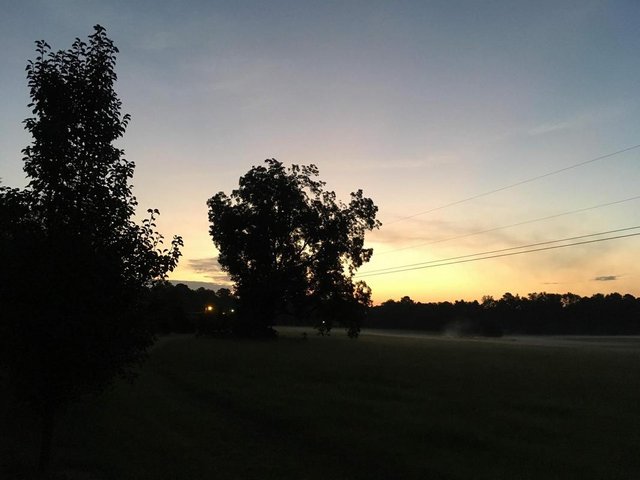 From the side of the park, the sun was six minutes from official sunrise time. Right on schedule (very fortunate for us!).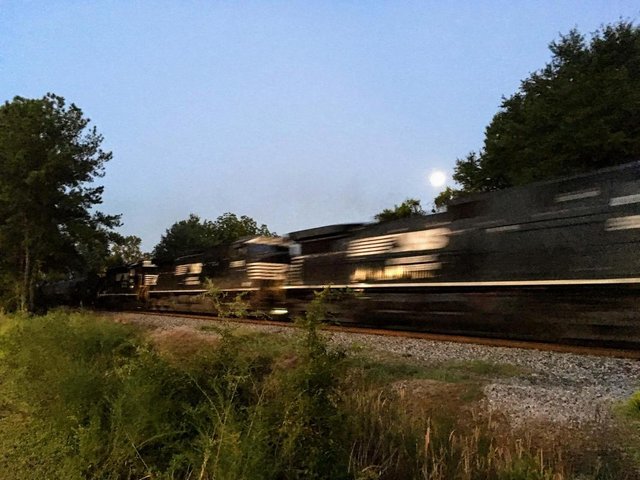 As I completed the circle around the park, the ground trembled as a freight train charged across the landscape in all its sound and fury, pulsating sound and rhythmic rumbling of heavy steel wheels on the steel tracks. I could feel the sound against my chest as the four diesel engines passed by!
Three dogs were hiding behind my legs. I think the vibrations in the ground tickle their feet.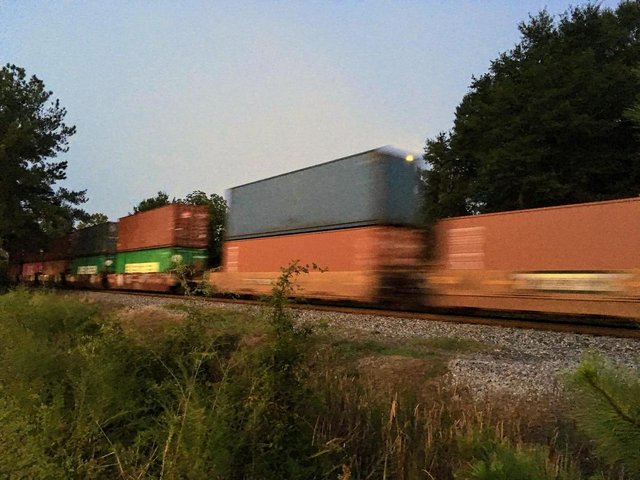 Trains are one of the best inventions humans have made. They are safe and carry more freight more cheaply than any other form of transportation! The American Indians called them "Iron Horses."
I have always loved trains and I still stop and watch and feel the energy from the thousands of tons of machinery and freight as it rushes past at high speed.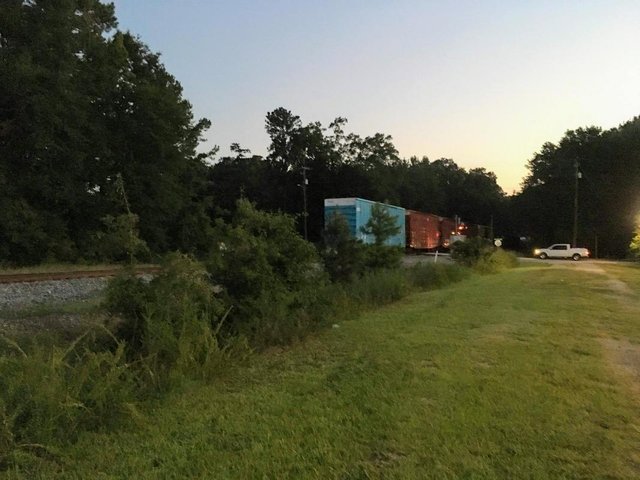 In 90 seconds, the train had passed and was still gaining speed, headed towards the sunrise as the moon's mirror illuminated the fading night.
Bravo! What a performance!
Images by @willymac
finis

Comments from real people are welcomed.
About Me:
My Writing: