Granola Crusted Cashew Cream Tart - FOOD PHOTO SHOOT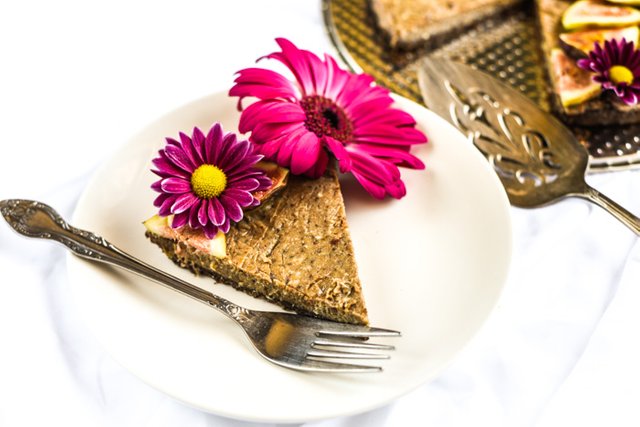 It's been a little while since I've shared a tart like this. I was going for a cheesecake type of thing and, while this doesn't taste exactly like cheesecake I think it's definitely delicious! I wanted to keep it simple and not bother turning on the oven since it's been pretty warm.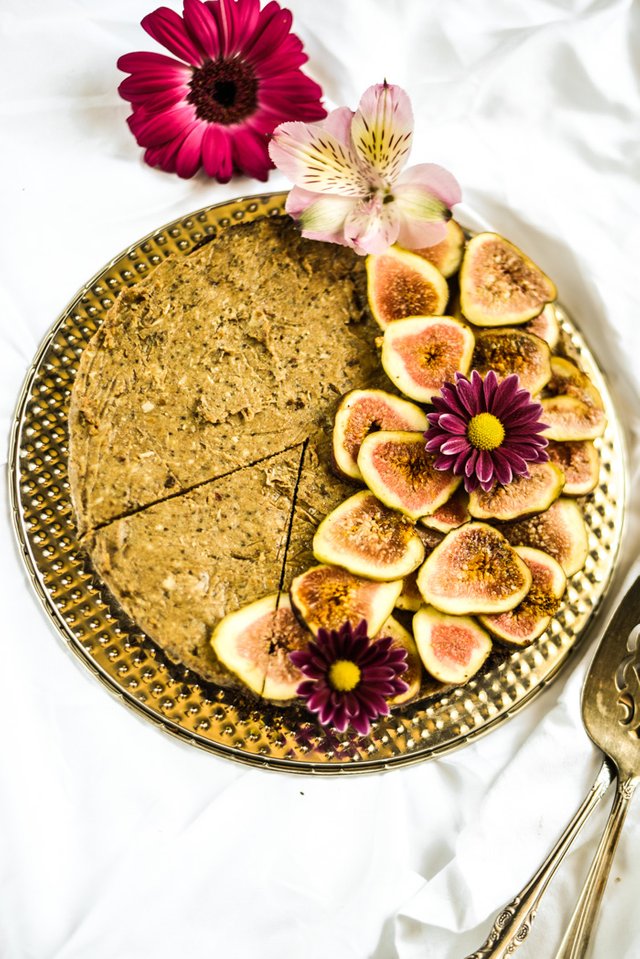 Anyway, I recently made this huge batch of chocolate granola. Of course, true to my habit I made it without any sort of recipe. I also made way more than I had planned. It does save well, but it was more than I would be able eat any time soon. That's why I thought it would be fun to make a granola crust with some of it.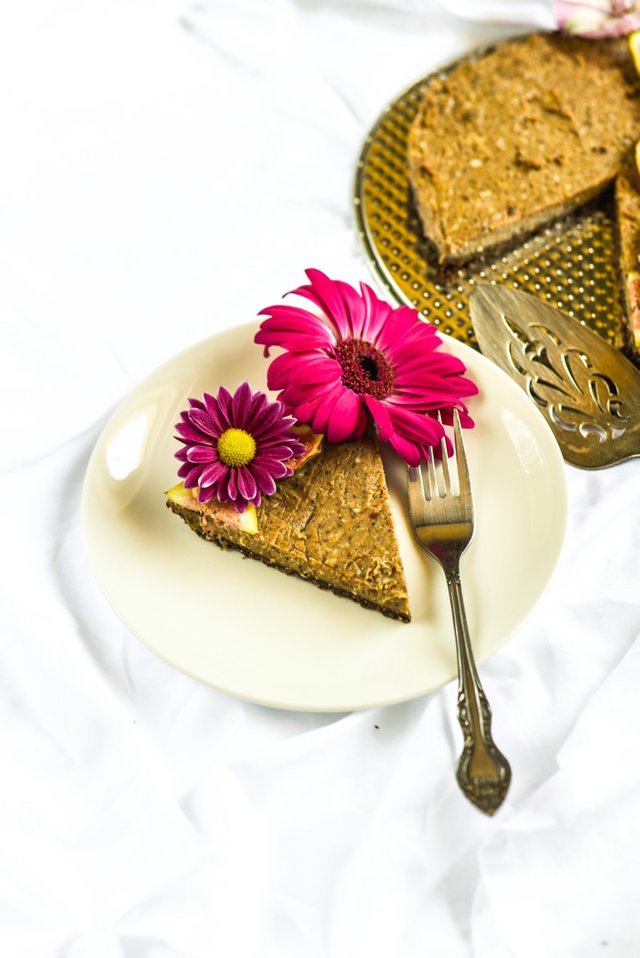 I've used granola for making crusts like this in the past with great results. In a sense, it's not very different than a cookie crust since granola is basically crunchy cookie crumbles. If you want to use some granola that you've already got on hand, feel free to do that. I love to do this when the pantry is full of too many almost-empty boxes of granola.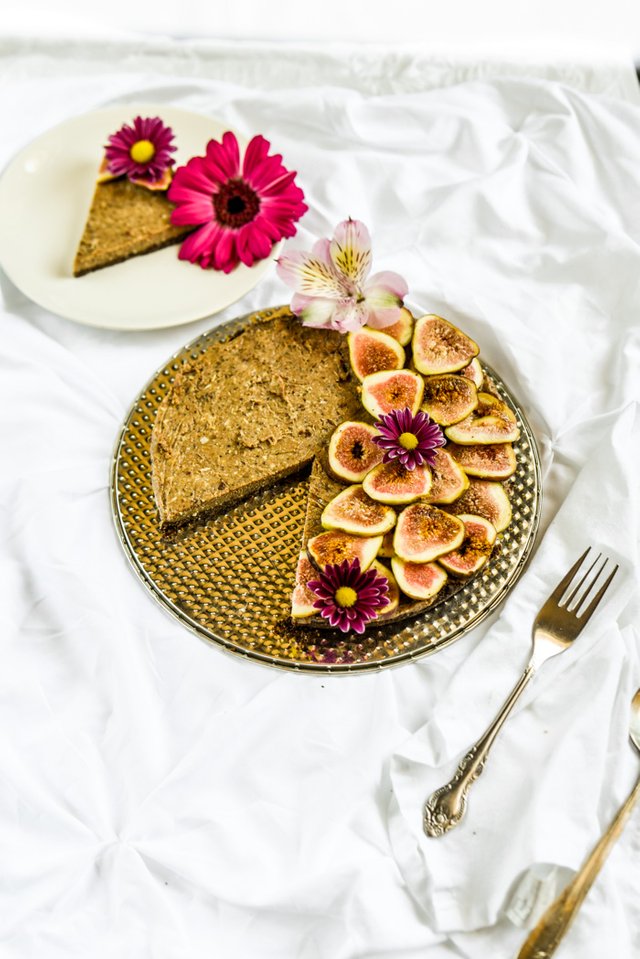 As for the toppings, I used some sliced fresh figs and fresh flowers. The flowers were obviously for photo value and not to be eaten. My little nephew asked me why I put flowers on it as if he couldn't fathom why anyone would do something that crazy. I told him I just thought they were pretty and the face he gave me was priceless. He was so confused.
So yeah, this is a great treat to make for the Summer. You do need to plan ahead for soaking the dates and nuts but it's so easy otherwise and really fast.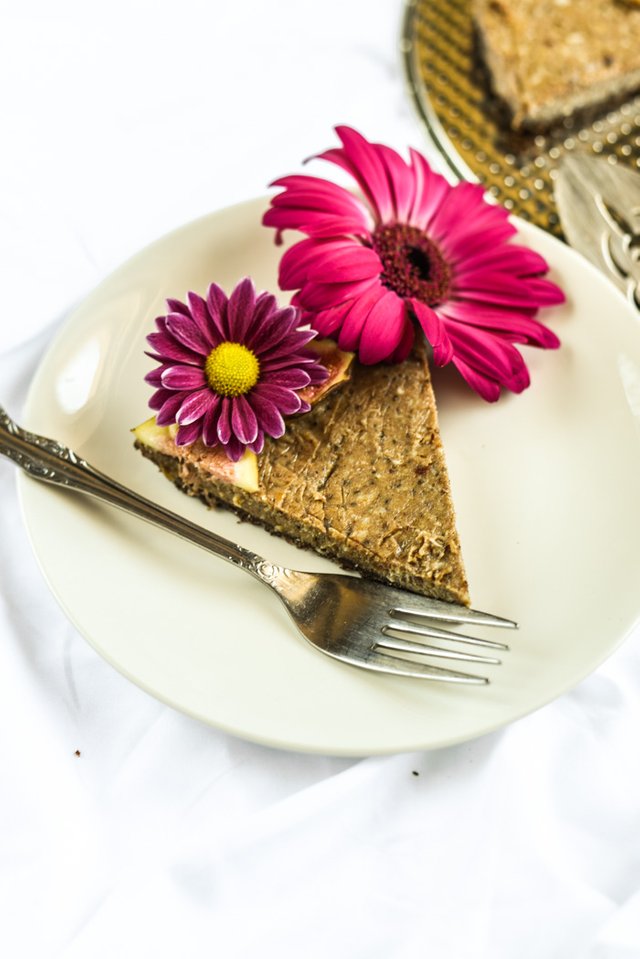 Granola Crusted Cashew Cream Tart
Prep Time: 25 minutes
Total Time: 25 minutes
Yield: 6-8 servings
A cheesecake-like treat that's easy to make and doesn't require any cooking.
Ingredients
Filling:
1 cup raw cashews, soaked overnight
1 cup pitted dates
2 teaspoons vanilla extract
1/2 teaspoon sea salt
2 teaspoons lemon juice
1 tablespoon chia seeds
1/2 cup unsweetened coconut chips
Crust:
2 1/2 cups granola (any kind works but use gluten free if necessary)
1-2 tablespoons non-dairy milk
2 teaspoons coconut oil
1 tablespoon maple syrup
Instructions
Place the cashews in a bowl and fill with enough water to cover and allow them to soak overnight (or at least 8 hours). Place the dates and coconut in a separate bowl and cover with water to soak overnight as well.
For the crust, place all the ingredients in a food processor or blender and pulse together until you have a crumbly and slightly wet mixture. Press the mixture into a 9-inch pie pan or spring-form pan to make a crust.
After soaking, drain and rinse the cashews and place in a blender or food processor and pulse until smooth. Drain the dates and coconut, reserving the water. Take 2 tablespoons of the soaking water and stir in the chia seeds then set aside to soak for about 5 minutes. Add 1/4 cup of the soaking water to the blender as well and pulse together. Add the lemon, salt, vanilla extract, and soaked chia seeds and blend until completely smooth. Pour the mixture into the crust and smooth with a spatula. Cover the pan and place in the fridge or freezer to chill completely.
Once chilled, remove from fridge and top as desired before serving.

ALL CONTENT IS MINE AND ORIGINAL! All of these food photos were taken with my Nikon D750 and my favorite Lens, the Nikon AF-S FX NIKKOR 50mm f/1.8G. You can find out more in my INTRO POST.
And, by the way, to all the minnows out there, my intro post did a huge $0.21. The key to success on Steemit is to be consistent and persistent. Click on the link below for some great tutorials on how you can also succeed on the steem blockchain: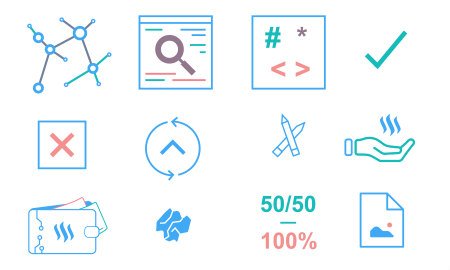 Also, a huge shoutout to @rigaronib for designing my logo!
If you're looking for more recipes check out some of my other recent posts!
Also, I've been starting to vlog in case you missed it.
Do you want to learn more about me? Click here to see a recent @wadepaterson interview with me - 20 questions with @gringalicious