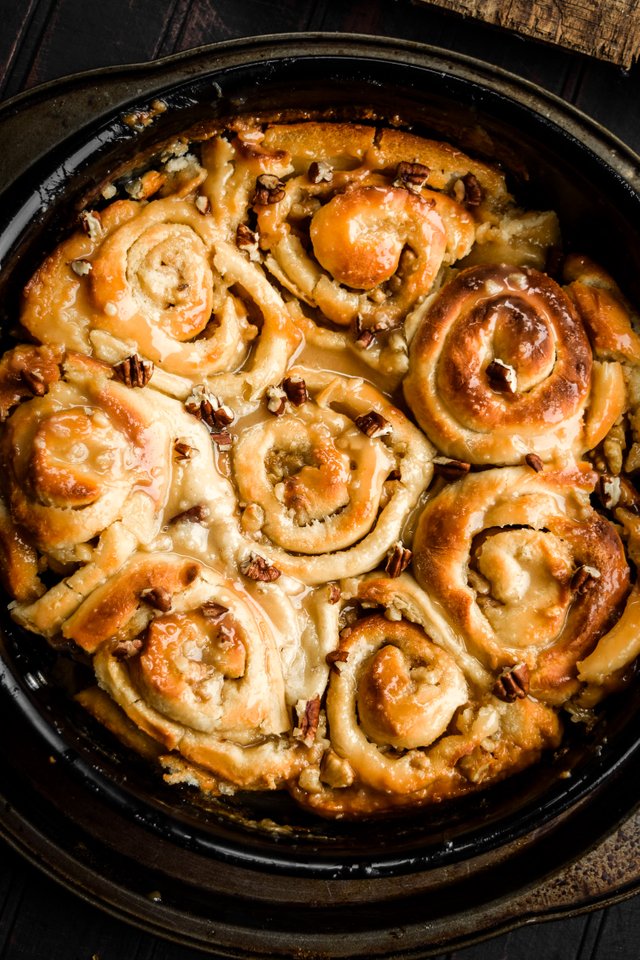 I can't decide what to call these but, are they the best sweet kinda food ever or what?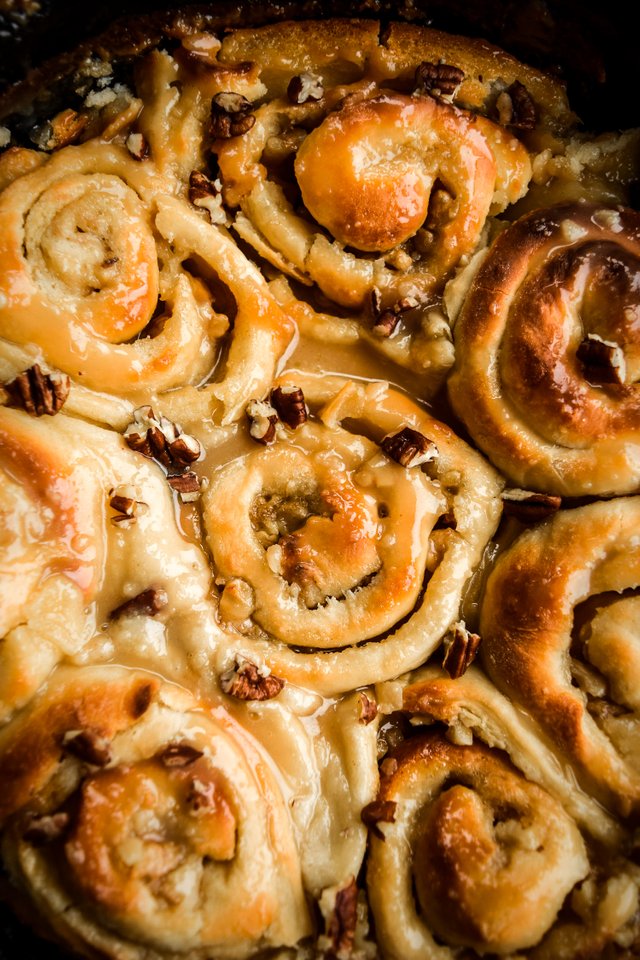 I can't pick a name because I keep wanting to call them cinnamon rolls but they aren't. The way I see it, there are two types of people, team cinnamon rolls and team not-cinnamon rolls. When I was younger, my whole family was comprised of team cinnamon rolls people but now we are a mix of major fans and haters. A few of my sisters hate cinnamon and one of my brothers got ruined on cinnamon rolls for a while from eating them while he was sick, so now I'm forced to question where I stand. I've always been on the cinnamon rolls side but then I made these……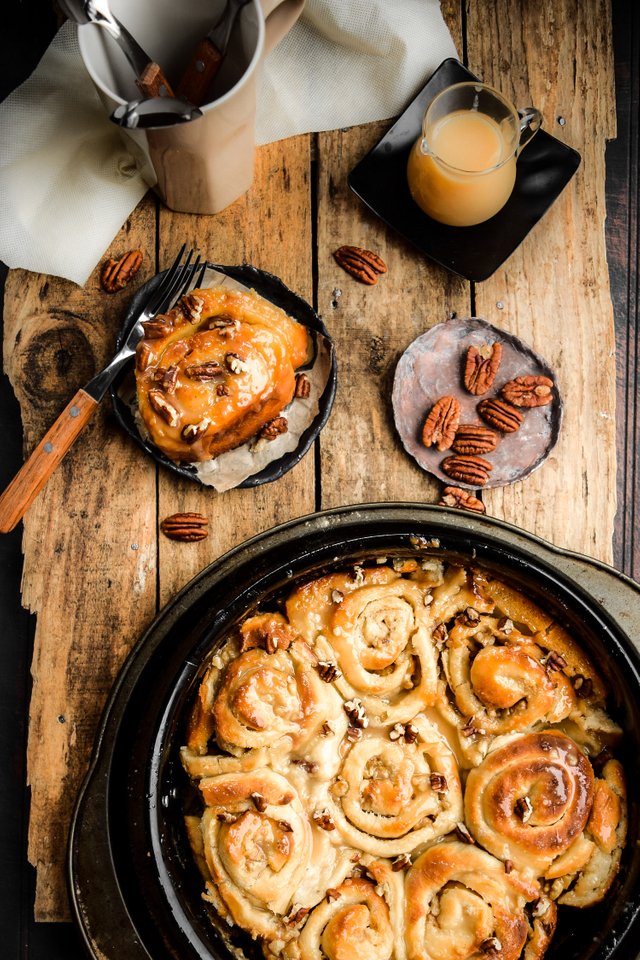 I think that's one of the main reasons I've put these off is that I have about 1/4 of a bag of pecans left from my last trip to the grocery and I've been rationing it by sheer power of will not to go through them so fast.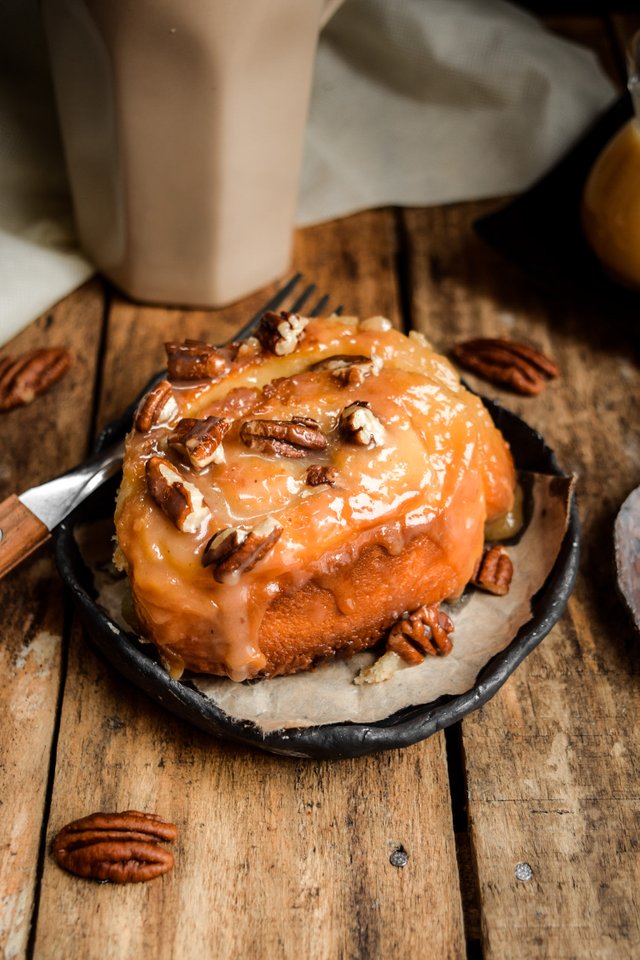 So these sticky buns, morning swirls, caramel spirals, cinnamonless cinnamon rolls, whatever you want to call them. They are kind of amazing. They give me the urge to ask 'Would you like some bread with your decadent caramel pecan goodness?' because they are like so sweet and delicious! So bad for you but so good. Ok, so my verdict……….If I'm being completely honest I would still say that I'm on team cinnamon roll still, but I'm highly considering a Switzerland sort of arrangement. What about you? What team are you on and what would you call these?
Caramel & Pecans Sticky Buns
A classic like cinnamon rolls are hard to beat....but these pecan rolls give them a run for their money!
Prep Time 30 minutes
Cook Time 40 minutes
Rising Time 1 hour
Total Time 1 hour 10 minutes
Ingredients
Dough:
1 1/2 tablespoons active dry yeast
1 3/4 cups full-fat coconut milk warm but not hot
3/4 teaspoon salt
2 1/2 tablespoons oil plus more for greasing pan
2/3 cup sugar
4 1/4 cups flour plus more for work surface
Caramel:
1/2 cup almond milk
2 tablespoons maple syrup
1 cup brown sugar
2 teaspoons vanilla extract
pinch of salt
1 cup coconut cup cream *see note
1 cup chopped pecans divided
Filling:
1/2 cup 1 stick butter, softened until spreadable
2/3 cup brown sugar
Instructions
In the bowl of a stand mixer (or a large bowl), dissolve yeast in milk and allow to sit for about 5 minutes until bubbly. Stir in sugar, oil, and salt until combined. Add flour a cup at a time until your dough comes together and starts to pull away from the sides of bowl. Cover bowl with a damp towel or plastic wrap and place in warm place to rise until doubled in size. (Alternatively, you can refrigerate the dough overnight and have it ready for a quick breakfast. Just pull it out about an hour before you want to use it.)
Meanwhile, make your caramel. Combine the maple syrup, almond milk, salt, and brown sugar in a large saucepan over medium low heat. Bring mixture to a boil, stirring gently until it begins to bubble. Once boiling, stop stirring and allow it to boil until the the sauce starts to thicken and the temperature reaches somewhere between 350-380 degrees F on a candy thermometer. Remove from heat and (carefully, it will bubble!) add coconut cream and vanilla, then set aside. Grease a 13x9 inch glass pan (or 2 8x8 inch or 2 10-inch round cake pans) and pour half of the caramel sauce into pan(s). Sprinkle half of pecans over caramel in the pan(s) and reserve the rest.
Divide dough in half and roll out one half on a lightly floured surface into a rectangle, roughly 1/4 inch thick. Spread 1/4 cup of butter in an even layer on top and sprinkle with 1/4 cup pecans and 1/3 cup brown sugar. Starting from the short end, roll it up until you reach the other end. Then using a sharp knife, cut into 6 spirals and place in prepared pan (spiral face-up). Repeat with other half of dough until you have 12 rolls. Cover pans and allow them to rise while oven preheats.
Preheat oven to 350 degrees F (175 C). When oven is hot, Pour remaining caramel evenly over tops and bake for 30 - 40 minutes until edges start to brown. Remove pan(s) from oven and allow the to cool for about 5 minutes. Loosen edges with a knife and place a large plate or tray over pan, then carefully flip pan upside-down and lift off of rolls (don't forget to scrape the extra caramel from the pan!)
Serve hot and have plenty of hot tea or coffee at the ready!
Recipe Notes
*If you have trouble finding coconut cream at your local grocery store it's completely fine to use full-fat coconut milk and scrape the cream off of the top. Just be sure that it's cold enough to separate.

ALL CONTENT IS MINE AND ORIGINAL! All of these food photos were taken with my Nikon D750 and my favorite Lens, the Nikon AF-S FX NIKKOR 50mm f/1.8G. You can find out more in my INTRO POST.
Also, a huge shoutout to @rigaronib for designing my logo!
If you're looking for more recipes check out some of my other recent posts!
Also, I've been starting to vlog in case you missed it.