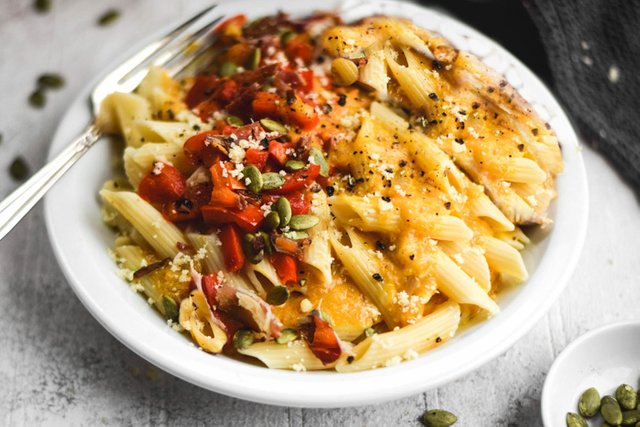 Merry Christmas! I'm sharing the gift of another recipe. Are you surprised??? lol.
How about an easy dish for one of these Winter evening's dinner? Who doesn't love mac and cheese style pasta, I mean c'mon?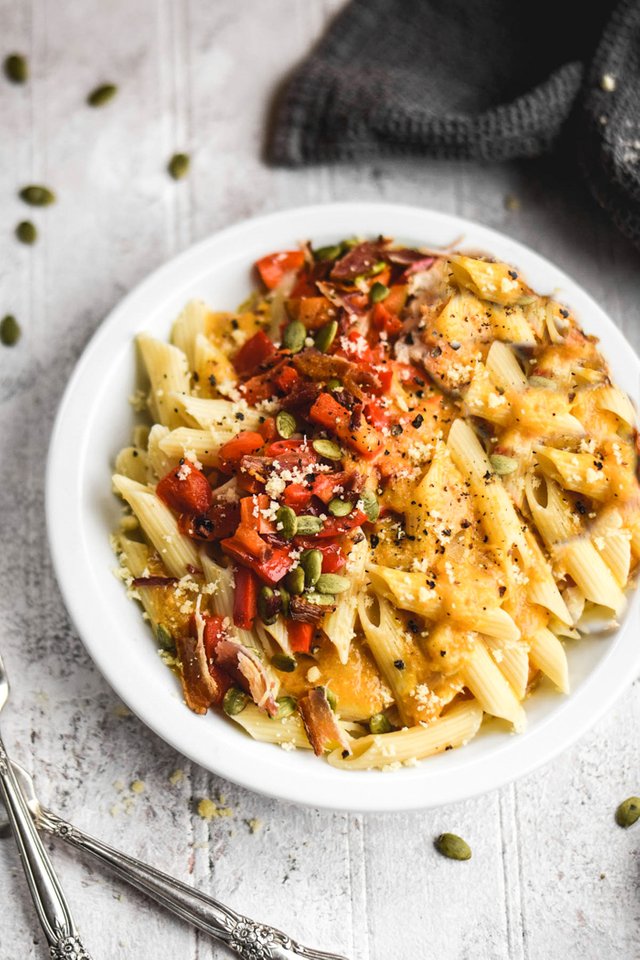 One of the amazing things about this time of year is all of the different squashes. A few of the smaller markets that I like to go to carry some really unique varieties. For this recipe I used a basic butternut squash but you can also use pumpkin or any other variety.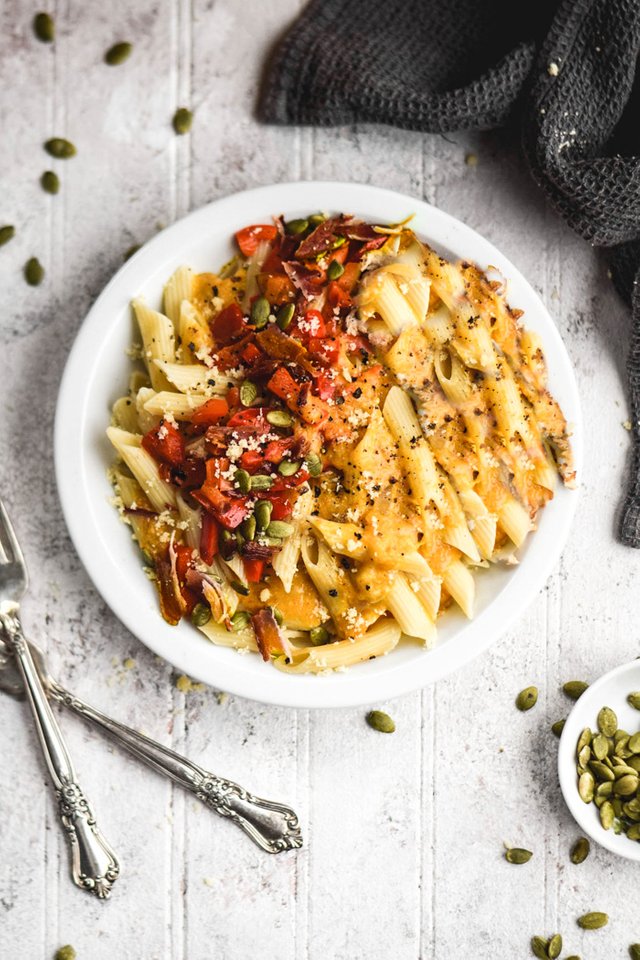 A while back, I tried adding pumpkin into a cheese sauce. I was very pleasantly surprised by the final result. It's a great way to camouflage some extra good wholesome veggies into your family's meals. Trust me, the picky eaters won't even know it's in there. The pumpkin actually adds a slight sweetness. And, the color that it adds is spectacular. If you want to know the truth of it, the reason I tried adding pumpkin in the first place was to make the pasta have more of that chedder cheese look that kids seem to like so much, (even though it's usually the artificial color found in most boxed varieties).
This recipe. It is a great way to satisfy the picky eaters and at the same time deliver real food and nutrition. I sincerely hope you give it a try.
Butternut Squash Creamy Penne Pasta
Squash might be the last ingredient you'd think to put in your pasta, but it's surprisingly perfect in this recipe. This dish uses some pretty basic ingredients and lots of colorful veggies.
Prep Time 20 minutes
Cook Time 25 minutes
Total Time 45 minutes
Servings 8 servings
Ingredients
1 1/2 pounds uncooked penne pasta you can replace with any shape and/or use gluten free pasta if needed
2 tablespoons olive oil divided
3 cloves garlic minced
1 small onion chopped
2 red bell peppers diced
2 cups vegetable broth
1 cup unflavored almond milk
1 1/2 cups butternut squash pureed can replace with pumpkin
2 teaspoons lemon juice
2 tablespoons arrowroot starch or cornstarch
2 tablespoons cashew butter
1 teaspoon worchestershire sauce **see note
4 ounces vegan "cream cheese" at room temp
1/2 cup coconut cream *see note
1/2 cup nutritional yeast
salt & black pepper to taste
1/4 teaspoon turmeric optional for deeper color
1/2 teaspoon dried thyme
1/2 teaspoon freshly grated nutmeg
1 teaspoon garlic powder
Instructions
Boil noodles according to package instructions. Drain and rinse, then drizzle lightly with 1 tablespoon olive oil and set aside.
Heat 1 tablespoon olive oil in a large (deep) skillet over medium heat and add garlic, onion, and bell peppers. Cook for 8 to 9 minutes until softened. Pour the veggies into a separate bowl and return pan to heat.
Whisk the starch and almond milk in a measuring glass and add to pan along with vegetable broth, squash puree, thyme, nutmeg, garlic powder, turmeric, and 1/2 teaspoon salt. Simmer while stirring until it begins to thicken enough to coat the back of a spoon.
Reduce heat to low and add lemon juice, cashew butter, "cream cheese", coconut cream, and stir gently until cream cheese is melted, Add nutritional yeast and season to taste with additional salt and pepper and stir again. Add pasta and veggies to pan and gently toss to distribute sauce evenly.
Serve hot.
Recipe Notes
*If you have trouble finding coconut cream at your local grocery store it's completely fine to use full-fat coconut milk and scrape the cream off of the top. Just be sure that it's cold enough to separate.
**Be sure to use a brand of worchestershire sauce that you've checked the ingredients because most worchestershires contain anchovy. Annie's makes a good one.

ALL CONTENT IS MINE AND ORIGINAL! All of these food photos were taken with my Nikon D750 and my favorite Lens, the Nikon AF-S FX NIKKOR 50mm f/1.8G. You can find out more in my INTRO POST.
Also, a huge shoutout to @rigaronib for designing my logo!
If you're looking for more recipes check out some of my other recent posts!
Also, I've been starting to vlog in case you missed it.