**Closed** Lucky 13! Week 13 of Pay It Forward Curation Contest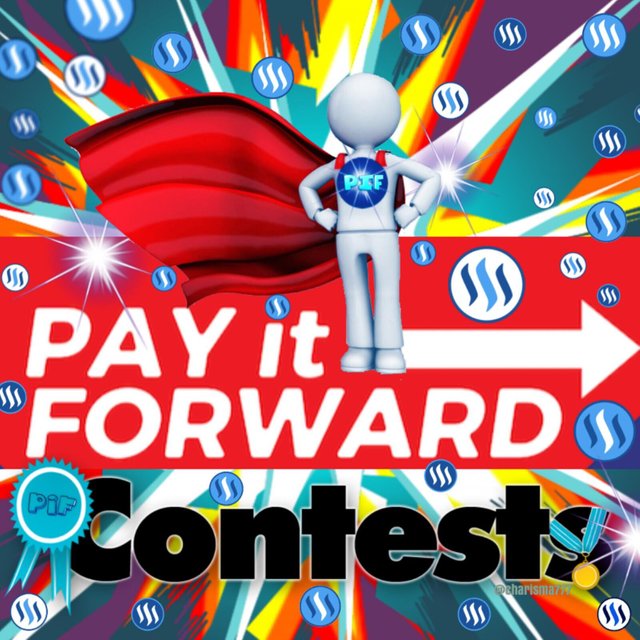 So many people have superstitions about numbers, black cats, and so forth. To me I've always found going against the grain of the masses helps me succeed. While many view 13 as an Unlucky Number, to me it's always been one I like as others don't. Right now to go against the grain I'm buying more BTC today which then will be used to buy more Steem once it clears in 2 weeks. Can't tell you how many times I said "I wish I had bought more Steem when it was around $1." Well here is that opportunity and I plan to capitalize on it.
Anyways onto the reason you are here, Week 13 of the Pay It Forward Curation Contest! New theme for the Bonus Featured Blogger, but if you want to use this theme across all Featured Blogger that would be fun too. 100% up to you on that part.
Optional: Themed 3rd Featured Blogger (New Theme)
This week for the Optional 3rd Featured Blogger the theme will be Artist Based. So any blog post that is music, creative writing, drawing, photography, or any other form of Art and there are no restrictions on the Reputation Score for the Optional Blogger, just find us a Quality Post to View!
Week 13 Rules (No Changes From Week 12)
For week 13 you will need a curation style entry that includes 2 High Quality Original Content Blog Posts from Level 50 or Below Bloggers.
Curation Style Post of 2 Bloggers who are posting Quality Original Content
Link to 1 recent blog post per featured blogger. Keep in mind that many will follow this link and upvote so pick a post that isn't close to payout!
Include a link to this contest in your entry post
The 2 bloggers you curate Must Be Rank 50 or Lower!
You need to comment on this post with a link to your post, this is how I track everything!
👉👉Clarification for Quality Required for valid Entry👈👈
We are looking for Quality Original Content. We want to see no less then 200 words of original written content. So a single photo is fine as long as there is 200 words with it.
200 words is about 12 lines of content.
Posts from Parley and dmania are not acceptable.
---
---
New Account!
@pifc account has been created. Everyone should start following @pifc now and if possible please help power up the account. This account will be used to support the contest entries and featured bloggers. More voting power it can grow the more power it will have to help you grow in the future. Please lend a hand when @pifc posts it's Power Up posts over the next few weeks. Any and all support will be greatly appreciated.
---
---
Prizes: Steem Basic Income
This week at least 6 winners are going to get a sponsorship for #steembasicincome!
There will be 1 SBI Sponsorship per 8 entries into the contest on a random basis (minimum of 2).
There will be 4 Judges Choice SBI Sponsorships awarded based the quality of the bloggers you feature in the eyes of our Judges, @tryskele , @lynncoyle1, @energyaddict22, & @wolfhart.
@steembasicincome is run by @josephsavage and is a great program designed to provide a lifetime income to members who have SBI Shares.
Prizes: Steem-Bounty
@steem-bounty of 3 SBD has been created. I will only upvote entries for the Author's 80% of the Bounty. No other comments will be upvoted as the goal is to reward those who enter the contest.
@steem-bounty is run by @knircky and I'd like to ask that you set @steem-bounty as a witness. In order to do so you can go to: https://steemit.com/~witnesses and enter the "steem-bounty" account into the text field and click vote.
---
---
Contest Date Range
To make sure that there is time for all entries to be viewed and the featured bloggers all get the exposure which this contest is designed to provide we will be only taking entries from Tuesday- Saturday 11:59pm CDT (CDT is Central Daylight Time). Need this time to revolve around my time so I can make changes to the posts at a set time for me, midnight.
If your unsure how CDT converts this link should show you your local time for 11:59pm.
Week 12's Winners Post will be on Wednesday June 27th 12:01am CST US.
Week 13's Winners Post will be on Wednesday July 4th 12:01am CST US.
Week 14's Contest will start with a post on Tuesday July 3rd 12:01am CST US.
** Fair warning I will flag you if you are trying to boost your comment to get more of the bounty. This includes use of paid votes to increase your portion of the community side of the bounty.
---
---
Featured Blogger SBI Share Bonus
This bonus is fully funded with sponsorship from those listed below. Thank you all for your continued support!
---
---
Post written on @esteemapp which is run by witness @good-karma (a Witness I support). If you write your entry posts on esteem there is a chance it will be curated and you get a bonus upvote from esteem and good-karma. That vote can really help your post. Give it a try!
---
---
Current Entries - Please Visit!!!
This is the real purpose of this contest, visit these posts and help upvote the bloggers featured. This list will be updated as new entries are added. Please check back during the week!!