This week on Paleo-Trail
We've done a lot more than just find and curate great posts on paleo-diet topics over at @paleo-trail!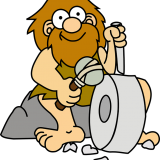 We formed relationships, learned new skills, and encouraged authors to begin identifying their whole food posts with the
#paleo
tag so you can find them more easily!
But we did find and promote a lot of posts! We'll get to them in a minute. First I want to acknowledge the admin and curators from SteemTrail to Paleo-Trail.
@instructor2121 and @joe have done a lot to help us get started and then they took their hands off and let us run. Except for stepping back in yesterday to hand us this account (@paleo-trail), we have been encouraged to build the community as we worked things out with each other and the authors. Thanks guys!
And the curators, @kiwideb, @triddin and @baerdric are working around the clock to get your posts promoted. It helps that we live in different timezones!
So here are the posts we promoted last week!
https://steemit.com/paleo/@baerdric/of-course-whole-unprocessed-meats-are-healthy
https://steemit.com/paleo/@kiwideb/getting-started-on-paleo-or-any-other-real-food-diet-part-1
https://steemit.com/food/@rebeccaryan/coconut-cream-pie-low-carb-and-paleo
https://steemit.com/paleo/@kiwideb/why-we-use-paleo-or-other-real-food-diets-for-healing
https://steemit.com/food/@rebeccaryan/french-press-coffee-paleo-style-it-s-a-bulletproof-formula-that-can-be-medicated
https://steemit.com/food/@gringalicious/heart-beet-super-food-smoothie-food-photo-shoot-and-recipe-vegan
https://steemit.com/health/@internutter/keto-lchf-explained
https://steemit.com/food/@amy-goodrich/green-smoothie-of-the-day-citrus-almond-kick
https://steemit.com/food/@rebeccaryan/sauerkraut-is-made-with-cabbage-salt-and-a-healthy-dose-of-kneading-and-pounding
https://steemit.com/paleo/@baerdric/water-kefir
https://steemit.com/life/@aprilangel/whole30-diet-day-1
https://steemit.com/paleo/@rebeccaryan/riced-cauliflower-a-versatile-base-and-a-paleo-staple
https://steemit.com/paleo/@paleo-trail/introducing-paleo-trail