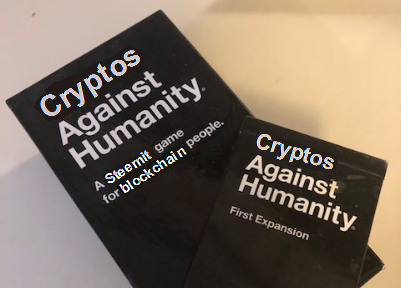 Hello fellow Steemians and welcome to the inaugural Cryptos Against Humanity contest. For those of you familiar with the completely unrelated party game "Cards Against Humanity", this is totally not a rip-off of their idea. Because... blockchain? And because different rules! OK fine, maybe it is a total rip-off, but that game is mad fun, yo. And I'm putting my own spin on it, so they can't sue me. Skip down to "Rules" if you just want to get this over with and move on with your life.

Background
Anyway, I've been on Steemit for a few months now and in that time I've come to appreciate the greatest asset Steemit has to offer: its community. That means you all, the ones reading this! One of the coolest things I've seen and been a part of has been the weekly contests that so many of you put on week after week. Sure, there are large group efforts like the #comedyopenmic contest, but right now I'm talking about all the wonderful individual contests. Here are a few of my favorites that inspired me to create my own:
Just to name a few!

Intro
So when deciding what to do for my own contest, my first rule was that I wanted it to be something I would enjoy participating in personally. Naturally that made me gravitate towards games and comedy. And what better blend of those two things can you find than the esteemed Cards Against Humanity franchise?
To those of you unfamiliar with the game (or its much family friendlier counterpart "Apples to Apples"), Cards Against Humanity is played like this: you get dealt several white "answer" cards with random words on them. Then a black "question" card is played. You pick the white answer card that best answers the prompt, and a rotating judge picks their favorite. Most games devolve into a politically incorrect hysteria, since a lot of the cards are pretty edgy to begin with. Here's a primer for what this can look like.
But that requires a deck of cards to play, and we're scattered all over the world, so... what to do? I couldn't very well let people pick their own answer card words out of thin air. That would make this quickly spiral down into a NSFW disaster. But I also can't just give everyone the same set of possible answers to choose from, either. So my solution, just like every high school student in the world, is to use Wikipedia.
Specifically, the "random article" feature of Wikipedia. I will provide the black "question" card, and you can choose any words from your randomly selected article as your white "answer" cards.

Rules
TLDR; answer the prompt as a comment on this post using words from a random Wikipedia article
No resteem or upvote is necessary, although it is greatly appreciated. If I ever start earning more than 4 STU from these posts I will increase the number of winners.
Use the Random Article feature on Wikipedia to get your valid list of words (your "White Cards", for those of you familiar with the actual party game). This link will take you to a random article.
Answer in the form of a comment on this post. The format of your comment should be three lines: your first word(s), your second word(s), and the link to the article you used (see sample answer to this week's prompt below)
If you want to keep rolling for new random articles, that's your decision, although it's not in the spirit of the game. But I guess if you get a stub article or something truly unusable you probably should.
If you intentionally use a specific Wikipedia article, I can't stop you, but again, it's not in the spirit of the game.

This Week's Prompt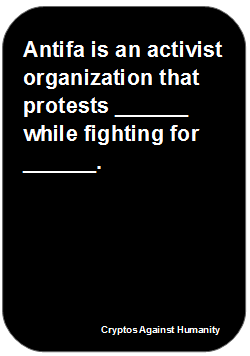 My Sample Answer
This is the qualifying format I'm looking for in your comment down below:
the aged
the Friendless
https://en.wikipedia.org/wiki/Patton_Home

Prizes
There will be three shares of SBI awarded as prizes.
One share to my own personal favorite (hint, I love random humor)
One share to the crowd favorite (as measured by the number of upvotes, not the dollar amount)
One share to a random qualifying entry
I've also set a small Steem Bounty on this post. All valid entries will qualify. I'd also recommend subscribing to @dustsweeper for maximum benefit.
This contest will run for 6 days, at which time I'll close it out, announce the winners, and kick off the next round.
Anyway, thanks for playing, and have fun! Special thanks to @corpsvalues for letting me use your IP to kick-start this party. Here's the random Wikipedia article link again. Let's make each other laugh!



Join us @steemitbloggers
Animation By @zord189, Divider By @jaynie