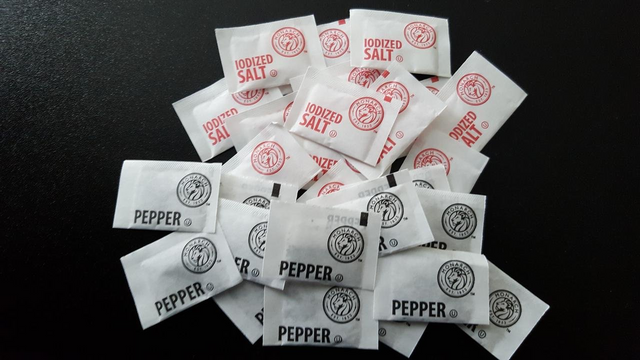 Another week behind us...
Yes sir partners this is SBI Saturday and I am grateful to have made it through another week and can be here to give away some shares for the Steem Basic Income program. I don't care what the opinions were this week on Monday vs, Friday holidays; I still would take Friday over a Monday if I were setting the holidays. Regardless though, it was a short week and as I have been known to say, it is in the rear view mirror so we are moving on down the line.
My decision...
Should we jump right into it, or should we catch up on a couple items first? Alright, I can't wait around all day on answers to come in so I am going to make the decision on my own. We are going to catch up just a tad bit.
Daily Dose and guzbuck...
Tuesday will mark day 365 of the Daily Dose of Sultnpapper, and when I came here there weren't any other "Daily Dose" columns that I could find but see there is now; so how about those apples? It is nice to know that others like that moniker of "Daily Dose" and are using it as well.
Guzbuck is starting to show a little smoke so we all know where there is smoke, there is fire. It might not be enough to keep a house heated in winter time but we haven't poured any gasoline on it yet. As we know; we need to get a good bed of hot coals going to sustain a good fire, so throw a log (guzbuck) on when and where you can; but only when you see one needed.
Family news updates...
In family news; the lawyer who sent my son the "courtesy letter" never did respond in the thirty day time period from when he got the oldest boy's letter. So I guess that means it was one of two things, not enough money or a scam. Don't know which of those is the correct answer but if it wasn't a scam I think he would have heard back from him since lawyers are notorious for making sure they get every nickel they can squeeze out of people.
Deal 'em out...
Speaking of squeezing nickels; I need to give ya'll a update on the poker games. I haven't been playing as much as I would like too. When I have been playing I have been doing fairly well. Thursday night I finished second in the tournament and got a little SBD for it.
The Poker Rebels...
Friday night is the Team Up Tourney sponsored by @curie and last time I mentioned this tournament series the team I play on was in third place after the first week's play. Well things haven't gone to well for our team named the Poker Rebels; we managed to play ourselves way down in the pack since then.
I think prior to Friday night we were a couple places from being dead last. To say we were struggling would be an understatement for sure, most of the tournaments thus far we have only had three of our four players playing just to give an idea of how bad things have been.
Back into contention...
I am happy to report though that as of today's standings we have managed to work ourselves back into contention, we are currently in third place again and just ten points behind the first place team. So things are looking up, and I am also happy to say that I ended up winning first place in the tourney on Friday night.
Just stating a fact...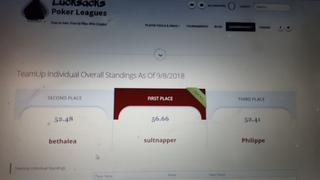 With that win I have managed to climb to the top of the individual standings in the Team Up tourney, I don't want ya'll to take that as being a braggart, just stating a fact.
Showing the picture here so you can see for yourself; now that is bragging. I think you folks can cut me slack for it though, since I don't make a habit of winning or bragging, but I wouldn't mind making at least one of those two a regular habit.
I will let you...
I think there is a couple or maybe three weeks left in the season and I will let you know the outcome regardless of how we end up as a team and individually. Poker is a really fun game, if you aren't playing it you should consider it, poker does teach you patience if you learn to play the game correctly.
That brings us to the here and now; SBI time.
SBI time is now...
This week we have three more SBI recipients, each receiving one share in the Steem Basic Income program courtesy of the Daily Dose. Those winners are @trucklife-family , @willymac and @ericvancewalton.
Most of you know by now @trucklife-family since she was mentioned in last week's SBI Saturday Daily Dose and thank you so much for the contributions that several of you made to her account. Those funds I am sure will help tremendously as she struggles to get back on her feet.
I also promised to send all the earnings from last Saturdays Daily Dose and since it wasn't very much, less than $1.75, I decided to just round it up to $5 steem and that has been transferred to her account just before I published this, so in case anyone would like to take a peek, go ahead.
@willymac is a newcomer here to the Daily Dose and he is a down to earth gentleman who came to us via the recommendation of @janton. Willy did a post I found on his blog that is well past the earnings time period but I think it is well worth people taking the time to read. The story will, or should, make you stop and think. So for that alone he gets a share of SBI.
I like posts that inspire thinking and this one linked here really does that. So welcome aboard Willy, it is my pleasure to have you here with us. Folks if you read it and like what you read please be sure and find something of @willymac 's that is current and throw him an upVote on that post or comment.
Last and certainly not least is my friend @ericvancewalton. Eric is a published author in the real world away from the block chain and also a writer on the new series that will be released in the not too distant future titled Hard Fork.
I recently shared the story of another friend named Gene, who is battling pancreatic cancer, and Eric was gracious enough to offer and he did send Gene a copy of his book on meditation and for that I am truly grateful.
One of Eric's current posts is about the story of the Wizard of Oz and if you haven't read his post I would also suggest you take a look and read it. It also inspires some thinking and what he shows us in the post is definitely worth thinking about. Here is the link to Eric's current work I am suggesting so go on now and read it here.
Just like always...
Just like always, if your name is mentioned in the SBI Saturday edition, even though not featured, you will receive a share of SBI so @janton also got a share today as well. If Gene ever makes here on steemit.com I owe him one too.
Have a great weekend ya'll.
Until next time,
@sultnpapper
all photos are the property of @sultnpapper






Join us @steemitbloggers
Animation By @zord189