Benbrick plays "The Only Shortcut" on Keyscape
Yesterday I bought and downloaded Keyscape containing
80 GB's of keyboard samples
. I wanted to make a video demonstrating just how expressive these
virtual instruments
are becoming. You may not realise (or have given much thought to it) but these days it is possible to
create music without any instruments
.
Spectrasonics have been one of my favourite creators of sound libraries for a long time. I use their instrument Omnisphere 2 on almost every piece of music I create. Last month they released Keyscape which has been in development for over 10 years.
Each individual note is multi sampled. The idea behind multi-sampling is to record each particular note on the piano (or indeed any instrument) at individual velocities. This means when you trigger a particular note using your MIDI keyboard the sample that plays back will be dependent on how hard you press the key.
Watch the video above to see me playing The Only Shortcut which I also talked about in an earlier post.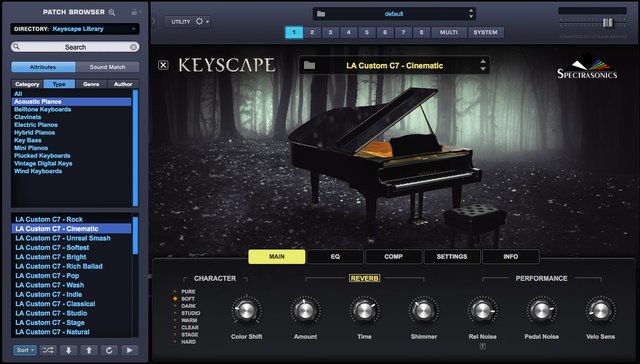 ---
You can buy my music with SBD
Transfer 1 SBD with the track title + e-mail address (or find me in steemit.chat for anonymity)
Benbrick - And So She Runs


Benbrick - The Only Shortcut


Benbrick - Perfect Ending


Benbrick - La Perfezione Brevemente


Benbrick - Heaven is Empty


Benbrick - Forever Holding On




🏆 @knozaki2015 🏆 @pump and 🏆 @kevinwong 🏆 @thebluepanda 🏆 @steve-walschot 🏆





---
---