⚡️ Powered up ⚡️ Bought 800 More STEEM !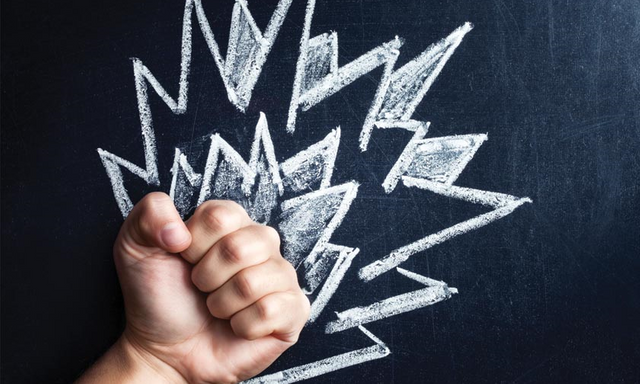 I cost averaged in on STEEM when I started on this platform around 2 years ago at a price between 0.8$ and 1.2$. I bought some extra last year to kick start my @upvoteshares project at a price around 1.8$ and recently bought 800 STEEM more now that the price is at a low of 0.30$-0.37$
---
While returns wise it so far has not been my best investment even though I managed to profit a bit during the time the SBD price went crazy. Overall enjoyment wise it has by far been the best investment since I started getting into crypto. I remember the time when Steem was around 3$ looking back on how lucky the ones were that managed to get in when the price was around 0.1$. I'm feeling now is that time all over again so I decided to balance my portfolio a bit selling some of my long term Link holding who have crushed it during the bear market and became too large of a % in my portfolio. I was into Neo back when it still was called Antshares and always regretted not balancing my portfolio taking some profit at some point after the crazy hype price increase.
Steem has really been hit hard by the bear market but it's still very much alive and moving forward. I would be surprised if it was no longer around 4 years from now (myspace is also still around even though it's no facebook). Steem has gotten hammered against BTC for a long time now being in a downward trend channel waiting to break out at some point. In the past, there were often random pumps regardless of what the market was doing and we are overdue for one of those.

What I'm doing with 800 STEEM


I have put quite some time into this platform the past 2 years mostly with an eye on building my daily post-earnings to get a bit of extra 'stable' income aside from my betting earnings. Powering up is very effective for this until a certain point. having 10SP or 1000SP I would say can make a big difference in what you can earn while the difference between 5000SP and 10000SP won't do that much on the post-earnings. A lot has also changed toward Dapps, Games, Gambling, Upvote Groups who are vital if you want to do well on Steemit. The 800 Extra Steem will be spent like this...
⚡️ 500 SP Power Up⚡️
I Initially bought and powered up 4500SP over a period of time early on with the idea of keeping it around 5000SP and doing the occasional reinvestment into other coins. That was upped to 6000SP and instead of reinvesting what was earned on top I have systematically re-invested it in my @upvoteshares / @minnowshares project. That is working out great exactly as planned and gives my main blog along with that of many others a good daily return. I now intend to keep my SP around 6500. the 500SP extra will go to...
150 SP = Extra Lease to @upvoteshares to give all Shareholders even bigger returns. The daily upvotes currently already resemble a 24x self-upvote based on the Steem Shareholders put in (without them losing their Steem) and most even get more because value only goes up each time a new level is reached.

100 SP Lease to @ocdb. I never delegated anything to traditional bid bots, but I love what this non-profit project from @acidyo is doing for the platform. I might lease more over time If I end up powering up extra in the future.

100 SP Lease to @steemraiser. This purely a selfish lease as it helps to give my own daily posts some consistent upvotes. It is basically a way to get a ~9x self upvote when having only 1 posts daily on average.

50SP used as regular SP
---
300 Liquid Steem
I have used liquid Steem mostly as a way to move my @upvoteshares project forward putting up 10% extra myself each level and also have been buying 5 Shares each round which based on the numbers and upvotes I have gotten in return has been a great investment as the model works like a charm and is very consistent. I have also been investing in Moonsteem which has a really solid and fair model in my view.
100 STEEM Extra Investment in Moonsteem. I have systematically invested 50 STEEM over multiple weeks already which added up to 400 Steem by now. This brought about 37 Steem in dividends already. 50% of all earnings are paid out to investors and 25% to token holders. The good thing about having an investment is that it also earns you tokens each day which add up. Investors put in a sense their steem at risk and while you can withdraw instantly at any given time, it's possible that what you can withdraw at any given time is a bit lower compared to what has been put in. This is always bound to go to the amount of what has been invested at some point since you are basically gambling with the odds in your favor as an investor. I don't like any of the other gambling dapps but can highly recommend @moonsteem. I lost a bit by playing -5.2 STEEM but managed to get 6 upvotes so far by playing including on my previous post good for 10+ STEEM earnings that make up for the loss while playing actually making it also +EV.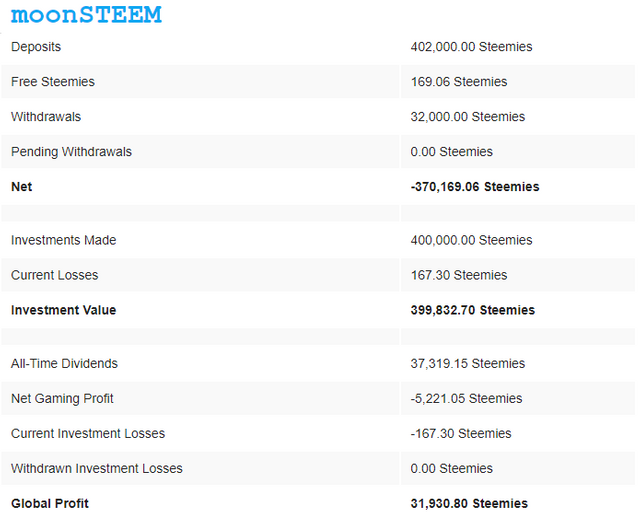 ---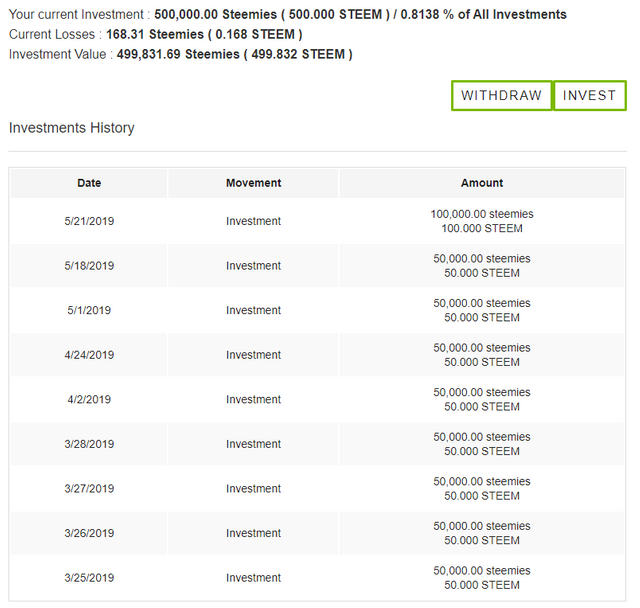 ---
Anyone willing to try out Moonsteem getting in with my referral link let me know and I'll send some free Steemies so you can test it out risk fee.
---
200 STEEM Extra Investment in @Upvoteshares I will have the program buy up the entire level 14 of the program which will increase the value of both the shares and the upvotes for all existing shareholders. The program has a system built into it where shares come with a sponsorship without this coming at the cost of the returns of shareholders. So far 39 Steemians that were sponsored enough times have gotten a free share (paid for by the program)
giving them a daily upvote on their posts. 25 more of these conversions shares will be reserved and not take up part of the total voting power meaning it will be distributed to everyone else in the program. 25 will be used for promotional giveaways. So far the program has not needed to do a lot of promotion as the solid numbers have been doing the work. With the 1 year anniversary of the project coming close, it's a good time to spread to actively start spreading the word a bit and give some shares away.
---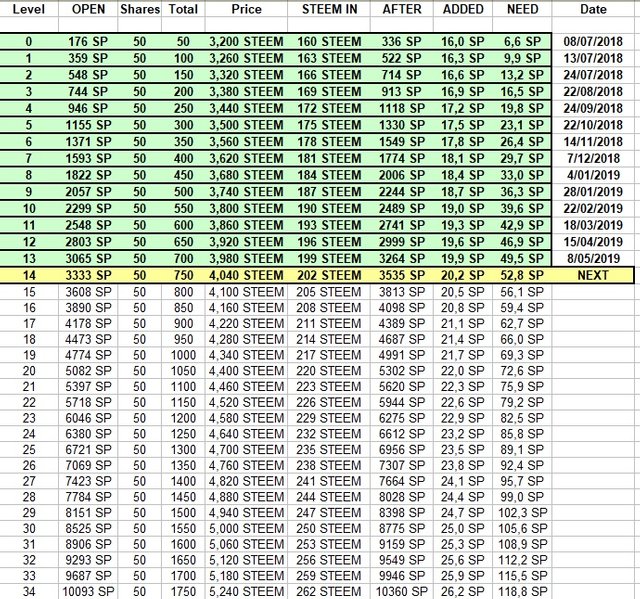 The table above shows how the value of shares always go up because extra is being added each new Level. for more info on how the model improves on most of the other daily upvote projects check out this post where everything is explained. Feel free to let me know something if you are interested in joining in!
---
Previous Power Up Milestones
⚡️ Powered up ⚡️ 5000 STEEM POWER
⚡️ Powered up ⚡️ 4000 STEEM POWER
⚡️ Powered up ⚡️ 3000 STEEM POWER
⚡️ Powered up ⚡️ 1600 STEEM POWER
⚡️ Powered up ⚡️ 1000 STEEM POWER
⚡️ Powered up ⚡️ 500 STEEM POWER
---
So far on the 'quick post' to say I bought some more STEEM and Powered Up...