My heart pumped again even for a bit. My heart smiled. Easing-peace passed through it.
It has been ages since this happened. She came around. She saw me again after decades.
She saw my dad for the first time in ages and she shed tears and i knew "my cousin" was still in her.
We started out as kids together in Greece but our parents grew apart of time. My dad and his brother; her father grew apart. Alot has happened since then. 
Well, there was alot we didn't really know but we had one night; "a few hours" and we needed to fix matters. 
We need to fix "decades of apartness". 
She was touring Asia and the Philippines is the last part of her tour, so she stopped in Manila to see us. There was no room to prepare. It was quick. She was just going to knock on the door.
She knocked
My heart pounded a bit. 
There was an "in between" though. 
When i saw my mum first after 5 years of apartness, my heart couldn't pump. It paused. I wasn't looking at my mum. 
In my dad's case, upon seeing him after some 5 years of apartness, i spent 30 mins where my heart stopped. From afar i watched and i couldn't go close; "that wasn't my dad". 
This time, i didn't know if this was going to be "my cousin". Then we hugged and it was tight and our hearts touched and spoke and it was instant; "my cuz" was still in there; "my Souzanna" was still in there and "the love and bond" was intact.
I needed to be assured though
She went in the room to see my dad and she fell apart in instantaneous tears. 
I got assurance.
Suzzy was intact.
My dad; "i so pray that in his heart, "he felt some soothing happiness". He needs it like crazy. "The tiniest of happiness" counts in his case. It will fill me up with fulfillment. 
All, his old memories came back; "all of it". He spoke Greek again and his "memory", when it clicks, is clear and intact and decades of it. He spoke in Greek; spoke of Greece. He spoke to my aunt on the phone. It was pleasing to see. 
He had a new name to mention and he kept calling it; "souzanna"; "souzanna" and that should go on for some days.
This Particular Day Gave Me More Signs
When my cousin shed those instant tears, i remembered @teardrops token and my mission. My heart pumped because i felt stories; family; love.
I have one more Ajayi; her brother and his name is Alex. We have never had physically contact. Through her i wanted to see him and i did. It is still all intact. "Blood is strong". 
I found out he has brains too and he has grown interest is in blockchain and i wondered in my mind's eye what team we would make. "Two Ajayi(s) sons, with my dad backing us up with powerful prayers".
This night was to restore it all and we fixed it all, in several tight hugs. "Rare-breed squeezes" and our love and bond got restore; "my hearts pumped". 
It was special.
There were also regular moments in between. Yes, we ate and played  and laughed.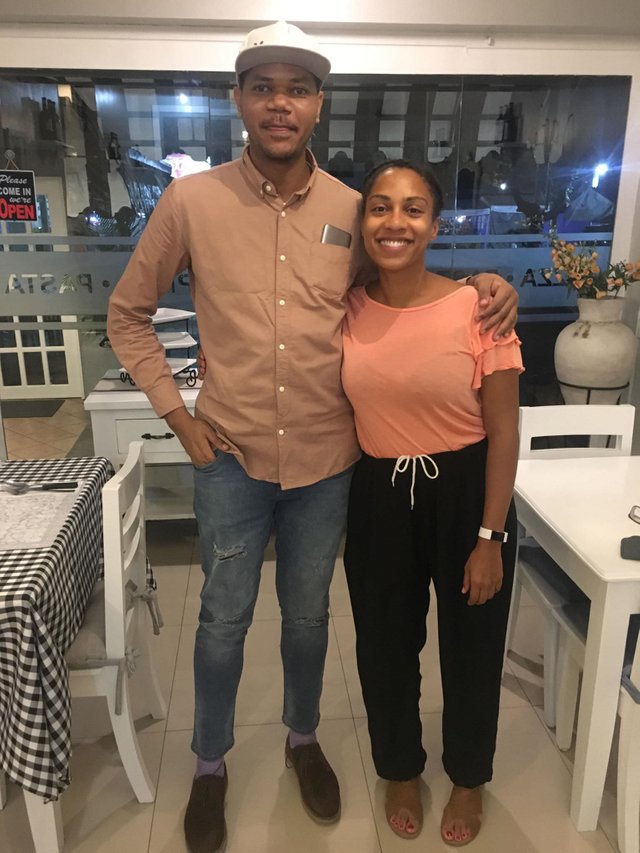 but there was also this:
She had kept these videos and gosh i saw "Terry", your boy "Terry" and more signs. My mission in the world was re-told to me in an instant. 
I lack in long-term memory. I can't even remember 2 years back vividly, thus, these videos came out "special" in my eyes. 
I saw my dad and that "greatness". To see "greatness"; for those who can see, "it is instant". 
I saw it. 
I saw his brother too. I saw my mum, my sister, suzzy, then i saw small "me" and gosh, your boy "Terry" has been the same all along. 
My stories played itself out before my face. I saw my mum in the corner loving us. I saw her "shine". I saw my dad's "shine" too and it is what it is; "we simply need that "shine" back"; not food, wigs, meat; "shine"!!! 
In the "donkey-life", that ("shine") was all that was taken away or overly-pummeled but hahaha, we will have it back now; "light in the tunnel". @surpassinggoogle
I saw blockchain too; "steemit as well" and more of its beauty as i kept re-watching these memory videos. I saw and saw "many beautiful things" in the span hours, on this particular day and i saw many more "signs". 
I tell you; the very next time you hear; "we will reward "proof of tears""; smile inside; "the prettiest disruption" ever and it is coming;
@teardrops smart media tokens is still in its imaginary state but it is being exchanged; "historical history".
I am one boy, so it may look like a joke but i am no ordinary boy because "i am yours"; your boy Terry.
You are my celebrities and me you fan.
See this video too, for 15 mins of things i recently said:
recording by @sorenkierkegaard 
Yesterday, i spoke alot too. I took a peek on @air-clinic server on discord and ended up spending hours there. I don't know if there was a recording though.
We will keep talking.
A few days from now, there will be another talk show on SteemGigs community discord server, please make sure to join.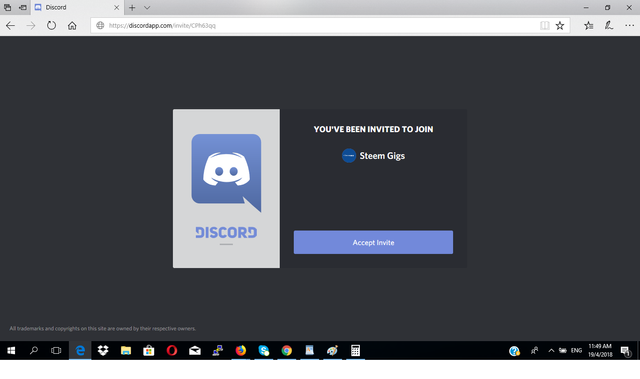 You can join close to 4,500 steemians on there.
I will answer every question. This time the program will have some format, so we will move quickly compared to the first edition. 
I will write a post beforehand to inform everyone. Please know that on the "SteemGigs discord talk show", it is different. "The love on it is rare-breed".
The knowledge i will pop out is rare; involves illiteracy; "no books" involved. 
I will breakdown to pop out these rare words.
We will go back to the first obviousest simplest solution, when tackling "breakthrough". We will leave the "nth complexest methods" to "outerspacers", for we are coming back "down-to-earth". 
We will laugh and play and there will be @teardrops and we will hear the sound of it and when we come back out on the scene; "steemit", our eyes are bound to be open and "we will see way more things".
Your Boy Terry
Note: The next edition of "5 SteemHumans; 5 Questions; 10 Pieces of Advice" will resume again really soon. If you missed the first one, this is it:   
We are seeking coders/developers to help, by means of utopian.io or direct contributions. I would like to invite all coders/developers,  to show up on our SteemGigs development channel. 
Kindly visit and use our steem-based website today
https://steemgigs.org
Please contribute to our knowledge-bank on https://steemgigs.org/surpassing-google
Note that on SteemGigs, "everyone has something to offer". At the very least, you can update your profile on our website to open yourself up to more potential possibilities and improve your general reputation even within the steemit community.  
To create awesome steemit posts, try our "un(dis)talented editor". 
Read our detailed FAQ & Answers  
I do need strength
Dedicating My Entire Steem/Steemit Journey To My Mum
If you want to support an extra witness and you support mine "steemgigs", it will be really helpful.
To vote my witness, simply visit https://steemit.com/~witnesses and type in "steemgigs" into the first search box for witnesses or simply click Here to do it on one click! 
If you want me to make witness voting decisions on your behalf, simply visit https://steemit.com/~witnesses and type in "surpassinggoogle" in the second box for proxy.             
Let's Go!!!
Offer a service under hashtag "steemgigs". Attempt out-of-the-boxness on hashtag (untalented).  Join the Steemgigs Community on discord: https://discord.gg/CGuPyyT  
"Everyone has something to offer!" Why not?