I Love My Dad but I Don't Like Him.
---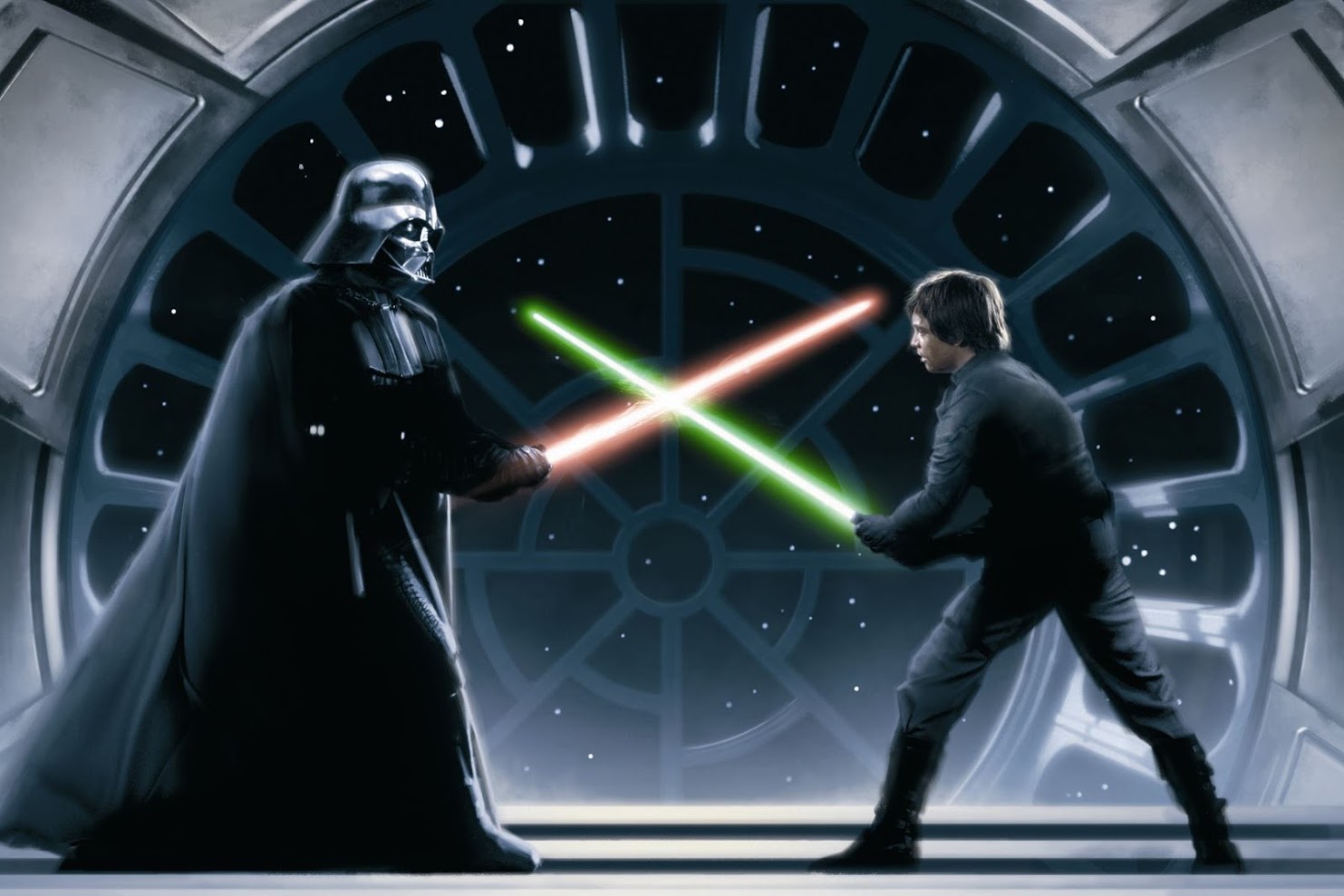 He is a very difficult man to like. Not as difficult as Darth Vader but this image sums up our relationship pretty well.
Growing up he put food on the table and watched me play sports. He was good at both pursuits but little else. There are of course some valuable lessons that I learned along the way but I will save that for another day.
I am not ungrateful. Quite the opposite, in many respects I am more fortunate than billions of people. I always try to remember that but I too often forget.
We can't choose our parents but we do chose how to interact with them - or not interact with them, as the case may be. I'm not going to say one method is right and the other wrong, it is far too personal, complex and nuanced for that.
I do not presume to walk in your shoes, but today I'm inviting you to take a quick walk in mine, as I muse about love, life, family, death and what comes next.

Dad has an abrasive nature, with some very unendearing qualities and an heir of entitlement thrown in. I believe that much of it stems from his childhood.
His father was a wealthy doctor - my Dad was literally waited on hand and foot. He had a full-time nanny and was driven around by Eric, the family chauffeur. My Dad never knew his mother, it troubled him for most of his life. The most plausible explanation seems to be that my grandfather (a bachelor) had a child out of wedlock with an unknown woman, my paternal grandmother, which led to me. It is family history that I know very little about, but am eternally grateful for nonetheless!
Dad was raised by Nanny Gibbons. She was his nurse, his nanny, and by all accounts a very dear, sweet woman - she was also his surrogate mother and she spoiled him rotten.
Dad believed that she was his mother until the day she died. He was 30 at the time. He went to the undertaker only to be told that he was not family and therefore didn't have the authority to bury her. The day his mother died was the day that he learned that she wasn't his mother. It must have come as quite a shock.
My grandfather died when Dad was just a young boy. Nanny Gibbons received a substantial inheritance (11 houses, jewellery, fine china etc). She lost most of it within a decade. What she didn't lose she gave away. That was her nature. I have been told that she always placed others before herself. I like that, my Mum was much the same which probably explains why Dad married her. These two women were the antithesis of my Dad!
In fairness, seeing people maimed and killed as a young man fighting other mens wars wouldn't have helped. There is so much that we will never know and I'm fine with that. Nanny Gibbons died suddenly and took many unanswered questions to the grave.
Decades later Dad was behind his desk at work. Sitting opposite him were the two men that he was having a meeting with. There was an explosion. Dad was knocked backwards and out of his chair. He checked himself for wounds and only found some shrapnel embedded into the hands that were seconds earlier resting on the desk. Dad stood up and looked over the mangled desk. One of the men had been decapitated. I'm not sure how one deals with talking to a man one second, and a few seconds later looking at him without his head? I haven't experienced it and I hope that I never do.
As challenging as my Dad is this is where the love and compassion for him kicks in. He is still my Dad. I didn't walk in his shoes. I strongly suspect that going to war mentally scarred him for life but he rarely spoke about it. One only has to look at the numerous instances of mental illnesses and suicides amongst returning veterans to see the impact that war has on people.
I want all war to end - there are always better options than killing our fellow human beings!
---
Dad on 19th November 2017
---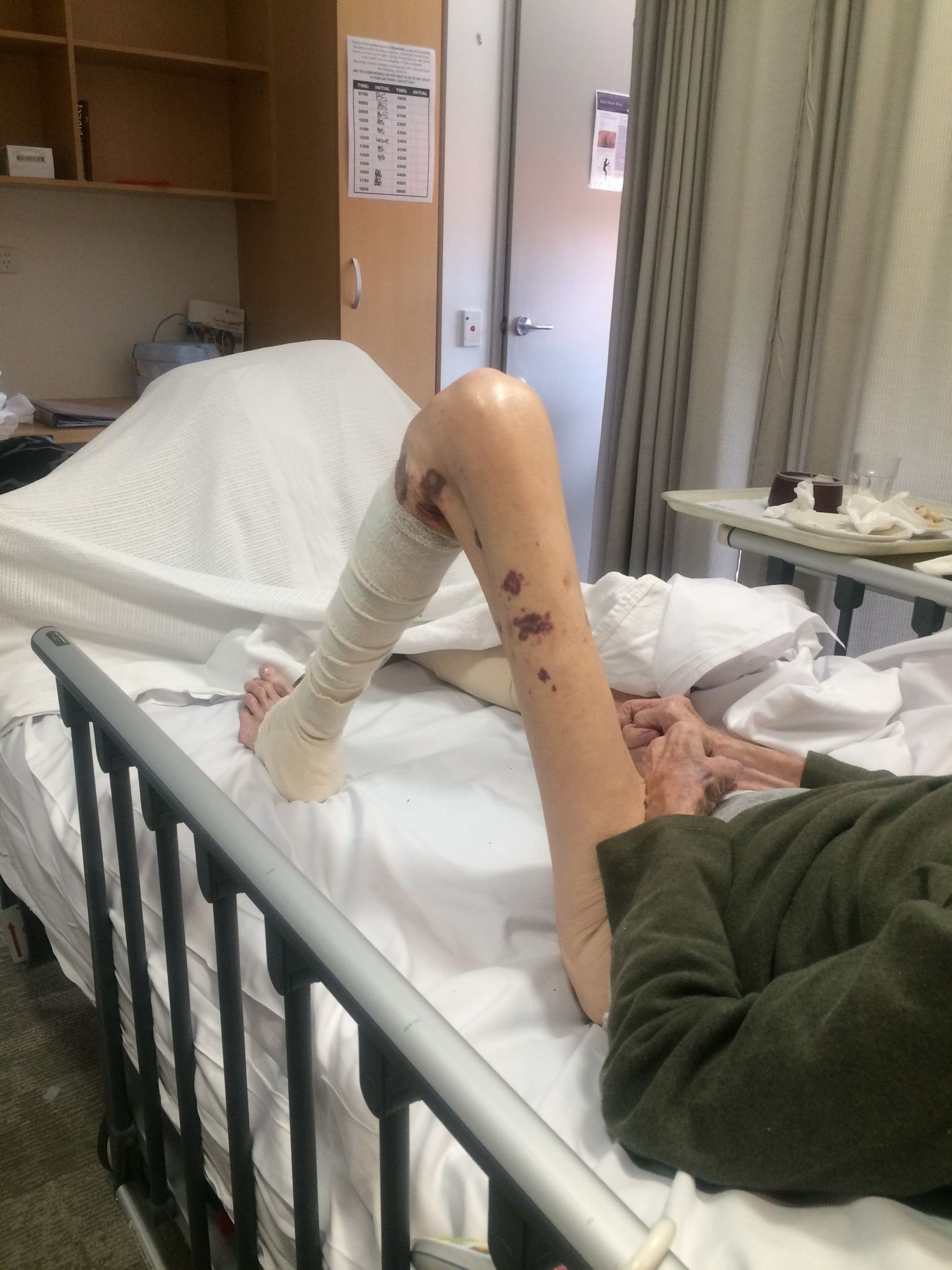 ---
Dad was 6"2 (188 cm) and strong. He's lost weight since this photo was taken.
When I was born my parents fed me, bathed me, changed my nappies and everything in-between. Over the last few years the roles have reversed. I don't get much help from family and friends. Most of them don't like Dad and for others there is the distance factor. Whatever the reasons - without me his next stop is a nursing home.
Despite not liking my Dad I've chosen to assist him to die at home (naturally). I helped my Mum die at home 2.5 years ago. Ever the opportunist and never wanting to miss out, my Dad feels entitled to the same treatment. He entered the world being waited on hand and foot and it seems that he will be leaving in similar fashion. Lately it feels as if my energy is being depleted and passed on to him. I rarely sleep more than 5-6 hours uninterrupted. Sometimes just 1 or 2.
He doesn't have long to live but I've said that before and been proven wrong. I stopped Steemin five (5) months ago because I thought he only had a little time left. He's been close to death more than a handful of times - astonishingly, he keeps coming back. He's been wanting to die for almost a year. He's not suffering or in any great pain, he's simply dying and it's just a matter of time before he passes! He is comfortable with death and so am I.
I'm reminded of the fact that we are all dying - with each setting sun we are one day closer to death. Life is to be cherished, we never know when it will be snatched from us, or from someone close to us. Some of us are fortunate enough to to be forewarned, while for others death comes like a thief in the night. I say fortunate but that's just my opinion.
Given the choice, would you choose to be forewarned (no matter how painful) or would you prefer to die peacefully in your sleep? I'd prefer to know in advance but I would also be fine with dying suddenly.
Death doesn't scare me but I'm yet to stare death in the face. I am however hoping to do so at least once in my life. Not because I have a death wish but because I have a pretty adventurous nature and I intend to explore this wonderful planet. Statistically it is quite likely that I will stare death in the face. If I'm not prepared for it I will probably die.
Training both physically and mentally increases your odds but you've got to always expect the unexpected. Fire-fighters, soldiers and innocent civilians in war-torn nations face death everyday. If they can do it why can't I experience it just once or twice in my life? It is nothing compared to what some people are going through this minute.
To be clear, I won't seek death, I will do my best to avoid it and I will NEVER commit suicide or willingly put my life at risk.
The key is to be prepared for death and to prepare family for it. Not in a depressing way, but in a very natural and pragmatic way. When a pet or someone close dies it may be a good opportunity to talk about it at the time or a little when things have settled down. We all know that we are going to die. I think that it's strange not to talk about it. If you're prepared for death it stands to reason that it should come as less of a shock. Still painful, but hopefully less so.
They say that time heals all wounds and while I don't think that this applies to every person, in every circumstance, there is still a fair bit of truth in it. If you had foreknowledge you have time to prepare and process some of the experience in advance. Or do you go through just as much grieving with foreknowledge as you do without only more slowly and subtly? I'm not sure but I do know that we are all unique as our individual circumstances.
---
The Grieving Process
---
The Kübler-Ross model, otherwise known as the five (5) stages of grief, postulates a series of emotions experienced by terminally ill patients prior to death, or people presented by the loss of a loved one, wherein the five stages are denial, anger, bargaining, depression and acceptance. Wikipedia
This illustration adds two more stages to the Kübler-Ross model - Shock & Testing.
---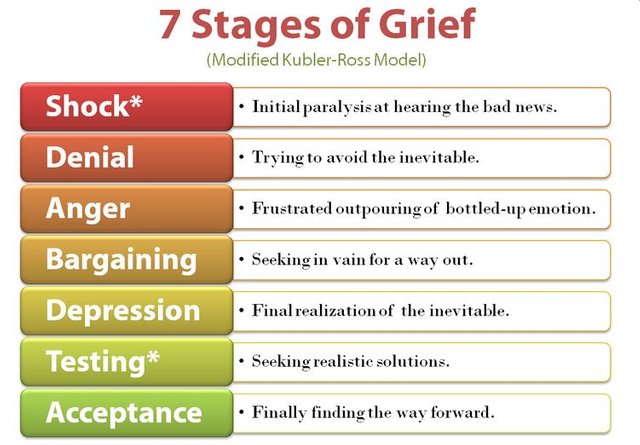 ---
When my Mum died I went through the last three stages. She was an easy woman to like and love. In her case I had foreknowledge - she was given 4 months to live and lasted 10. The depression coincided with, and was compounded by the greed, corruption, evil and suffering that I saw in the world. I had been doing a lot of research in the preceding years and then Mum died and life seemed pretty dark for a while. I was never suicidal, just really down and asking myself deep and very big questions. When Dad dies I do not expect to go through any stages. I accepted his death a long time ago and I know what I am going to do afterwards.
I've been caring for at least one of my parents these past 4 years. I've had 4 weeks respite or 1 week per year. If my Dad was easy to like and love it would be a pleasant experience. Then again, when I look back at this with the benefit of hindsight I am sure that many lessons will have been learned. I have a habit of pushing myself to extremes. If I'm not pushing the boundaries I don't feel like I'm living - but there is only so much one can take. I'm worn out, sleep-deprived and less tolerant than I used to be.
While I won't have 7 stages of grieving to go through I will need some time to catch my breath. When I've got my second wind I'm going to embark on the rest of my life and I'm very much looking forward to it.
I want to spend the rest of my life helping other people. Especially the less fortunate but not exclusively so. I want to help as many people as I can and this is a huge reason for me being on Steemit. This platform and community allows me to care for my Dad and engage with wonderful people from all over the world. As a bonus I am able to read, write and make some money along the way.
What a blessing!
---
It's brilliant, it's life-changing and we are only at the beginning! The exodus from mainstream social media has begun. What an exciting time to be alive.
Try to love someone that you don't like. It's not easy but you may be surprised what happens when you do!
Thank you for taking a quick walk in my shoes. I enjoyed sharing some of my experiences, thoughts, feelings and dreams with you today. It has been a therapeutic exercise for me and if it helps someone even better!
Stay True!
Till next time!
Yours in Peace, Love & Truth
@SteemTruth
---
P.S. Chuck Feeney spent much of his life giving away his $8 Billion. I'll never have $8 Billion but I intend to follow his lead and give what I have away. If you haven't heard his story click the link below.


---