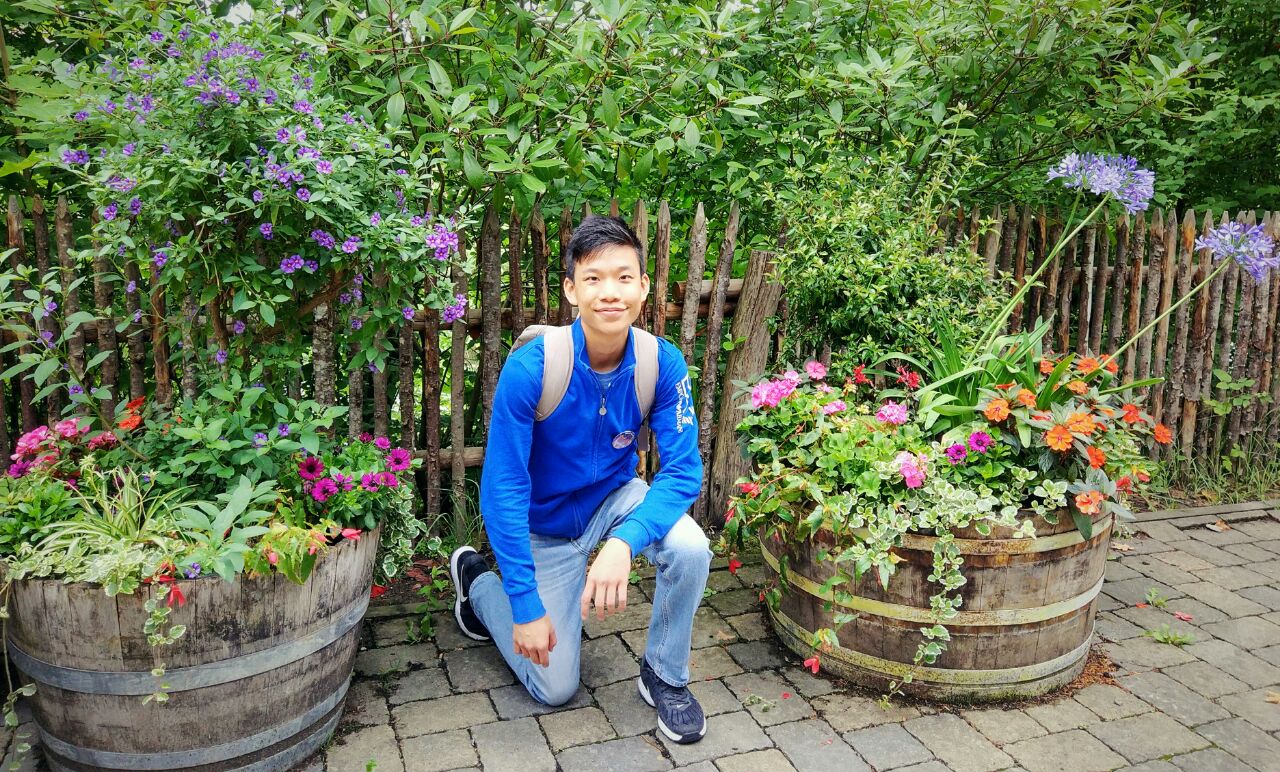 Past the low picket fences, we made our way single file down a narrow little pathway leading to the docking landing where you can board a human-powered duckie paddle boat.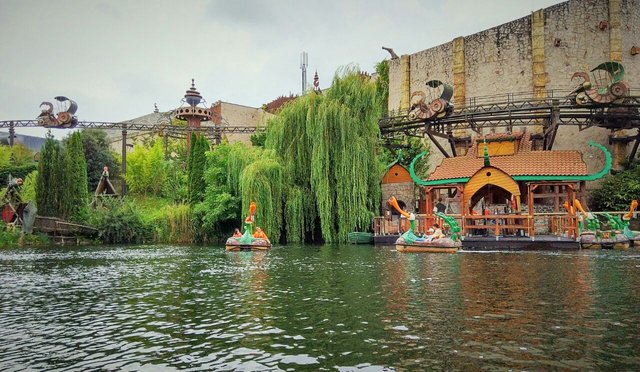 Each boat has two seats that can hold two adults. There is a space between the two seats that comfortably fits a large backpack or a child. The ride attendant looked at me and decided that I was small enough to pass off as a pre-teen! :O So the three of us got onto one boat.
Since I sat on the 'child seat', I didn't have to do any work (freeloader alert! hurhur). The two boys took on the duties of pedal-pushing. As they laboured at the pedals, pond water churned vigorously under us, propelling the boat forward.
It took awhile to get the hang of steering the boat with the rudder. We had a near collision with a Vietnamese park-goer and his son! Rusty held up his hand as an apology, though they were more amused than upset.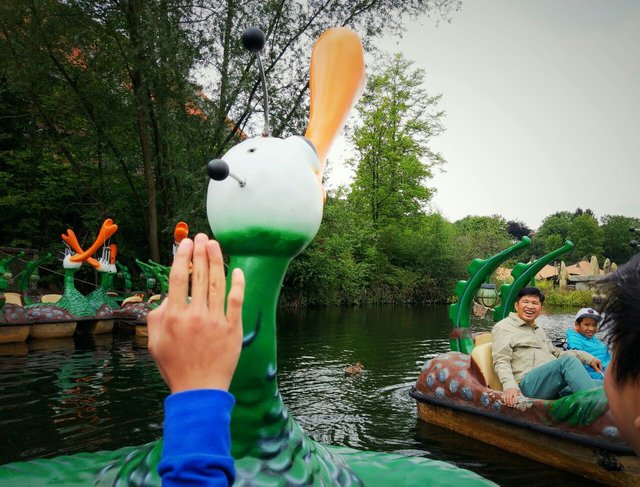 There were also real ducks in the pond!
One particularly brave duck swam towards us to check out the humongous colourful plastic drake floating in the water and creating big bursts of noisy water bubbles with his sporadic farting.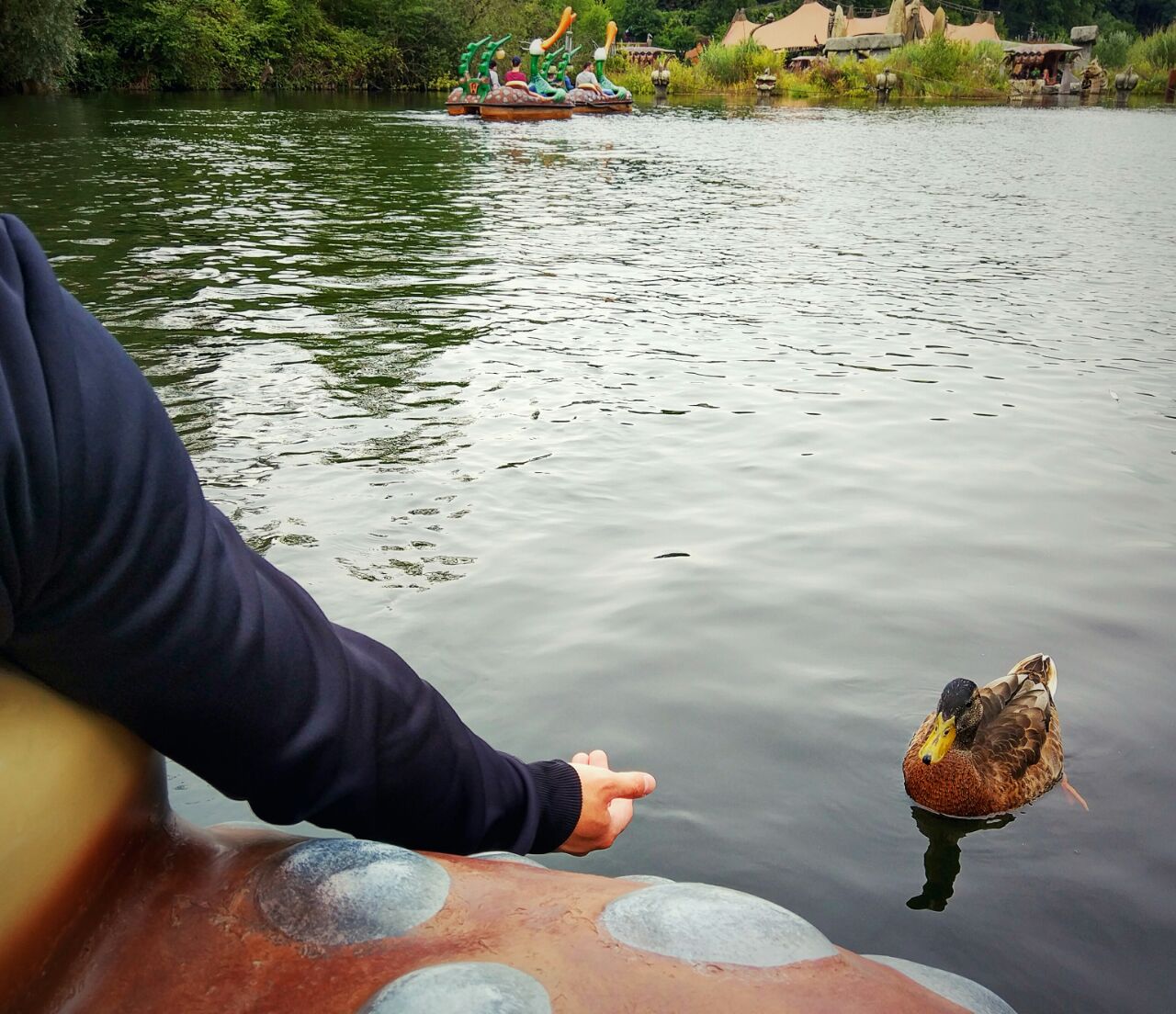 I surreptitiously plucked the crusts of our remaining sandwiches, and we tossed a few pieces into the water. Like magic, a flock of hungry ducks sped over to gobble up the pieces!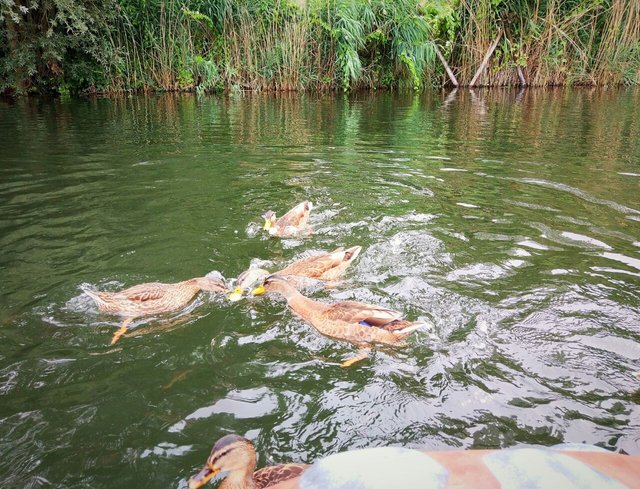 Their reward? More crusty bits!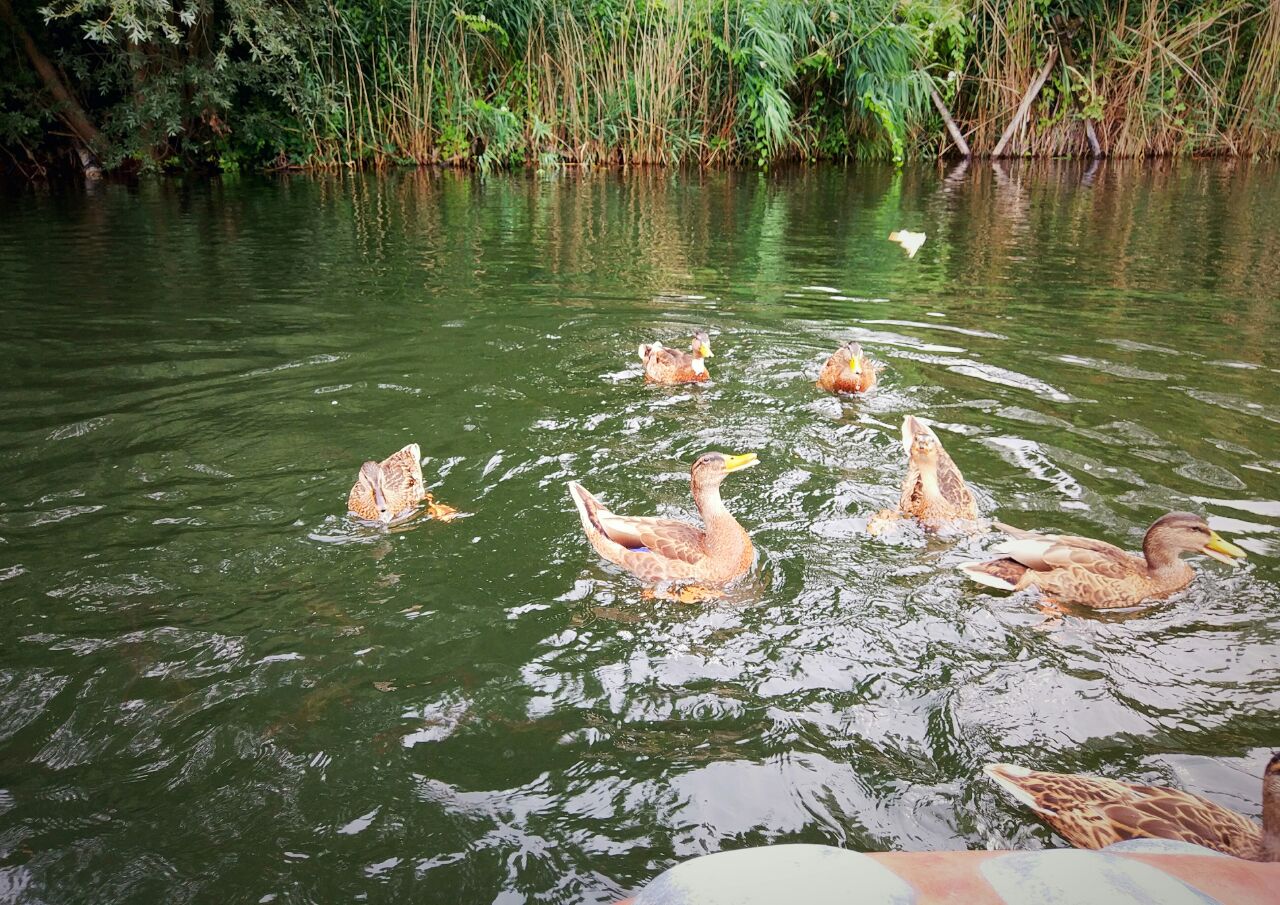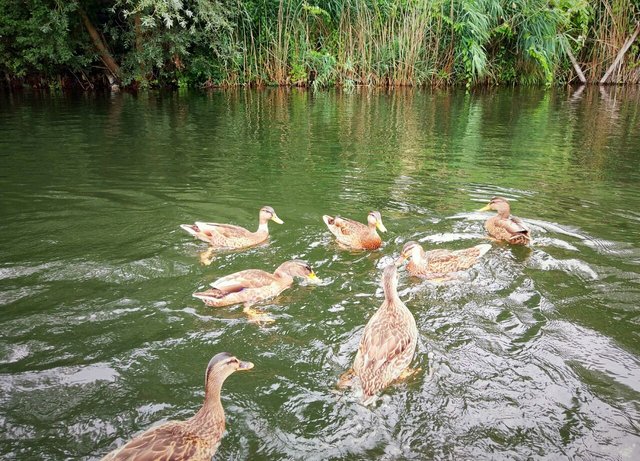 Noticing the commotion, other park-goers peddled their duckie boats over to take snapshots of the ducks' bread feast. Not wanting to be the culprits who instigated future 'No Feeding the Ducks' signs posted all around the pond, we decided it was time to remove ourselves from the attention and head back to the dock.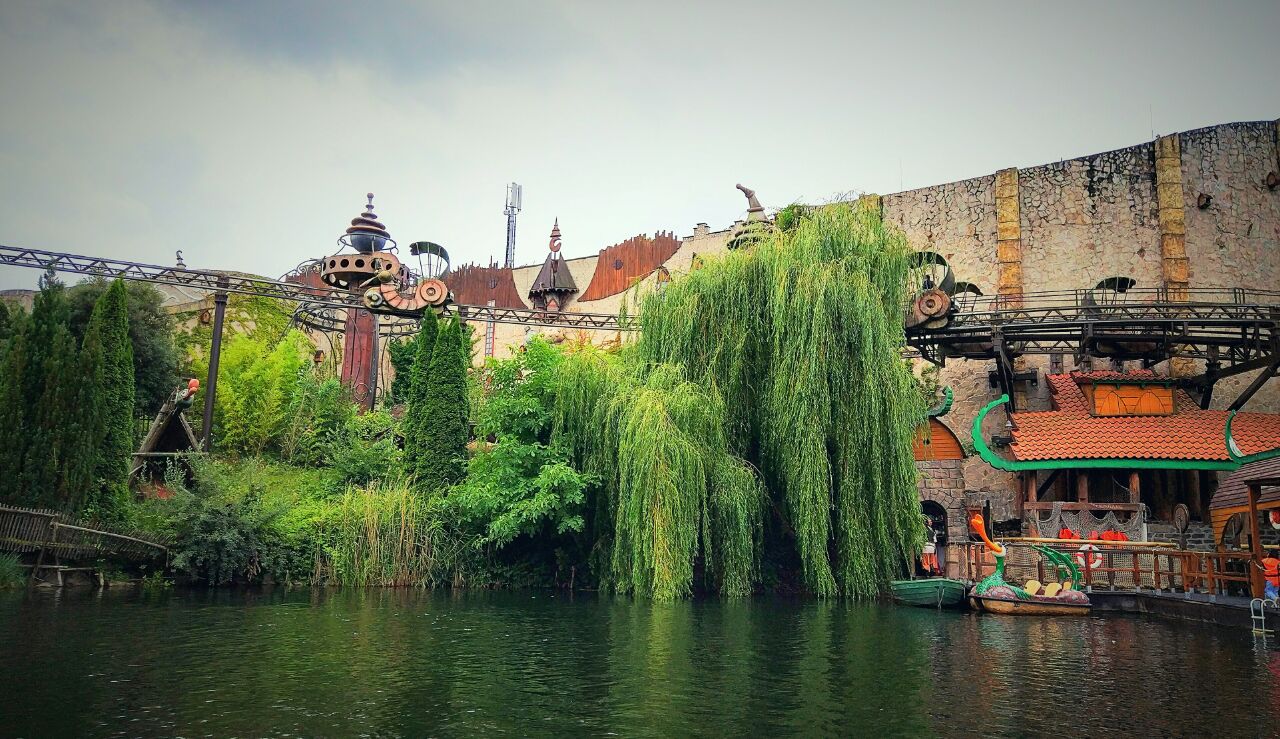 We made our way over the bridge back to Wuze Town.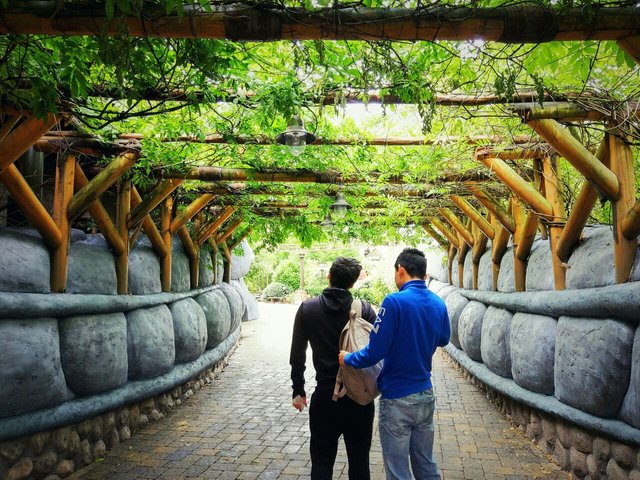 One last pic of Wuze Town's gateway.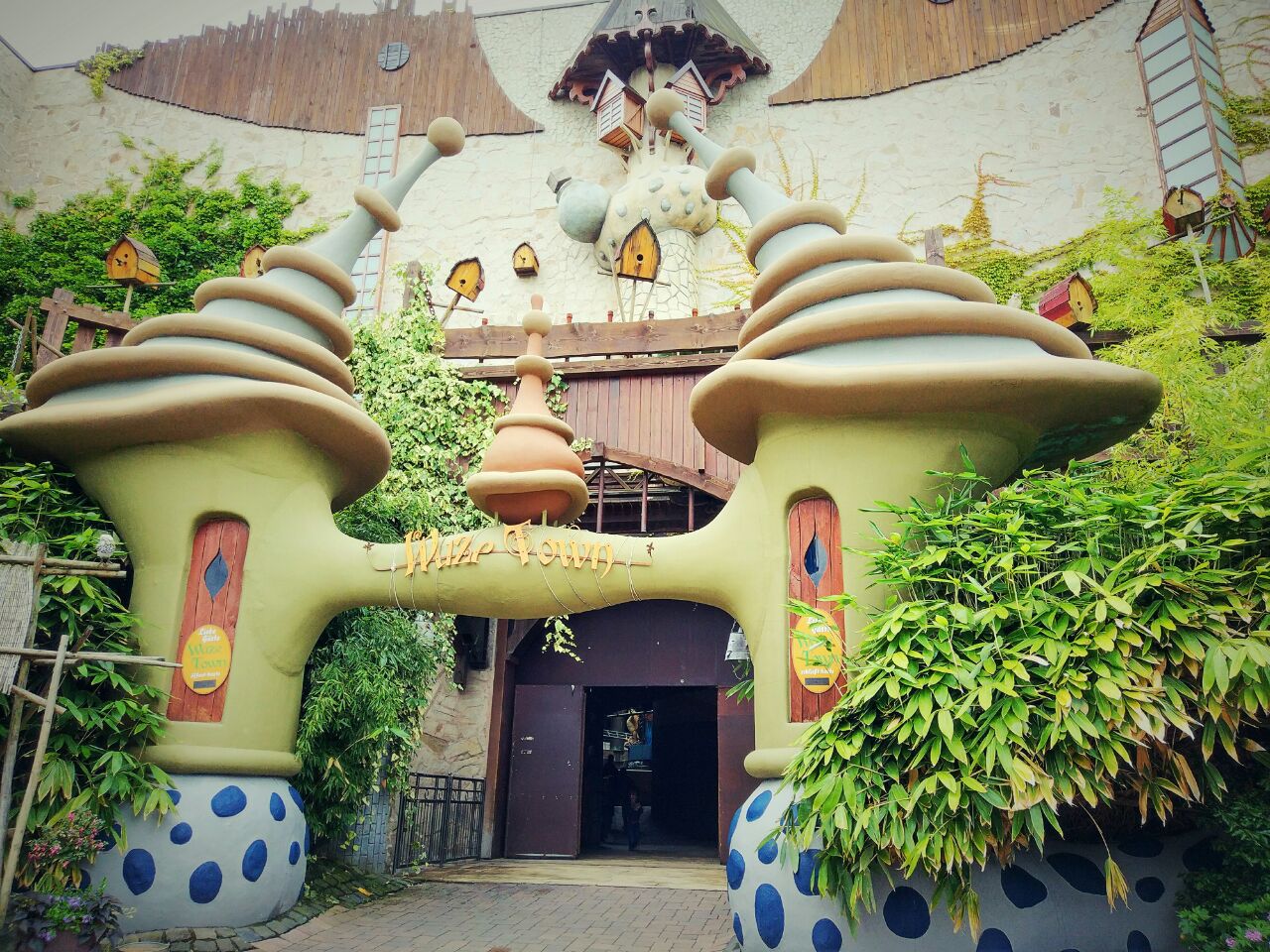 From there, it was an easy walk back to the Berlin theme area. @whatisnew will be delighted to see that Berlin's golden mascot Dragon Drago was out and about, trying to catch the elusive sun. Can you imagine how dazzling and gleaming he would be under the sun's rays? My eyes ache at the shiny image.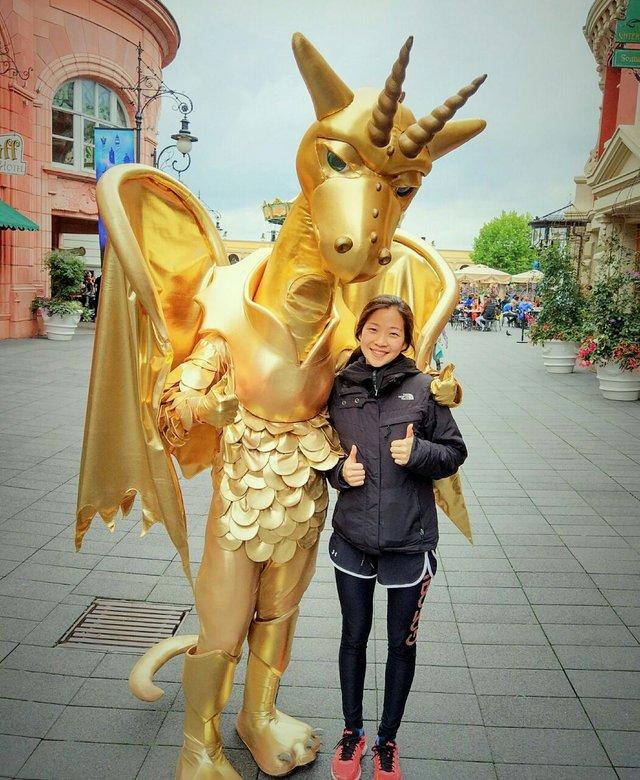 I took this shot with Dragon Drago the previous time that The Mann and I were at Phantasialand.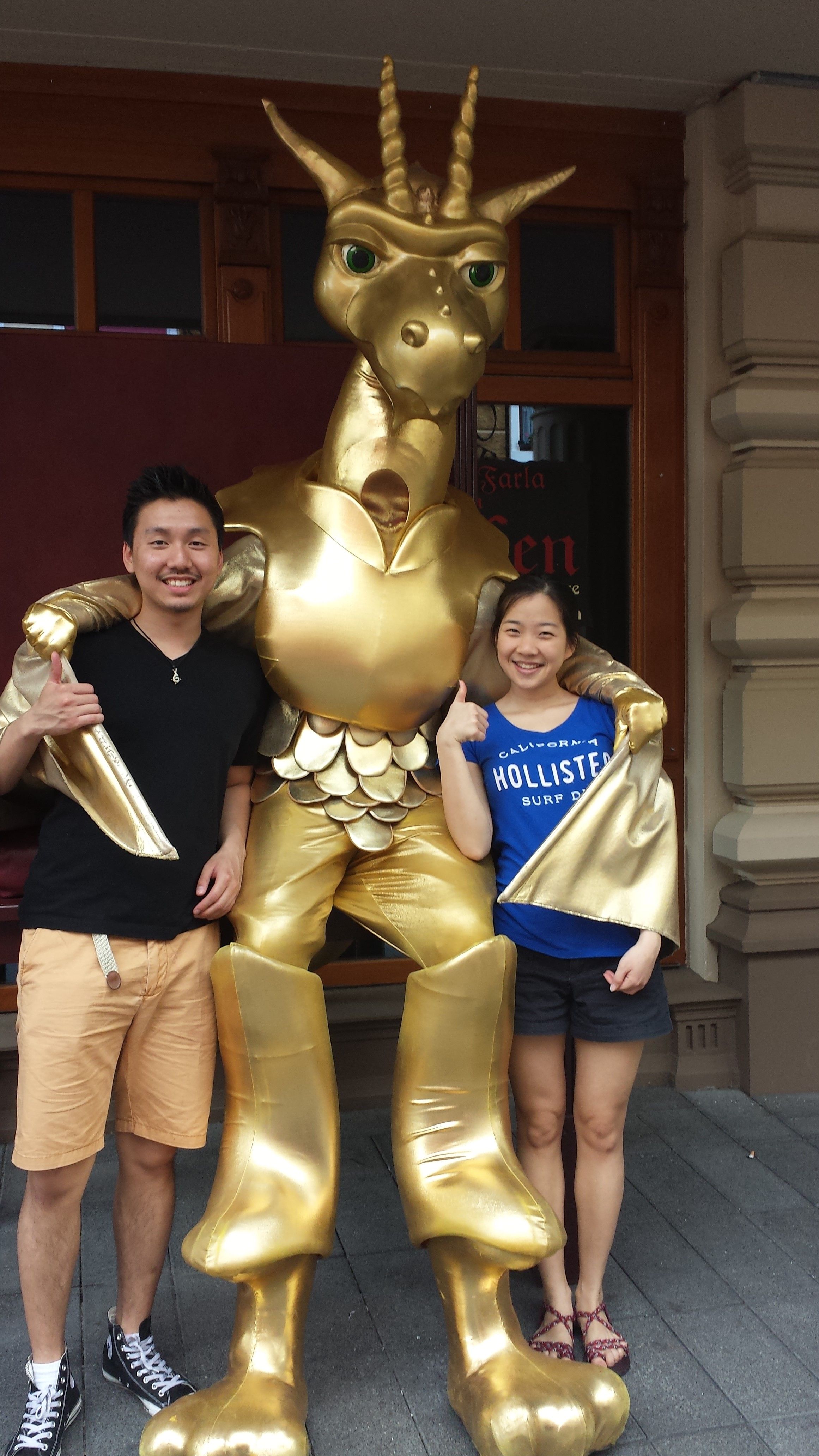 After that, it was time to test our shooting skills! But rather than literal bullets, we'd shoot virtual chocolates! In the centre of Berlin, a 3D-interactive ride takes you through a factory that has been overrun by a mouse plague! Eeek!!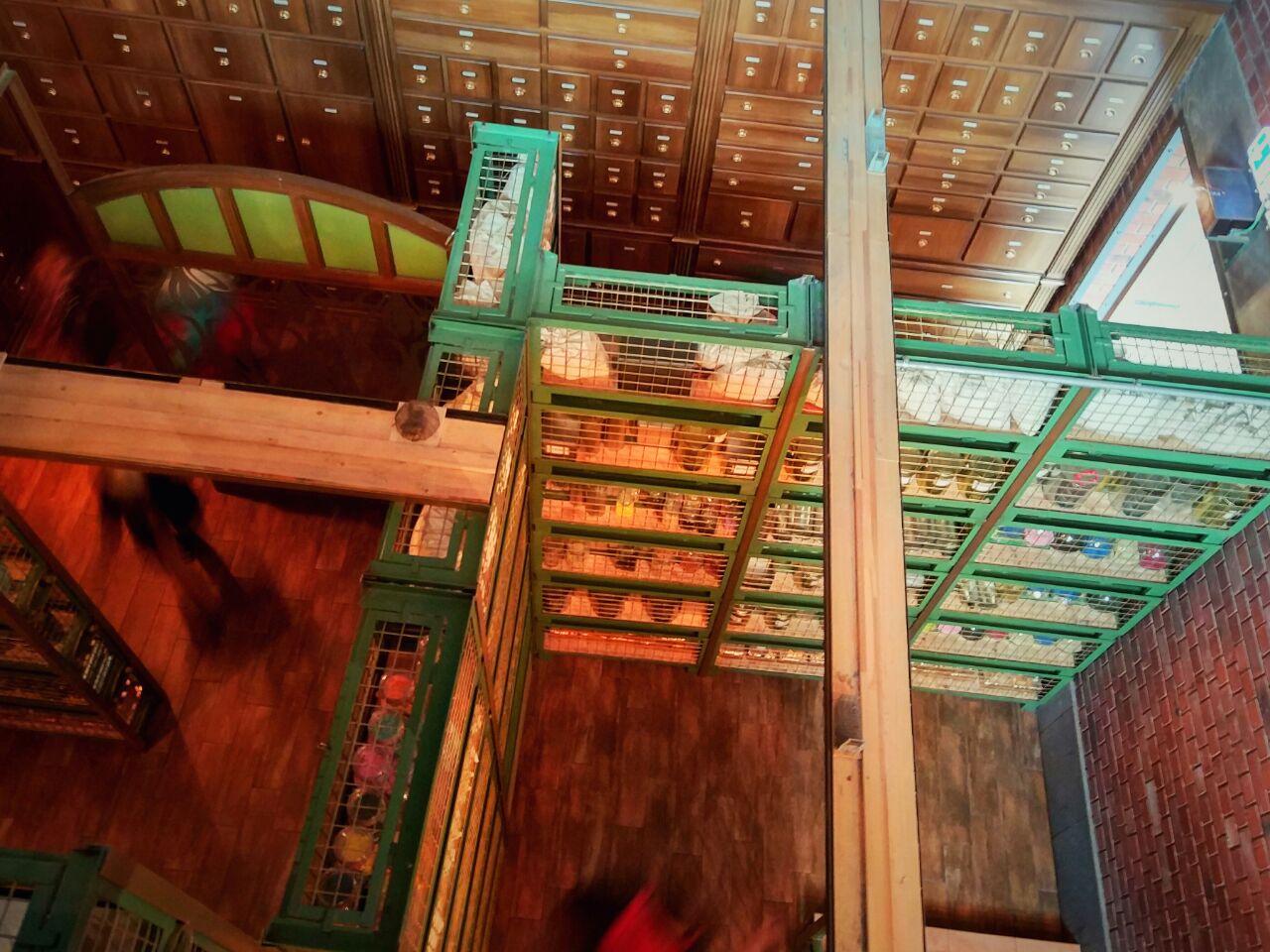 Riders wear 3D-glasses and sit in rotatable chaises, spray gun bag at the ready to shoot at greedy mice feasting on sumptuous cakes, cookies, and baking ingredients in seven factory rooms!
Each mouse you successfully hit with your spray bag earns you points. I could not compete with the boys. My points at each station were consistently lower than half of theirs.
At the end of the game, my right arm was burning from tugging at the bag to 'shoot', and I had broken out a sweat. My overall points were still far below the boys'!! In my defence, they do play a lot more first-person-shooter games than I do (practically zero)!! LOL
Here's a pic of Rusty proving that he played like a man, not a boy. =P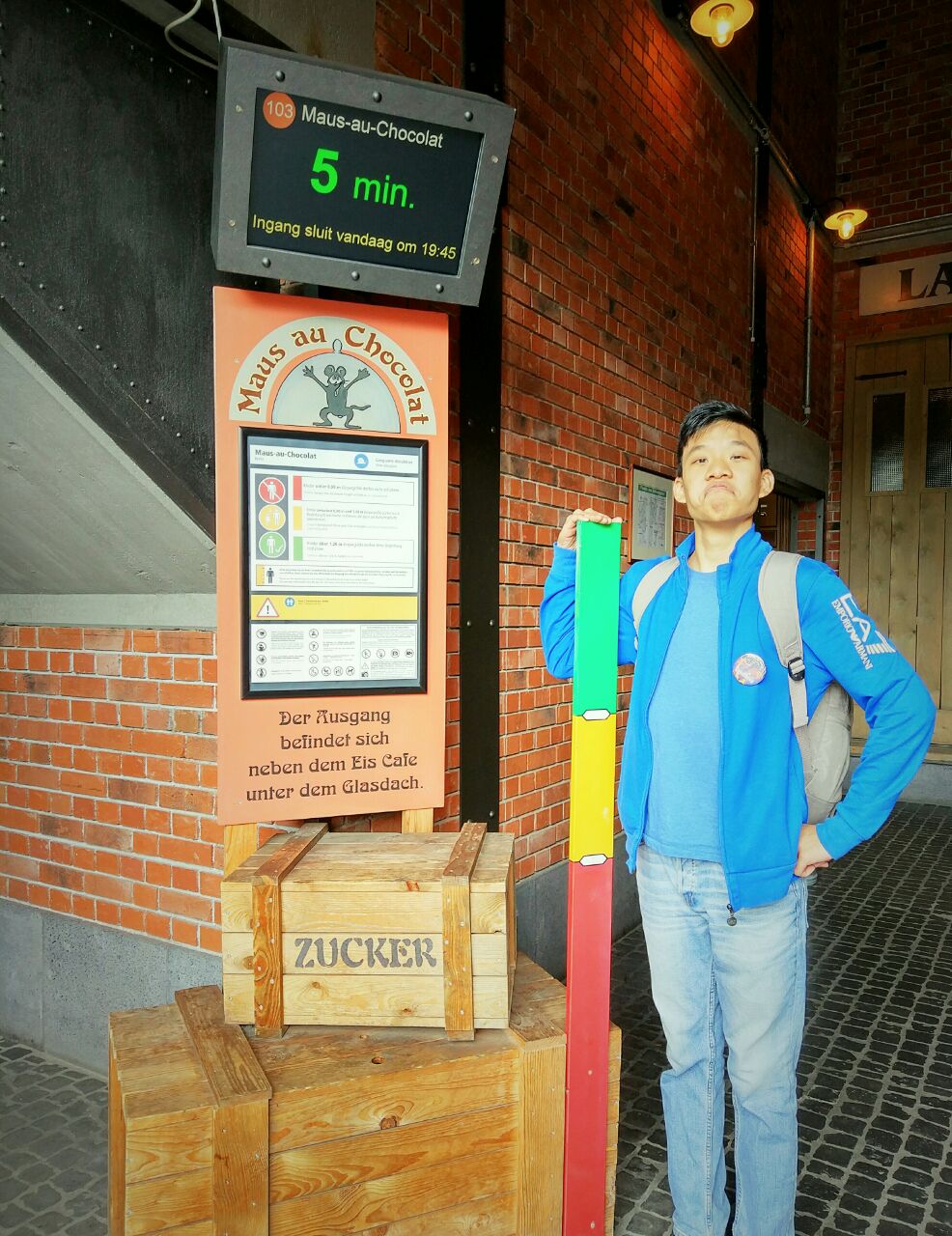 After seeing all that flying cake, pies, and frosting, we were hungry for some confectionary goods! Fortunately, an Ice Cream stand is located right round the corner from Maus au Chocolat! We got three 1-scoop cones — pistachio, sea salt caramel, and vanilla!
I found the waffle cones to be absolutely delightful! Crisp, full of flavour, and with a lovely bite texture (one that satisfies yet doesn't hurt the roof of your mouth). The ice cream was good, but I enjoyed the cones most.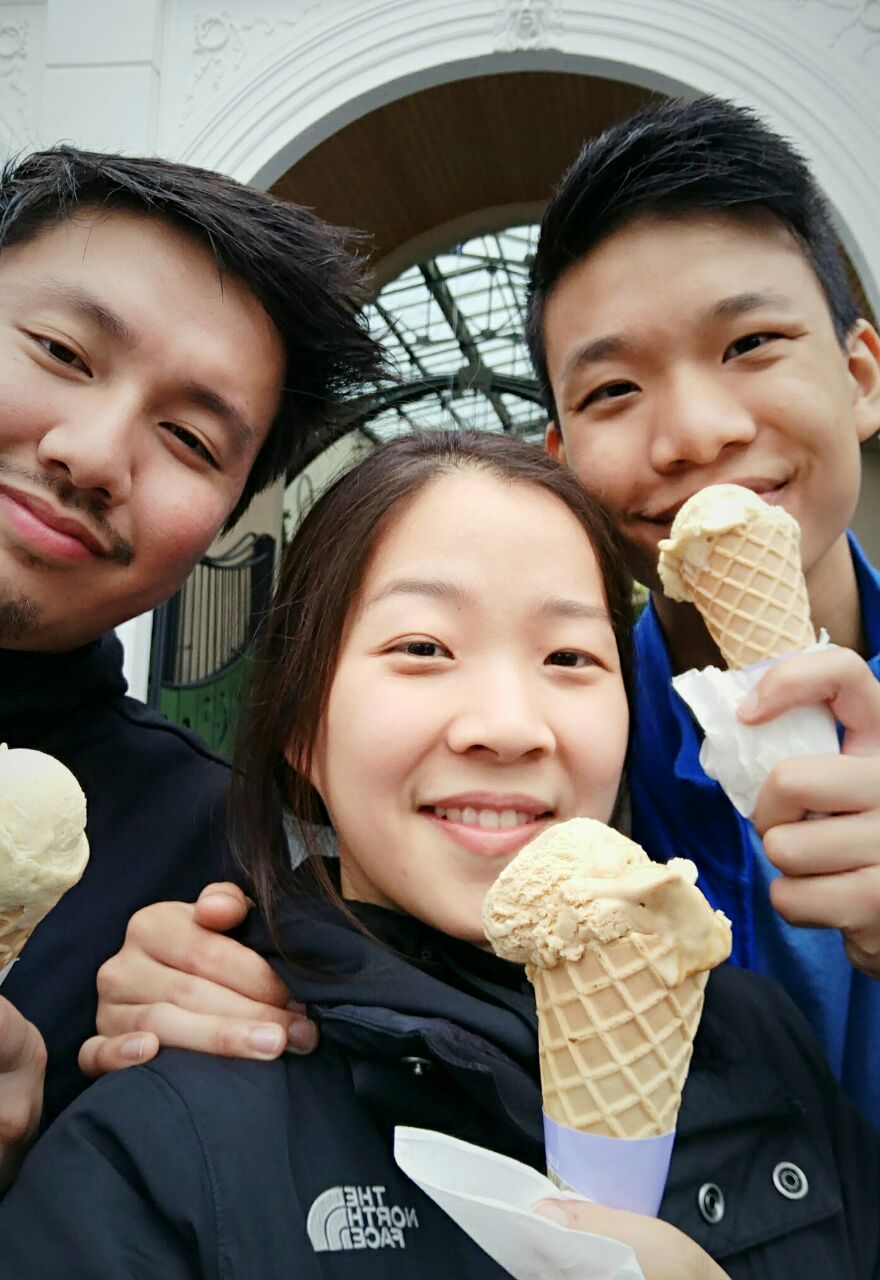 A time check showed that we had 20 minutes to kill before our show started. I took one last photo of Rusty looking cool in Berlin before strolling towards theme area Mexico, where the show would be held.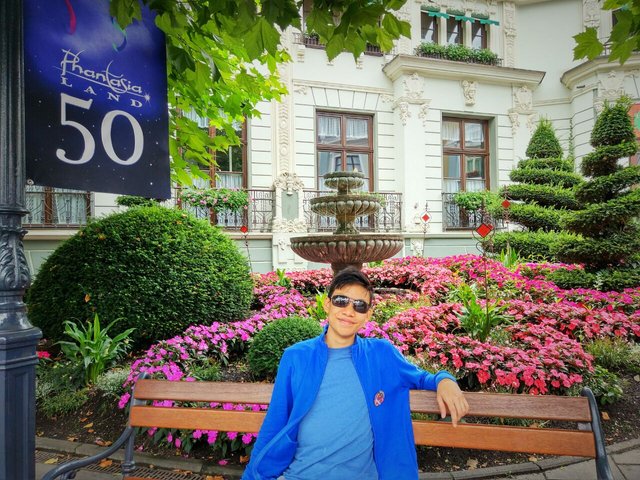 Don't ask me how 'Colorado Adventure' fits in this all. I think it was somewhere along the pathway between Berlin and Mexico theme areas.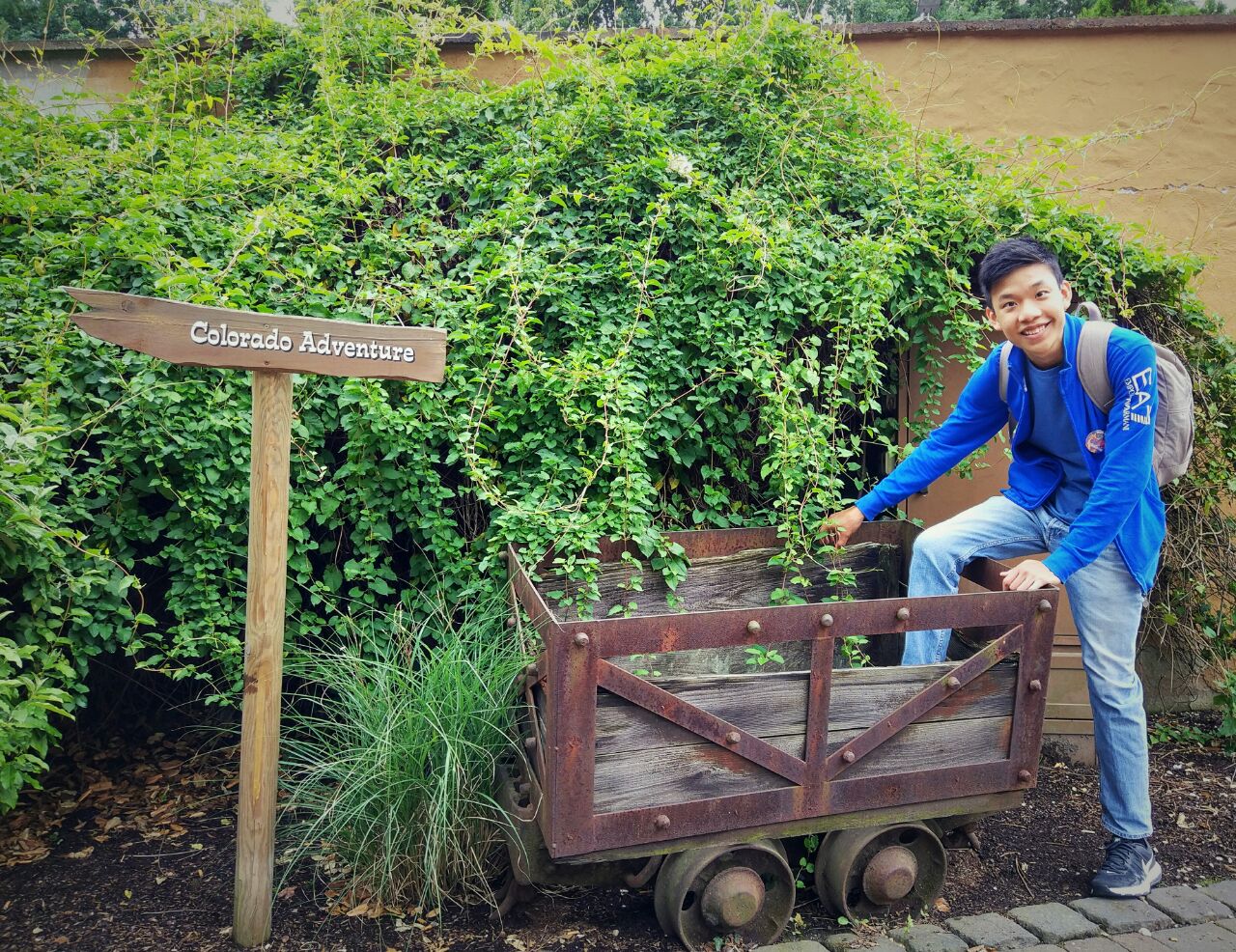 The Mexican Fiesta will have to wait till Part 6.
Thanks for reading my post! If you liked what you read, there's more! Click on the picture below to see my previous posts in the Phantasialand series:
°--°--°--°--°--°--°--°--°--°
Walk.with.me #12: Phantasialand (Part 4) - Water Play and a Slice of Hobbiton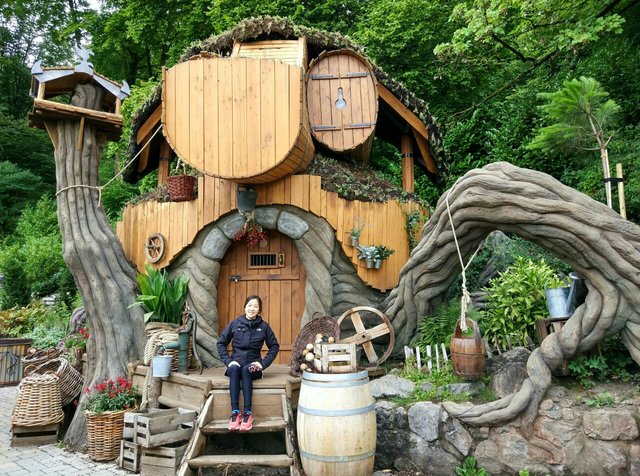 °--°--°--°--°--°--°--°--°--°
Walk.with.me #11: Phantasialand (Part 3) - A Mechanical Gondola, Scenic Monorail, and a Spinning Coaster in Dragon Phenie's Realm.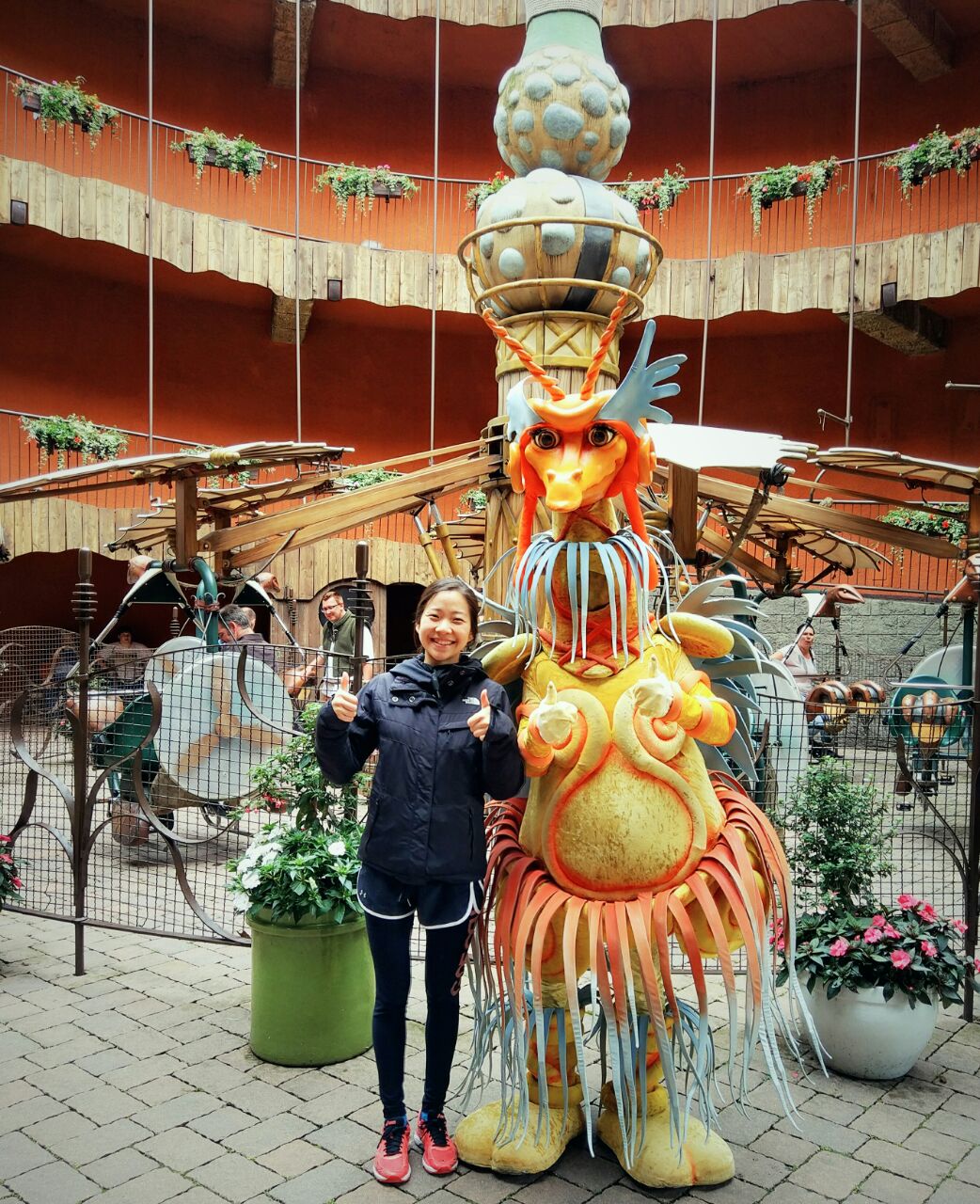 °--°--°--°--°--°--°--°--°--°
Walk.with.me #10: Phantasialand (Part 2) - RAIK, River Quest, Black Mamba, and A DRAGON!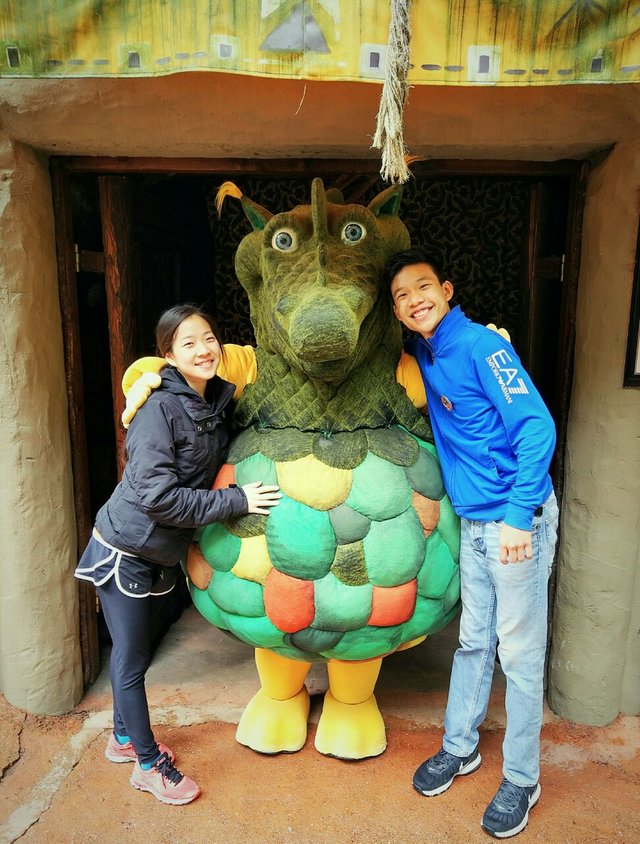 Walk.with.me #9: Phantasialand (Part 1) - Riding TARON, the world's fastest & longest multi-launch rollercoaster!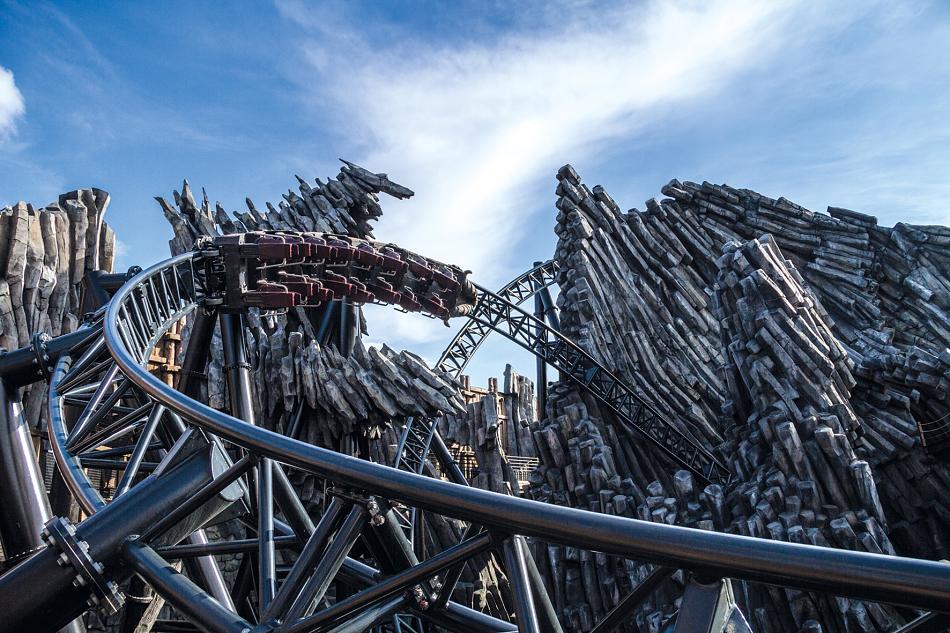 °--°--°--°--°--°--°--°--°--°
Picking-out the Best — Birthday Experience for an 18 year old!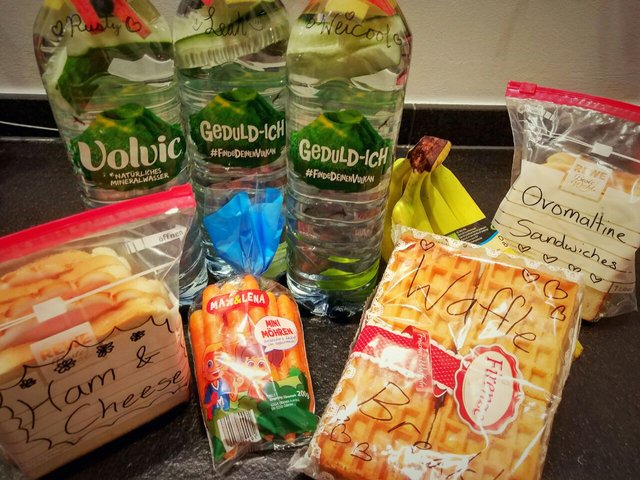 Address:
Phantasialand
Berggeiststraße 31-41
50321 Brühl, Germany
Opens:
1 Jul - 27 Aug 17 (Summer Season): daily 09:00 - 20:00
28 Aug - 5 Nov 17 (Summer Season): daily 09:00 - 18:00
6 Nov - 23 Nov, & 24 Dec 17: Closed
24 Nov - 30 Dec 17 (Winter Season): 11:00 - 20:00
Contact: +49 2232 36600