Source: pixabay
Today is a super HOT day!
Like many people, my husband and I devote our weekends for the family and also the church. And one of our favorite activities on weekends is to ride the LRT/MRT. I know it sounds boring and lame but my kids just love riding on the train. My husband and I don't really mind it because it gives us an excuse to have fun and spend some wonderful time with our children. Both of us usually take one child each and ride on the different end of the train. Like for example, my husband usually takes our son and get in the front end whereby my daughter and I will ride on the rear couch. The reason we do this is because we want to have a special bonding time with each child. I usually use this opportunity to have a "deeper talk" with my girl, like for example, I will ask her how is she doing with her friends in school etc. It's not a serious or "interrogative" kind of talk but I do it casually just to get her to share deeper about the things in her heart. Children are not stupid. They have feelings like adults too. And even though they seem not to care about their surroundings, they usually do and most of the time they don't quite know how to verbalize it hence it's super important for the parents to dig deeper by asking questions. The reason we do this is because we want to build a connection with our children so that when they reach teenagehood they won't feel awkward confiding in us about issues they encounter later on in life.
That's all my update for today. I am tired and today's heat causes me to develop a migraine. Yes, heat is one of my triggers. It's difficult to avoid because Malaysia is a hot country! Going off to bed now!
p/s Please pray for @iamjadeline's son, Jansen, who is currently hospitalized due to a chest infection. Feel free to write some encouraging comments in her post to lift her up :)
Thank you for checking out my post!
My previous posts:
The Human Factor | Use Personal Experiences & Anecdotes To Reach Out And Connect With Your Readers
My Sketchbook | The Universe and Dyson Spheres
Crypto Art Challenge | Edible EOS Logo
A Tribute Post | Happy Birthday @voltranrex!
Founding Women Get Together Event | How I Spent My Saturday
My Sketchbook | Waves In The Ocean
---
I am selling some of my paintings over on Artfinder. Shipping is FREE worldwide. You can check them out here: ARTFINDER.
My gifts & merchandise available at REDBUBBLE (international), Printcious & CreativeUnited (Malaysia).
Thank you!
---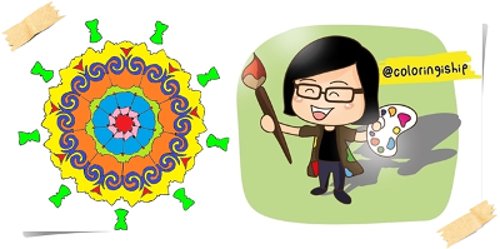 My avatar was illustrated by @pinstory