Would You Like to Participate in the Supernatural Writing Contest?
Today I'd like to talk about the "Supernatural Writing Contest" that @jerrybanfield is sponsoring and that I am helping with. I am very excited by this contest and all the beautiful stories that authors on Steemit have already started to produce.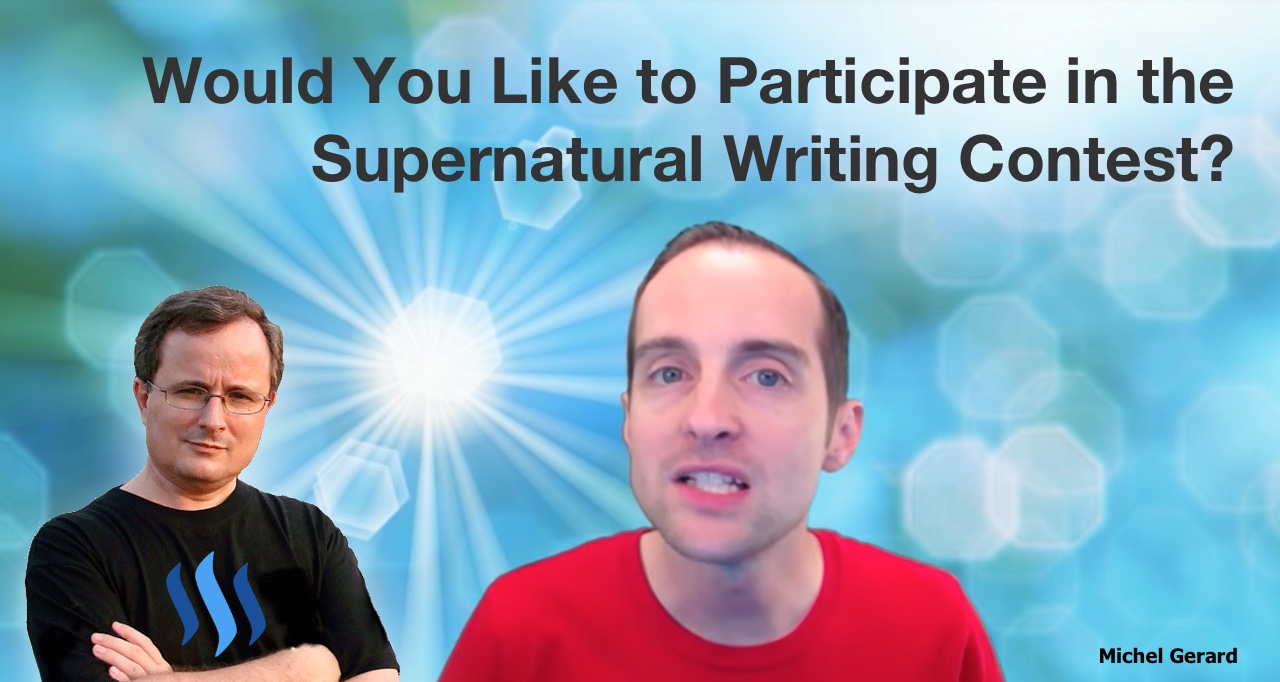 We see a lot of contests on Steemit, but one more time, Jerry Banfield is innovating with the topic of the contest and the prizes that will be given away.
Would You Like to Participate in the Supernatural Writing Contest?

If you have been struggling having your posts in Steemit seen and have a supernatural original story to share, this is your chance. It is not an ordinary contest where there is a first prize, second prize and third prize, and then nothing for the other participants.
In this Supernatural Writing Contest, everyone wins if the basic requirements are met. Jerry is showing the topics you can write about below.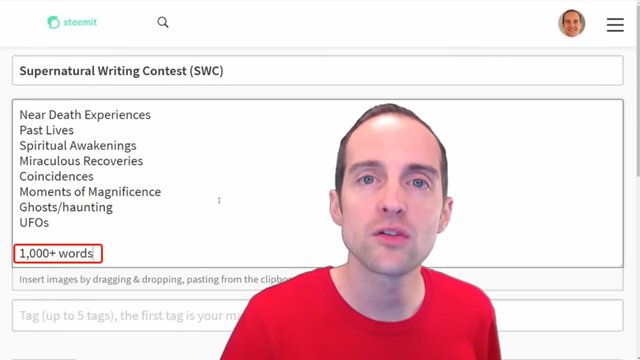 3 main requirements:
- New original story, not already published elsewhere and not copied or partially copied from another website or book.
- 1,000 words minimum.
- On topic.
If these 3 requirements are met, a bid of 10 STEEM/SBD will be sent to @jerrybanfield's bot to upvote your post. That's about $50 in rewards that you can receive for the post.
If you do not have an original story, please do not participate. All stories are checked with https://www.copyscape.com and if they are not unique they are rejected.
Read Jerry Banfield's post for all details: Supernatural Writing Contest!
You can also watch his video.
This is the executive summary taken from the post so you know exactly what it is about and if this is something for you. 
Executive Summary

In order to participate in this "Supernatural Writing Contest" you need to have an account on Steemit.com. The story has to be original and your own with 1,000+ words. All stories that qualify will receive a 10+ STEEM/SBD bid upvote on Jerry Banfield's bot, which translates into around $50 in rewards. This contest is sponsored by the @budgets account and upvotes will be sent by @gmichelbkk.

Requirements:

Original story.
Your own story, own supernatural experience.
First tag "jerrybanfield"
Use (SWC) at the end of your title, if it is not obvious the post is for the contest.
1,000+ words.

Topics:

Near Death Experiences
Past Lives
Spiritual Awakenings
Miraculous Recoveries
Coincidences
Moments of Magnificence
Ghosts/haunting
UFOs

Prizes:

$5,000+ in USD equivalent of upvote bids are available allowing hundreds of authors to participate!
Best stories resteemed on @jerrybanfield's blog.
All SBD author rewards from this post will be sent back to @budgets to fund the contest!

If you do not wish to receive an upvote, but still want to participate in the contest, type "Decline payout" at the end of your post.
Jerry and I have already read several stories and upvotes have been sent. I really enjoyed the stories I have read and I am looking forward to read more.
The Steemit community needs more stories like these and I invite you to participate and do your best to present an original story.
I hope that you will find this post useful.
Would you upvote this post and follow me for more because this will encourage me to write more posts like this one?
Would you please help @jerrybanfield become a top 20 witness because you can help funding projects to build Steem as explained here? Vote for jerrybanfield as a witness or set jerrybanfield as a proxy to handle all witness votes at https://steemit.com/~witnesses. Read the 5 reasons why I'm voting for Jerry Banfield as a witness and how to vote in my post.
Michel Gerard