While interviewing Ray Dalio, Tony Robbins asked him how the average guy can win in investing, a little reluctantly Ray Dalio dished out what he referred to to as his secret sauce. Ray called it the All Season portfolio which has risk balanced across the 4 economic seasons that are growth, decline, inflation and deflation.
The portfolio consists of:

The portfolio is re balanced once per year so that assets are automatically sold high and bought low. In each of the 4 economic seasons different assets will perform better or worse.
So you're probably wondering how has this portfolio performed over the years? Lets take a look vs stocks: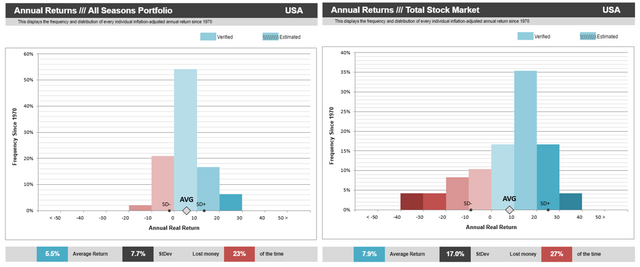 So this is a histogram of the annual REAL returns (returns AFTER inflation is subtracted) since 1970. We can conclude the average All Season return of 5.5% is significantly less than 7.9% of stocks. What this data doesn't show however is how does market timing affect the results, as these average return are for a single entry date and exit date!
Average real returns for 15 year investment period for every year starting from 1970: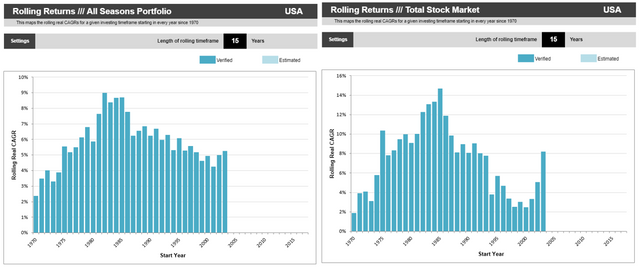 As we can see there is much more of a market timing element to the stock market returns that the All Season portfolio. So the stock market is more of a gamble especially as the investment time is reduced. Also 2008 proved that many investors cannot stomach a large draw down and sell stocks at exactly the wrong time. In 2008 stocks ended the year -37% while the All Season was just -5.3%.
Note the All Season had some low returns if investing in the early 70s, this is when Nixon took the world of the gold standard where the dollar could no longer be exchanged for gold. Throughout the 70s inflation was very high and peaked at around 18% in the USA.
If this all sounds a bit scary and you think you'll just keep your money in a 0% interest paying account in the bank here is the unfortunate outcome: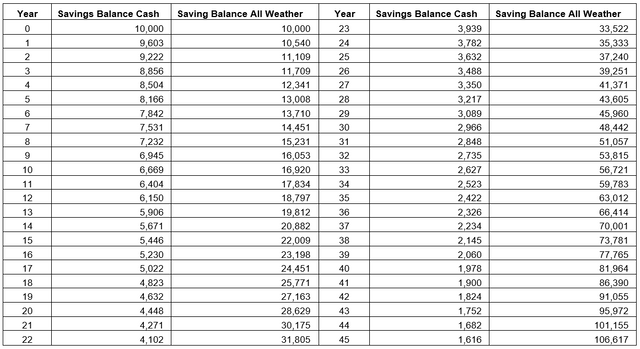 So someone at 20 years old with $10K would have only $1.9K at 65 years old while someone who put it in the All Season would have $106K. As this shows holding cash long term isn't a good wealth building strategy!
Great resources for more information are:
https://portfoliocharts.com/
https://www.bridgewater.com/resources/all-weather-story.pdf
https://www.bridgewater.com/resources/our-thoughts-about-risk-parity-and-all-weather.pdf
In my next post I'll compare the All Season portfolio to another which could be a further improvement! Then I'll shown how this portfolio can actually be implemented.
Also please note different resources and articles interchange between All Weather and All Season.