First Post: Hello Steemian!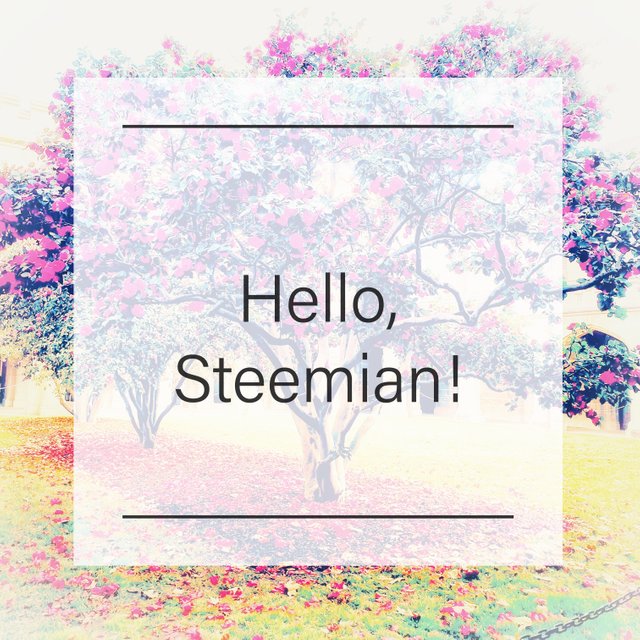 Hi, everyone! My name is Heri. I signed up on Steemit last year when one of my friend introduced it to me. However, I have not posted anything because I did not have any idea of what I wanted to write or share on steemit. Besides that, I was busy with my study and could not divide my attention with other things.
Hai, semua! Namaku Heri. Aku mendaftar tahun lalu ketika salah satu teman memperkenalkan aku dengan steemit. Meskipun begitu, aku belum menulis apapun karena gak ada ide yang mau aku tulis atau bagikan. Selain itu, aku juga sibuk kuliah dan gak bisa membagi perhatianku dengan hal lain.
Now, that I have graduated, I can make some time to write and do things I like (hopefully). I like writing, especially short stories, in my first language, Indonesian. For the next posts, I think I will use Indonesian since I am not really confident with my English. I still do not have a concrete plan on what I will post on my steemit but I will just go with the flow and post whatever I like.
Karena sekarang aku sudah selesai kuliah, aku bisa meluangkan waktuu untuk melakukan hal yang aku suka (semoga saja). Aku suka menulis,khususnya cerita pendek, dalam bahasa pertamaku, bahasa Indonesia. Untuk tulisan selanjutnya, sepertinya aku akan menggunakan bahasa Indonesia saja karena aku tidak terlalu percaya diri dengan bahasa Inggrisku. Aku masih belum punya rencana yang jelas mengenai apa yang akan aku tulis di steemit ini, namun terserah saja, biar saja kutulis apa yang aku suka.
For now, I think that is all I can say. See you on my next post!
Untuk sekarang, mungkin itu saja dulu. Sampai jumpa di tulisan selanjutnya!