Holybread test round is over – release coming soon!
Our test round for the new RPG style Browsergame on the Steem blockchain is over and it was a lot of fun! We are getting ready for the release, so be patient – it will be worth it!

Resume of the test round
Two weeks ago, on Dec 19th 2019 at 10 AM UTC+1 we started a round of 14 days to test our game with a few players. It was great to see how people who invested some time made great progress on leveling their heroes up, finding good equipment for them and improving their arena rankings. We had the chance to fix a few things and received a lot of great feedback from the players.
Everyone who took part in the test round received part of the prize pool which was basically the Steem all players invested on Bread while playing the game plus the transaction fees from the market.
@thebluewin
also gave an additional 100 Steem to the prize pool.
Here you can see the final Breadcrumbs rankings: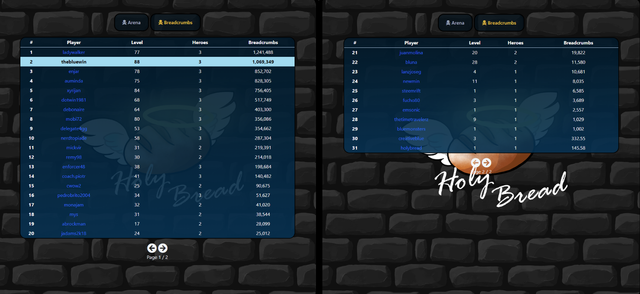 Users' experience with the game
Within the last few days some of the players started to share their impressions of Holybread. We are really happy to see that they seem to like the game and we appreciate every post that has been written while the test round was running. If you are interested in reading the players thoughts on Holybread you can have a look at those posts:
Games on Steem: Holybread by @mobi72
@delegate4gg was very engaged and did a daily update on the testing:
#1, #2, #3, #4, #5, #6, #7, #8, #9, #10, #11, #12, #13

The next steps
The release of the game will be in January 2020 and we will announce the exact date very soon. In a few days we will open the pre registration to all players. Everyone registering before the official start of Holybread will receive a small gift of 20 Bread (our premium currency). You will also be able to use your referral link once you're logged in.
Stay tuned!

You haven't heard about Holybread yet? Read this post to find out what it is all about.
Have a look at the FAQs to learn more about the game.
Join us on discord to always be updated.