Steem WOmen Club Contest #13 What Can You Do And Get With 50 Steem? Do you earn income with Steem?
Hello beautiful women of Steem Women Club community;
Today I will explain to you the 13th contest of Steem Women Club community. You showed great interest in the competitions. I am very happy for that. Seeing you win makes us happy.
Some of us for years, some of us for months, some of us are new here on the Steemit platform. Steemit has made a nice touch to everyone's life. The new contest topic will be about this.
We have done good work for 4 months to be able to touch and help you. We all have adopted the motto of our community. WE ARE STRONG TOGETHER. Because we know that it will be difficult for women in society to help. If we solve our problems together, we can win.
Contest Result Link ;
Steem Women Club Contest #12 Make up & Skin Care Contest RESULT | 3 WINNERS - 2 QUALITY POST
Reminding
• A picture and a text paragraph were not selected as a quality post. We make the posts exclusive to Steemite with the hashtag #steemexclusive.
You can be chosen once a week. However, you may not be chosen once again, as it is someone who writes better than you. Numerous quality posts have been created in the community. We are working to vote for all of them. The curators and I are trying to support it. Therefore, the importance of empowerment is to increase the strength of the community and give you a higher vote.
• I warn you on both personal and community posts so you can create quality posts. If you follow the rules and create quality posts, your chances of getting votes from both @steemwomensclub and curators increase. With the #Steemexclusive tag, we ensure that your posts are exclusive to Steemit. You cannot post any of your posts in this community to another community.
• I send 5 quality posts to curators every day that don't get votes. This way, we try to support unrated quality posts. I will continue to select quality contest posts that have not received votes. I don't choose the same person twice a week because quality posts are on the rise. A fair system is applied.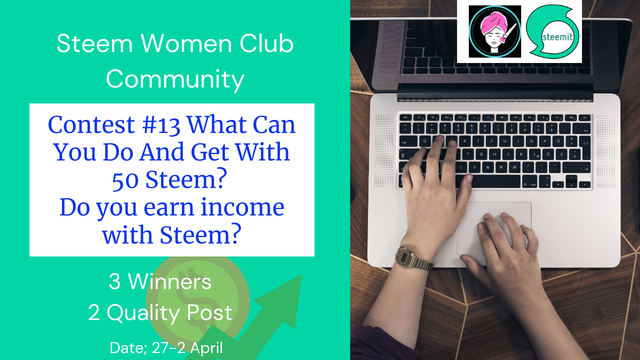 What is the subject of the contest?
What Can You Do And Get With The Contest Topic 50 Steem? Do you earn income with Steem? We are curious about the importance of steemin in your life.

Competition Tips;
• What can you buy and do in your Country with 50 Steem?
•Describe the importance of stein in your country,
•Is earning enough on this platform for you?
•Do you make a profit by investing?
•Or do you use it for your daily expenses?
•In short, we are curious about the answers to these questions.
•Type at least 300 Words
•Use at least 2 Original images.

About the Competition
First of all, we are all aware of how valuable steem is and that it is a chance for us. Due to the different economic conditions of each country, 50 steem can be a huge salary for some of us, while for some of us it may be a daily expenditure. We would like to read the answers to these questions.
Turkey time will end 2 April 23:59.

Contest Rules;
• You must share your post in the SteemWomen Club community
• Pictures must be your own
• Resteem the contest post
• your post must be your own
• Invite your friends
•Share each post in just one community!
• You should use the #steemwomenclub and #womenclub50steem and #yourcountry (example #turkey)tags.(Don't Forget)!!
• Submissions with incorrect labels are not accepted.
•Submissions that do not show the application stages will not be accepted.
The reason we make this tag is to keep the contest posts together and the selection is easy.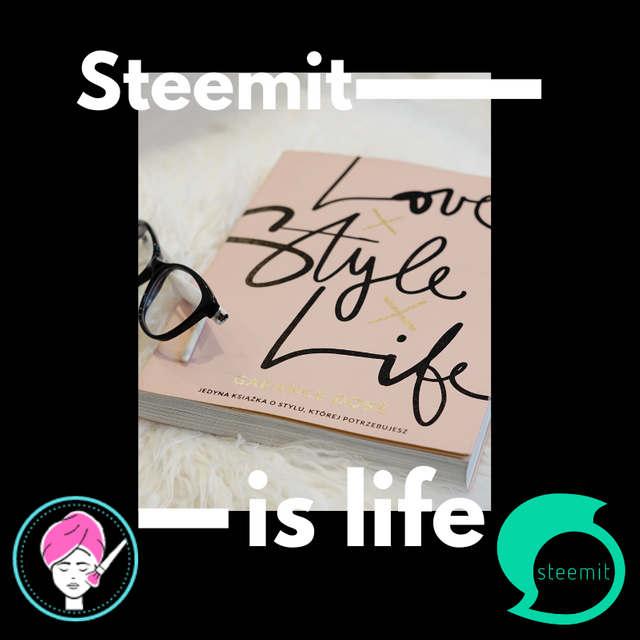 Competition Awards;
You know, I explained before that the reward system has changed. I mentioned that we will be supported by @Booming accounts. From now on, our Contest winners will be supported by @booming01 and @booming04.
1st Winner Prize: 100% upvote by @booming01 (Approximately $40)
2nd Winner Prize: 100% upvote by @booming01 ($40)
3rd Winner Prize: 100% upvote by @booming04 ( $40)
• I will send it to the community support program for the quality post I will choose on the 4th and 5th winner. I will get you votes. For this reason, there will be 3 winners. 4th and 5th the winner will receive a surprise vote.
•Curators have different votes for everyone. Votes outside the competition are not guaranteed.
•If your post past 7 days is selected, your active post will be voted on.
• #contest You can also get support from different curators using the tag.

My Awards Are Not Awarded. What Can I Do?
If you do not receive votes from the competition awards; Sometimes curators are too busy, or they can be overlooked. you can kindly forward this to me on discord. We will tell this to the necessary people. The result of the competition is definitely announced on the 8th and 9th days. Therefore, if you participate in the contest on the first day and win, the contest prize, which is 100%, is given to your active post. There may be a question in your mind for those who do not know this. Both the curators and I note that the votes are cast.
And I want to say that; @steemcurator01 and @steemcurator02 give high ratings to the posts I selected for the community support program. We work together to support you. WE ARE STRONGER TOGETHER ! Let's win together and achieve our goal.


SteemWomen Club Discord :https://discord.gg/XqD2sKkg
İnstagram Account: Steem WOmen Club
Twitter Account:Steemwomenclub
Blog Site : Site
Support us by delegating STEEM POWER.