CLUB75||AFRICAN WOMEN REPRESENTATIVE WEEKLY REPORT FOR THE 4TH WEEK OF FEBRUARY(ENDING 27TH FEB. 2022) ||THE ACTIVE WOMEN FOR THE WEEK, CLUB STATUS, DELEGATION, POWERUPS (1648.898 STEEM) AND GUIDE ON MAKING QUALITY POST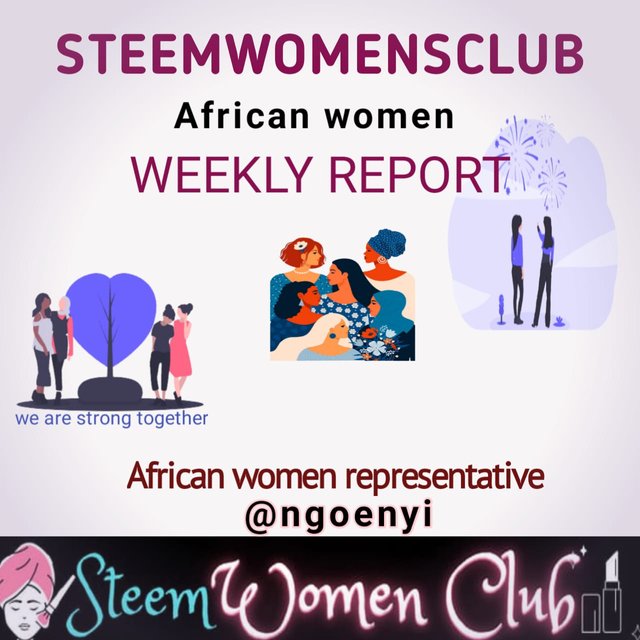 INTRODUCTION
Dear steemwomensclub community and
@steemitblog
, I hereby present the weekly report of the African women for the period of ending 27th February, 2022. This report will cover the activities of the African women with regard to the total number of publications made in the last 7 days, the powerups, the club status, the current delegations and any other information that will be of benefit to everyone.

ACTIVE POSTERS FOR THE WEEK
Below are the list of users who made publications in the community and the number of publications made for the past 7 days
@rosita-nkefor has emerged again as the most active woman. I am glad about that and I encourage her to continue to be active.
LIST OF THOSE THAT GOD BOOMING SUPPORT FOR THIS PAST 7 DAYS
We got 6 chances this week and the following persons were selected for the support

POWER UPS MADE BY THE AFRICAN WOMEN
I am glad to announce that this past 7 days, the African women made a total of 1648.898 steem. This is massive! Below is the details.

CLUB STATUS IF THE WOMEN
I was able to check the club status of the active women for this week and they are as follows
The majority of the active women this week are in club75. It is not bad at all.
SUMMARY OF THE CLUB STATUS
| CLUB5050 | CLUB75 | CLUB100 | NOT IN ANY CLUB |
| --- | --- | --- | --- |
| 5 | 10 | NIL | 1 |
I want to use this medium to encourage all the African women to strive and upgrade from their club status to the next level. We should all be in at least club75. This will mean a lot to us all.
We can try to find out what is remaining fro us to join the next club status and try to see how we can upgrade

CURRENT DELEGATION FROM THE AFRICAN WOMEN TO THE WOMEN COMMUNITY
| USERNAMES | AMOUNT OF DELEGATION |
| --- | --- |
| afunkycares | 100 sp |
| beautybb | 100 sp |
| beewrites | 50 sp |
| blackalbino | 60 sp |
| ceendy20 | 100 sp |
| chant | 100 |
| charis20 | 250 |
| dequeen | 100 sp |
| ebunoluwani | 50 sp |
| eliany | 50 sp |
| essybrandy | 50 sp |
| essygold | 50 sp |
| esthyfashion | 50 sp |
| estysam | 30 sp |
| evegrace | 100 sp |
| goodspeed22 | 50 sp |
| goodybest | 100 sp |
| graciee20 | 100 sp |
| graciaella | 50 sp |
| gracyakan | 100 sp |
| hannyscuture | 30 sp |
| ladyofpolicy | 50 sp |
| madilyn02 | 100 sp |
| mariez | 100 sp |
| mesola | 100 sp |
| monjuapollonia | 50 sp |
| mophebe | 50 sp |
| nafisatu | 50 sp |
| nancymboghi | 250 sp |
| ngoenyi | 1000 sp |
| ngozi996 | 50 sp |
| ninapenda | 100 sp |
| nneoma08 | 50 sp |
| optimistickome | 50 sp |
| patience90 | 50 sp |
| patjwell | 50 sp |
| peachyladiva | 250 sp |
| rosita-nkefor | 100 sp |
| temitopef | 50 sp |
| tenguhatanga | 350 sp |
| vickydear | 50 sp |
| yakspeace | 50 sp |
| yangsifabiola | 50 sp |
| yuceetoria | 50 sp |
| Total | 4720 |
We are happy to have an additional African women who made 50 sp in the person of @graciaella|50 sp. I warmly welcome her to our midst. That has brought our total delegation to 4720.

GUIDE ON ACCEPTABLE PUBLICATIONS IN THE WOMEN COMMUNITY
It is true that we want to encourage all women to be active in the community, but that doesn't rule out the fact that the community has an acceptable publications. To see the type of publications and the amount of words to make in the community, please, do well to visit the post link below where you can see the rules on quality posts selection, and how to make an acceptable publications in the community
In the post link above, you will see the following
• Plagiarism is strictly prohibited.
•You must have your own sentences.
•Use copyright free images.
• Be sure to specify the source link of the pictures.
• Your article will exceed 200 words.
• You must have at least 2 active posts per week.
•You should definitely not delegate to bot accounts in your account. Bot users cannot be selected with good quality. (upvo , nutbox , bot ...)
• A minimum of 30 sp delegation is required to the Steem women club community.
•You must participate in competitions or events.
• A small amount of delegation will be made to the Steem Women Club community! (they will be checked )
• Posts of those who have completed the Success 1 mission prepared for Steemit in the New Arrivals Community will be selected. And it will have received the 'Verified ✓' badge in the steem women club community.
•Steem Women Club community will have at least 1 active posts per week.
•You must SP the votes you get from Booming.
•Use tag #steemeexclusive #steemwomenclub
Important notes for writing quality posts
• Prepare a post on any topic.
• Write your own sentences.
• Use copyright free images.
•Write neatly and carefully. Make an effort.
• Your article must exceed 200 words
• It is our preference to use your own images.
• Contest posts play a big role in selecting quality posts.
• Be active in the community.
• Note that votes are not final, except for quality selected posts.
• If you still haven't received any votes in the community. Or if you haven't received votes in a long time, politely contact representatives.
These points will surely be helpful in making acceptable posts.
It is important to note that we should take the club status very seriously by constantly checking if we are still in the club. Our supports from booming and from any if the curators, be it @steemcurator01 or @steemcurator02 depends on the club status even though we are sure that the supports are not certain. But we want to do our part first by being in the clubs especially upgrading to club75 or even club109.
I want to believe that we all know how to check our club status but for the sake of those who keep asking how to do so, I am going to demonstrate it now using 2 tools. One is steemworld transfer search while the other is steemcryptic.
To search using steemworld, click on this link below
https://steemworld.org/transfer-search?login=ngoenyi
To search using the steemcryptic, use the link below
https://www.steemcryptic.me/club5050
Please pay attention to the dates that you input. Note that to search for club5050, you will use the past 30 days
To search for club75, you will use the past 60 days
And to search for club100, you will use the past 90 days.
Also note that for club5050, your total transfer out of your wallet must be 50% or more of your powerups
For club75, the total transfer out must be 25% or less of your power up within the period.
And for club100, there will be no transfer out at all for the said period.
Be sure to always make quality posts, one that is plagiarism free and is upto 300 words. You can use the tool below to check for plagiarism
You can so know the number of words your publication contains. You can as well use any word counter at your disposal to do so.
Apply markdown styles to make your publications presentable.
Don't forget to delegate to the community to help build the steempower and thus support us all. To delegate, click any of the delegation quick links below.

IMPORTANT POSTS THAT CONTAINS IMPORTANT REMINDERS

OUR WHATSAPP GROUPS
Chat with your fellow african women here👇👇👇
https://chat.whatsapp.com/DCSppdV5InW0fBbT6HGdau
drop your username and country here👇
https://chat.whatsapp.com/FcilLaM8pjkG6YGIU91HD6
Always drop your post links here👇
https://chat.whatsapp.com/GC0ZOvdxhvxBlDNdn3gvh6
But make sure it is only steemwomens club community steemexclusive post links
Always comment on at least two posts of other users in the community and write commented in the group against the link you have actually commented on.
No plagiarism, always check your posts with this 👇
Don't post stickers in the group and join us in whatever we are doing.
Welcome! Our slogan is
We are strong together

CONCLUSION
I am grateful to all the active women in the community. I am also grateful to @charis20 and @patience90 who help out in updating the list of active posts and powerup amount. In appreciation, I have added them as beneficiary to this publication. I no longer send liquid steem so that I can maintain my club status but I still appreciate you all.
Cc: @svm038
Support us by delegating STEEM POWER.
Apart from @steemwomensclub, I have also added 5% to @charis20 , 3% to @patience90 for their assistance
Cc: @steemwomensclub
Cc: @svm038
Best regards from me
@ngoenyi, African representative.

This is my introductorypost here


image source