The Driveway Saga Season 2; Episode: 7 - "The Ups and Downs"
1/23/2020
From minus to plus to minus again.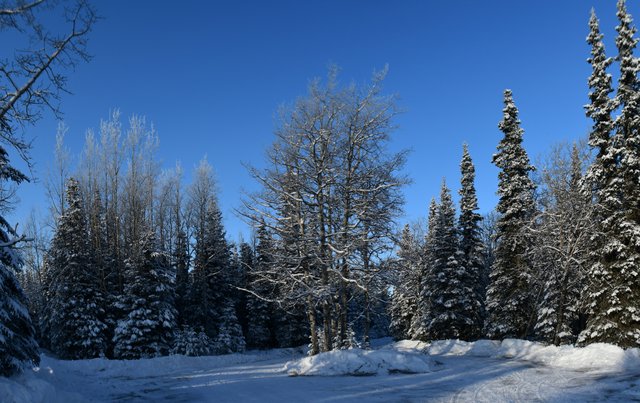 All of the photo's were taken today, (1-23-2020), at about 2PM. Nice blue skies, and some sunshine. First sunshine we have had since Sunday, not complaining at all, but that means it is getting cold again. The view above is 5 series portrait orientation hand held, so there is some perspective issue but most got fixed in the software. It was just to cold for the tripod and taking the time for a shot series setup. 5 degrees above while warmer than the last time out photo taking, is still to cold for me anymore.
The days in a quick review
1/19/2020 (Sunday): It started to snow about 10PM and snowed through Monday Morning. It was going to be a not so pleasant few days. So this was not a nice start to the week that was going to be not pleasant. Temperature on Sunday morning was about minus 8, warmed to minus 1 by 8PM and held steady. We generally do not get significant snow at that temperature, but it does happen.
1/20/2020 (Monday): Woke up to about a total of 5 inches o fresh snow. Since the last Driveway report we have had a few small 1 inch or less fog snows, but still they all add up, so it was time for the plow person to come by again, at least that was the hope when I got done sweeping off the car that afternoon, we were going to have a very early and long day on the 21st. About an hour and a half after getting the car cleared the snow plow guy came by, we were very happy to see him, not that there was that much snow but still it was enough to make it worrisome, and since he is also one of the local road plow operators that meant the roads were pretty much done and cleared.
Morning temperature of plus 5, that was good it did a steady rise through out the day topping out at about 23 degrees on Tuesday.
1/21/2020 (Tuesday): A nice weather day, solid overcast cloudy day, Very early morning start for us, a chance to catch a sunrise, but nope, did not happen. Eight degrees above zero at 7AM, (and personally I think 7AM is for the birds), On the road at 8AM and clouds solid overcast except for a small light lining to the south which did not last long. By 2PM the temperature was in the mid 20's that was good. It was the warmest day since Christmas, it seems we have been locked into this cold snap all month.
1/22/2020 (Wednesday): back to cold morning tired day and the skies mostly cloudy but beginning to clear. Morning temperature was only 8 degrees, and it did not get any better throughout the day.
Now for today
1/23/2020 (Thursday)
: Back to only 5 degrees this morning and holding steady, expected to get to minus 9 this evening, and stay in the minus single digits for the next few days. All photos taken about 2PM on 1-23-2020 So on with the rest of the picture.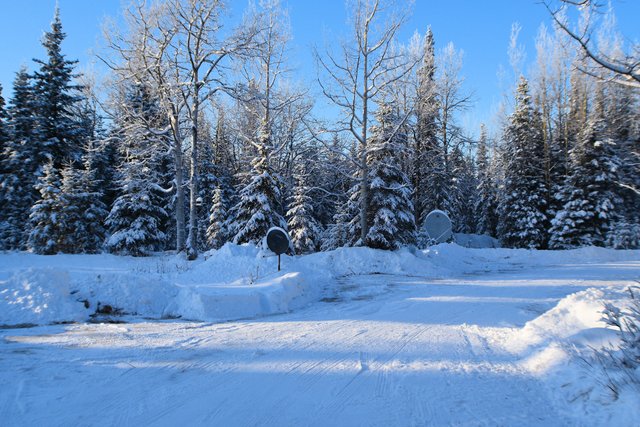 This is the view from behind where I park. Now while we may not have gotten a whole lot of snow on Sunday/Monday, it was only about 5 inches, all the tiny snows we had since Christmas and the last report do add up. I ended the last Episode with:
It has been a pretty pleasant winter so far as winters go. Not a lot of snow, and only a few super cold days, today being one of the coldest.
Well we still are below normal in the snow department, but so far this year I would say we are on a record low temperature month. I do not know, nor am I representing that as a fact, it just seems that way. (I just don't feel like doing the research to see if it is a record low temp month).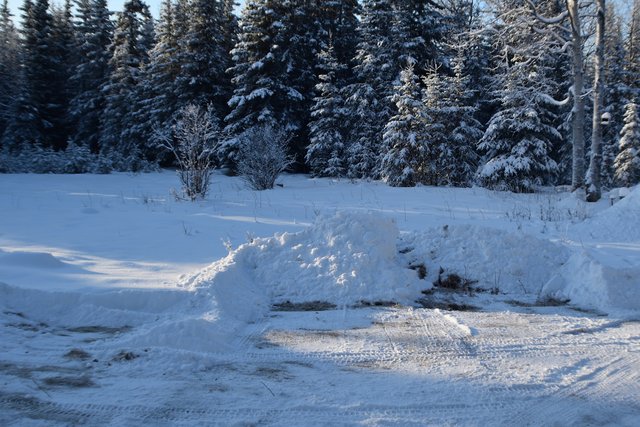 This is the smallest pushed up by the plowed pile. We really do not have a lot of snow on the ground likely less than eighteen inches, (a foot and a half), just enough this year to keep it interesting, and not interesting in the way some areas that had blizzards this week were. Fortunately wind and snow where we are at do not happen hardly at all.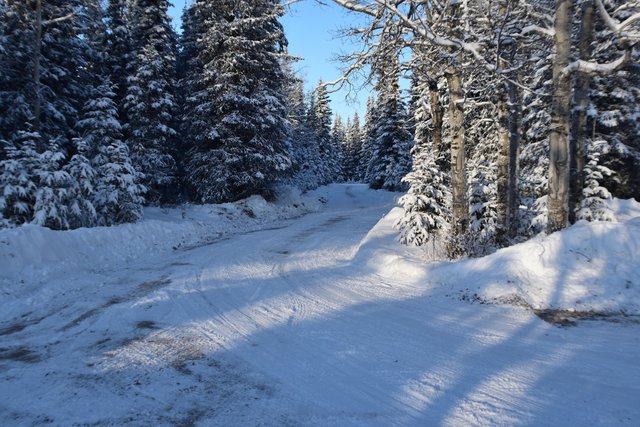 Here is the view down the part of the driveway we enter via. You can see around the trees in the middle that the piles are growing and we actually have a berm now on both sides of the driveway entry. Nothing major yet, and hoping it does not become major.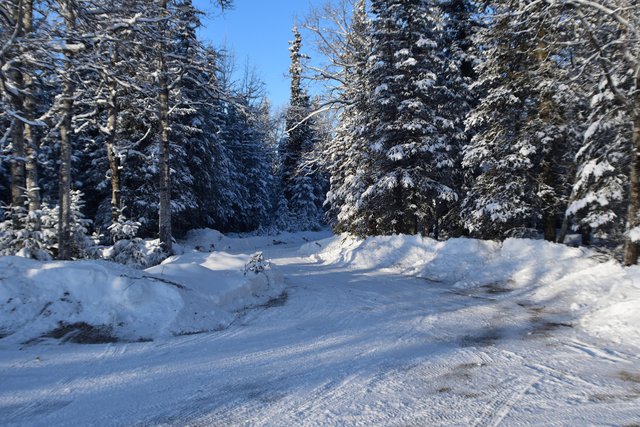 I am not sure I have ever shown this part of the driveway before, this is the other part of the circle around the tree cluster, this is the part I use to drive out from.
That pretty much concludes the post. I can say I am not looking forward to another week of below zero temperatures, but it is Alaska and it is winter, and we just have to deal with it as best we can like anyone north or just shy of north of the 60th parallel. I do wish though that we would get a showing of the Northern Lights one of these clear cold nights, I would even try to get pictures cold or not.

Driveway Saga Post: