The Driveway Saga Season 2; Episode: 5 - "Happy Bird"
12-10-2019
I Got My Fat Perch Back And I Am So Happy
"Now about that grub..." Saturday night (12/7) and Sunday morning a lot of wind. The power kept blipping off and on all day, never more than a couple seconds each time as the snow fell off the lines and we got lots of little power hits. One little happy guy, he got his big perch back. Prior to the wind and rain, as you saw on last weeks Driveway Update, the perch had a lot of fresh soft snow. The birds did not like that one bit. So here is the happy little guy/gal.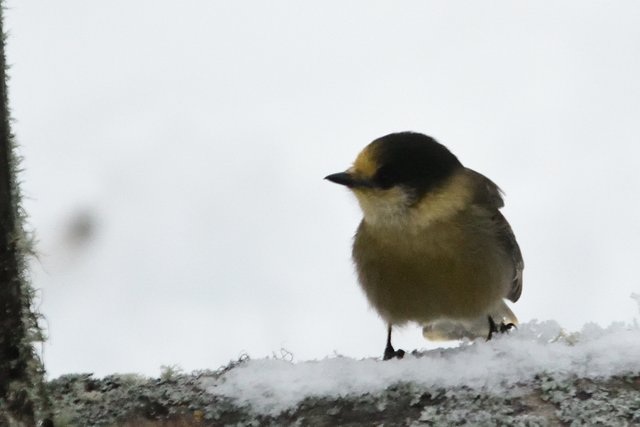 If you want to use it as the basis for a MEME feel free, I think I will, and I think she looks like a Madge, but you can call her anything you would like. So back to the weather, and the driveway update.
The weekend wind was just the beginning of it, we had a few light sprinkles to start Saturday off with. Just enough to solidify the snow, which once the winds picked up it was a good thing, so no real drifting of the snow. Sunday a little bit more wind, well a lot of wind it was really howling on Saturday night Sunday morning. I should have tried to record it, it was loud. We could see the bad weather coming, the warm up and the melt down, but we really were not expecting it to be quite like it was.
Sunday evening it started to rain, and it rained and it rained some more all the way through til late Monday morning. The power blips of Sunday were gone. Unfortunately there were a lot of power outages on Monday morning. So it was drag the generator out and start it up and run the extension cord so we had a little bit of power. Fortunately my wife was up early enough to get our first cup of coffee done before the power failed. At least it was a warm rain, it was 40 degrees Fahrenheit for us.
Over night the temperatures dropped, and this morning right at 30 degrees, still very mild for December in Alaska. So here are the results and the change to the driveway.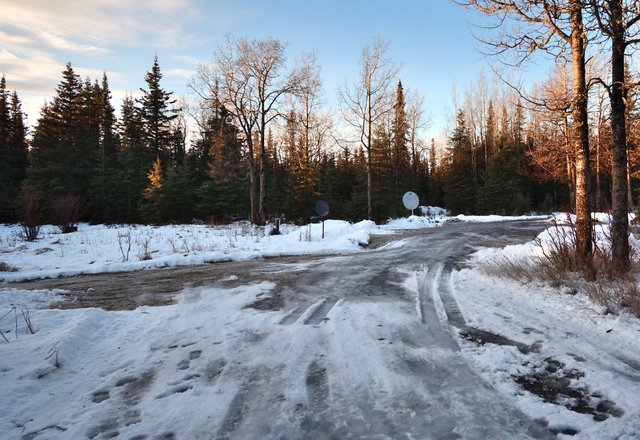 The view looking from out from where I park, frozen snow, foot prints and a lot of ice.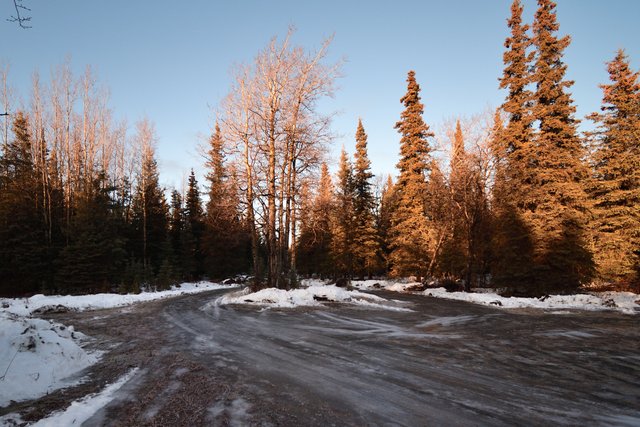 The circular part of the drive around the trees, pretty mush snow free, but a lot of ice.
And here is the driveway exit, a lot of ice, at least now there is room for the next snow fall, when ever it happens, for the snow to be piled and berms to be made.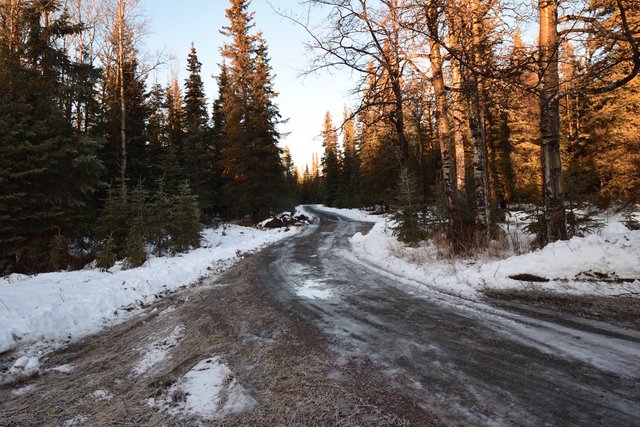 The power outage for us only lasted about an Hour and a Half, but it is always disruptive of ones routine when ever the power goes out; and no one really likes that kind of a disruption.

Driveway Saga Post:

All images were taken by me.
Madges Portrait was taken on 12-8-2019
and Driveway Pictures 12-10-2019 (today)